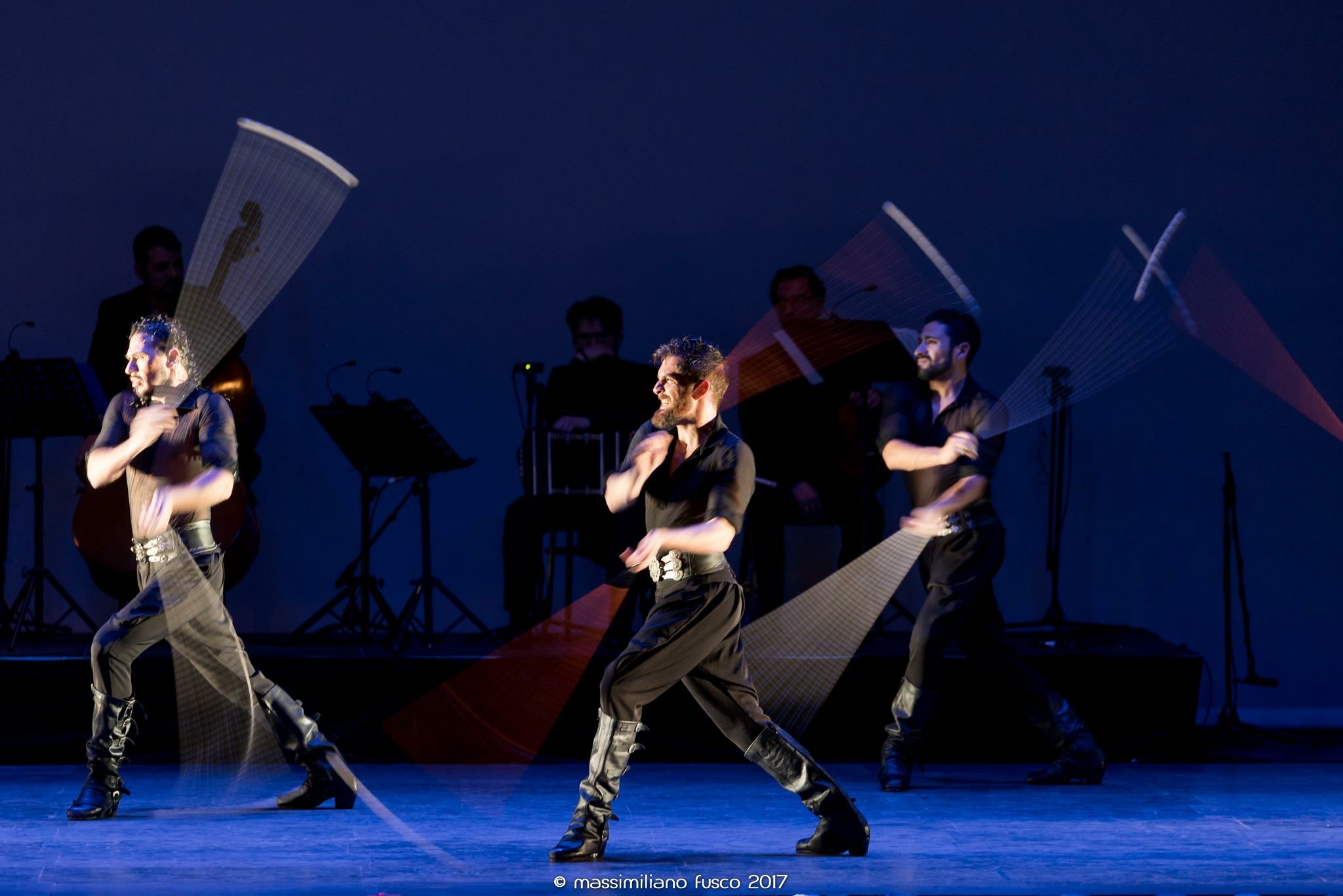 Malambo, the Dance of Life
October 2, 2017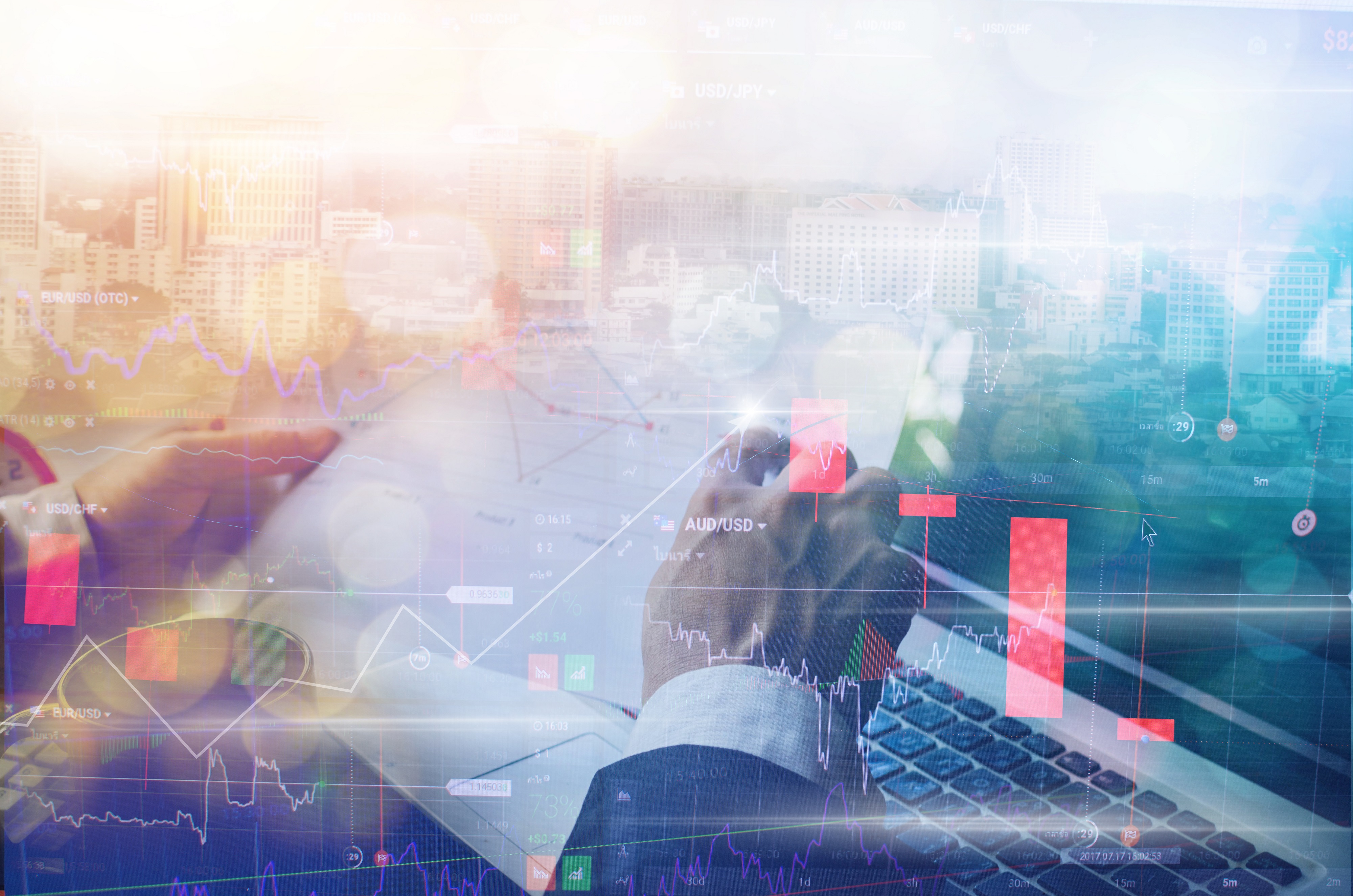 Present and Correction?: How to Survive a Market Decline
October 22, 2017
Belinda Wilson Her journey, your journey for the renaissance in us!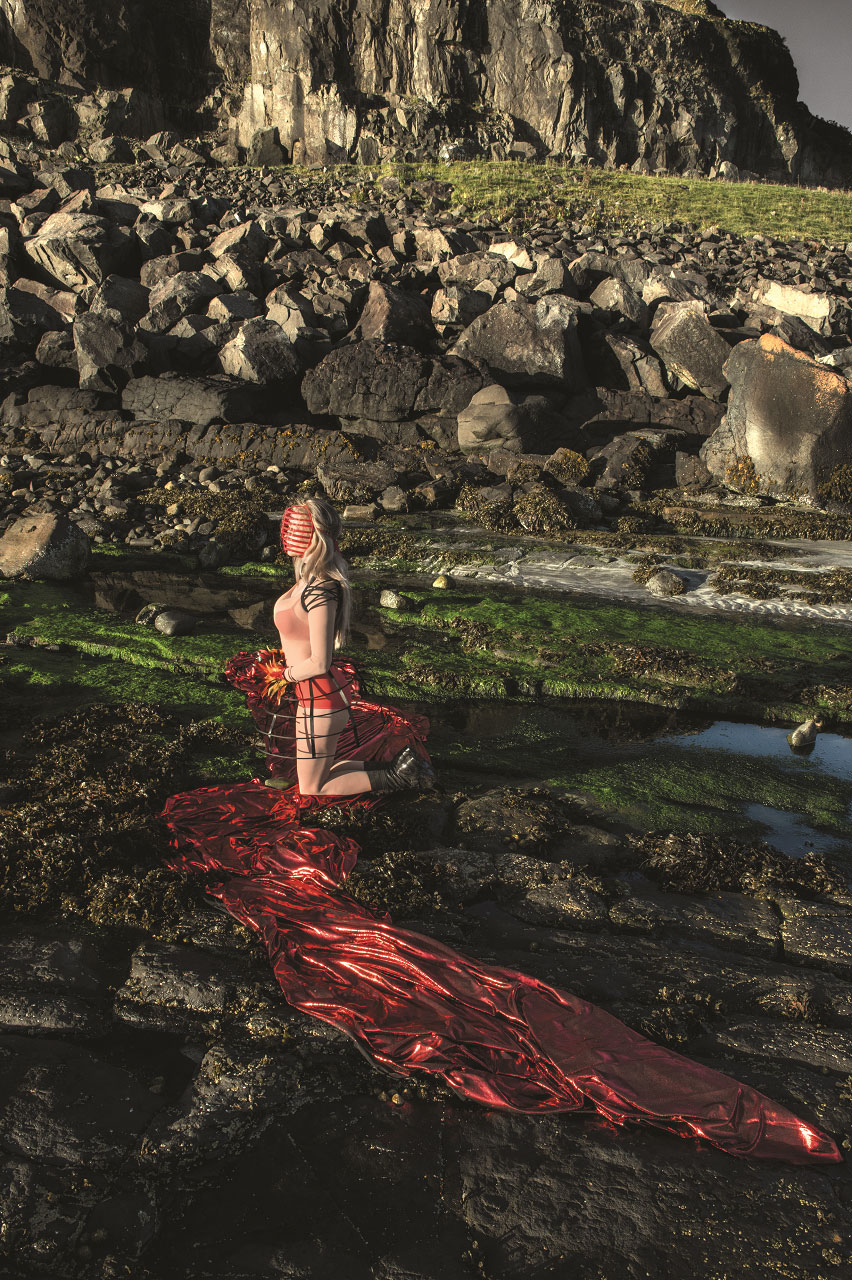 Massimo Gava
sets the scene for the remarkable art of a model who holds the green world in her hands.
Belinda Wilson, a fashion model photographed by Patrick Lichfield and Terence Donovan, is taking us on one woman's journey. She is emerging as an artist who has opened a new chapter in her life now that her children have grown up.
"It is time to fulfil my passion for photography," she says. The fact that she has been in front of a camera gives her a better idea of what she wants now. As ever, she does it her usual way – the Belinda way.
The locations that she selects need to match her personal and spiritual energy. The same is true of the people Belinda features in her work. They are not models, she stresses, but real people who she come across in her journey and frames them with her camera.
Most of her work is also a singular choice to capture the beauty of the planet, whether she is trekking in Ireland, searching for a specific ruined castle, or reaching the top of the Golden Gate Bridge in San Francisco.
On the road, she carries not only her photographic gear but also her personal dresses and props that she recycles from charity shops. Once Belinda is in the right spot, it is like she gets possessed by a spirit and dons dress and make-up, or dresses others for the occasion. The results are clearly shown as she gives DANTE a preview of her Theatre of One exhibition, running at the La Galleria Pall Mall in London in October. After that, her work will be flying around the world to other venues.
Why "theatre of one"? Belinda tells me that she sees the earth like a big theatre where everything takes place. Don't we all witness the divine comedies and dramas on a daily base? She instead directs the audience in a celebration of the beauty of the amazing place that we all see under the sky.
The pictures speak for themselves, and, as DANTE has done before in cover pieces on exceptional artists, we leave our respected readers to go wherever you want based on their images. Belinda hopes that her journey becomes yours. Creating art is not just a personal trip but something that needs to be shared with others for the sake of everybody's happiness and, with that, a new renaissance for the world.
Irrepressible
As I drove through the stunning Highlands, I pulled over to an ideal spot, just a gentle climb up to a magnificent plateau. Dressed as a unicorn bride, I fell into the spirit of the magnificent surroundings, and shot this self-portrait.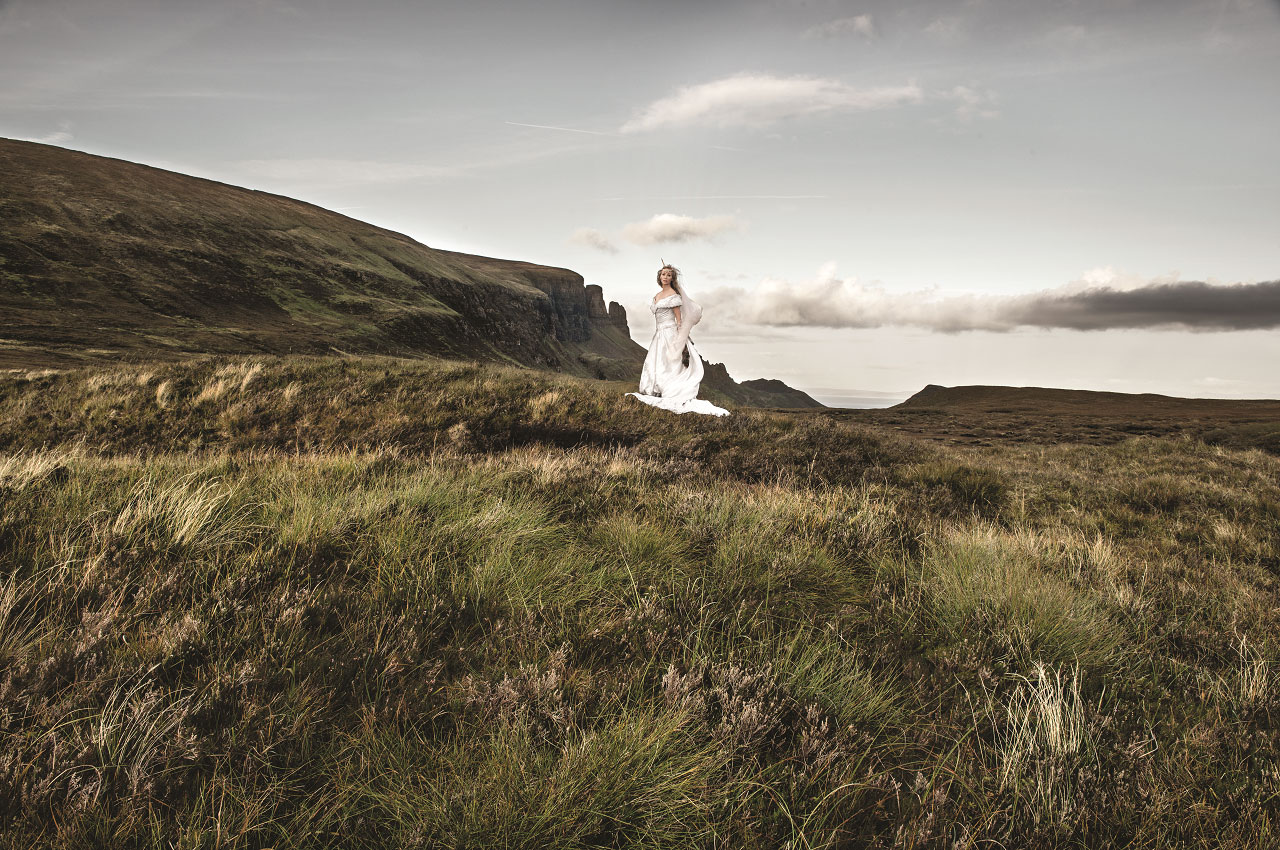 Journey
I named myself "Theatre of One," which might explain why so much of my work is set in isolation. Nature and the planet for me are empowering. The more I surrender to the 'Oneness' of it, the more I find that being alone changes in a landscape. The elements have their own voices and I am their orchestral accompaniment.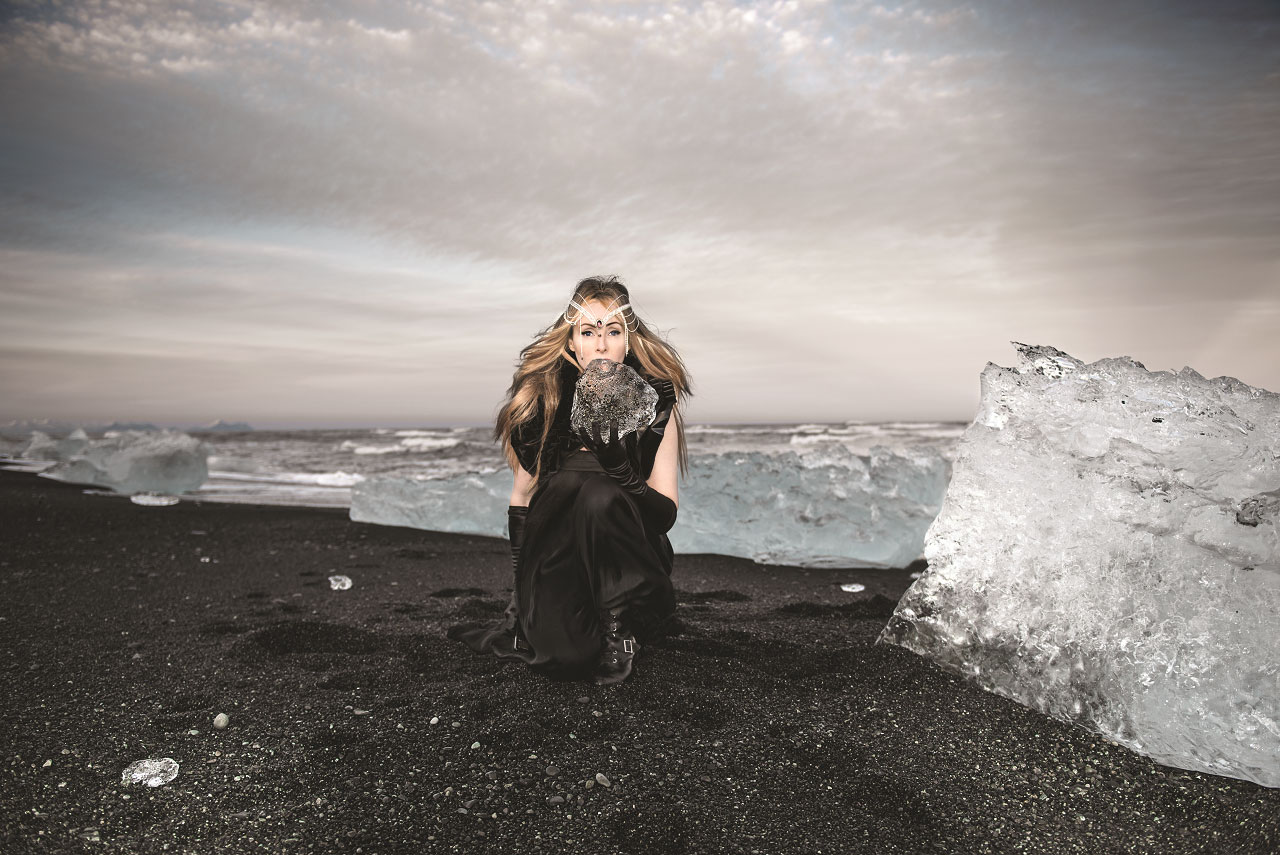 Fantasia
I bought my 1920s dress from a charity shop. My vision was to model myself on an art-deco dancing figure. I discovered a deserted castle in Ireland and shot this self-portrait there. I knew that Mother Earth would supply me with some kind of colossal breeze. She kindly obliged on the day.
Ziggy – Ego
David Bowie is a series I shot last summer in Iceland. Bowie is in my bloodstream and, like many, he has been the roadmap of my life.
Awakening
The royal insightful peacock. Here I am after hiking for two hours with all my photo equipment, costume and makeup bag. I have my IPod and speakers, which is absolutely essential for the mood of my shot. I set my shot up after seeing the magnificent female forms in the mountain range and the serenity of the cloud formation. I become my vision.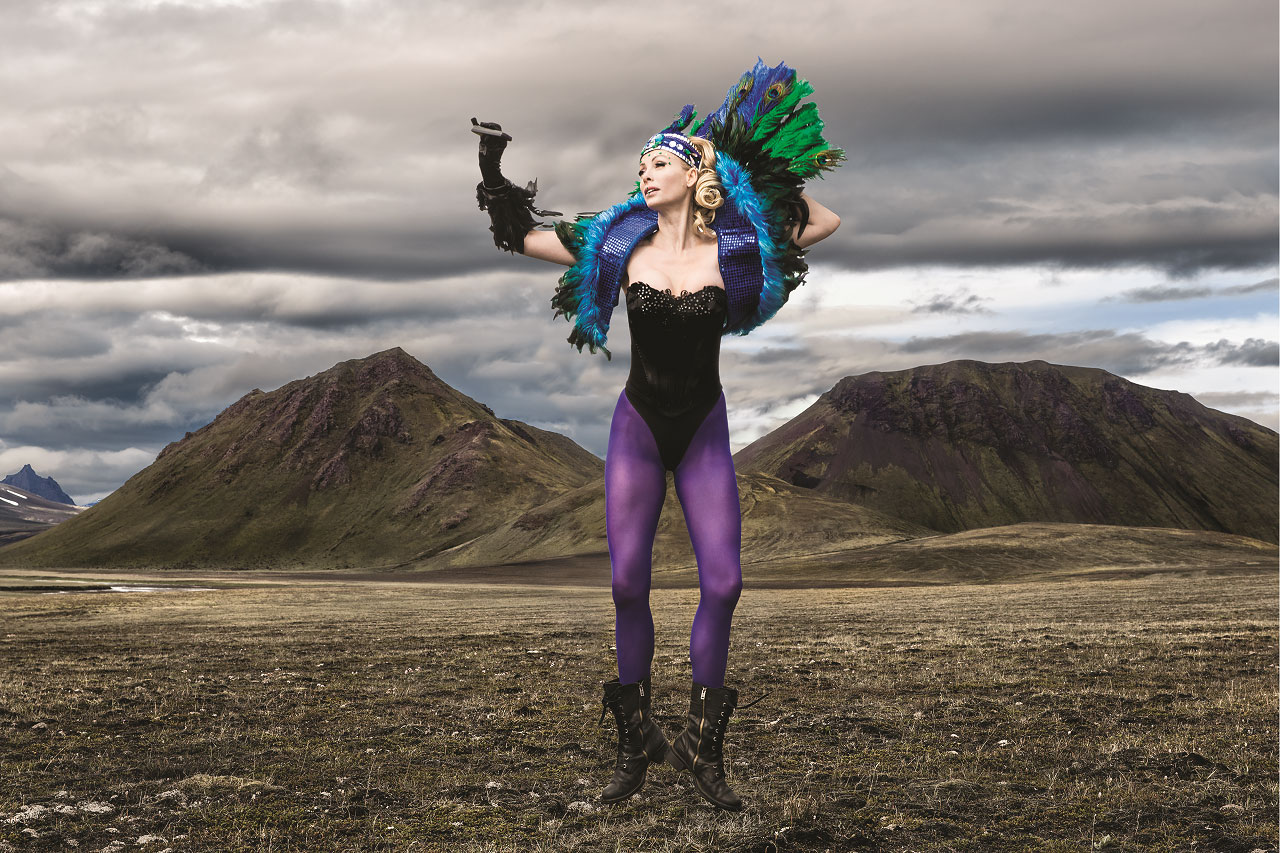 Deep Murmur
I climbed high on this incredible rock formation, dressed as a mythical creature exactly where the two tectonic plates move way below the earth's crust, 66 Degrees North. The little people known as 'Fairies' live amongst these impressive rock formations. Earth's male and female, erotic in form, boldly shine out as one.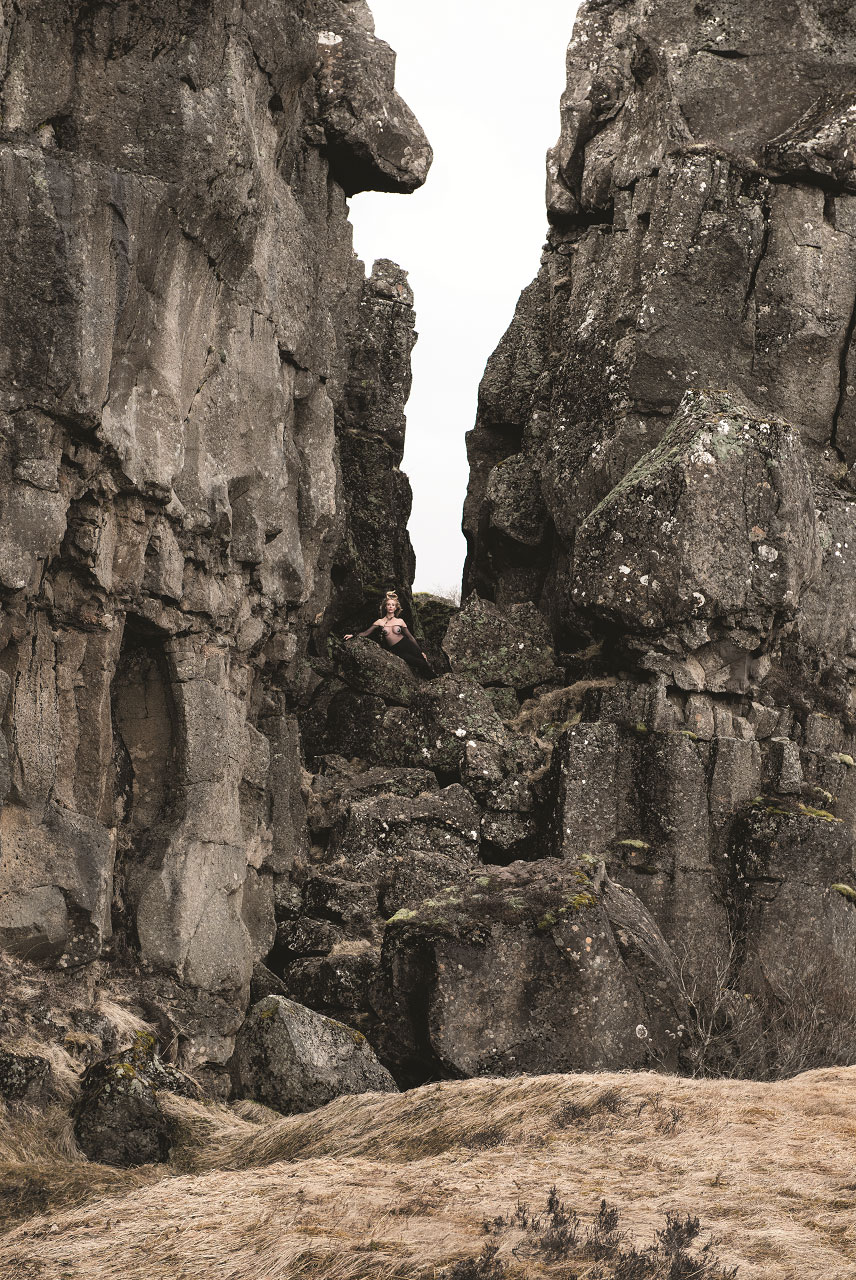 Abundance
I named this picture because the abundance and greatness of nature is a reminder of how respectful and grateful we should be. We are all part, we are all equally immense, so let's treasure the future of our planet.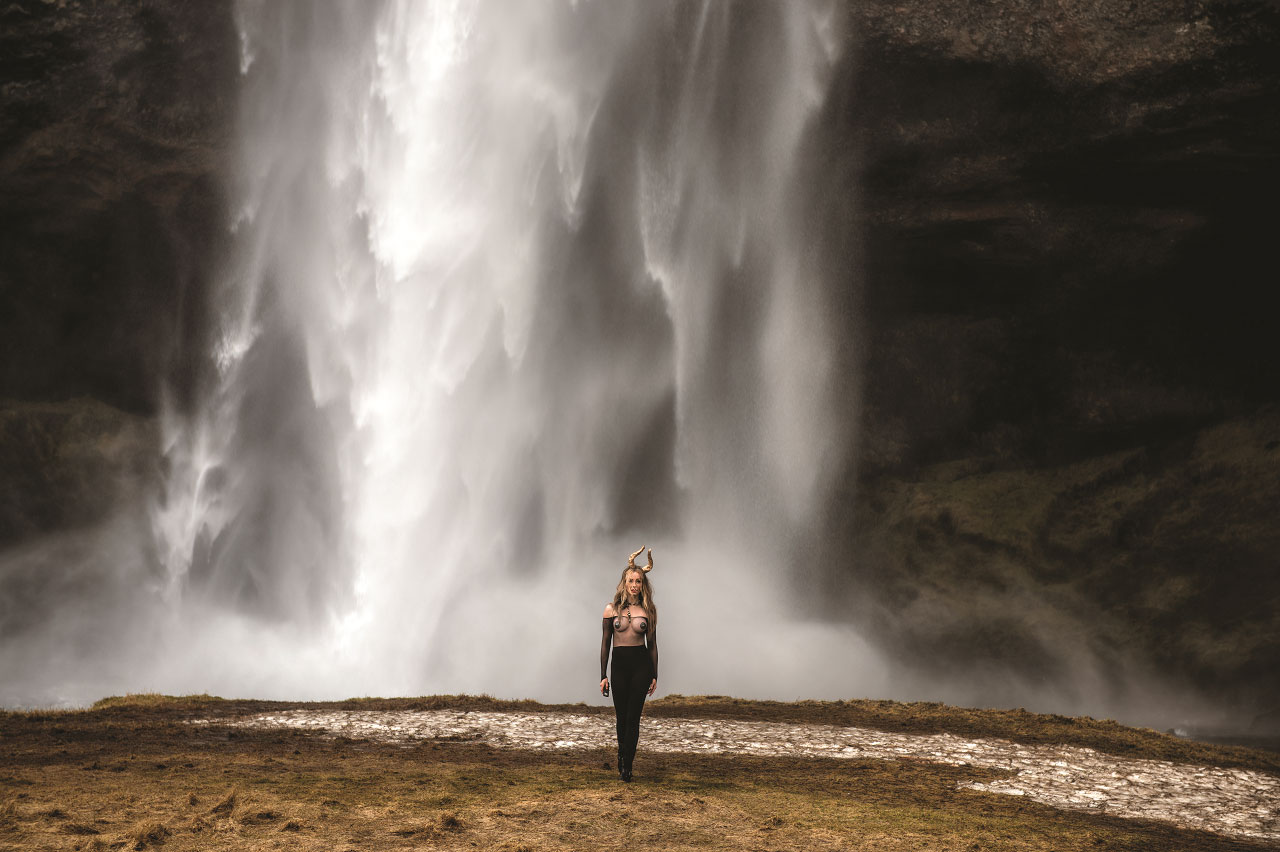 Transcend
I played "Spirit in the Sky" while I shot this self-portrait. Nature was generous, a gale blew and my essence was set free.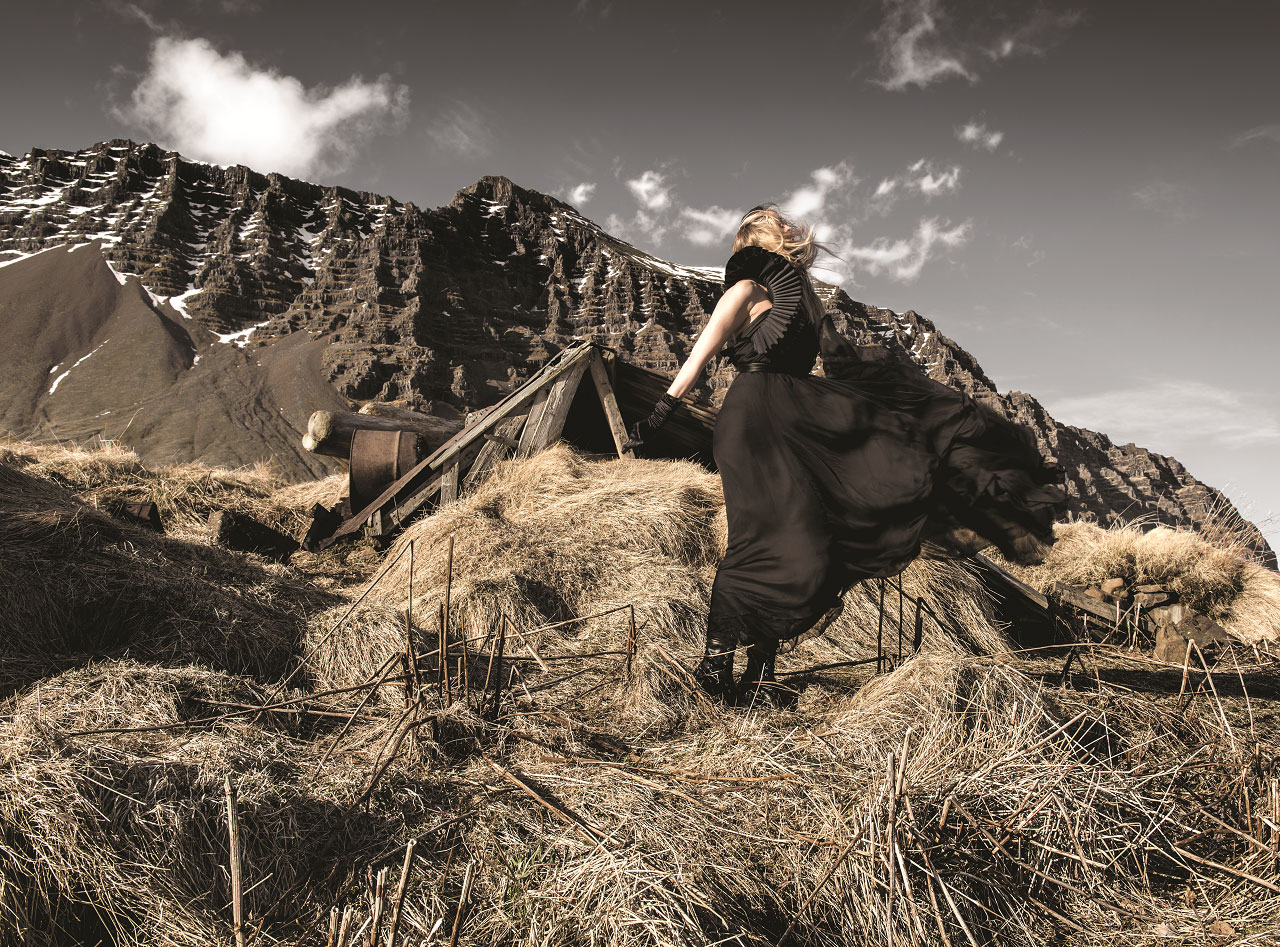 Living on the Edge
Don't most of us? Risks, judgments, expectations, decisions, LIFE! "Our Modern World – is it for me?" That is the question?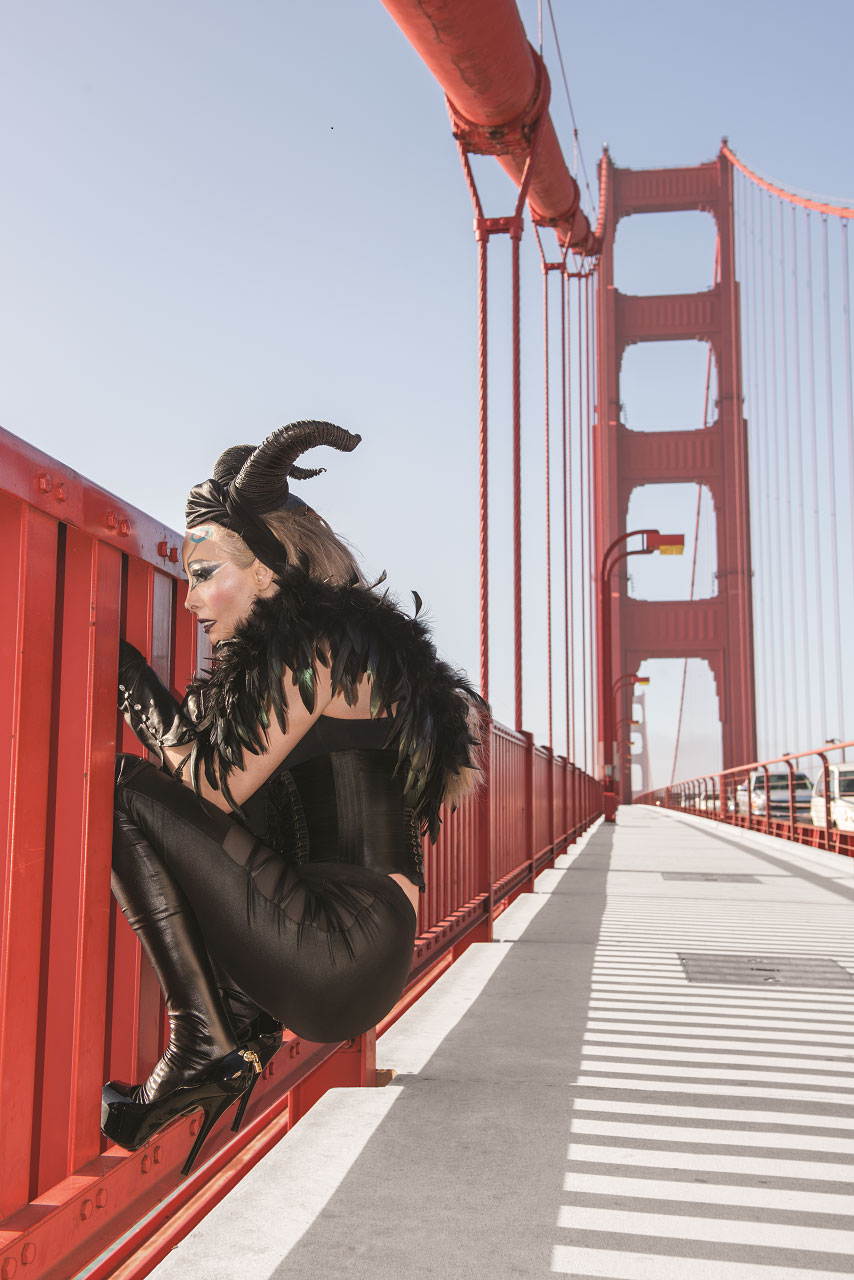 My endless romanticism spills over into many pieces I create. My wish is to share my inner world as I explore all my senses and express my passion.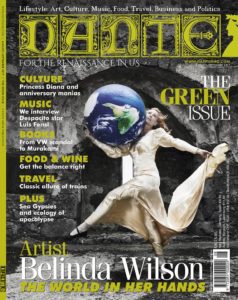 Belinda Wilson's "Theatre of One" photographic exhibition is staged at La Galleria PALL MALL, 30 Royal Opera Arcade, London SW1 4UY, from 16th October to 21 October, 2017, from 10a.m. to 6 p.m.