By Massimo Gava
Normally, with an "Amen," we end something. Whether that be a sentence or a liturgical event.
But for Francesco Gabbani, the underdog of Italian music, it has been the start of a career in the International music business.
When in 2016 his song was disqualified at the San Remo Festival by mistake, conspiracy theorists went mad thinking that there was some obscure political deal going on with Rai, the state television company.
The reality was a computer error. His song Amen won the festival in the newcomer category. The lyric of the song was kind of irreverent – "We solve everything with an Amen" – but a good electro upbeat was liked by the public, cutting across the generations. It was one of those tunes that unified a country, so divided in so many ways.
The singer then went on to produce a new album and toured Italy, even writing a soundtrack for a comedy movie called Poveri ma Ricchi. (Poor But Rich).
Francesco Gabbani's career started with the group Tricobalto, named after a highly explosive chemical formula using triple cobalt, This band opened for Oasis as a Milan concert. In 2010 he began his solo career with his first album and in 2016 entered the San Remo competition and won also the Critics' Award. The rest is pretty much history. This year, participating in the main competition, he not only won the Critic's Award again but also the big prize, an unprecedented feat. The song Occidentali's Karma gave him the right to represent Italy at the next Eurovision song contest in Kiev. It is reported by The Sun newspaper that he is the English bookies' favourite to win this year.
Gabbani stated in some interviews that he was about to give up the whole music business but he had enter the competition to try to fulfil his vocation for the last time. So it was that last February, he took to the stage after many
Italian-music big names had already performed. This young man said to the portentous audience made of journalists, TV celebrities and media bosses: "I am here to make you dance."
"To be or ought to be,
the Hamletic doubt,
as contemporary as
Neolithic man."
The song then goes on mix quotes from Andy Warhol to Desmond Morris. When he sings the "naked ape dance" line, a dancer impersonating a gorilla appears behind him and starts a routine that has taken Italian people by storm.
Since then, we have seen a variety of videos posted on YouTube of people, from nuns to lawyers, dancing Occidentali's Karma. It seems that the irreverent message Gabbani tells in his song has been well received beyond the borders of Italy, with more than 107 million viewers on YouTube so far and it is listed as trending for Eurovision fans.
So why is Gabbani's music so well liked across society's spectrum?
It is fresh and has a touch of derision without patronising and is delivered with a good upbeat. The quotes the singer puts together are carefully mixed and matched to uplifting your mood. The lyric turns what seems a silly song into a cultural glossary of educational quotes loved across many generations. In fact, the naked-ape dance comes from English zoologist, ethologist and surrealist painter, Desmond John Morris. In his best-selling book The Naked Ape, he states that out of the many apes in the world, man is the only naked one, because he has a body not covered by hair.
The dance routine that Gabbani himself created has become like a sort of ritual to laugh about the western way of living – with a meaning a little like The Emperor's New Clothes.
https://www.youtube.com/watch?v=CpqgKutAKFo
It is slightly amazing that an Italian song could cut across all-audience spectrum without having any words of Amore (love) or Cuore (heart) mentioned in the text. Let's not forget that the San Remo Festival has seen the birth of some of the biggest international stars like Andrea Bocelli, Laura Pausini, Eros Ramazzotti or, more recently, Il Volo. They all sang the classic Italian melody.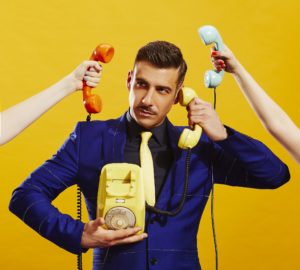 Paradoxically, that's the beauty of Gabbani's song: he doesn't dig into the cliché of Italian operatic heritage but dissects reality with scorn, tapping into another aspect of Italian culture. The same one that created the carnival spirit, so that the words " let the steam out" are derived from the tough rules the church imposed in medieval time and with its origins in the ancient Roman days.
Occidentali's Karma, or as it has been translated for the wider audience in the official Eurovision video Westerners' Karma, takes that concept in a more contemporary style. However, things are "Panta Rei" – or "everything flows," digging into the concept in the philosophy of Heraclitus. He goes on saying "when life loses its focus, men falls… Namaste allez!" This makes fun at the fascination that western man has for eastern philosophy.
But there is also another quote that grabbed my attention and that has been cut out from the original because of the strict format of about three minutes allocated to each song performance.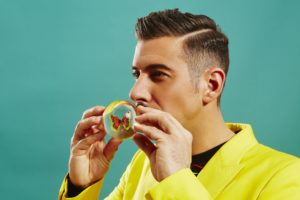 "In your cage 2×3 you do feel comfortable. Intellectuals in the cafés, Internettology,  Honorary members of the anonymous selfiers. Intelligence is unfashionable, easy answers, useless dilemmas." Then he goes on to follow pretty much the translation on the official video but there is another piece that is cut out where he states, "it is raining drops of Chanel on aseptic bodies,  detach yourself from the smell of your equal. We are all very knowledgeable with the web, coke of people, opium of the poor".
Make of this what you will. The original version is 3:30 long but you can well imagine how those phrases can enhance the meaning of lyrics mocking the western way of living. This is no ordinary vacuous pop song. It has depth.
We cannot yet know if Gabbani's song will meet the bookies' projections, but for sure it could become the summer 2017 dance routine. I can visualise it performed at the beaches across the southern part of Europe, especially among friends while having a drink.
https://www.youtube.com/watch?v=FreQ8X6Xkjk
Off course winning the biggest televised show on earth could help to get the music around the world. We have seen it with other acts such as Celine Dion, Abba and more who originally sang in their local language then achieved vast audiences in English. One may speculate on how the meter in English translation will work on Gabbani's song, but the world also is more familiar with the Italian language and the mantra of the Eurovision is "Celebrating diversity." Maybe this time it will be even more fun to keep it in the original version no matter how badly it will be pronounced. Even so, that choice will be irrelevant considering that anyone missing the show will not be able to escape the song once they go to Italy this summer because it will be performed everywhere, and there will always be somebody, somewhere who will start the routine. So no matter what, you may find yourself dragged in.
It is an extra memory to take back from summer holidays in 2017 and share the view that "when life loses focus, men fall." Here, "men" is used as synonymous of mankind, that's what it means in the Italian version. But then he says "la scimmia si rialza – the ape rise backs. Namaste! Allez!"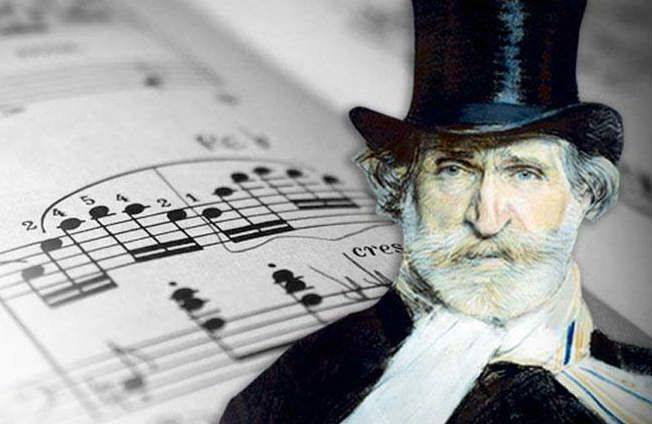 One of the most performed composers worldwide is Giuseppe Verdi. He was known, after any premier performance, for going out in the streets of Milan early in the morning visiting markets, taverns and any other popular places to see if people were singing his new arias. It was his way to measure the success of his opera. Gabbani's song has not only achieved this but also managed to match the taste of the critics with the popular choice, and it is very rare that this happens. Again, he is a master in celebrating diversity.
So we can say that Francesco Gabbani is not just a pretty face but an intelligent singer and composer who has found a new way to convey a clever and fresh message that transcends all generations and nationalities across the globe. A universal message, a need for everybody to return to a more organic lifestyle. It is not coincidental that the man who wrote the text for this song Fabio Ilacqua, lives in a minimalistic way, working as a farmer, hates modern socialising, and does not have a mobile phone. But he loves philosophy, and is as "contemporary as the Neolithic man." The one who captures a need shared by many across the globe even if not widely advertised.
So all this is not bad for somebody who started with an Amen and was about to say amen to the music business. May be we should all say amen more often.
Barring national rivalries, we may wish good luck to Francesco together with the endorsement he had already from Desmond Morris for the final on the 13th of May. In many ways, you are already a winner.  OM!
Occidentali's Karma Mania:
https://www.youtube.com/watch?v=q1lWNeUOh7Q