The Organic Beauty of "Miss Italia"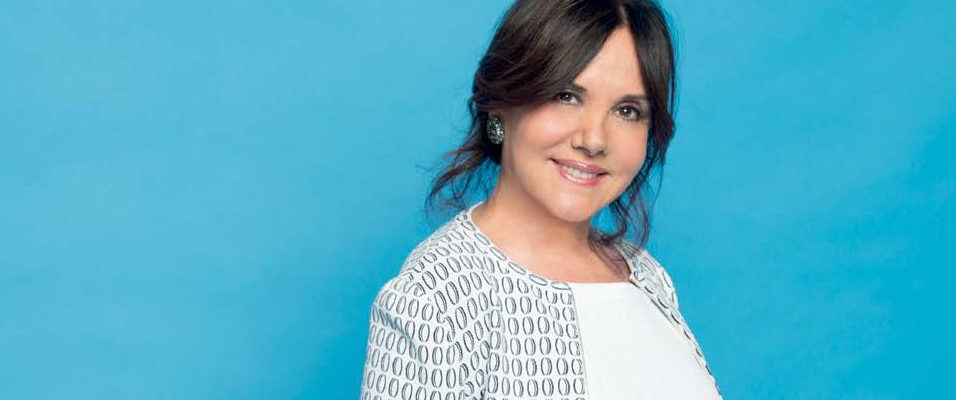 Meeting Patrizia Mirigliani is like meeting a piece of Italian cultural history that has given the world iconic beauty and style, writes MASSIMO GAVA.
What does he mean?
Here are a few names for you -Sophia Loren, Gina Lollobrigida. Lucia Bose, Maria Grazia Cucinotta. You may never have heard of them if it hadn't been for the "Miss Italia" beauty contest.
I meet Patrizia at her place in Rome after she has spent a sleepless night worrying about her sick cat. In fact her assistant has just taken it to the vet. "It was agony seeing him loo-king up at me with his big round eyes and not being able to under-stand what to do. He was fine yesterday", she tells me worried, "then, all of a sudden, there he was hardly able to move."
I can well imagine her distress, because when your pet looks up at you begging for help and you don't know what to do, it's one of the most powerless situations ever. But Patrizia declares the show must go on and with her ini-mitable flair she sits down in front of me ready to dish out her deepest secrets about the "Miss Italia" beauty contest. Sorry folks, no gossip here, but just what the whole expe-rience has meant for her. And how over the years the who-le event has been given a make-over under her direction. Patrizia tells me that for a good number of years she didn't want anything to do with it. Growing up in the shadow of her father, who was the original organiser, and not being bad-looking herself she found herself in the spotlight and it was all a bit overwhelming. But then after getting married and becoming a mother she realised that the event could be powerful tool to help attitudes towards women.
The very first contest took place in 1939 under the name of "Miss Sorriso" (smile). It was organised by Dino Villani and it was, in fact, sponsored to promote a brand of a toothpaste. The contestants were judged only on the ba-sis of photographs they had sent, not by competing on a catwalk as in its modern format.
After the break due to the World War II, the contest resu-med under its present name of "Miss Italia" and its conti-nuing success is very much due to Patrizia's father, Enzo Mirigliani. Past members of the jury have included Totò, Giorgio de Chirico, Luchino Visconti, Vittorio De Sica, Gina Lollobrigida, Alberto Lattuada, Marcello Mastroian-ni, Ugo Tognazzi, Lina Wertmuller and Claudia Cardina-le.
Throughout the many years of its existence, there have been many changes, from being broadcast initially on ra-dio to becoming a fully-televised event where the winner is decided by a public telephone voting. In addition the way the contestants are judged has changed since 1990 – the participants are no longer assessed in terms of their chest, waist and hip measurements, like in the old days, and it is now open to married women and mothers to enter, from the age of 18 up to 30, and, starting this year, Patrizia proudly announces, "Miss Italia" will be the first beauty contest in the world to open its doors to more curvy par-ticipants.
"But why was that not allowed in the first place?" I ask. "The organisers never did it deliberately but it was more a cultural thing that started in the 90s with the phenomenon of supermodels.
The fashion industry somehow dictated a certain look , and being skinny was how our contestants wanted to appear in order to copy their role models but when I saw that French model Isabel Caro had died from anorexia, I said, 'Enough is enough.' I was in a position to make a statement and changed the silly perception that girls had that being skinny was a synonymous with being beautiful."
"What does 'beauty' mean for Patrizia Mirigliani?"
"It's that combination of factors that make a person unique. Over the years I've seen a lot of so-called beautiful people who were empty underneath the packaging but I always get goose bumps when I see a girl passing by, who, by the way she moves and smile and just holds herself, has that je ne sais quoi which turns her imperfections into a unique human being."
"Can you really find any imperfections in Gina Lollobrigida, Sophia Loren, Silvana Pampanini, Lucia Bose or, to name a few more recent ones, Maria Grazia Cucinotta Cristina Chiabotto or Miriam Leone?"
"That's my point, I know it's difficult to think that because they've become such icons of Italian style and world cinema but if you'd talked to them they all felt they had something they didn't like about themselves which nobody else had noticed. What is important is that all these girls, thanks to "Miss Italia", made a name for themselves as actresses, presenters and models."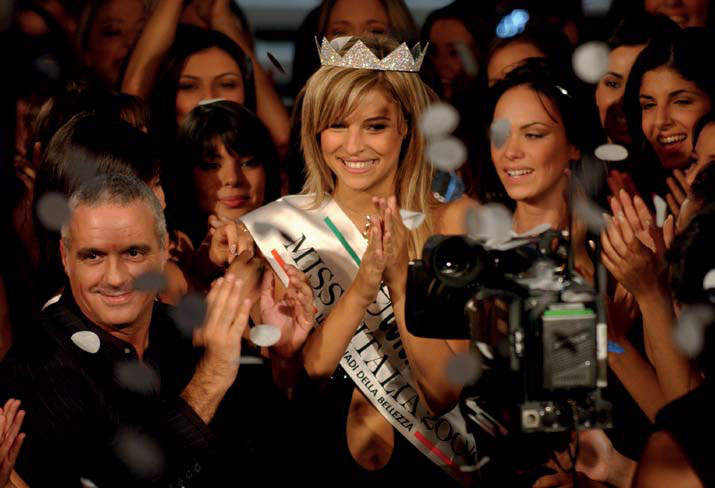 "I love to see girls", Patrizia continues "who, despite eventually studying or working in different areas of life, men-tion their experiences of "Miss Italia" as the moment that changed their lives and helped them realise their dreams. Yes, it's still a beauty contest, but so what? Should we as women be afraid of our beauty? I don't think so – just in the same way as we shouldn't be afraid to show our intelligence." And I say, hear, hear! There has always been and always will be va-stly diverging opinions on this subject but TV audience figures show that "Miss Italia" broadcasts have a much bigger following among women than men. These days on television we see little but talent shows. Well, "Miss Ita-lia" must be the most successful talent show in the world: just try to identify another one that has produced as many big names as the ones I've just mentioned.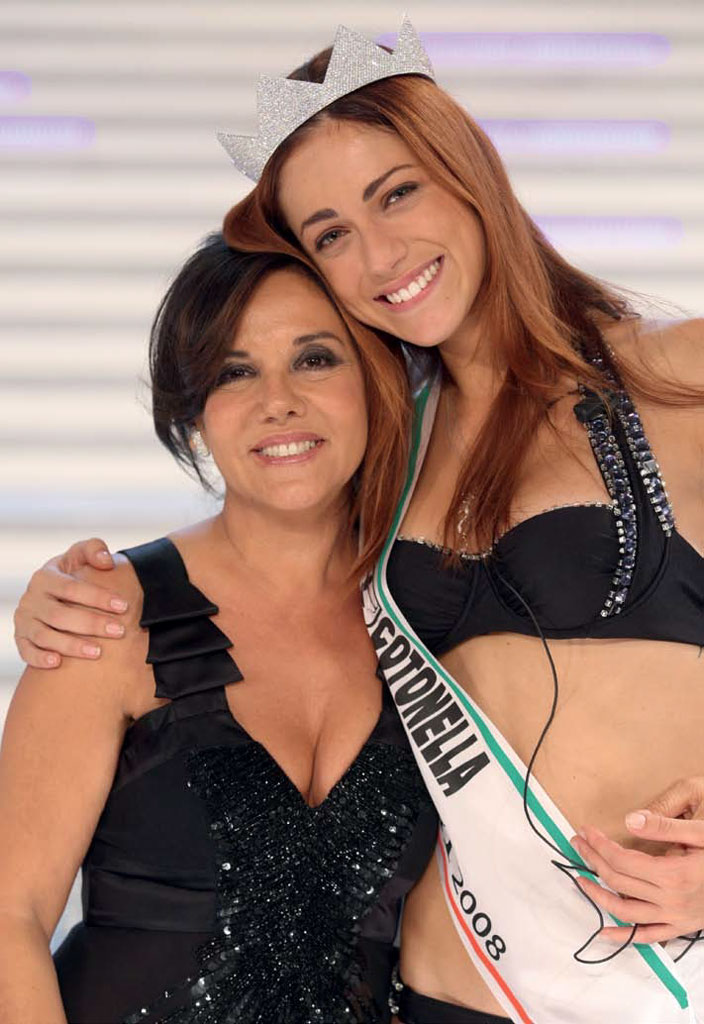 But apart from that, what is extraor-dinary is how Patrizia has reinvented the beauty contest not only as a way for girls to get into show business but also as a platform to raise awareness on subjects that are important to women. The numbers do add up – there are more than 15,000 entries each year for the different regional competitions and then, if you consider they have all come with their family and frien-ds, you have quite a substantial audience, which grows over a period of four months, reaching its peak when the final days of the competition get broadcast on national television with millions of viewers tuning in – "The perfect platform for important issues to be successfully aired", Patrizia says.
The contest has launched many initiatives, for example, helping breast-cancer treatment; raising funds to build housing for orphans in Africa; producing a calendar, shot by world-renowned photographer Tizia-na Luxardo, called "Women are Winners" (in honour of women injured in the workplace); and raising awareness for victims of stalking.
All the way through the interview Patrizia keeps glancing at her watch and I know, despite her professionalism, she is worried about her cat. Now the door opens and Patri-zia's assistant arrives back from the vet with the beloved animal in its basket. He looks a bit distressed from the injection and being confined in his basket but as soon as Patrizia lets him out he scoots off to avoid any more at-tention. A good sign he's better and we all feel relieved. I say that we can finish now but Patrizia wants to add one more thing. "My father said beauty contests have managed to make Italian women more independent, enabling them to move away from those classic stereotypes. As a woman myself, I am even more determined to help in any way we can to carry on his legacy – for the sake of women", she says with that sweet smile of hers that lights up her face and you can tell this is something very close to her heart.
This post is also available in: Italian Portuguese (Portugal) Spanish