The international fashion designer talks exclusively 
to DANTE's

Philip Rham in a revealing interview about what inspires and propels him to create some of the most sought-after and exquisite haute-couture around today.
by Philip Rham
You were actually born in Caracas and left at 15 years old. That was a big move coming to Europe at such an early age and starting a tailoring course in Milan.
My parents had to move to Europe for work and we ended up staying here for good. On my mother's side I have family in Italy, and so that's why Milan was the most convenient place to go to. During those three years on the tailoring course – both men's and women's – I learnt above all how to understand the complex building blocks of fashion, its secrets and how to mould your ideas to the shape of the body.
So do you consider yourself Spanish now? Or do you still feel a connection with Venezuela?
Yes I do, really, as my roots are half in Valencia and half in Andalucía. It's 20 years since I settled down here in Madrid after living a long time in Alicante where I grew up as a youngster and as a professional. My connection to Venezuela, though, is still part of me, day in day out. I still have family out there as well as some really good friends: aromas, tastes, emotions come flooding back to me as sweet childhood memories. All this mix of cultures has helped my creative development; I have a very strong perspective of things in terms of sensations and colours and that has helped me break down barriers and discover new ways to interpret those icons of classical elegance.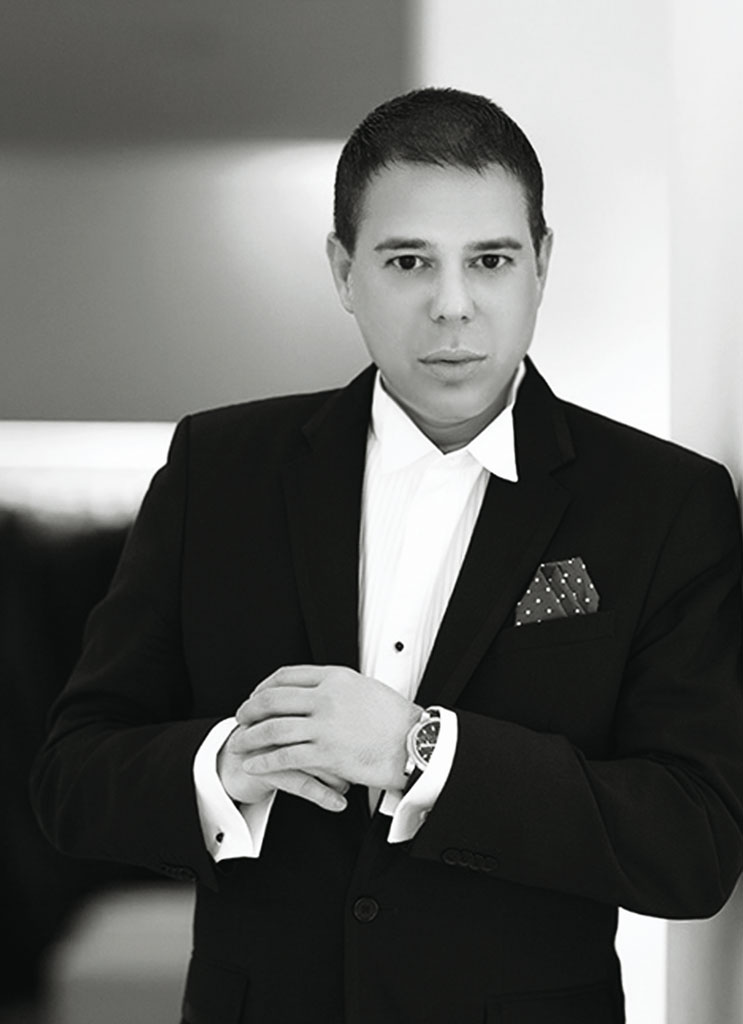 You immediately went solo as a designer at the start of your career at 18. That was very brave. With the benefit of hindsight, would you have done things differently?
No, I'd do exactly the same. I had a very clear idea of what I wanted and what I liked. Even when I was very little, I remember playing with bits of material from my mother's dressmaking; I'd use them to make model towns – the checked 'Vichy' pattern for the buildings and the flowery ones for the gardens! To express my emotions I needed something active, and fashion provided me with the means to do that.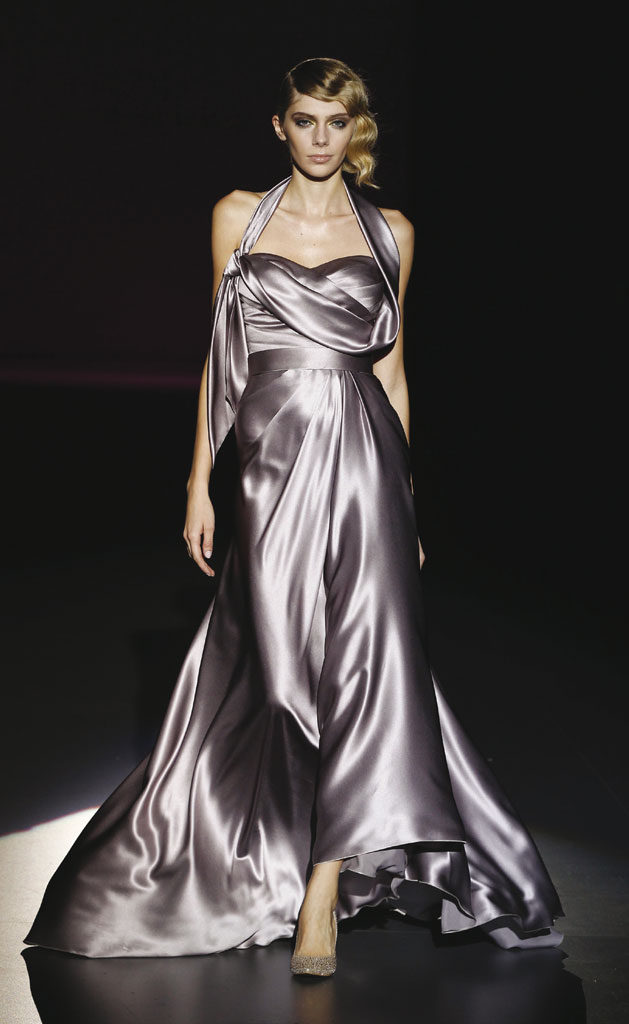 So tell us how did your first collection go down?
Well it was awarded the Air France prize for fashion and I was selected to represent Spain at the international showcase "Europe in USA". Since then I've continued to develop my work in Europe, though I haven't dropped my connections with America.
Right because your first catwalk show in 1988 was in the art deco theatre of Teatro Colony in Miami, wasn't it?
Whenever the fashion week's organisation has allowed me to, I have always chosen emblematic places to show my collections. There have been lots of fascinating venues but I have a particularly fond memory of the Convent of Los Angeles in Barcelona, the lobby of the Ritz and the Cibeles Palace in Madrid, where I am returning to present my bridal collection this year. It really is one
of the most fascinating places in Madrid, both for its location and because of its magnificent crystal hall, that filters the natural light, creating a unique atmosphere. As with the venues, music is an indispensable part of the special atmosphere that each one of my collections has. At the moment, I love listening to the music of Abel Korzeniowski.
What is that spark, that starting point for a collection?
The creative process is creative in itself and totally different for each one of my collections. For my latest one, "GOLDENMILE," everything started when I was walking from my studio to the new boutique we had just opened in the Golden Mile of Madrid. So at that moment I realised I had to pay homage in a small way to the place where I've lived my life, and which has enabled me to evolve my work over the last 20 years or more. Even then, after that spark arrives, for me there's always something that happens each and every time. It's about applying those disciplines involved in my search for beauty. I always end up imagining what a woman feels when she is under the gaze of others, I try to put myself in her shoes. Even the most beautiful woman can feel insecure if she feels badly dressed. I want my designs to help her convey her inner light and strength. Each piece is designed with two fundamental parameters, one technical and the other emotional – the technical gives shape to the outlines, the colours, the combination of textures and the final touches; the emotional shapes everything that comes before, my ideas are born from my emotions. My head defines the concept, but, without a doubt, it's my heart that gives it its shape.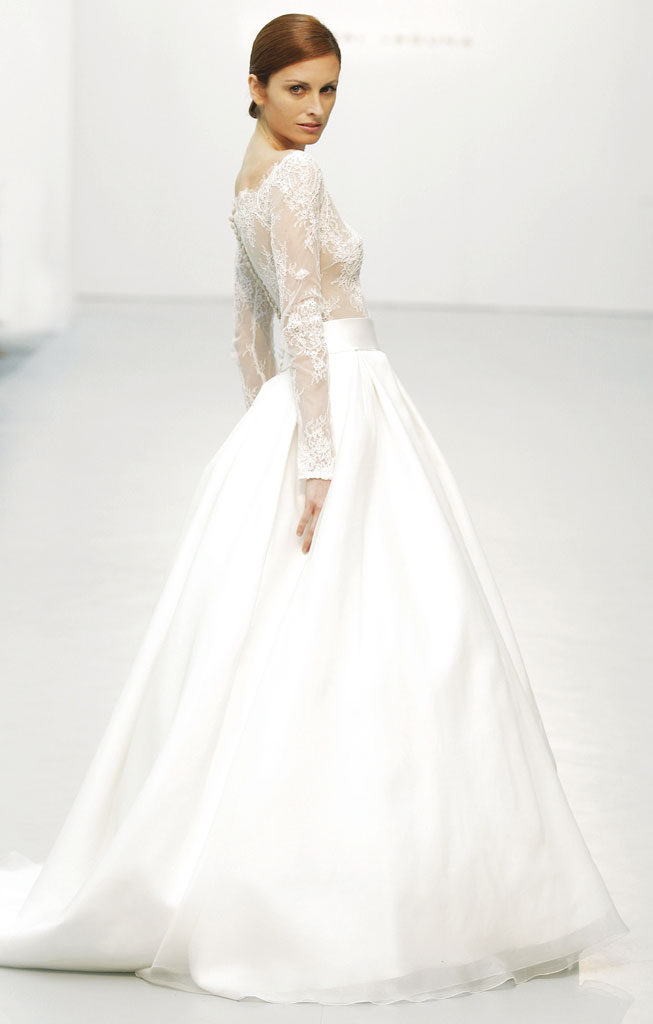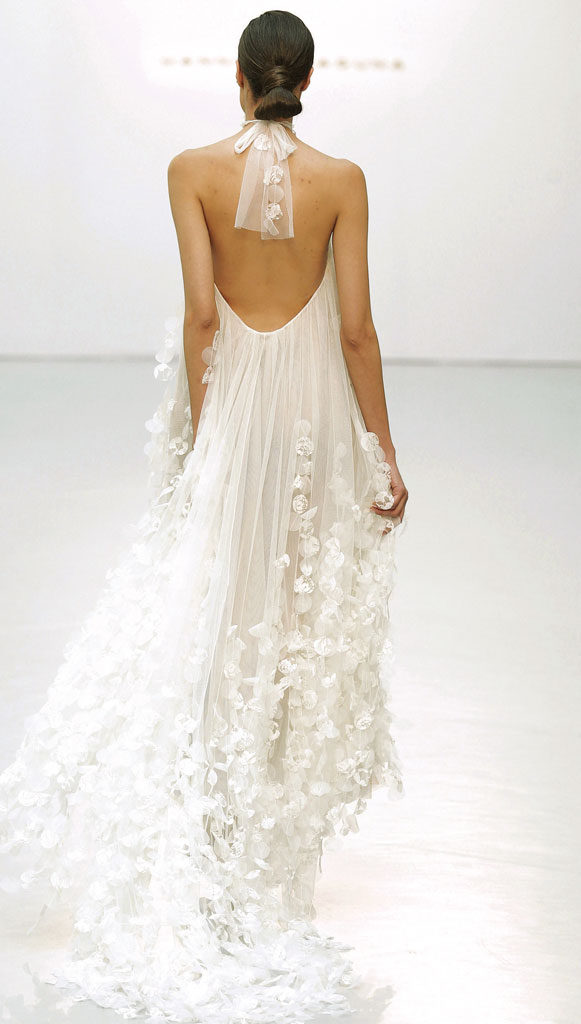 What is your ultimate goal with your collections?
I believe the ultimate goal is to seduce with elegance, over and above following any fashion and trends. I look for that balance between romanticism and femininity, going on an aesthetic journey that defines beauty in a natural way and remains timeless. I like classical beauty, seen especially in those cinema icons of elegance, so prominent from the 1920s to the 1950s. In my collections, I develop concepts that come from the history of fashion, putting great store on the expressiveness of the finished lines, the styling of the forms, the development of frameworks in order to create a contemporary narrative context. As to shocking, well, creating free from functional constraints is part of the spectacle of a catwalk and I respect that, but personally I consider both being amazing and being wearable should take centre stage. I don't understand a catwalk show that doesn't have as its real goal to be able to wear the clothes you're seeing – otherwise they're just museum pieces.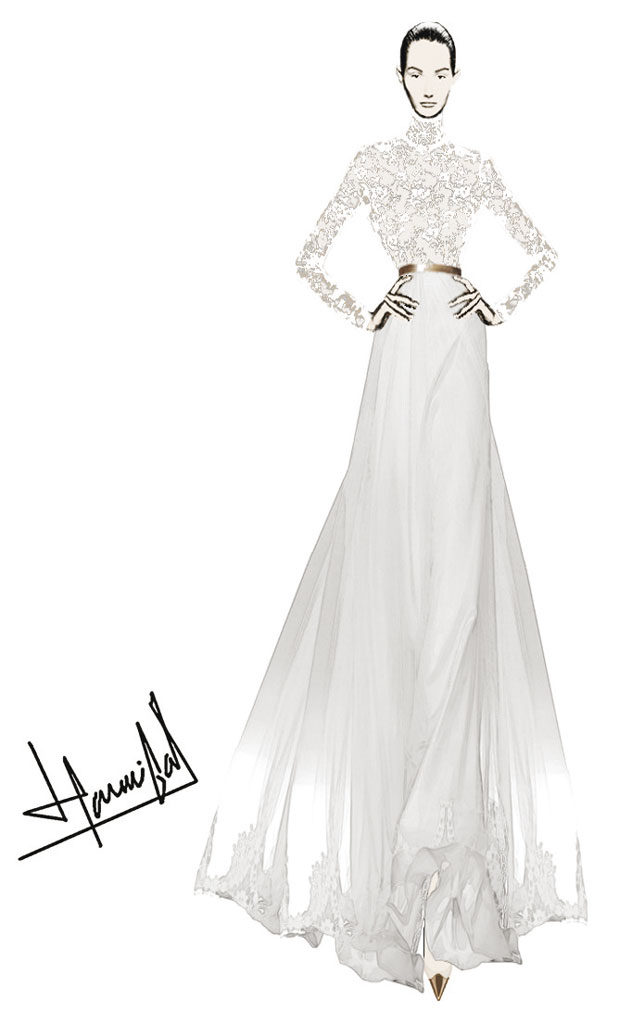 From very early on you have concentrated on a one-to-one relationship with individual clients. Is there a philosophy behind this engagement?
Yes, without a shadow of a doubt, right from the beginning I have always thought of my profession in the strictest sense as a serving the needs of my clients, independent of any aesthetic considerations. This has meant I've kept a constant dialogue with them and it has continually impacted on how I develop my creations. Mass-production is fine for day-to-day wear but when you want your clothes to be special and timeless and personalised, it's crucial you tailor and manufacture them individually. That's why my creations are modelled on real models and bias-cut, using time-consuming techniques that are rooted in haute-couture, and that only craftsmen can do and which can't be mass-produced.
Hannibal, it's not often a designer gets a reputation for haute couture bridal wear. Is there a moment in your life that provoked that first connection?
Everything started as a result of requests from some clients of mine – they couldn't find anything that met with their needs. And so in the end the one-off's turned into a regular thing and so now of necessity I create single-themed collections for exclusive bridal wear with their own catwalk show. It's normal now but in the 1980s, it didn't exist at all. Us designers would close our shows with a bridal outfit but we wouldn't make whole shows out of them. I think I was one of the first, along with two other fellow Spanish designers.
In this world of continual outsourcing from cheaper markets, you have resolutely kept faithful to local home-grown sources and craftsmen. You have also branched out to having your own successful lines in accessories. Are you also closely involved in the selection and design of these?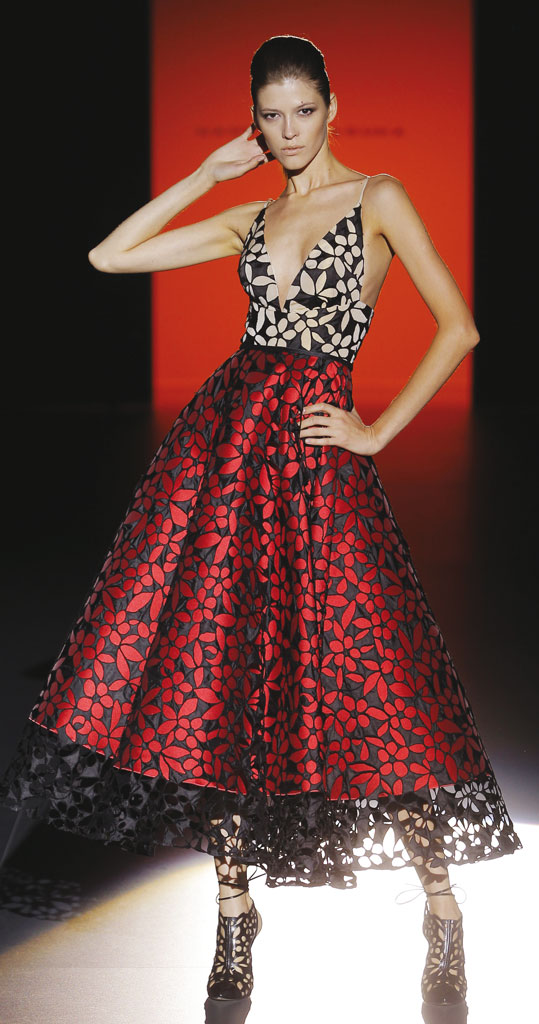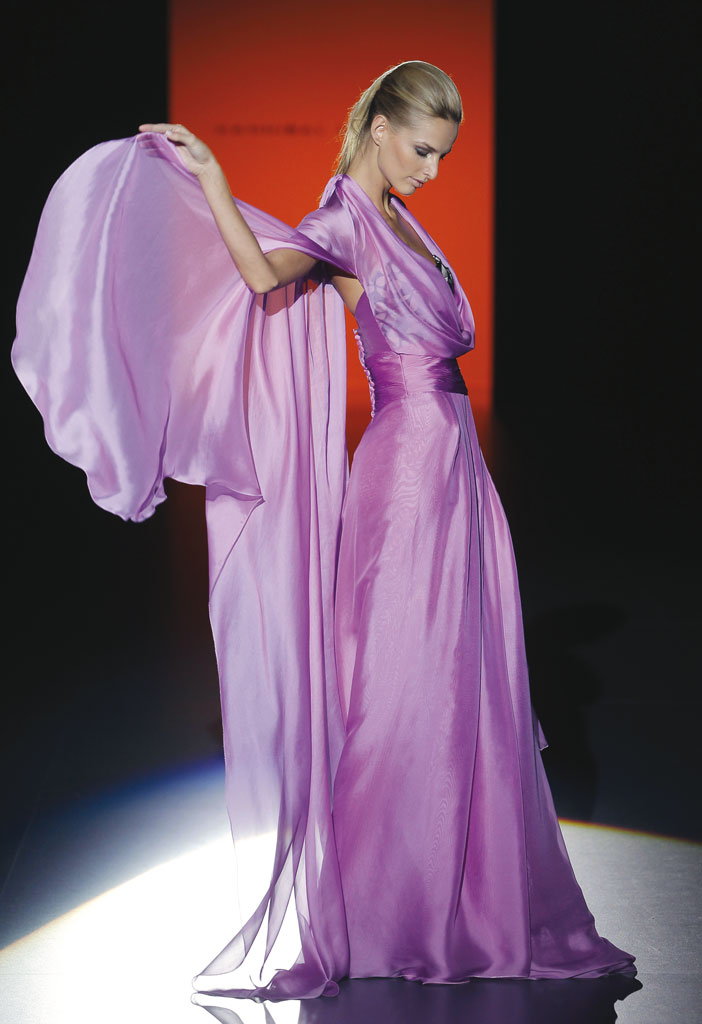 It is utterly crucial and indispensable for me to have artisans to realise my collections. The clothes, including the shoes and the handbags, are made and realised by expert craftsmen who use skills handed down from father to son. This guarantees the indisputable excellence and high quality of "Made in Spain". For almost 30 years now, we've given individual training in our workshops to all kinds of artisans in the techniques needed. As regards the clothes, shoes and handbags, I'm personally involved in designing each original piece, under the close watch of specialist designers and master craftsmen who then produce them individually. As regards the travel accessories, eyewear and cosmetic products, every design is born of my own creative philosophy, that is, essentially, to make a woman feel special and unique.
You also design for films, opera and theatre. How did you find collaborating in such a different environment?
When you work for the performing arts, the creative process is totally different; very particular requirements and guidelines come into play, you share ideas, learn from great masters and discover new paths to go down. The best feeling is when you manage to make the director happy – I especially remember my last job working on Alex de Iglesia's film called "Mi Gran Noche" and the costume designer Paola Torres was nominated for best costume at the Goya awards.
You contribute and give a lot of your time to various foundations, raising money for good causes. Can you tell us about that side of things?
Along with the plastic arts, music, cinema, theatre and literature, fashion is part of our social culture, perhaps it is the most utilitarian of all of them. Fashion engenders dreams and feats of imagination, industry and spectacle, both controversial and addictive, and emotions and feelings. But above all fashion is a vehicle to communicate directly with people, allowing us to turn a spotlight on countless organisations whose tireless work raises the public's awareness and engagement.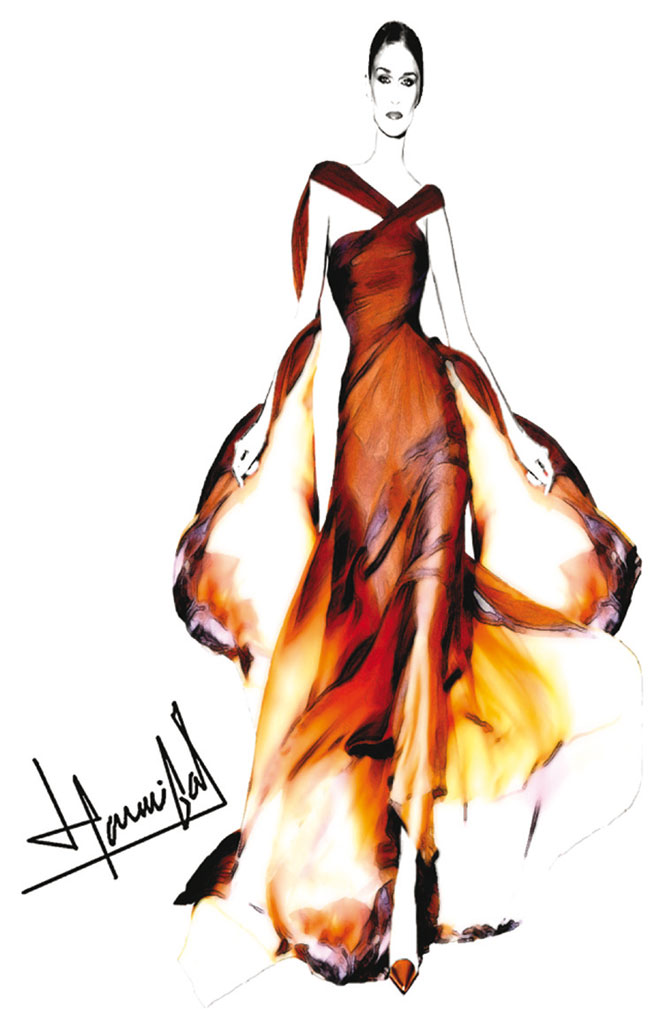 Finally in 2014 you celebrated your 100th collection. Congratulations! But are you still excited by the world of fashion and haute couture? Or do you want to retire gracefully and become a gentleman of leisure?!!?
(Laughs.) Every collection is a new excitement and a challenge. However, retirement is not part of my plans, yet! I still have a lot to learn and to offer. I am conscious sometimes that the frenetic world I'm surrounded by is exhausting but I have a great team of professional people who are there to help my dreams to come true.
On that note, we parted. Hannibal has much to do with work that still enchants and amazes. After the recent success of the "GOLDENMILE" autumn/winter collection 2016/17, he is now putting the finishing touches to his next collection Couture Novias (Bridalwear) 2017 which is due to take place in April.
For further details visit
www.hannibal-laguna.com