Colombian Daydream of the Colonial Past
Situated on Colombia's Caribbean coast, Cartagena de Indias is a centre of economic activity in the Caribbean, and a major resort city in Colombia. But this vibrant, modern city also wears its deep colonial history on its sleeve. It's easy, when visiting it, to imagine yourself back in time at the height of Spanish colonial splendour, when it seemed all the world coveted the immense wealth and beauty of Cartagena.
O
On a balmy June afternoon, my taxi speeds past the windswept, palm-lined beaches gracing the road that approaches this city of dreams. Passing through the arched gate of the walled town, I find myself ensconced in the mystique and faded glory of time worn ruins.
I have arrived in the fairy-tale city of Cartagena de Indias, Colombia. At every turn, there is an-other gem of exquisite colonial architecture. The old painted walls are gently dilapidated, crum-bling at the edges. Yet there is still a subliminal beauty residing in the perfectly faded pastel tones glowing now in the midday sun. Balustrades loaded with cascading streams of bougainvillea, rusting metal hinges and studs on ancient oversized wooden doors, evoke now (in my over-active imagination) a past of Spanish conquistadors and dashing armoured combat. The sights and sounds of this unique, walled city recall the myth of a past era of swashbuckling heroism and bloodshed.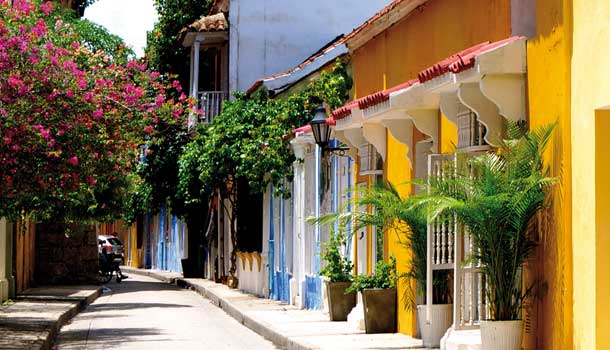 In the present, though, the mood is "mañana." Noone wants to hurry in this ninety percent hu-midity. I wander along the sweltering pavements, past a haze of colourful street traders who de-light in strategically placing their vibrantly coloured merchandise in my path. The much-prized Colombian silver and emeralds dazzle me with their brilliance. These traders, and others now running hotels and assorted businesses throughout the town, make up a large proportion of the diverse population of this captivating place. In the early 19th century, with growing prosperity in the region, there was an influx of new blood from far and wide. Many African and Asian immi-grants arrived to make new lives for themselves and their families.
| | |
| --- | --- |
| | |
Their city is quirky as well as charming. I return to one of my new favourite haunts one morning for a cold drink. Where I sat sipping a coke and watching the world go by just the previous day, there is now no more than an empty shell of a building. It seems someone has decided overnight to start a renovation in peak season! I am equally surprised when, one evening, an unusually vio-lent thunderstorm flattens an unsuspecting parked car! The crowds of locals who cluster around seem perfectly unperturbed. It would seem that some of Garcia Marquez's magical realism is at work here. Marquez, now in his eighties, still has a house in Cartagena, where he often spends his winters, and is a well-known figure amongst the locals. It is these locals, and generations of their ancestors before them, who have largely inspired his accounts of profound love and solitude, peppered with mystical whimsical tales of life. I find myself daydreaming again and again of this time of old-fashioned courting amongst the shady plazas, wondering at the exquisite possibility of a distant love that could outlast more than five decades of war and disease – the central subject, described with such richness by Marquez, in his novel Love In The Time Of Cholera and the film of the same name, which was shot here in 2007.
| | |
| --- | --- |
| | |
The origins of Cartagena date back to the 16th century when Pedro de Heredia founded the city on the old site of an indigenous village. It soon attracted corsairs and pirates from all over Europe for its reputed wealth. I am filled with shame as I learn of the damage caused by my fellow countryman, Sir Francis Drake. In 1586, this champion of our British history books, destroyed large sections of the prized Catedral de Santa Catalina with his infamous cannon attack. Eventu-ally, extensive fortifications were put in place, creating the most impermeable defences anywhere in South America. In 1984, the port, fortresses and monuments of Cartagena were collectively declared a UNESCO World Heritage site. The largest and most impressive of these fortifications is the Castillo San Felipe de Barajas, which dominates the city skyline and has stood out through the centuries as a powerful reminder to any approaching invaders of the sheer muscle of this place.
Cartagena was also a major slave trading centre, one of only two cities in the Spanish Americas (the other being Veracruz, Mexico) authorised by the Spanish crown to trade African slaves. I learn of the supreme altruism of Pedro Claver or San Pedro, as he later became known. This young man arrived here in 1610 as a Jesuit missionary. He became a pioneer of human rights as he devoted the next forty years to his ministry of service to the many slaves arriving on these shores. I enter the cool interior of San Pedro Church, leading on into the monastery where this saintly man administered his care. I wander amongst the shade of palms and old stone archways. As I gaze into the old, weather-beaten trough which was the original place of baptism for many of the slaves that San Pedro ministered to, I become aware of a sense of spiritual calm that still endures in this serene place.
I wander out into the dazzling sunlight and am approached by luminous ladies carrying on their heads baskets, full of mouth-watering fruit, and by charming men with gleaming smiles, cajoling and enticing me to step into the cool interior of another antique-filled bodega. I relent and take a seat inside, feeling the relief of escape from the stifling heat of the late afternoon.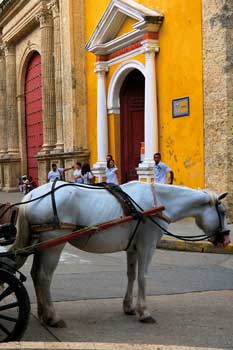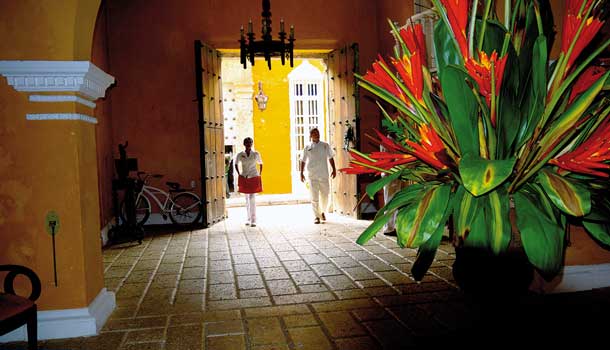 "You are American?" enquires the waiter (it's about the tenth time today I've been asked that question). There is only a small stretch of the Caribbean sea between here and the Gulf of Mexi-co. Why would anyone suspect English-speaking visitors to have travelled half way across the world from a distant London suburb?
"No, soy inglesa, soy de Londres," I venture, once again attempting to practise my much-neglected A level Spanish.
I relax and enjoy a fresh juice made from lulos and guanabanas, two delicious native fruits, that have no English translation. As I sip away, I am cast back in time again by the pounding of hooves on the cobbles outside. The red of a carriage wheel flashes past the door. The clinking of bridles and harnesses on the horse-drawn vehicles summon visions of grand noblemen. This par-ticular fantasy is for rent in Cartagena. You can hire a hand-painted, horse-drawn carriage, with all the trimmings of a colonial past, and circle the thirteen kilometres of old stone walls, while waving royally at everyone you pass. It is as if, just for a moment, you had become part of the aristocracy of a bygone age.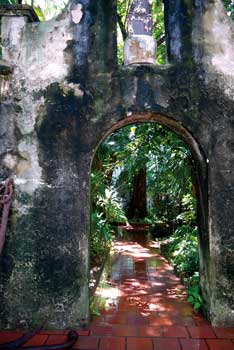 Refreshed by both the tropical juice and the daydream of an earlier time, I stroll out into the night towards the ramparts at the city's edge. I follow the heady beat of Latin rhythm, my bare shoulders gently kissed by the warm sea breezes. Sensuous rosy skies drape the horizon. The now dim light of the beach is punctuated every so often by the soft glow of fisherman lamps. Along the city wall, crowds of people enjoy ice cold beers. I decide to join the throng and order one for myself, while the salsa beat from the bar below beckons me closer. It is a fitting end to another sweltering, yet magical, Cartagena day.