The Woodblock Prints of Chen Li
Chen Li hails from China's frontier Yunnan Province. Bordering Burma, Laos, Shangri-la, and close to Tibet, it is a place of spectacular landscapes and predominantly Buddhist philosophy.
Chen Li is a master woodblock printmaker and an extraordinary painter with a unique vision and abundant originality. His joyful and intoxicatingly harmonious works convey the life-affirming energy of Yunnan.
Wooden-Houses-Street
Yunnan is also one of the best known areas for the use and development of an extraordinary woodblock technique known as jueban 绝. Translated from Chinese, the name means 'waste-block' because the wood block is reduced to nothing at the end of the process.
The artist must commit to a finite amount of prints – usually 20 for Chen Li – from the first time the first colour is applied to the woodblock. There is no going back and no possibility to print additional images in excess of those to which the artist initially committed. No wonder it has also been dubbed the "suicide technique".
Human Buddha
The image is built up through a process of repeated cutting and printing of the same block, printing one colour over another after each cutting, until the image is complete. Only opaque oil-based inks are suitable for this method. The rich, oil-based inks give the prints a unique texture, similar to an oil painting. The process lends a sense of urgency, commitment and entirety to each work.
tree of life
Chen Li's woodblock prints are a song of line and colour, combining mastery of technique, lyrical lines, vibrant colours, and imaginative compositions. Steeped in Eastern philosophy and simultaneously traditional, contemporary, and whimsical, the woodblocks are a vivid testament to his vision and originality. His woodblock prints won numerous national awards in China. During his first year of exhibitions in London, his work was seen and acquired by The British Museum.
Chickens Singing in a Village Tree
Chen Li lives and works in Kunming, the capital of Yunnan Province. Born into an artistic family in 1971, he grew up surrounded by the avant-garde artists of the post- Cultural Revolution, equally inspired by the works of Bruegel and de Kooning as of Guan Xiu and Zhao Wu-ji. After a turbulent youth and a near-fatal accident, Chen Li goes deep inside himself to find peace, harmony and balance. It is this that gives his works such power.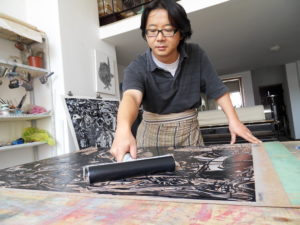 Chen Li's "Human Buddha" will be on view at The British Museum at the Sir Joseph Hotung Gallery starting 5 June. Chen Li is represented by Katrine Levin Galleries which is curating the exhibition "Chen Li: The Woodblock Prints", held at the Coningsby Gallery, just 8 minutes walk from the museum. The exhibition is open 3 – 8 June, 10am – 6pm Monday – Friday | 11am – 4pm Saturday.