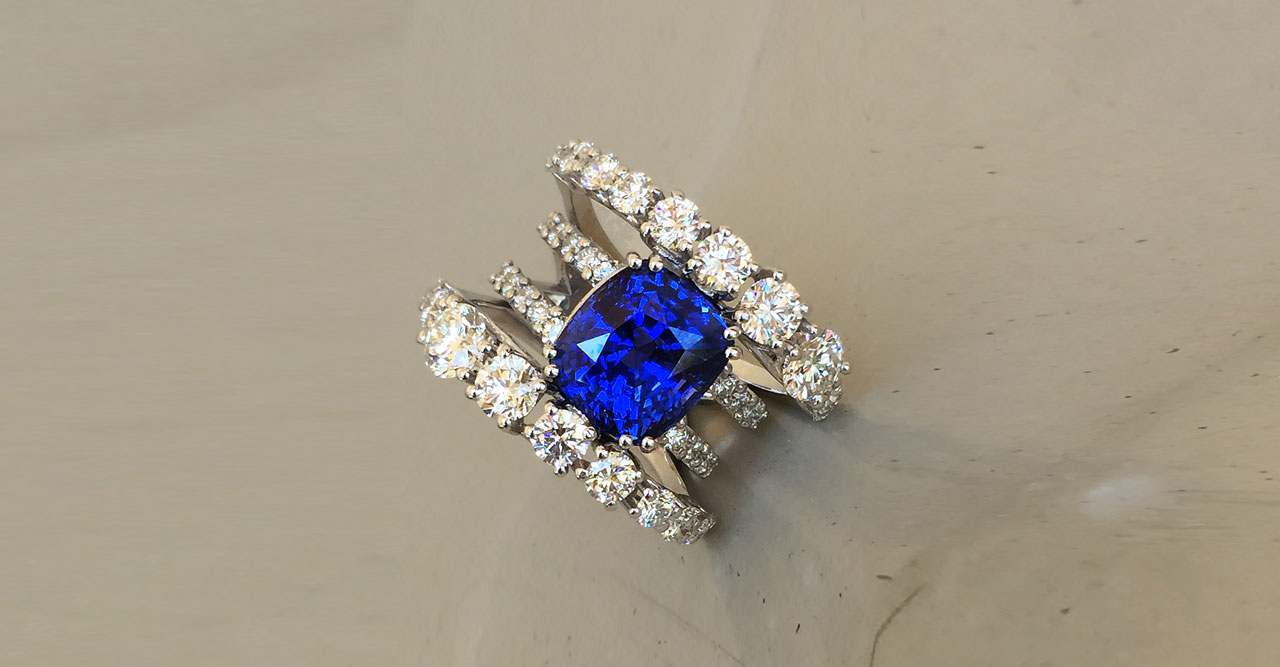 Luxury or Opulence. Defining the Best
October 17, 2018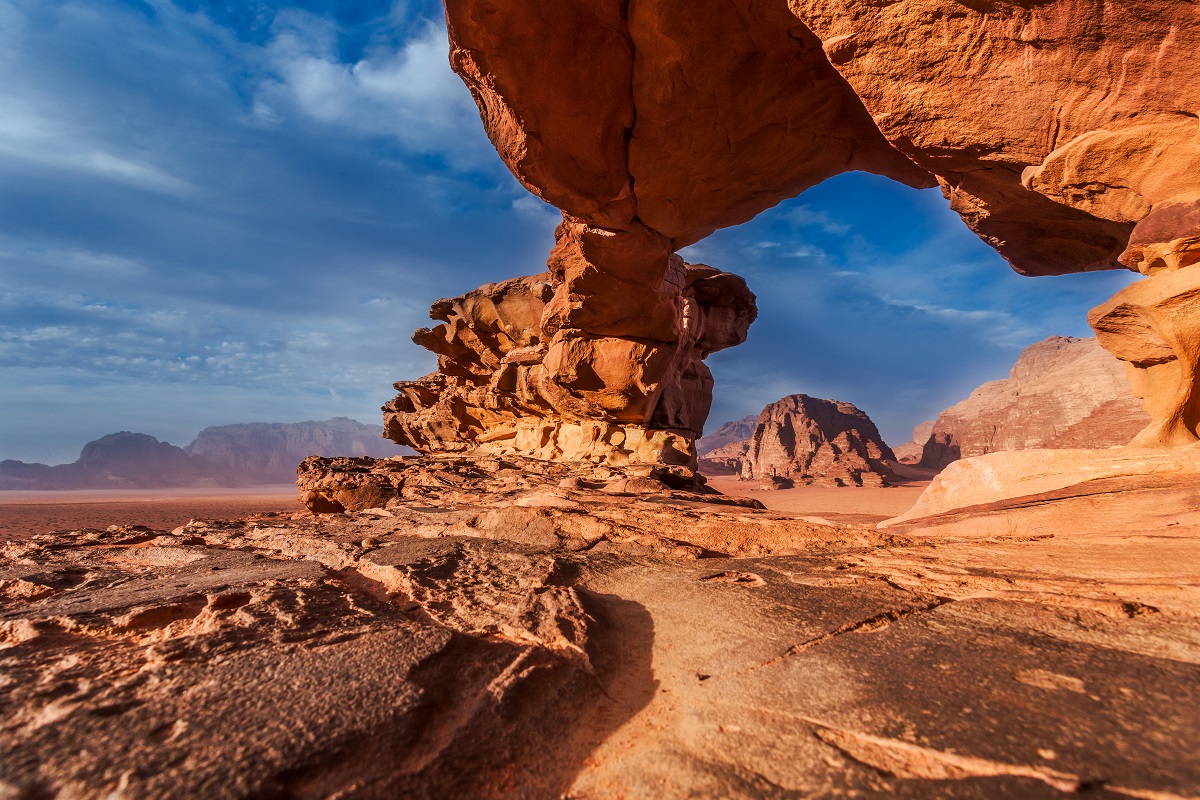 Female Gaze East
November 11, 2018
LEVAN LAGIDZE, the iconic Georgian painter, returns to London.LONDON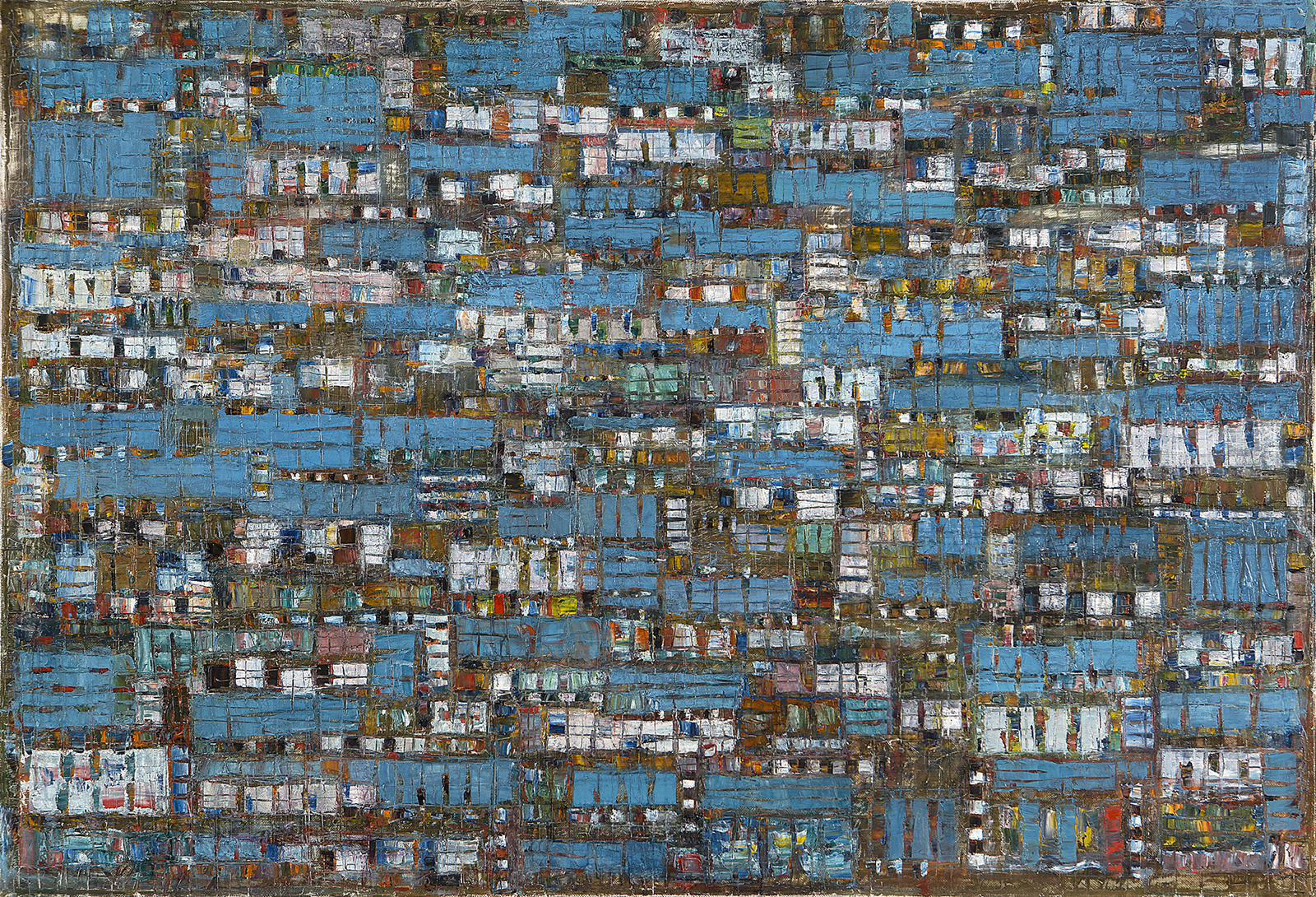 LEVAN LAGIDZE, the iconic and reclusive Georgian painter , returns to London  for the first time in 20 years with a major exhibition of new works

Lagidze is known for his highly structured and layered abstract paintings, referencing the spectacular landscapes and cityscapes of his native Georgia.  He is sought-after in the international art world, where his paintings have recently fetched high sums at auction in New York, but is notoriously reclusive, preferring to exhibit solely in his own gallery in Georgia's capital, Tbilisi. For the first time in 20 years the artist has been persuaded to travel to London with a major exhibition of recent works, to be held by Katrine Levin Galleries at La Galleria Pall Mall, 19 November to 8 December 2018.
Levan Lagidze is one of Georgia's most prominent artists whose work is collected by national museums across the former USSR and in the US, including the legendary State Tretyakov Gallery in Moscow, the Museum of Modern Art in Moscow, the National Gallery in Tbilisi, and the Zimmerli Museum in the United States. In October 2018, the Georgian Museum of Fine Art in Tbilisi opened a new building with a hall dedicated to the artist's work.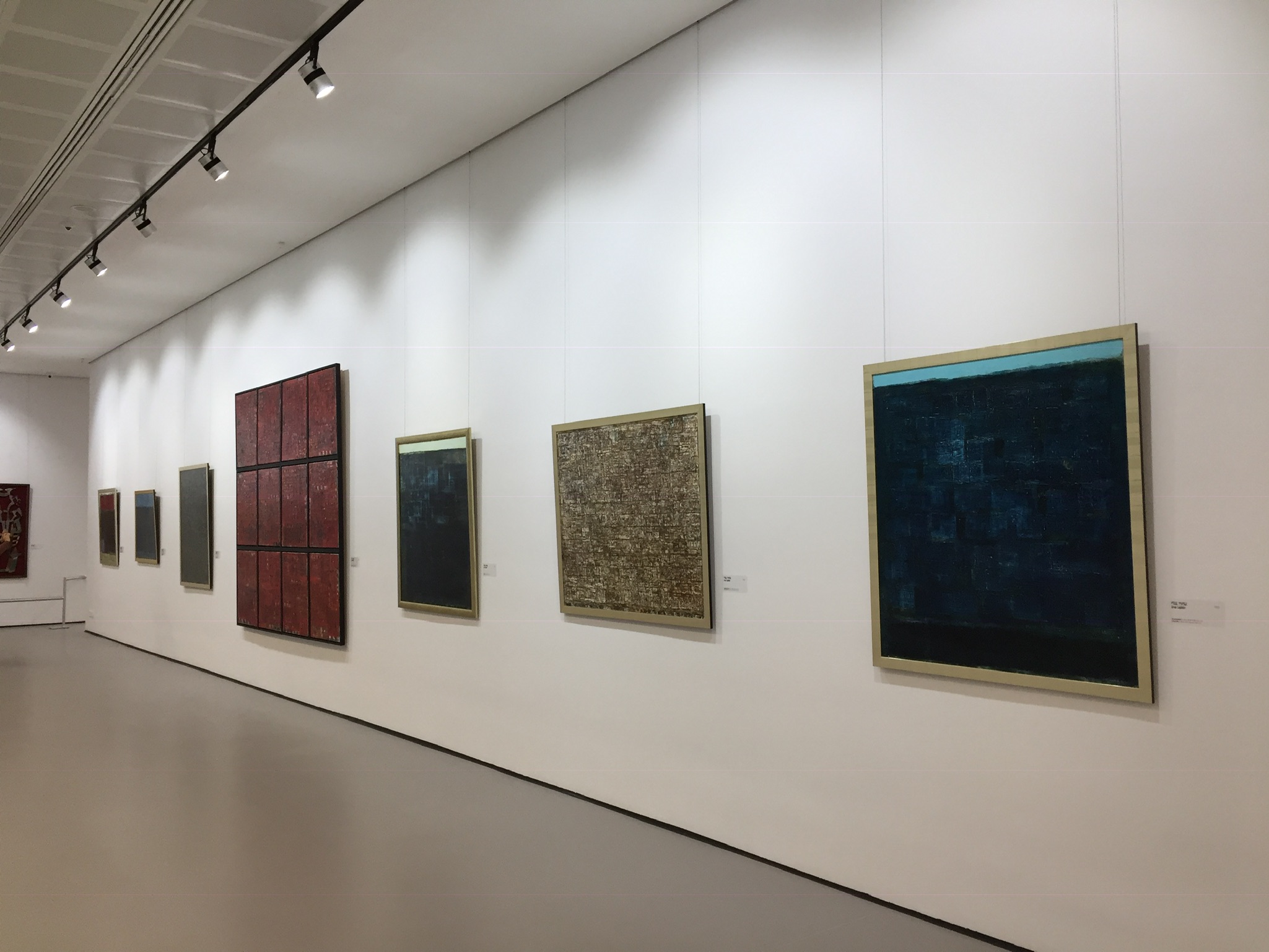 Museum of Fine Art, Tbilisi, Georgia, permanent collection
Lagidze's art shares experiences through abstraction, connecting to universal narratives such as landscape and urbanisation. He is adamant in saying "I don't want to surprise or shock you, I only want to share with you."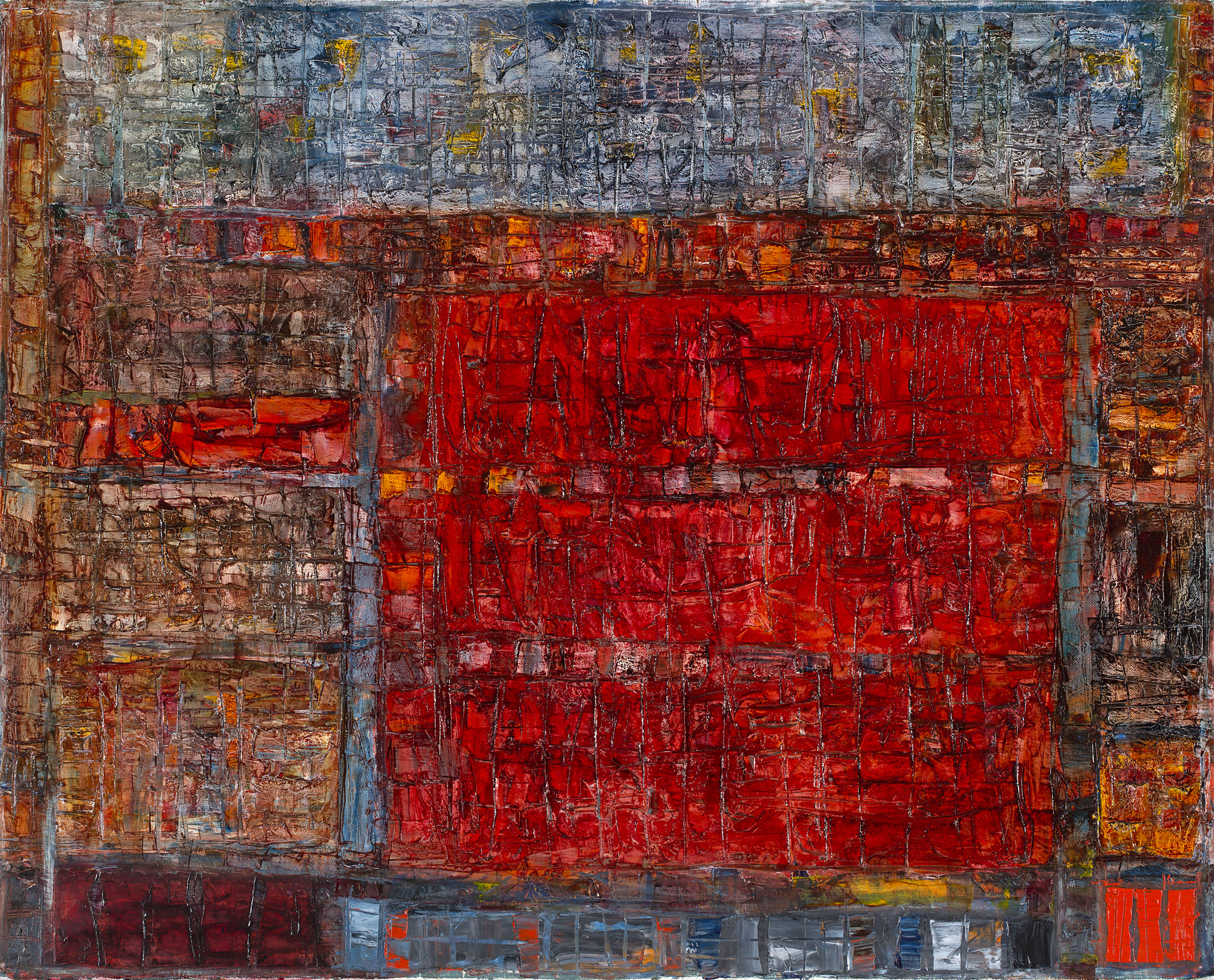 (Levan Lagidze, "Vineyards", 2017, oil on canvas, 105 x 130cm)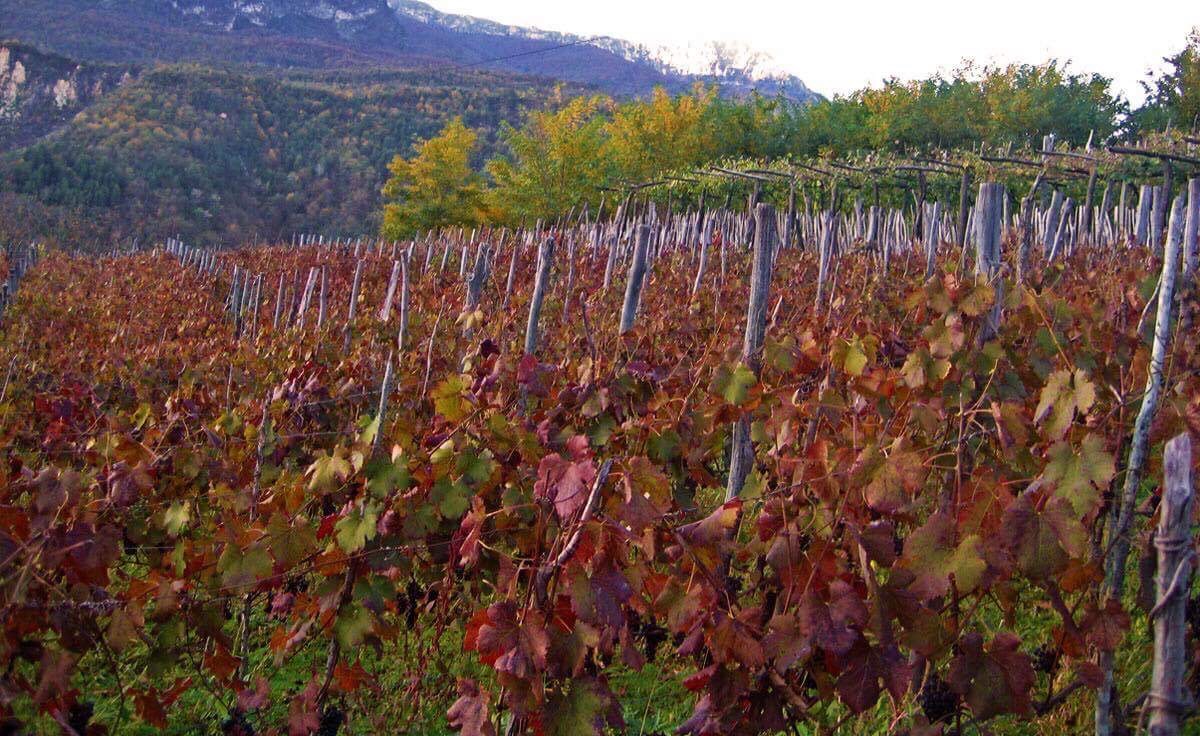 (Vineyards, Kakheti wine region, Georgia)
This desire to share makes Lagidze's abstract works not at all abstract. The combination of colours and title paints a vivid emotional image that is instantly recognized by our hearts. If there is such a thing, his paintings are emotional hyperrealism. You need only look at "Spring. After the Rain" to be transported to a familiar feeling, a specific time and place in memory. The scent of rain on a Spring day just as the sun comes through the clouds – we have all experienced the joy of this moment, no matter our culture, language or geography. Lagidze's intricately layered and joyful works share with us such universal emotions.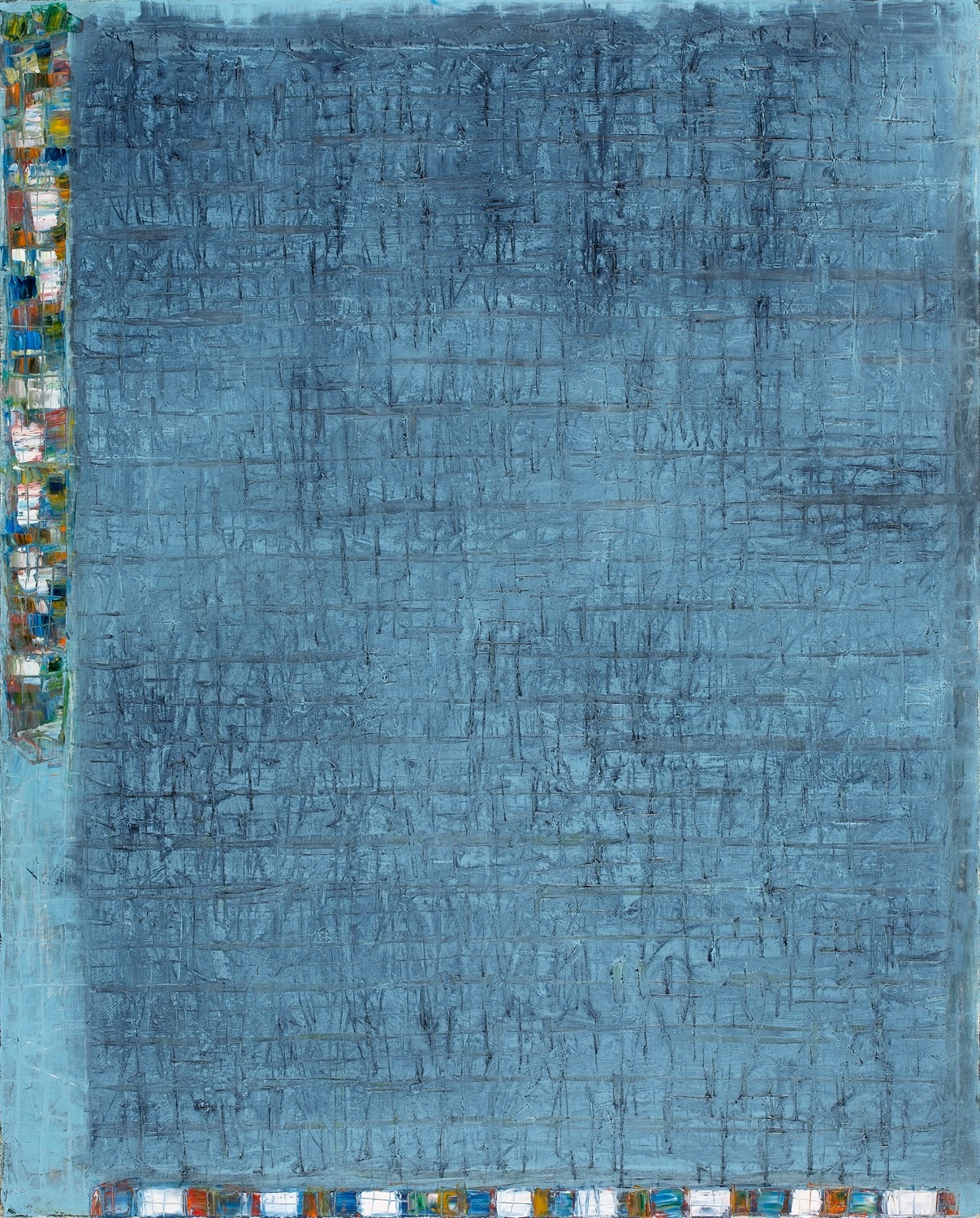 (Levan Lagidze, "Spring. After the Rain", 2018, oil on canvas, 130 x 105cm)
Colour is at the heart of Lagidze's work. In addition to the emotional connection, Lagidze creates layers of colour and structure to entice us to look deeper into the paintings, to constantly discover more. He says, "It is said that painting is the art of showing colour – but to me it is the art of hiding colour. Colour needs to be hidden in order to entice the viewer into searching deeper."  As Nana Jorjadze, the Georgian film director and scriptwriter aptly said, "Inside every square of Levan Lagidze's work is a separate universe. His world, his art, is a great galaxy. Perceiving his paintings depends upon distance: from afar, one sees a large canvas, but as one moves ever closer one's approach seems endless and one discovers ever more numerous and increasingly minute universes within."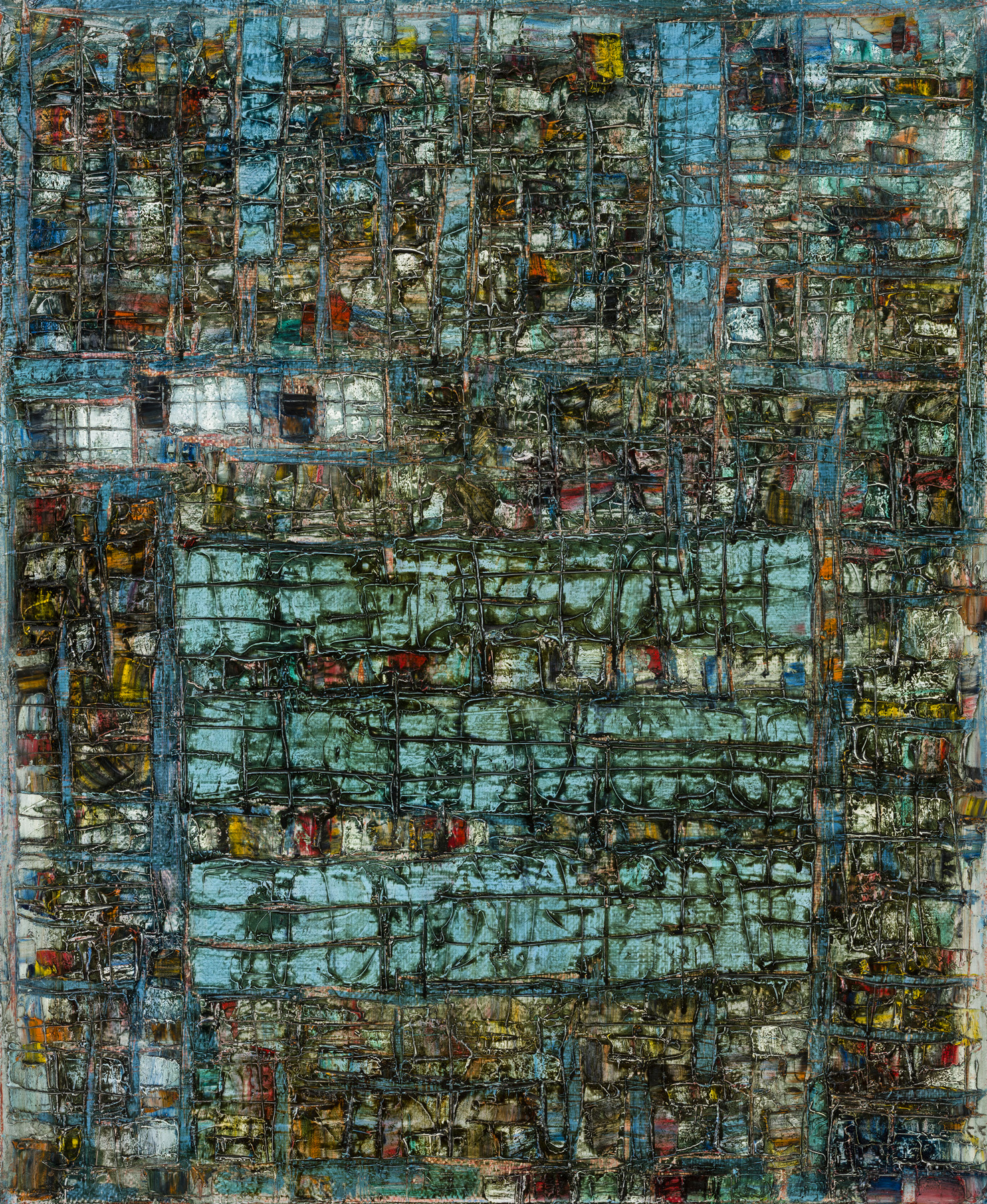 (Levan Lagize, "Composition", 2017, oil on canvas, 73 x 60cm)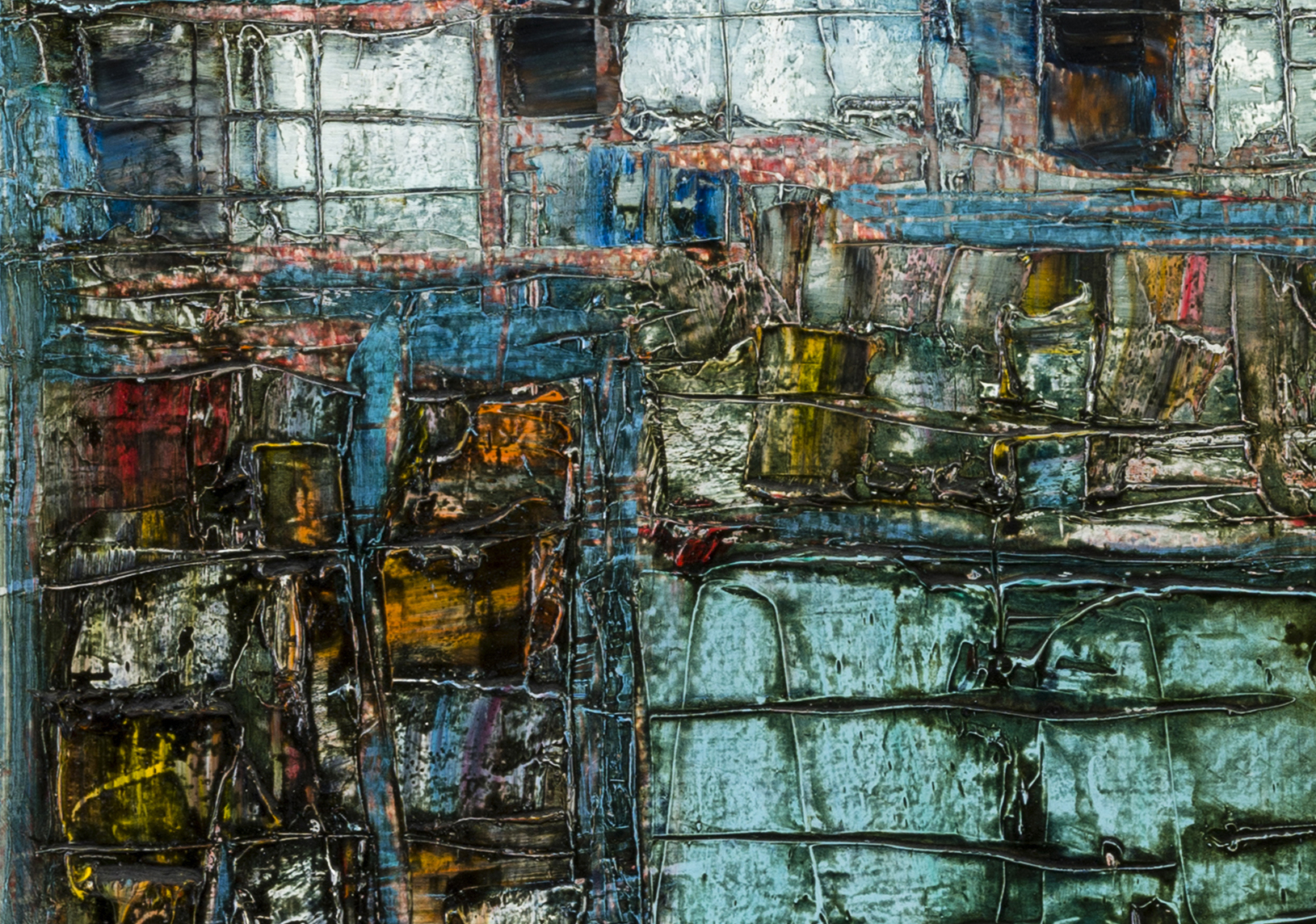 (Levan Lagize, "Composition" (detail), 2017, oil on canvas, 73 x 60cm)
For Lagidze "there is no contemporary or not contemporary art. All artists that have ever immersed themselves in the language of art are in the present." He says that creating a composition is like "measuring eternity with careful steps", where a blank canvas demands and promises complete immersion into the subject matter. In this state, concepts such as distance and time dissolve into an all encompassing here and now.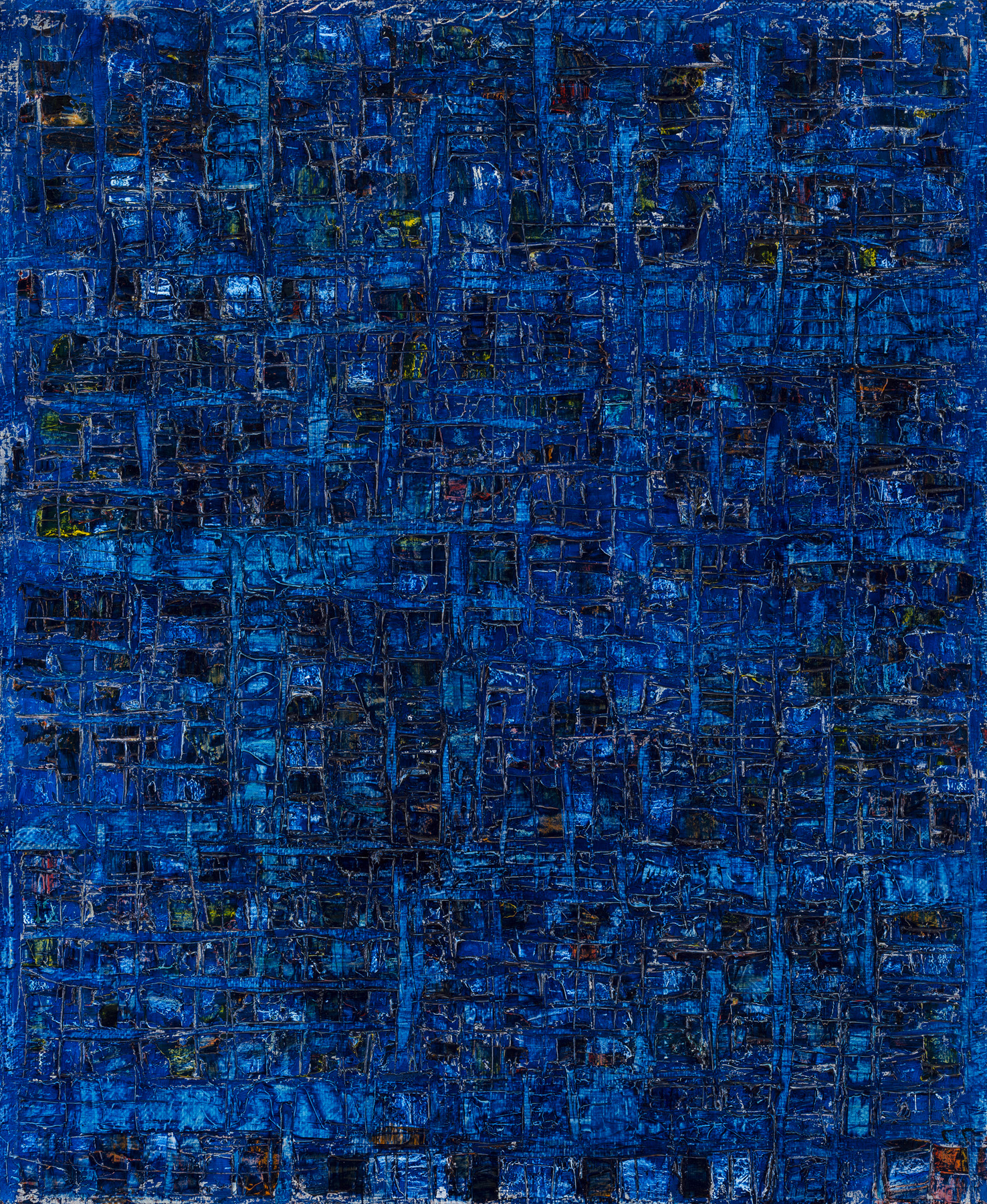 (Levan Lagidze, "Blue", 2017, oil on canvas, 73 x 60cm)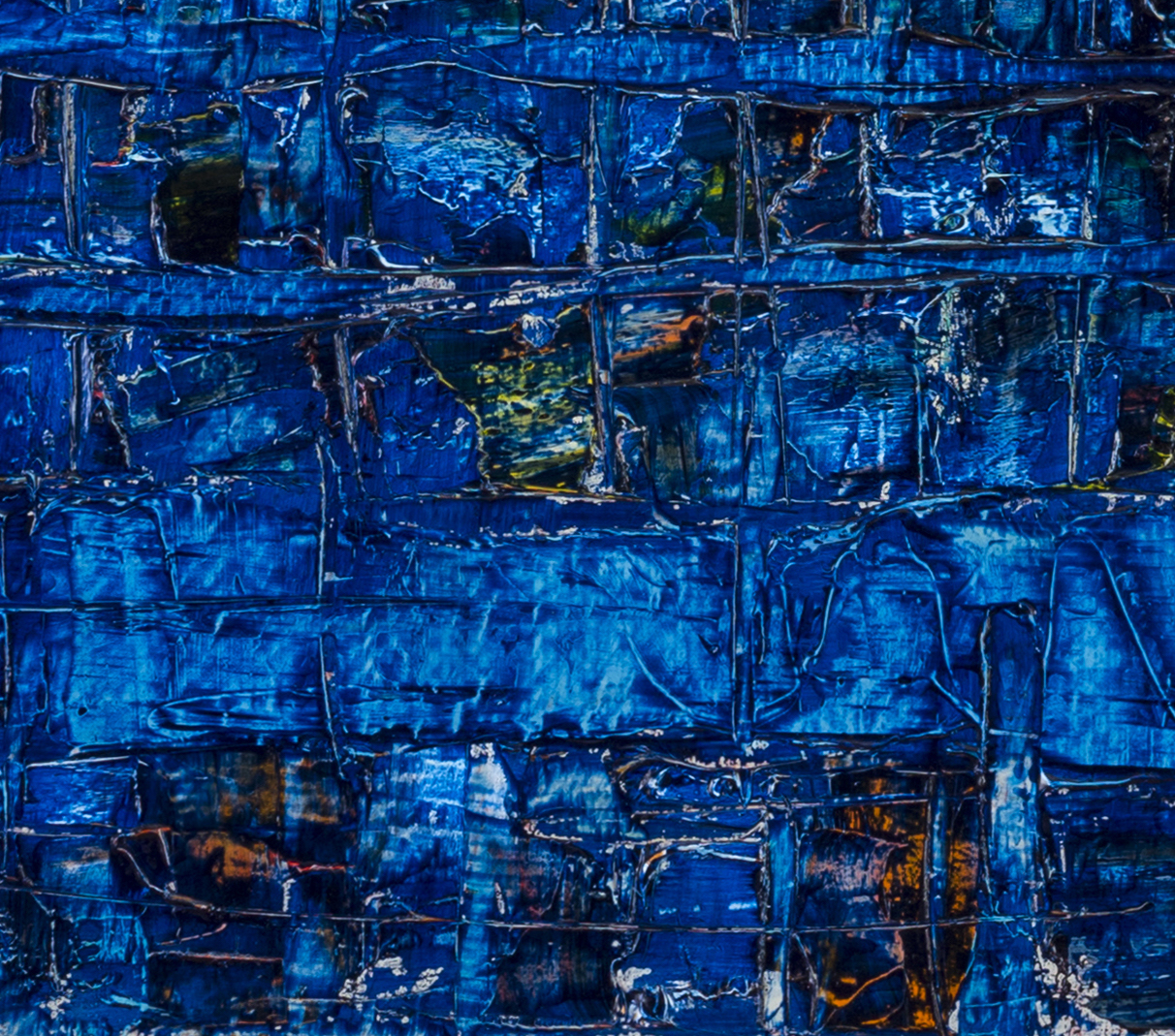 (Levan Lagidze, "Blue" (detail), 2017, oil on canvas, 73 x 60cm)
Born in 1958 in Tbilisi, Georgia, Lagidze graduated from Tbilisi State Academy of Arts in 1981. He founded and led the Artists' Studio in the Tbilisi Artists' House in 1983 and served as Chairman of Georgia´s Young Artists' Union from 1986 to 1989. Lagidze continued to support young Georgian artists during the turbulent and violent decade following the dissolution of the Soviet Union in the 1990s. In 2011 he founded the Lagidze Gallery in Tbilisi, showcasing his works and hosting exhibitions, presentations and talks.
At any time of day or night (except the early morning!), you will find at his gallery a lively mix of writers, composers, diplomats, and corporate leaders who have dropped in to admire the art, laugh, or engage in a philosophical discussion.
(Levan Lagidze, "Bach Exercises", 2017, oil on canvas, 130 x 105cm)
The London exhibition, titled "Bach Exercises", presents 25 recent paintings created specifically for the exhibition and showing the artist's recent artistic direction and experimentation. "The exhibition title reflects the 'cadence' of the paintings, where the myriad of tiny universes built up along a grid intermingle in a symphony of rich chromatic notes. Through this rhythm Lagidze seeks to know the universe through colour as Bach did through sound." Katrine Levin, Curator.
Levan Lagidze | Bach Exercises | 
19 November – 8 December 2018
Open to the public Monday – Friday 10.00am – 6.30pm; Saturdays 11.00am – 6.30pm

Katrine Levin Galleries at La Galleria Pall Mall, Royal Opera Arcade, London SW1Y 4UY