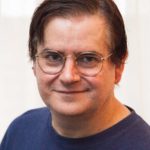 A Reflection by Mark Beech
Mamma Mia! Here we go again.. my my.. 
It could be all Money, Money, Money as ABBA returns.
I work all night, I work all day, to pay the bills I have to pay
Ain't it sad
And still there never seems to be a single penny left for me
That's too bad
Since the demise of the group in 1982-3, its two main singer songwriters, Benny Andersson and Björn Ulvaeus, have written some fine material, such as the musical Chess. (Chess is just back in London now after three decades away from the West End. It opens this week.) Still, their duo's best work was with ABBA.
Now with the band members ranging from 68 to 73 years old, a tour has been ruled out. But we will have new music at some point. It has been recorded and showcased in a BBC/ NBC documentary late in the year.
This time we have to thank, or blame, entertainment entrepreneur Simon Fuller. He proposed that the music is played while digital avatars of the quartet sing the words. This is being seen by some as similar to the effect used to recreate the late Michael Jackson on stage. We shall see.
The prospect of any kind of a reunion had been longed for by fans, ever since the Swedish pop sensation broke up. While reports of a reunion are being slightly exaggerated – in the sense that we are getting just two new tracks, the television show and digital performance of the quartet rendered by these avatars – even this has been greeted with delight by those who thought that the day would never come.
For those who grew up with ABBA, or lived through their heyday, the group will need little introduction. For those of a younger age, it might be worth saying that the band dominated the charts for some years, especially in the late 1970s. The list of hits is long and impressive including Dancing Queen, Take a Chance on Me, Mama Mia and many others.
I was a teenager when I first heard ABBA. It would be fair to say I never expected ABBA to endure until 2018. I never envisaged becoming a culture journalist, rock critic and music author either. I was not impressed by some of it (they are probably not impressed by me too, ha ha), although I have gradually revised my view. Waterloo was dreadful though:  "Waterloo couldn't escape if I wanted to/ Waterloo knowing my fate is to be with you…" It was so bad it just had to win Eurovision.
I remember in about 1978 remarking that to me every ABBA single after that sounded like cash-tills ringing. (That was in the days when till draws opened with a bell ping, like the phone bells on "Ring Rig" and so on.) I did like one song: Voulez Vous. That was because the winking girls did their provocative and knowing "a-ha, a-ha" rather than the "coucher avec moi ce soir" one might expect.
Those aged in their 30s or 40s will probably know these songs too, at least because of periodic revivals and especially the highly successful Mama Mia film and musical which include many other ABBA singles. Dancing Queen still gets reworked as a retro interval in discos. British band Steps covered that song while Erasure reworked Take A Chance On Me for the campy Abba-Esque EP, a 1992 chart-topper.
Madonna's Hung Up most famously uses the instrumental introduction to Gimme! Gimme! Gimme! (A Man After Midnight). The Madonna song starts quietly with the tick-tock clock sound fitting with the words "time goes by so slowly," then ABBA appears just as a faint hint and then it builds in volume over a minute into a stunning reworking.
The ABBA achievement at its peak defied sneering critics, who were not impressed that the act came to fame by winning the often-despised Eurovision Song contest. This outdated event still soldiers on, despite becoming something of a national joke in many countries. (Personally one hopes, after falling viewing figures and allegations of national fixing that Eurovision is soon put out of its dinosaur misery. However that's a diversion. Back to ABBA.)
Many 1970s publicity photographs of the four members have not aged well. They all look young, trim and fit, though the outfits are examples of the very worst Swedish "dansbands". Shield your eyes from glittery spandex in day-glo colours, tight gold trousers, mullet haircuts, high heels and blow-dried curls. And those were just the guys.
For all this, ABBA has developed a retro-cool and has come back into fashion as the 1970s get reassessed: the decade that style forgot. Personally I loved the 1970s, even with the stack heels, ridiculous flares and wide lapels. ABBA created pop that influenced everyone from those Swedish dansbands to Bucks Fizz – two guys, two girls. The British band won the 1981 Eurovision with the catchy but crap ditty Making Your Mind Up. That is probably remembered as about the most irritating songs of all time after The Birdie Song. Its skirt-ripping routine on "see some more" would hardly be allowed in this PC age. But back to ABBA again.
The catchiness of the ABBA songs too helped them to rise above some of the criticism. It was hard for anyone to argue with the level of sales which at its peak made ABBA, according to some reports – later challenged – a more successful Swedish export then even Volvo, the car and truck maker. Urban myth or no, ABBA has sold a lot of records. The figures are all over the place from different agencies– 200 million, 400 million. Whatever it is, ABBA is one of the best-selling groups of all time. Love them or hate them.
A-ha, ah-ah-ah ah…
All the things I could do
If I had a little money
It's a rich man's world…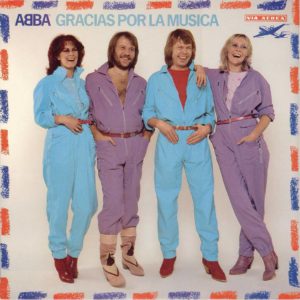 The criticism came from all sides in the 1970s: progressive musicians despaired at the short and sometimes deceptive simplicity of ABBA songs, while punk rockers were even more appalled. Despite all this, ABBA claimed that was trying to be more like pop of the early 70s such as The Sweet – many punks had a lot of grudging respect for glam rock.
Anyone who thinks that ABBA was only the creator of lightweight songs, good to dance to or listen on the radio but not saying anything significant, should delve a little more deeply into the ABBA output. A late track such as The Day Before You Came, famously covered by British synth band Blancmange, is a classic of economic songwriting: "And rattling on the roof I must have heard the sound of rain/ The day before you came." This was also one of the band's longer songs at nearly six minutes, showing that it could spread its wings when it wanted to. That was possibly even more obvious with the six-minute Eagle, the first track on its fifth album, which is even crowned with a guitar solo. Actually The Day Before You Came was one of its last two songs, While there were many personal issues going on at the time, how tragic the four broke up just as they looked to break though into critical success to rival their commercial prowess.
The band name origin, and a little of the early story, is in my books The A-Z of Names in Rock and The Dictionary of Rock and Pop Names. I quote the long version of the text here: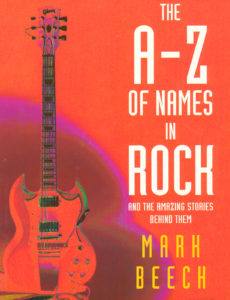 Swedish singer/songwriters Benny Andersson and Björn Ulvaeus started out with The Hootenanny Singers and The Hep Stars. They teamed with two singers Anni-Frid Lyngstad and Agnetha Fältskog, and soon the couples were engaged. Their relationships were professional as well as personal. In 1970, the sound of their four voices persuaded them to form a cabaret act called Festfolk  (which had the double meaning "engaged couples" and "party people"). It is unlikely this name would have been as instant as ABBA. Over the next two years they had enough individual success to issue a 1972 single, People Need Love, credited to "Björn & Benny, Agnetha & Anni-Frid." It was a "medium-sized hit in Sweden", according to the band's Web site.
This was clearly a bulky choice, worse than Festfolk, and swiftly reduced to the initial letters of their Christian names. ABBA was also the name of a Swedish canned fish company, which luckily agreed to lending their name to a pop group.
Agnetha was known as Anna, and Anni-Frid as Anni (while many official ABBA releases also dropped the Swedish characters from the names). This made ABBA an acronym, palindrome and later – with the second 'B' backwards – a registered trade mark.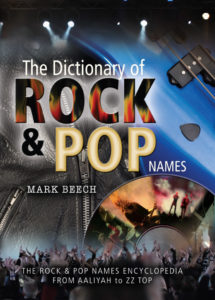 It has been pointed out on some Internet sites that the Hebrew word pronounced "ah-bah" means "father". The band's record company Polydor said in a statement to the author that this is quite coincidental.
This 1970s/ early 1980s Eurovision-winning and commercially- massive band spawned many successful spoof bands after they broke up in 1982. Some have been touring for more than 20 years. They include ABBA Again, Abba Dabba Doo, ABBA MANIA, The ABBA Revival Band, ABBA World Revival, Abbababes, ABBACADABRA, Abbachicks, Abbaesque, Abbafever, ABBALANCHE, ABBAlicious, ABBALIKE, ABBAriginal, abbasolutely, Arrival, BABBA, Bjorn Again/ Björn Again, Dancing Queen, FABBA, FABBAGIRLS, Gabba, Real AbbA Gold, Swede Dreamz and Voulez-Vous.
There is some odd use of capital letters in this list. ABBA is usually written as capitals, though the band's record companies and other sources have written it as Abba.
Could ABBA revive again? As a reporter, it was a question I heard posed in countless times in press conferences. The guys must have got fed up hearing it. It was even being whispered when I was in New York's Carnegie Hall in2009 for press night of an English-language version of Kristina, a Swedish musical Benny and Björn were trialling. I realized that I was sitting a row behind Björn and in the interval other members of the audience were congratulating him on the new work – and cheekily asking if more ABBA songs could be expected.
At that stage it looked unlikely. The two couples had long split up; Fältskog became something of a recluse at her remote house in Ekerö with a 17-year break from music; Lyngstad married the Prince of House of Reuss, Heinrich Ruzzo, who died in 1992; there were some reported disagreements and bad feeling. Still by 2013, they were coming together happily to promote the new ABBA Museum.
I have ABBA's greatest hits, volumes 1, 2 and 3, in a nice boxed set. Yes, ABBA had enough hits to fill a few albums. I confess I very rarely play it. Many tracks still sound like 1975 cashtills ringing, That remains apt.
At the time of ABBA's heyday, I was a student first into "serious" or long-form rock – Pink Floyd, the Velvet Underground, Led Zep – and then punk such as The Clash. Patti Smith was a Goddess, so was Joni Mitchell. Bob Dylan was in a league of his own. Marvin Gaye, Miles Davis and Bob Marley had opened my ears to soul, jazz and reggae respectively. I bought some pop such as The Beatles but ABBA did not fit the bill. Thousands of records later (I still hear more than 500 new ones a year) I have got a lot more tolerant and have to say I really welcome ABBA's comeback. They have given a lot of people a lot of pleasure and if they do so again, good luck to them. The world sent an SOS to ABBA and they answered. I have this awful feeling, amid the weight of expectation and the genius of their finest that this might be a disappointment, but would be delighted to be proved wrong. You know what, it might be time to put on ABBA Greatest Hits again.
Money, money, money
Always sunny
In the rich man's world
A-ha, ah-ah-ah ah…
All the things I could do
If I had a little money
It's a rich man's world
It's a rich man's world
It's a rich man's world
MARK BEECH is the Editor of DANTE