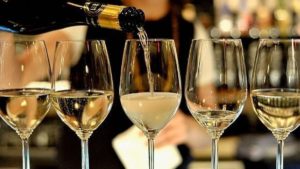 The Prosecco 2017 has almost finished its fermentation process and Anita Herbertson talks about this year's vintage and the tradition of this wonderful area.
The 11th of November in almost every region in Italy is Saint Martin's Day which is celebrated by tasting the new vintage, usually accompanied by roast chestnuts. Even if the new wine is still young and cloudy, it is good enough for the locals to begin a debate as to why they can boast theirs is better than anything else around.
Visiting the local wineries, observing the transformation of the grape into this precious and highly popular wine, you realise the amount of work that goes into producing an excellent glass of Prosecco. Passion with a profound sense of tradition and respect for the land are fundamental characteristics of those who produce this sparkling wonder.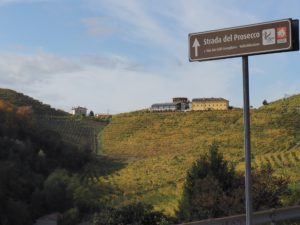 I can still remember the stories Sig Giovanni told us when showing us around the winery where he makes his Prosecco DOCG. The memories of when his grandfather Antonio bought a hectare of land over fifty years ago in the heart of what is now the grand cru of the Prosecco and started planting vines that were practically unknown at the time but now after all these decades have become a genuinely treasured part of this region's rebirth.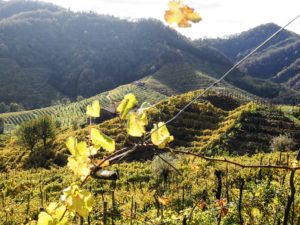 Despite the new machinery he has invested in, Sig Giovanni is keen to emphasise how much he still follows the traditions and ways his grandfather taught him. A high quality product requires the greatest of care at every stage of its production where even a variation of one small detail can affect the end result.
It is amazing to listen to Signor Giovanni recalling with fondness when, together with his brothers and cousins, he had to tread the grapes with his bare feet in large wooden vats. Nostalgic memories of a time gone of what was a festive occasion. With a smile Giovanni recalls how vigorously Grandma Gina would scrub their feet beforehand, a moment he and his brother Umberto and his little cousins Mario and Antonio waited for with trepidation.
Pressing the grapes by foot meant they were pressed very delicately, which is an indispensable part of making white and sparkling wines in general. These days, grapes are pressed by machines, which, however, still ensure that only the grape juice is extracted leaving the skins, stalks and grape marc behind.
Of course, nowadays, there's not that festive feel about the process but to keep those memories alive Sig Giovanni and his wife, when the grape harvest is over, put on a dinner for all those who were involved at every stage of the process. As Giovanni tells me, "For us it's very important to maintain as far as possible the atmosphere of the past that played such an important part in my childhood and taught me the value of a friendly working environment. We may not always be successful but we try our best whenever possible. When the harvest is over and everyone's more relaxed, sitting down together to have a delicious meal and drink our own wines is not just immensely satisfying but it's each person knowing how much has gone into making a product that is appreciated all over the world. When I think that, not so long ago, Prosecco was only well-known in the local area and now it can boast of being the Italian wine with the greatest world-wide sales, then that means it's job well done for us producers! International recognition is just the icing on the cake for producing a wine created with such passion and that's what's really so satisfying for us".  And, indeed, travellers to the Prosecco DOCG area, that stretches from Conegliano, Valdobbiadene and Vittorio Veneto fall under its magical spell.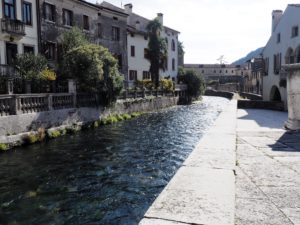 I keep using the acronym DOCG. For those not in the know, I feel I ought to explain what it stands for and the five phases the wine crucially has to go through for it to be awarded. DOCG stands for Denominazione di Origine Controllata e Garantita – essentially the Italian equivalent of the French 'appellation contrôlée' – and a government stamped label ensures its authenticity. There are strict rules for each DOCG as to which varieties can be used for that area and, in the case of Prosecco, the bottling pressure.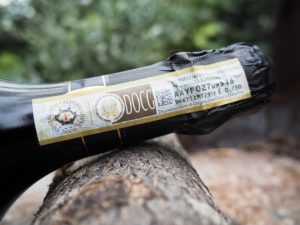 The first of these DOCG controls looks at the vineyards, ensuring the correct conditions for planting have been met. The second examines the quality and quantity of the grape harvest while the third regulates the methods used in the production process. Check number four consists of the chemical analysis and expert tasting of the final product. Finally, if all these conditions have been met, the wine can be awarded the DOCG certificate and the prized government stamped label.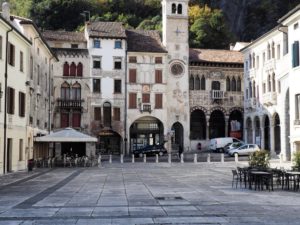 Let's leave the science behind, now, and take the Prosecco road that goes from Vittorio Veneto to Valdobbiadene and stop off to look at the steep hillsides covered in vineyards, where we can admire the breath-taking panoramic views and discover places of cultural interest, castles, ancient villas, monuments commemorating the two world wars and enchanting little hamlets.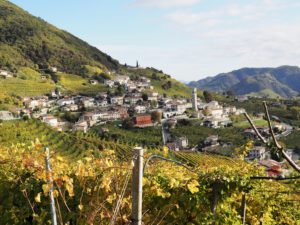 The vast expanse of vineyards provides an incredible spectacle, changing with each season, with colours varying as the year goes by, providing a magical feast for the eyes. This area continually manages to evoke a string of emotions even for those of us who have been living here for ages.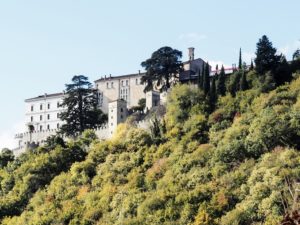 Prosecco is the essence of this terroir, a dynamic, young and bold wine, which when drunk with friends helps to create a relaxing and stress-free atmosphere. As us locals say in dialect "El bon vin fà bon sangue!"  – Good wine makes good blood …and we , the Prosecco Girls, take that for granted. 
Anita