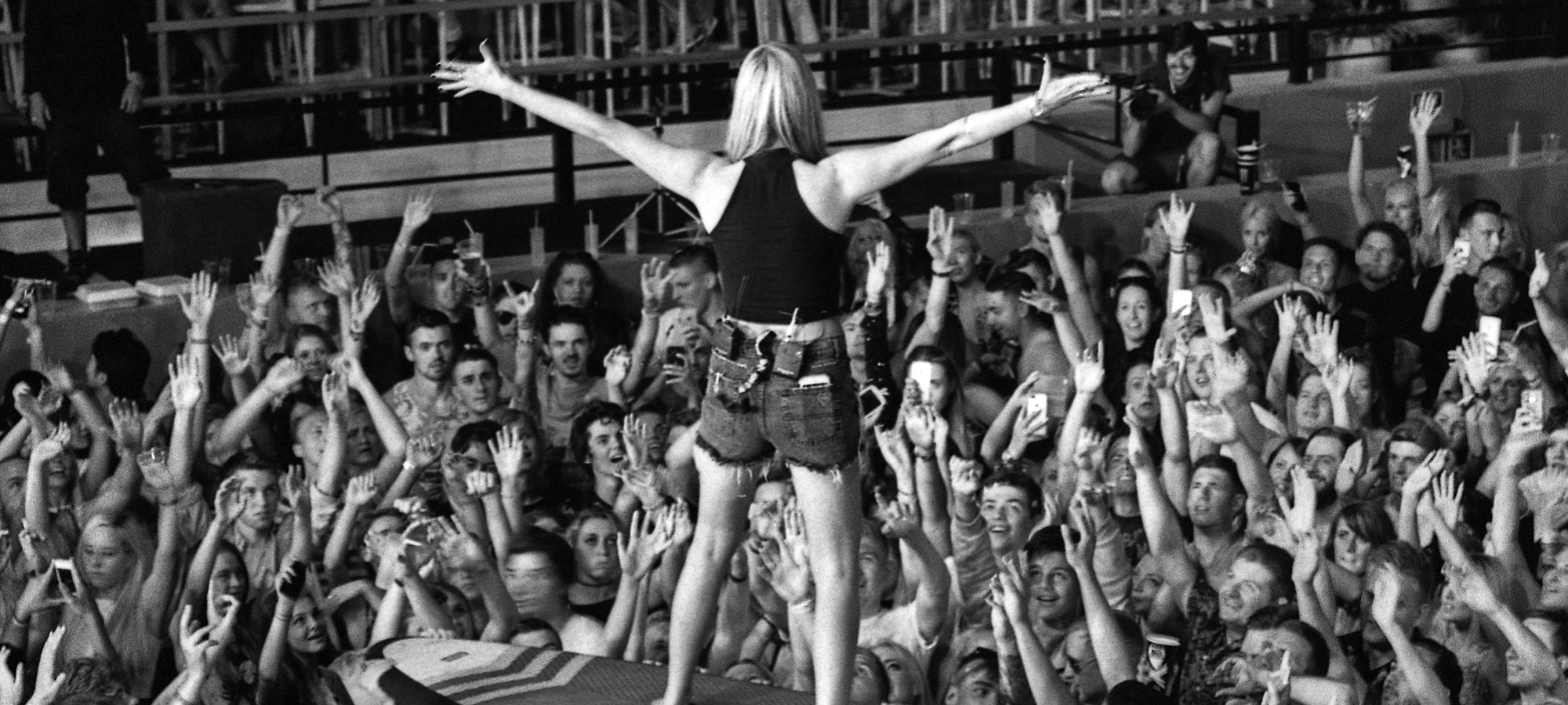 Star Images of Ibiza Rocks: Jérôme Ferrière's Outstanding Photos
June 23, 2017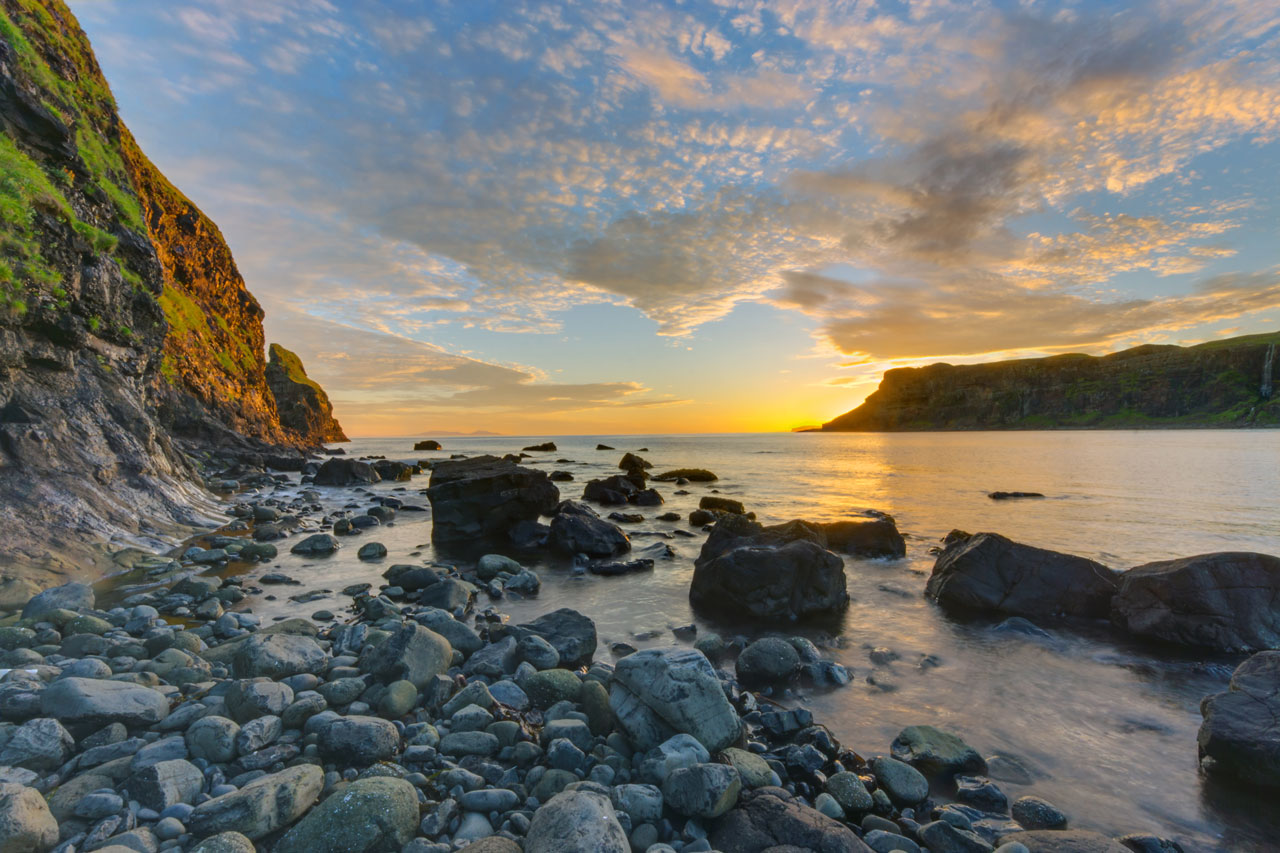 LIVING POSITIVELY: Wild Horses, Carpe Diem and Bucket Lists: "Everybody Dies But Not Everyone Lives"
July 6, 2017
When Led Zep Met the Damned: Punk's Roxy Celebrated After 40 Years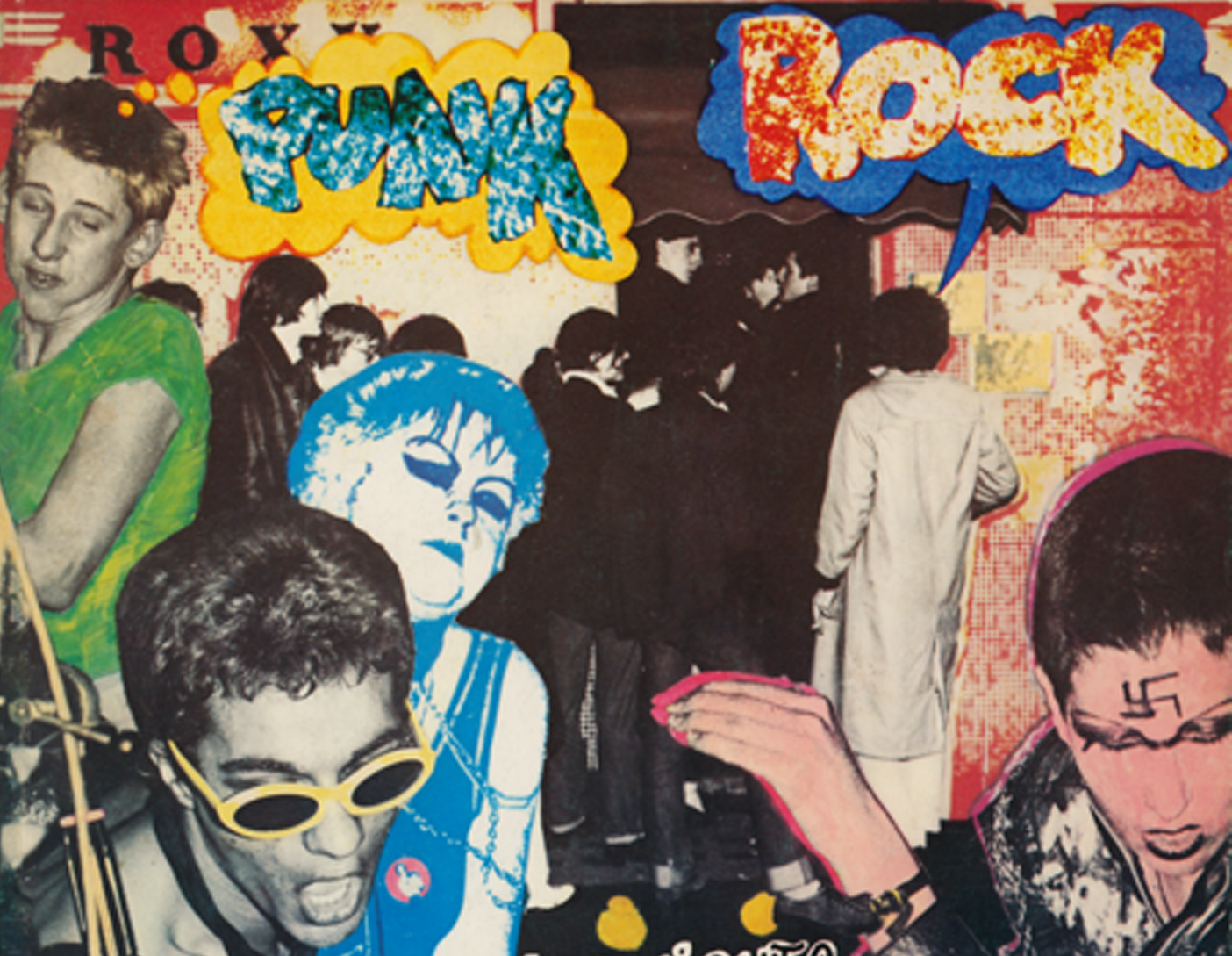 In 100 days, London's Roxy became the most influential punk club in the world.
It is being celebrated with a new book, blue plaque and an exhibition.
Mark Beech meets the Roxy's founders.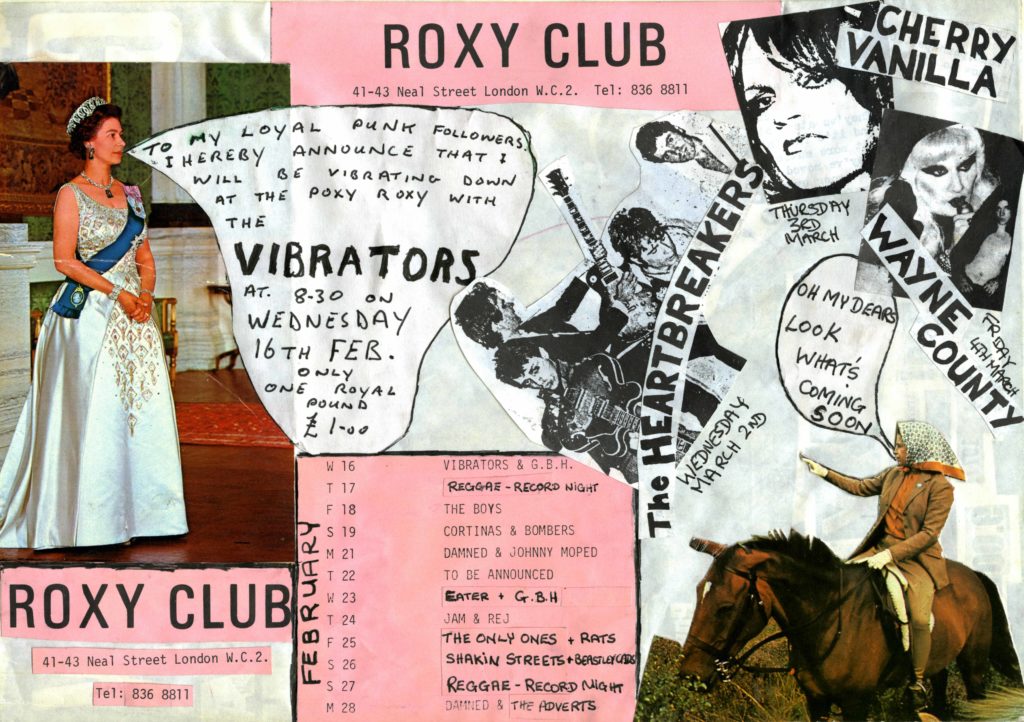 It was an ordinary night at the Roxy club in London. Except that there wasn't ever an ordinary night really. Every evening was extraordinary. And there were only 100 of them. But what nights they were.
On this particular one – Monday, January 17, 1977 to be exact – things were a little more star-studded than usual. The Roxy was the crucible for punk rock in Britain. On the night in question, an army of punks crammed into the tiny underground venue on Neal Street in Covent Garden for a crazed set by The Damned. And on this day they happened to be joined by rock superstars Led Zeppelin.
This all happened 40 years ago and the club is now commemorated in an extraordinary book written by the co-founders of the venue, Andrew Czezowski and Susan Carrington.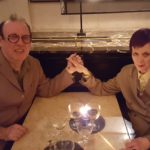 Fast-forward four decades and the two are sitting down for dinner in the Wolseley, the storied Piccadilly restaurant. Andrew takes up the story for DANTE, recalling that three of Led Zeppelin arrived together in a limousine. "They managed to jump the queue paying their way in with £20. Turns out that Robert Plant and Jimmy Page were fans of The Damned and particularly liked Rat Scabies, the drummer." They were joined by their own drum machine in the form of the burly John Bonham, clearly the worse for wear after one too many tinctures. He was less impressed with the length of the set and said "get the band back there, without that Mouse Scabies and I'll play drums." Bonham jumped on the stage with cymbals going all over the place and "he had to be dragged out of the club," by the four roadies.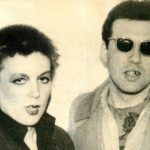 Andrew and Susan smile at the story, though they are keen to say that there are plenty more where this came from.
Susan was also a huge fan of the Damned: "To see them on stage they were the most exciting band, they were energetic, amazing stuff, whoor! Later, we had a big fallout with them and it all turned nasty."
After all, the Roxy was the most famous punk venue and its list of stars reads like a history of music at that time. That is where the Clash, the Police and Sex Pistols all partied from its opening in December 1976.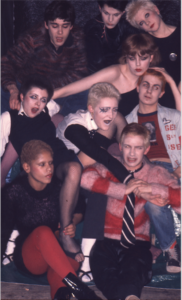 Both Andrew and Susan say that at the time they were just living "day-to-day – we had absolutely no idea that this would still be in the news after all this time." Susan adds: "We were just having fun in doing what we wanted to do. It was a joy and there was no plan. I just loved the idea of a club putting on a show every night. It could have been a disaster. Okay, move on to the next one." "We could make our decisions on the fly," says Andrew. "There is no education for running a nightclub."
"Maybe they do now in universities," replies Susan.
"There is an app for it now!" jokes Andrew.
Still, in those days before mobile phones or the Internet, things were simpler.
The subtitle of their latest book refers to "madness, mayhem and misfortune," and that is certainly correct. The finances are all over the place, there are lawsuits to get them out, instruments are smashed and tempters flare. But, in short, it was the London equivalent of CBGB in New York and it also won comparisons to the Cavern in Liverpool, where the Beatles came into their own. Punk can be traced back earlier in America thanks to the likes of the Ramones but its greatest expression was certainly in the British capital and the Roxy's legacy has resonated through clubland since.
The venue was a former warehouse, like so many in Covent Garden, used to supply material to the nearby fruit and vegetable market. Its basement had been converted into a bar and there was just room for a small stage. Its eccentric owner allowed the punk entrepreneurs, lifelong partners now, to use it along with musician Barry Jones. Their first few nights were typical, with performers such as Generation X, the Heartbreakers, Siouxsie and the Banshees and the Clash. It was not long before they were joined by many other punk bands in their infancy and without record deals. There was the angular punk Wire, then the Buzzcocks, the Slits, Vibrators, Eater, Chelsea, Cortina, Adverts, Slits, and the Stranglers and dozens more. Other acts went on to more mainstream careers such as the Police and Squeeze.
During the time that the club was in existence some of the performances were filmed by Julien Temple and also recorded for a bestselling album. "Iconic" and "seminal" are words that are relevant here. Susan recalls that the audience included girls as young as 13 who changed from their school uniforms in the toilets – "One girl used to jump out the window at Roedean, get on the train to the Roxy and came back without anyone noticing.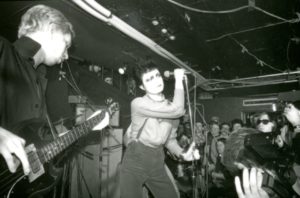 "They felt safe, we were the same mentality, a bit older, we had a protective attitude to the young kids doing their thing," says Andrew. Apart from the daughter of the English ambassador to Russia, there were also Soho strippers as well as music fans and influential journalists.
Meanwhile back to 2017 and the couple are happily onto another round of drinks with me in the Wolseley. Andrew says: "Someone asked me a question about 'the punk sound.' But there is no such thing. You look at the Damned, you look at the Clash or the Buzzcocks even the Jam and their sounds are all completely different!"
During the course of the evening we are joined by the Wolseley's owners Chris Corbin, a long term punk aficionado himself, and Jeremy King, both of whom greet us warmly; we have met before. Punks don't die, they just go for nice meals in the best restaurants sometimes to celebrate their "duography" memoir. The pair have been doing rounds of interviews. It seems that everyone from the BBC Radio 4 Today programme to Jonathan Ross wants a piece of the action.
It is all a far cry from what might have been. Susan could see her life laid out before her in the 1960s and it was potentially the treadmill of factory or secretarial work, a council house, babies, misery and penury. Instead, she chose to take a risk, and it was one that paid off. When the two met in the febrile King's Road atmosphere of hippiedom and swinging 60s, Andrew was a dedicated follower and setter of fashion while Susan sported long blonde hair and regulation miniskirt.
"Back then, anything seemed possible," said Andrew. It was not necessary to have a private education, all that mattered was commitment.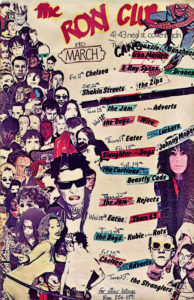 When some 10 years later they were doing the Roxy they saw much of their earlier selves in the fledgling punks. By then their looks had changed, with spiky punk haircuts and a regulation sneer from Andrew. Just about every act that played the Roxy ended up with a record deal. After the two were thrown out of the venue by the landlord, they went on to run other storied clubs such as the Fridge. One can definitely expect another book that subject.
Today the two remain striking figures, with matching statement suits and Andrew's gold toothed smile. I hope he'll forgive me if I say the words "rough diamond" seems appropriate, a genuinely super guy. You can't be a good manager of bands or venues without having a pretty tough commercial attitude, but both are friendly and warm.
By the time we stagger out of the Wolseley and head for the Groucho Club for one more for the road we are on to discussing the authors' huge archive of memorabilia, kept at their house for many years. Perhaps at some stage some university would be interested in taking this off their hands because it is a goldmine which could support heaven knows how many PhD's on the birth of punk. In the new book alone, there are more than 100 previously unseen photos, flyers, artwork and newspaper clippings, band contracts and lots more. Their long-lost diaries are presented in chronological order, along with journal entries from Tony James of Generation X and memories of many others.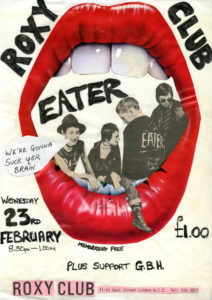 In the 1970s, Andrew and Susan were in the thick of things. It is said that if you were really there in the 1960s you would not be able to remember any of it. Clearly their archive is an invaluable aide memoire and fascinating to anyone who loves the bands.
(By contrast, and to give context, I was late to come to the punk party. Music at the time was increasingly polarised, with acts such as Yes playing 20-minute suites of immaculately produced material, ideal for middle-class students such as me. It was progressive, sometimes pompous and occasionally boring. There I was in Oxford listening to Pink Floyd, Tangerine Dream and Genesis, until my friends discovered punk and things changed. I joined a punk band. Forgive this aside, save to note that younger people may not realise the totally revolutionary nature of the punk reaction.)
What happened at the Roxy was an explosion of working-class raw rock by untrained bands, energized by defiance, pluck, determination, and a refusal to accept the norm. It was anti-movement, anti-fashion, anti-rock, and anti-establishment. Well, fairly anti-fashion, although it is only fair to note that along the way Susan managed to launch her own cosmetic brand TU sold through Woolworths. For the range she got the so-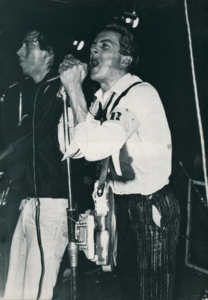 called "Bromley Contingent" of fans to pose for a photo shoot. The book contains a wonderful double page of contacts from that session. Susan recalls that the cosmetics had "names like Generation Pink lipstick and Sex Pistol grey eyeshadow." The photos have all the hallmarks of punk about then: the ginger dyed hair, bondage look and chains.
These kids were in revolt. You can see why the music was anti-establishment and many others were afraid of them. Johnny Rotten later notoriously wore a shirt saying "I hate Pink Floyd." Punk got widely banned as venues feared violence. (I attended more than a few concerts elsewhere that ended abruptly with bands, including my own, being bottled off stage.) The Roxy pretty much stood alone at its time in its wish to promote this ground-breaking music.
Punk has often been criticised for its political symbolism, with all those swastikas and Nazi insignia of performers, but much was only done in a naïve desire to shock and be noticed. Andrew and Susan had no political agenda other than to live on their own terms. All they expected from others was to do the same.
*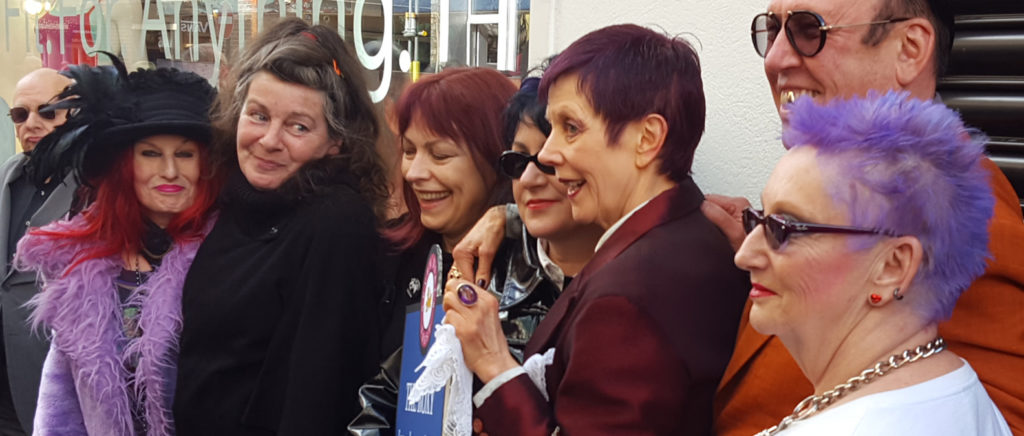 Move on a few weeks from our Wolseley meal, and here we are back in Covent Garden. Ordinary passers-by do a second take as the narrow street fills with an assortment of ageing punks.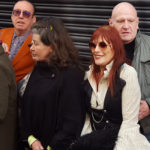 See, we never die, we just come on back after 40 years to celebrate where we were. The hair may now be greyer or thinner, the waistlines a little less narrow, but punk chic is alive and well. The invitations include Jordan Mooney, Gaye Black of the Adverts, Pauline Murray of Penetration, Tessa Pollitt of the Slits plus Marco Pirroni of Adam and the Ants.
All are here, with Andrew and Susan, to unveil a blue plaque. The venue is no longer a club and the plaque is high on the wall, Still, it's a fine reminder of what was. The project is masterminded by The Seven Dials Trust and comes with a short exhibition of photos of the Roxy's prime.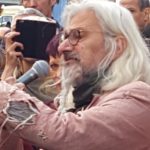 Punk poet Stephen Micalef, a writer for punk fanzine Sniffin' Glue, regales us with an Ode to the Roxy. Then plenty of beers are drunk. Old punks don't die, they just try to drink the bars dry.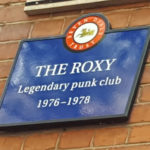 The plaque project is the brainchild of the Seven Dials Trust which is marking places of interest in the area – another plaque was unveiled by the late Cilla Black at the one-time office of music manager Brian Epstein. The punk plaque coincided with a photographic exhibition the trust staged, called "Fear & Loathing at the Roxy."
Perhaps the last word should go to Mick Jones from the Clash, who succinctly says: "I look at the 100 nights of the Roxy as the life span of Punk." Old punks don't die, they just buy the book.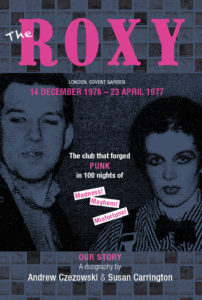 "The Roxy Our Story: The Club That Forged Punk in 100 Nights of Madness Mayhem and Misfortune," 144 pages, from Carrczez Publishing, £19.99 from Amazon.
Information at www.roxyclub.co.uk
THIS IS A TASTER FOR AN ARTICLE PUBLISHED IN THE CURRENT PRINT DANTE MAGAZINE, DATED JUNE AND JULY 2017
Editing by George Ashridge, Pollyanna Smith, Matthew Hubbard.