Interview by Mark Beech
Watch out U.K., the Glam Skanks have invaded. Just when you thought it was safe to go to the respectable Royal Albert Hall, these glitter queens will be tearing up the rawest glam rock there. Expect a very spangly storm in support of Adam Ant.
The shows across the country follow the band's sellout North American tour opening for Adam that wrapped earlier this year.
He again hand-picked them for his homeland tour that started on May 5. After tours showcasing his specific studio albums, this time Adam is doing "ANTHEMS – The Singles Tour."
Adam loves the Skanks for their loud, free-spirited raw rock; he has worked a lot with female musicians. The Skanks have a lineup of Veronica Volume, also known as V (guitar), Ali Cat (lead vocals), Millie (bass) and Cassie (drums). Expect to get covered in dazzling glitter and a bit carried away!
Glam Skanks already have a fair few claims to fame:
They have also opened for Alice Cooper;
They have played with Cherie Currie's (The Runaways) backup band;
They have hung out with Johnny Depp and Joe Perry of Aerosmith – V's dad Bruce Witkin is a member of Hollywood Vampires along with Cooper, Perry and Depp;
They released their new album Glitter City, produced by Witkin and Ryan Dorn, and available on iTunes, Spotify, Google Play, Amazon and Bandcamp. It features the new single, Bad Bitch;
The previous Miss Androgynous single is featured in director Kevin Smith's film Yoga Hosers, starring Lily-Rose Depp and Harley Quinn Smith with Natasha Lyonne, Austin Butler and Adam Brody.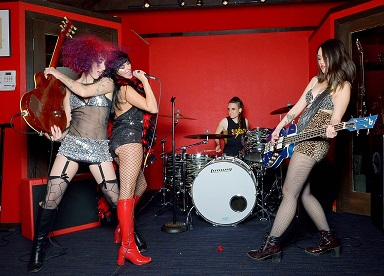 So let's put some questions to the girls themselves.
Congratulations on an opening slot for Adam. He has his pick of many bands. How do you feel that he picked you as support?
Glam Skanks (together) – We have always been huge Adam Ant fans. He saw our videos, heard our music and liked what he heard)…
We were asked to join him on his Kings of the Wild Frontier tour in North America this past January and February…
Adam Ant fans were supportive and took photos with us after the shows wearing boas and posing as "Skanks". It was awesome…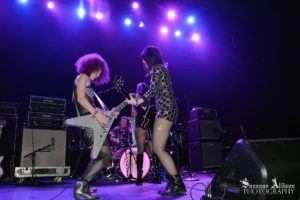 What are you most looking forward to in this U.K. visit?
Veronica– I'm mostly looking forward to performing at Royal Albert Hall in London. It's been a dream of mine since I was 12 years old and saw live videos of Led Zeppelin on that stage.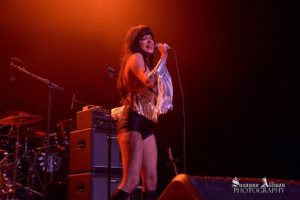 Ali Cat– The U.K. venues are spectacular and I'm surprised every time we get to the gig. Meeting new people and better understanding the lifestyle, music and fashion here is exciting. We are seeking out cool shops for cool clothes and have met some beautiful people.
Millie– This is my first time touring in the U.K. and the historic concert venues are fascinating. It is such an honor to perform at Royal Albert Hall and it is really one of those "this must be a dream" moments.
Veronica, this isn't your first time touring the U.K. What brought you to Britain the first time?
Veronica -My teenage band Blame Ruby came over as support for Babybird [Stephen Jones, known for You're Gorgeous and more]. My dad Bruce Witkin had produced his albums [Ex-Maniac and The Pleasures of Self Destruction] and was also in his touring band at the time. Blame Ruby went on the tour in exchange for us being their roadies. So, we would pull up to a venue, my band would set up Babybird's gear, mark the stage for their pedalboards and mics for their sound check. Then we pulled it all down, set up our gear, did our sound check, grabbed a bite, and did our set. After the set, we would strike our gear, set up the other band and wait for them to finish so we could break it all down again. It was exhausting, but an amazing learning experience.
Let's go back to the beginning. Veronica, you've had a rather unique upbringing. What's it like growing up Hollywood with a rock and roll family?
Veronica -It's been great growing up with my family. I've learned so much from watching my dad work in the studio and seeing him live. I know I wouldn't have the work ethic I have if it weren't for him. I would meet people that worked with my dad, but I was young and was more about listening to what they were doing.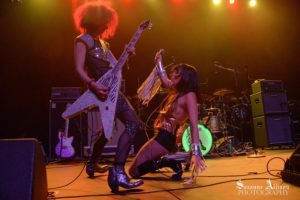 Veronica, I hear you had days when you'd just walk into your living room and find somebody like Joe Perry of Aerosmith hanging out and jamming!
Veronica – Yes! Usually it's pretty quiet at my dad's studio, but one time Glam Skanks were in for a rehearsal and Joe was hanging out. He's a cool guy.
What's the real advantage of growing up Hollywood?
Veronica -There's an advantage to growing up in a town where people from all over the world come to "make it". It makes the reality of how competitive and difficult it is to be a professional musician. Since so much of the business is in Hollywood, there is more access to all things music… rehearsal spaces, recording studios, guitar shops and especially musicians. It is so great to have so many musicians around.
How did the band form?
Veronica -The band formed online. I had posted a craigslist ad looking for female musicians and Ali had posted an almost identical ad. We both emailed each other about the ads at the exact same time so it was meant to be.
(I always ask this because I write books about band names). What is the name origin – I wondered about Tom Hanks… I hear it is something you ate for dinner?
Veronica – The band name started as an inside joke. We had a gig booked, but no name, and the promoter insisted that we submit something. A friend of ours mentioned he was making lamb shanks for dinner, and I said if you added glitter, they could be glam shanks. We started shooting rhymes back and forth and somehow landed on "Glam Skanks." That one stuck. We instantly knew we had a name that was a perfect description of what the style of our band is. We are glamourous. We love glitter, sequins, make-up and Glam Rock. Our sound is loud rock shot through with punk rock. It's got a grit. Glam Skanks. That's us.
Some people have a negative connotation about the word "skank" – apart from reggae it can mean a sleazy swindler or something worse – but what's your take?
Veronica – I think some words are only negative if you let them affect you negatively. Like how women are taking back words like bitch and slut they stop having the negative connotations when we stop being offended by them. Because our stage outfits might scream "Sunset and Vine Skank in heels," we are nasty girls. We're just having fun and that has always been a part of rock and roll. We like to think that we bring a little Hollywood wherever we go.
I understand that Millie wasn't sure about joining the band until she went to a drag night at a strip club with Ali Cat and Veronica. Um, tell us what happened?
Millie – It wasn't necessarily the drag night at a strip club that got me in the band. It was the perfect background for meeting these girls. They had an original fashion sense that I was immediately attracted to. They weren't just dressing up, but instead had clothes and make up that complimented their awesome personalities. The ambiance of the club was the perfect backdrop for us to bond. We all share so much of the same passion and goals for music, make up and fashion, that I immediately wanted to be a part of the glitter gang.
*
Now I like the sound of these girls. I see a little parallel here with U.K. band Alexa De Strange: female singer, supported Adam Ant and Cherrie Currie, just about to go on tour with former WASP guitarist Chris Homes. Totally different bands in many ways, but both have talent in common.
Glam Skanks are the embodiment of glitter rock, well due for a revival after Bowie. The band's releases sprinkle rock stardust over everything with hints of T Rex, the Runaways, the Sweet, Aerosmith, Sunset Strip, Hollywood Nights and Rocky Horror. Adam likes them. I'm sure the Royal Albert Hall audience will too. The rock fame machine can be mean but you can't argue with tracks like Bad Bitch, now, can you?
Glam Skanks is on tour opening for Adam Ant. Dates ahead include
Tuesday, 16/5, Plymouth, Pavilions
Wednesday, 17/5, London, Royal Albert Hall
Thursday, 18/5, Brighton, Centre
Saturday, 20/5, Bournemouth, Int. Centre
Sunday, 21/5, Leicester, De Montfort Hall
Monday, 22/5, Ipswich, Regent Theatre
Wednesday, 24/5, Watford, Colosseum
Thursday, 25/5, Southend, Cliff's Pavilion
Saturday, 27/5, Leeds, Arena
Sunday, 28/5, Nottingham, Royal Concert Hall
The U.S. tour in January-February opened in Washington DC and ended in New York, with some 17 venues along the way.
Information: www.GlamSkanks.com or www.bookingsdirect.com – Adam Ant's site is www.adam-ant.net
Mark Beech is Editor of DANTE and also writes for Forbes, Artinfo and others. His books include All You Need Is Rock and The Dictionary of Rock & Pop Names.
.