Changing World, Changing Art: Venice Biennale Reflects Life

Our editors survey the Venice Biennale, which stakes a good claim to being a return to the greatest art show on earth.
There have been those who say that the Biennale has been in danger of losing its clout, especially with the 2015 show with its strongly political flavour.
This time, it has mercifully returned back to its basics. Plenty of art lovers will applaud this, because there were critical concerns that its predecessor, curated by Okwui Enwezor, was putting ideas over artistic merit.
For decades, after all, it has been a must see event on the cultural calendar, with its gargantuan displays that take over a city that is already one of the most picturesque art-tourist destinations anywhere.
The Biennale this time has been curated by Christine Macel of the Pompidou Centre in Paris.
As ever, the main event is the international art exhibition, this time with 120 artists from 51 countries, including 103 taking part in the first time. It is titled "VIVA ARTE VIVA," with a mission statement as "a passionate outcry for art and the state of the artist and designed with artists, by artists, and for artists."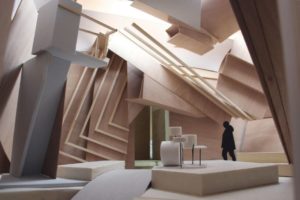 Of course, the national pavilions cannot resist commenting on world affairs. Last time round there was plenty to say about ecology, pollution, equality, gender politics, and the refugee crisis sweeping the globe. This time around, as the national pavilions started to announce their chosen artists, even more potentially dramatic events were unfolding which inevitably make their way into some of the artworks. Even if some of the commentary is not intentional, plenty of critics so far have suggested that the more significant works have parallels and references to Brexit and the election of Donald Trump.
There is something of another elephant in the room this time: Damien Hirst. The British artist is staging his first show after a decade away with "Treasures From the Wreck of the Unbelievable". He has nearly 200 artworks on show, with about half of them sculptures and one standing some 60 feet high. Some of the works have already sold and they need to, because the Hirst show has met a mixed response with the artist claiming that he has spent at least £50 million in producing the works. There is a lot to recoup.
For our money, the most spectacular thing about the Hirst extravaganza is probably that financial outlay. Strip away some of the conceptual baggage associated with the artworks and their association with concealed brilliance, and the endeavour may be seen as less weighty than the bronze he is using. It is true of any factory art, where the artist's role can be debated, but ultimately it is simply Hirst coming up with some idea – "let's do an enormous sculpture and pretend it is covered in seashells after years underwater" – and then someone else doing the hard work of casting and finishing the product, because product it certainly is.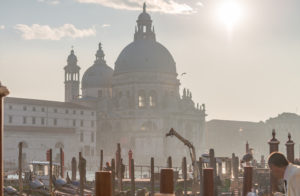 In the main pavilions, politics is there although sometimes a little buried beneath the surface. Take, for example, the U.S. pavilion, popularly known as the White House for its neoclassical design. Here the artist Mark Bradford has an exhibition titled "Tomorrow Is Another Day." He cannot resist making some points as he faces an administration not necessarily sympathetic to his sexual, racial, and liberal viewpoint. As the president tries to control immigration, Bradford sneaks in references to immigration documents.
Here again, the refugee crisis raises its troubled and ugly head. The Australian pavilion by Tracey Moffatt features boats struggling to keep afloat under the weight of panicked escapees.
The same sort of metaphor overhangs Lorenzo Quinn's installation, Support, at the Ca'Sagredo hotel. Two enormous white hands come out of the canal to cling to the building. Like all good art, it raises the question of what is going on. Is this somebody drowning in the Adriatic or perhaps providing friendly support to prevent any danger of buildings sinking further or sea rising higher thanks to global warming?
Britain's Phyllida Barlow has filled her own national pavilion with strange plaster shapes ranging from stones to huge boulders which look alarmingly close to toppling over at any moment. Think of a metaphor for any kind of political system which is looking increasingly fragmented and likely to collapse at some point like a house of cards. Barlow is of course known for her huge sculptures moulding buildings. Here again she takes over the neoclassical pavilion, which is not to everyone's liking, and makes it something more special at least four the rest of this year.
Even more disturbing is Faust, to be found in the German section. Artist Anne Imhof has a strange display of dancers trapped below the reinforced glass floor with movements and expression suggesting a subterranean torture chamber. That may not be to everyone's liking but it certainly is one of the "don't miss" parts of the Biennale.
There is a little more humour, perhaps, from Iceland's artist participant Egill Sæbjörnsson, who ingeniously claims that he has handed over responsibilities to two mythical trolls. These creatures perform the same sort of shape-shifting of their legendary characters, though in this case they transform many times including one sequence where they become remarkably like President Trump and Margaret Thatcher.
The 36-metre trolls even have a names, Ūgh and Bõögâr. They are said to be ferocious beings who love to hide behind buildings, eat people, especially women, and drink coffee. As if to reassure visitors, coffee is available when sitting inside. A mission statement asks questions about the troll artists "But is that all there is to them? Or do they have a hidden, softer side?"… Who has control? Who is guiding our actions, our knowledge, our thoughts, even our powers of imagination? Who is exploiting whom or what?" It is all amusing yet terrifying, with the hints of Internet trolls seen on social media, the same word.
We give just a brief mention at the end to Rachel Maclean, one of our "DANTE artists to watch" recently. She returns with a major new film commission, Split Your Face, which plays with the image of Pinocchio. The show's manifesto says that "it illuminates the power dynamics of our globalised world, exposing relationships between morally bankrupt public figures, aggressive consumerism, sexual power, personal conscience, and… noses."
The 57th Venice Biennale runs from 13th of May to the 26 of November and contains 85 national participations at the Giardini, the Arsenale, and the city centre of Venice.