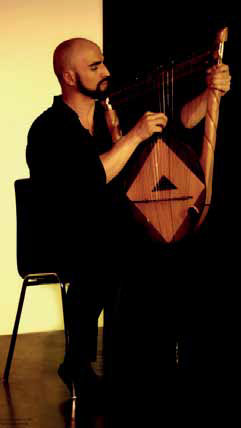 A new name is causing an artworld sensation.
Mataro da Vergato mixes photos with digital tech to create works like Renaissance paintings. Massimo Gava reports on a man collected by Silvio Berlusconi.
Picasso once said that an artist is a receptacle for emotions that come from all over the place: from the sky, from the earth, from a scrap of paper, from a passing shape. Some of the best themes in high art are
universal and enduring, eternal, religious and faithful.
So, let's meet one artist who takes his inspiration from many sources, many of them echoing high religion and lower base instinct.
Mataro da Vergato accepts his leads from images and concepts both new and old. His works are as breathtakingly monumental as centuries-old museum-quality paintings. There are masks of carnivals or identity; martyrdom of saints; mild Madonnas and fierce Mars figures in scenes of piety and mythology, Christian, Greek and Roman.
But these are thoroughly modern classics with the most high-tech conceptions.
In his 1920 book Beyond the Pleasure Principle, Sigmund Freud referred to the character of Eros representing as the life instinct, and his counterpart Thanatos, as the death instinct. These two sides were constants in the past in the great Renaissance masterpieces by Michelangelo Buonarroti, Raphael, Titian and many others. (This of course fits right in with our DANTE overarching theme of the Renaissance in us!)
Using oil paint and optical perspective, the Old-Master artists used the latest techniques; and now Mataro da Vergato is doing the same with 21st-centryt technology. "My tools are using photography like a design of light and the computer like my colour palette," he explains. The unique and limited-edition digital images are often mistaken for real paintings and they are rendered in different media: canvas, resin, acrylic digital, PVC and light box.
Mataro Da Vergato is a pseudonym that comes from his paternal grandfather and the village in Italy where he was born. He graduated from the Academy of Fine Arts in Bologna and then discovered the power of the computer in New York, kick-starting what he calls his Digital Graphic Period (1990-1996). From then on he has been in a Digital Painting Period.
His work has been presented at the Biennale Art of Venice and the Leslie Lohman Museum in New York in 2012 as well as included in public and private collections. The artist also works as performer, choreographer, actor and theatre director, and has collaborated with the likes of Carla Fracci, Rudolf Nureyev, Vittorio Gassman, Jerome Savary and Franco Zeffirelli.
Leonardo Da Vinci once said: "Colours, like features, follow the changes of the emotions."
We decided to choose and give space to some images that are representative of Mataro's work and let the images speak for themselves with just a little commentary below.