South African artist Nicola Roos, born in 1994, is already making waves on the international scene. She has international sales to her credit – and works with old tyres to make sculptures. Gallerist Heidi Erdmann of Erdmann Contemporary explains how she came to discover Roos
In 2014 a student applied for a part-time job at the gallery. She was reserved, oddly but interestingly dressed; I liked her and gave her the job. It was mainly back-room work and website updates. She was so fast and well equipped at finding solutions to computer problems that we gave her the nick-name of Twinkle Fingers. She was Nicola Roos, born and raised in Cape Town, South Africa and then a second year student at Michaelis School of Fine Art at the University of Cape Town. I never asked about her studies, and she never volunteered any information, until August 2015, when we were preparing for a group exhibition of emerging talent. Roos was asked if she knew of any final year students working in sculpture. She asked if she could share images of her own work. I was surprised. Her proficiency with computers always made me think that she was working in New Media, but it turned out that she was majoring in Sculpture. Hominis Ruinis (The Fall of Man) was produced mid-term in her third year: she had hand carved three female torsos from polystyrene, attached each torso to a found chair, and then clad each unit with strips of inner tyre tubing using thousands of sewing pins. I immediately agreed to include this work in the exhibition.
Asked how she arrived at working with inner tyre tubing, her answer was simple: "economics". Art materials were expensive and as a student she was always searching for and experimenting with alternatives. It was curiosity that made her stop outside a tractor dealership near her home; she had noticed a small heap of tyres lying in the yard. "Rubber is dirty; it takes time to clean, but soft, malleable and easy to work with."
In October the same year, Roos shared images, on a tiny mobile phone screen of a series of life-sized figures she was working on. It was impossible to appreciate the scale; what impressed more was what she had managed to achieve with those strips of inner tyre tubing. She was now weaving, knotting and plaiting these strips into patterns, shapes and forms. In late November 2015 the completed series was installed at campus for examination purposes; the scale, attention to detail and the use of medium was impressive, and so were the content and her ability to contemporize a forgotten bit of history.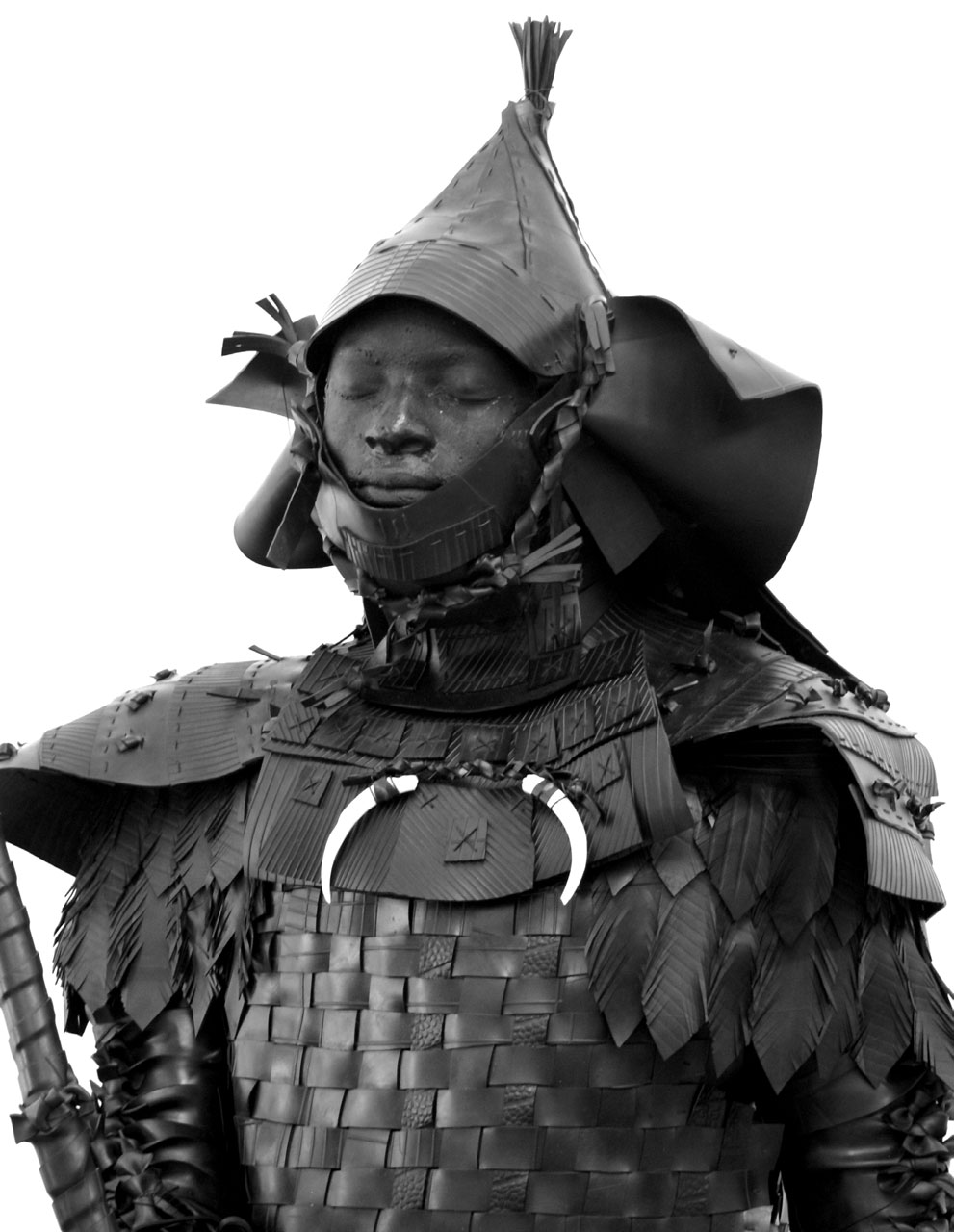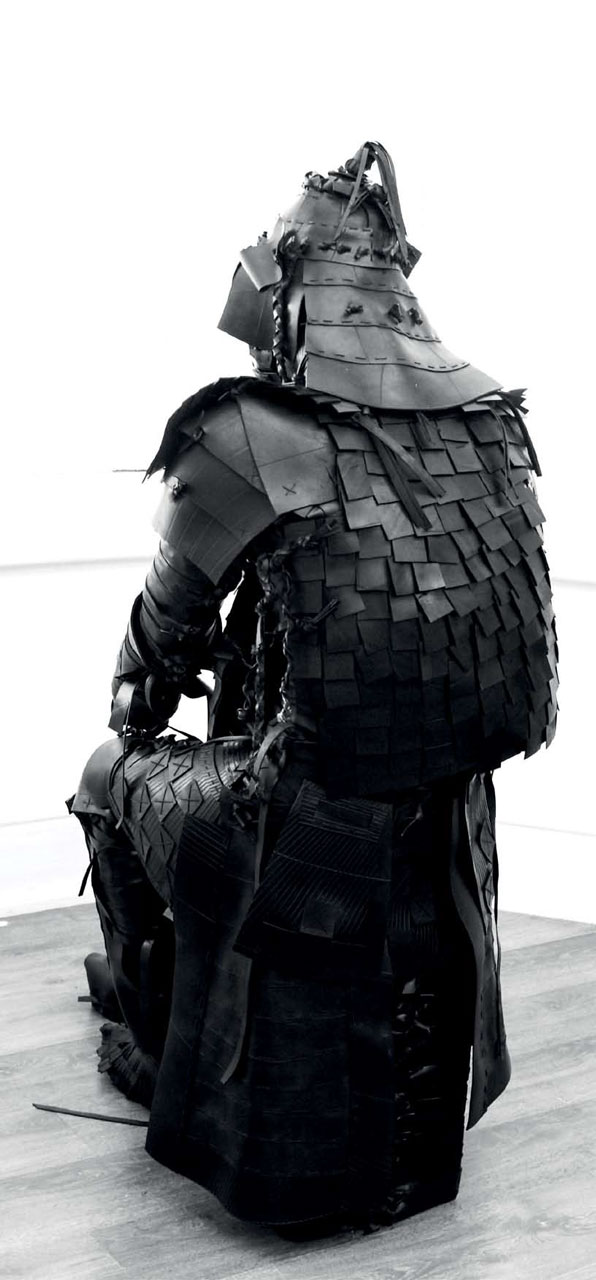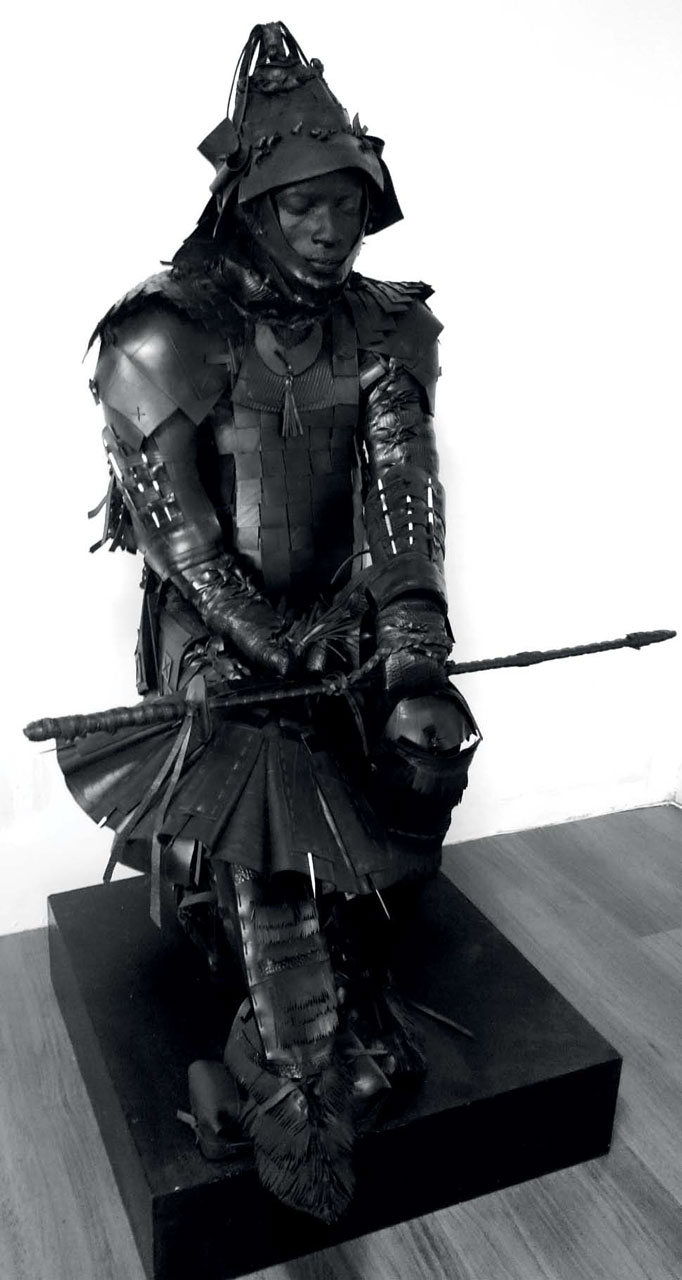 Roos writes in her artist statement that "the reference for her four part sculpture installation No Man's Land is the only black Samurai ever written into recorded history: a six-foot-tall Mozambican slave, who came to serve the great Japanese Shogun Oda Nobunaga in the 16th Century."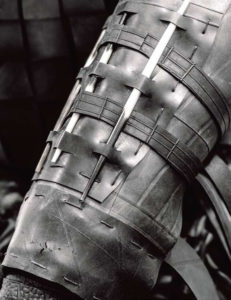 The slave was sold and taken to Japan by a Jesuit priest. Nobunaga gave him the name Yasuke; which may have been a Japanese rendering of his original name. More recently it was concluded that Yasuke was a Makua (the largest ethnic group in Mozambique) with the previous name of Yasufe.
The story of the African Samurai received a brief mention in an Anthropology lectures. [Fine art students are required for degree purposes, to complete three Humanities subjects of their own choice]. Roos had selected Anthropology, Archaeology and Philosophy. She agrees that the former two subjects are good sources for inspiration, but credits Philosophy as an important bridge. "I find my content in history books, but it is that process of reasoning through which I contemporize. Philosophy unlocked and enabled my reasoning."
Roos' series of sculptures were added to our list of works to be shown at the Cape Town Art Fair from 19 – 21 February 2016. It was an unusual and risky move; she is twenty one years old, and still a student. Age and status aside, the sculptures were impressive, well made, well resolved and the content was relevant. There was one proviso, no sale unless it was to either an academic or public collection. Roos accepted those terms. Her greater challenge was to be present at the booth on the night of the opening of the fair. Proud as she may be of her achievements, she is naturally shy. But she had read extensively about her subject and had no problem engaging with an audience about the life and journey of the warrior called, Yasuke.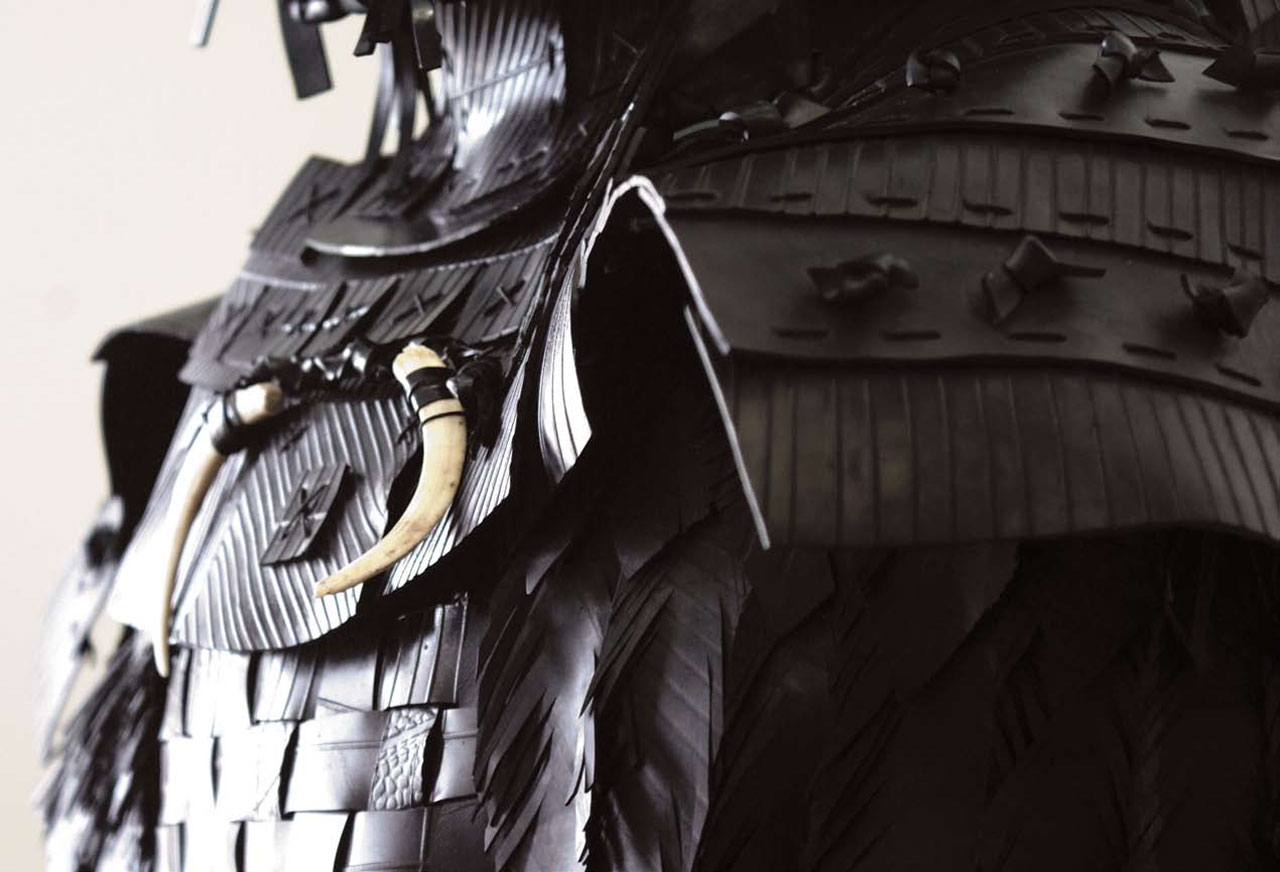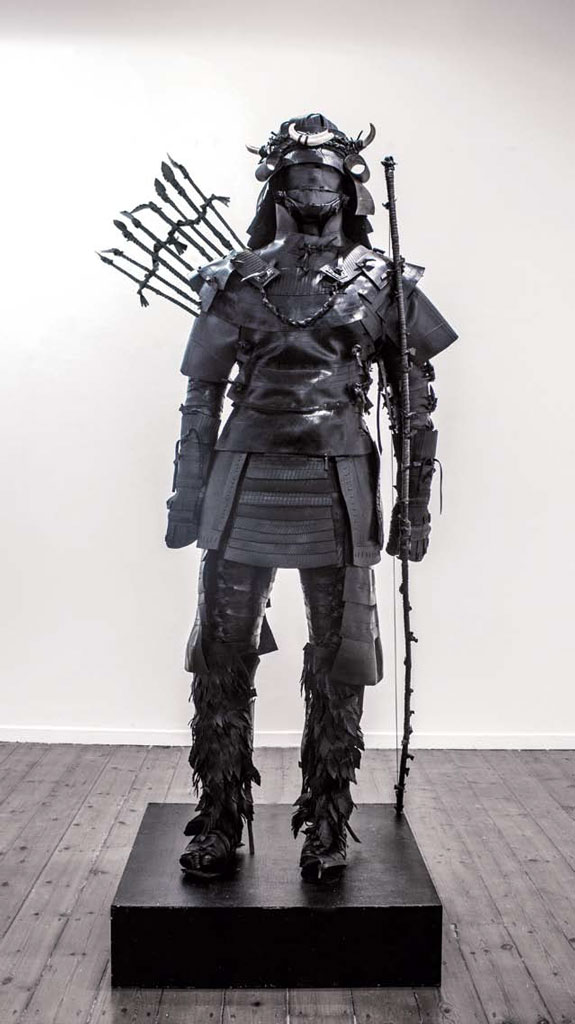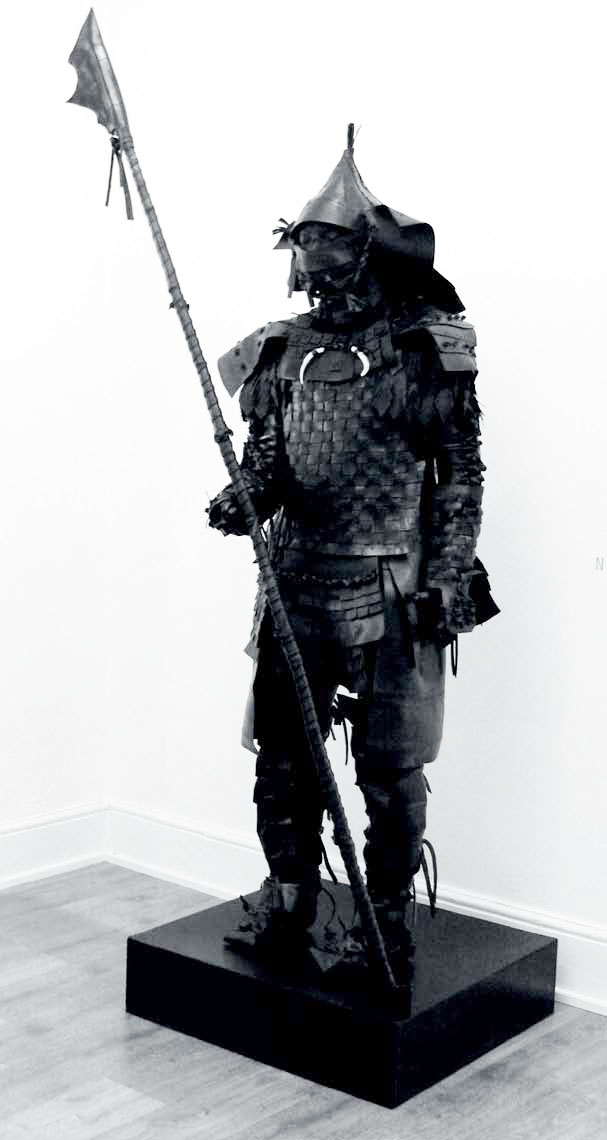 Roos' first sculpture was sold to a prominent South African collector whose collection is on regular public view. The second sculpture was purchased by a collector in New York; his collection too is regularly shared with the public. As a former museum director, he was comfortable with the idea that Roos had produced the work as a student. His only request was that she continued working with the medium of inner tyre tubing. The third sculpture went to a foundation. It was completely understood why they were making the acquisition; the great British/Nigerian artist Yinka Shonibare MBE is well represented in their collection.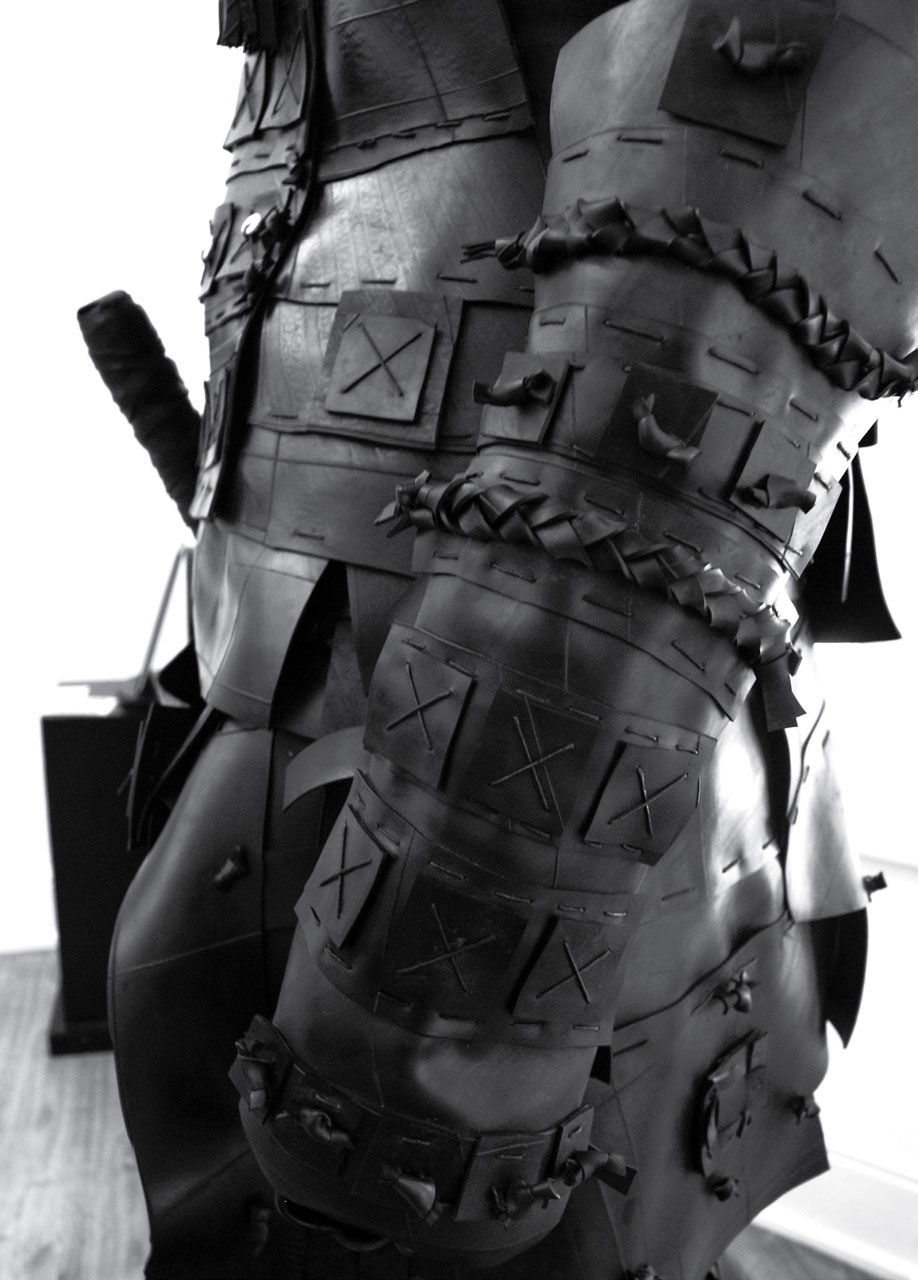 The final sculpture was sold to a collector in Mozambique; it will go on permanent public display in Maputo.
But it was an email from Japan, from a university lecturer who saw an image of Roos' sculptures on social media that finally closed this chapter on the story of the African Samurai, he wrote: "I look forward to introducing the work and the artist to my students and colleagues in Japan."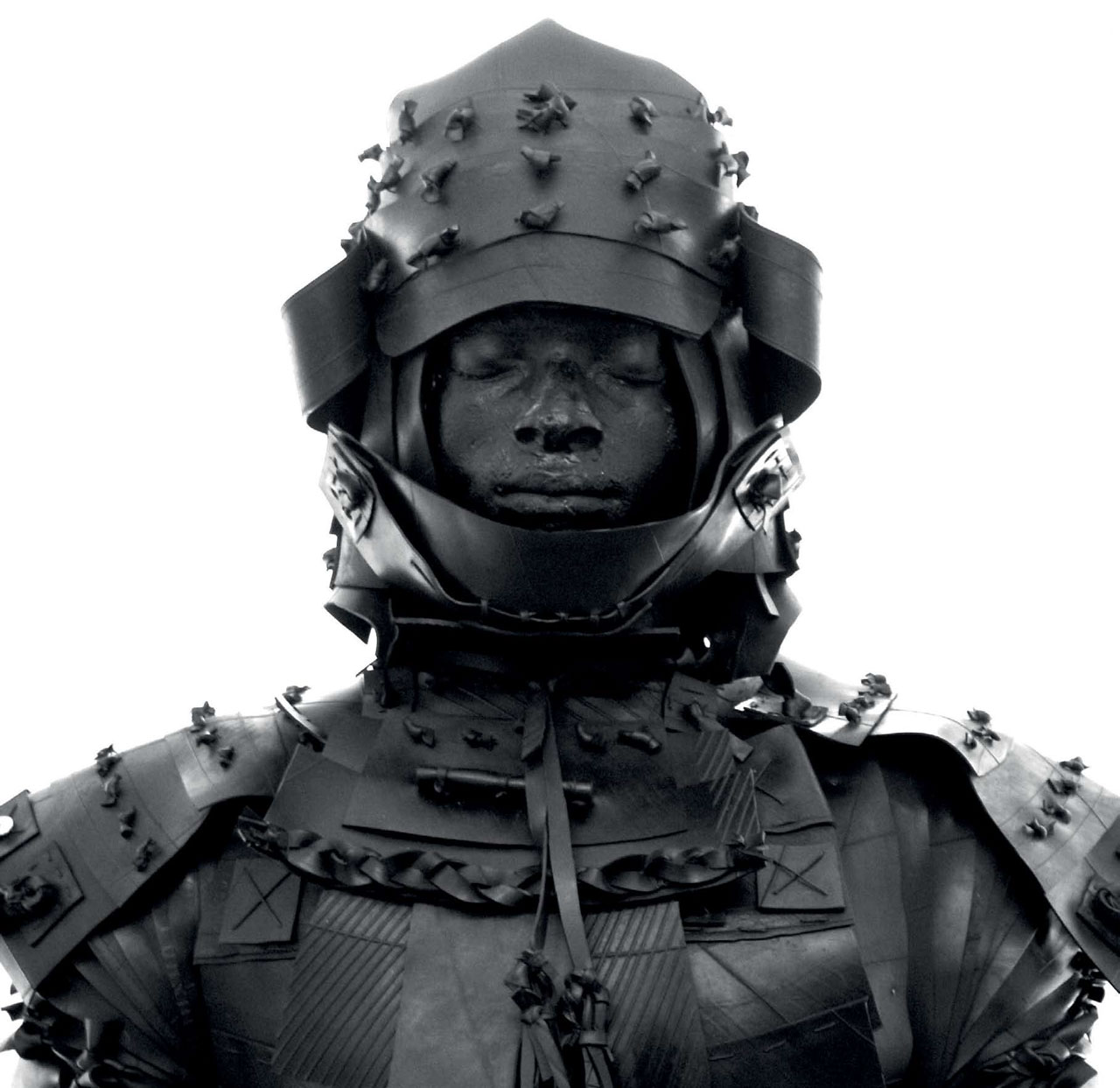 I was satisfied with the response to the work, and the success in placing these sculptures in collections as I had intended to. But I also knew Nicola. She never volunteers any information. So I started reading; I was looking for something but I did not know what.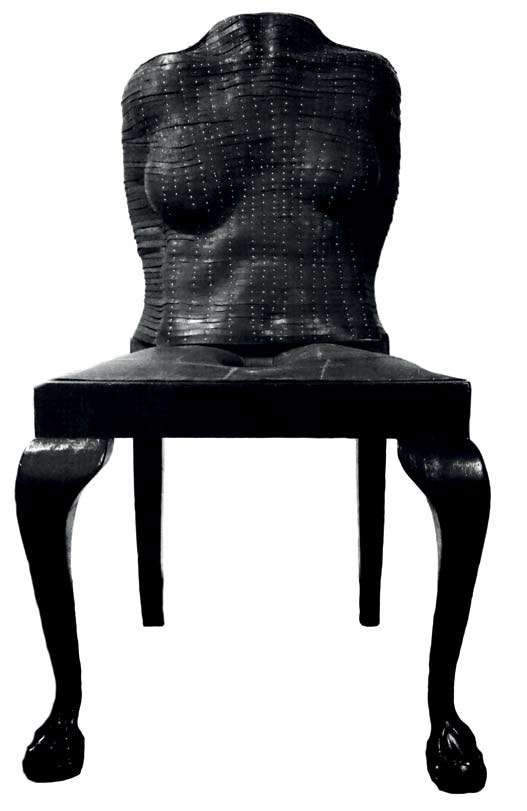 I eventually found it; Nicola Roos had used porcupine quills, ostrich egg shells and animal fangs as adornment in her suits of armour. It is reasonable to assume that she used and incorporated those materials because of access. But it also happens to be what the man who became known as the warrior Yasuke had taken with him onto his journey to Japan; a handful of mementoes. She laughed when I told her, and said: "did you find that reference of an Ancient Japanese Proverb that reads For a Samurai to be brave, he must have a bit of black blood?
Nicola Roos is currently working towards her final year body of work; she is silent on the content.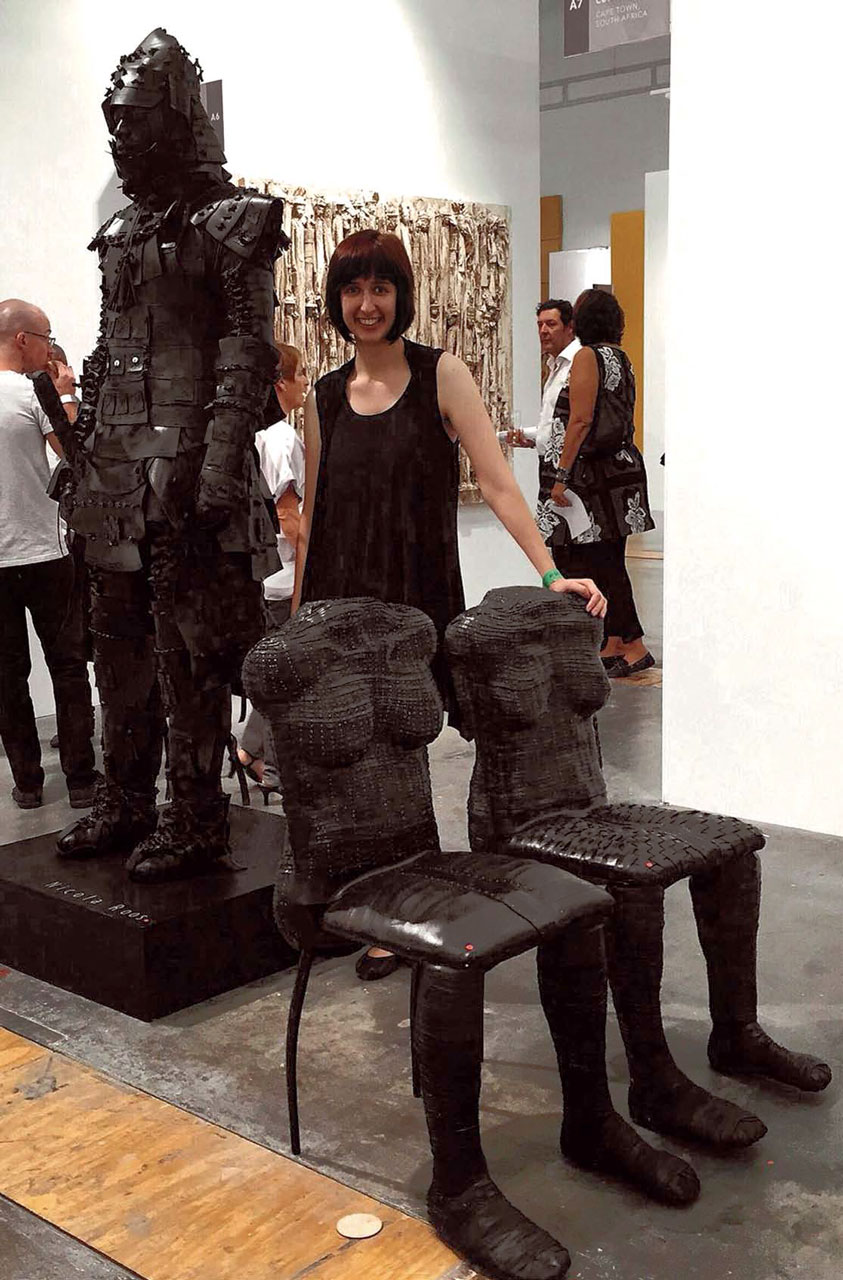 This post is also available in: Spanish