Dante recommends Lynott tribute
By Mark Beech
It was 30 years ago today.
On January 4 1986, Irish musician Phil Lynott died. The lead singer of Thin Lizzy was 36. The songwriter and bass player had been drinking heavily and was addicted to heroin.
On January 4 2016, the event is being marked by a charity single for one of the Duchess of Cambridge's charities.
DANTE was given the story of how British band Space Elevator came to record an extraordinary take of the Thin Lizzy classic "Don't Believe a Word."
The original single in 1976 got to Number 12 on the U.K. chart and it was Number 2 in Lynott's native Ireland.
Lynott was a one-off character, He was influential and has nonetheless won comparison to other hard rock frontmen such as another singer-bassist-writer, Lemmy, of Motörhead, who died at the end of 2015.
"Don't Believe a Word," while not his most commercially successful, is still one of his best-loved compositions.
Space Elevator – a band to watch that deserves some wider acclaim – said Thin Lizzy, and Phil in particular, have had a huge influence on its music and live performances.
Lead guitarist David Young says " along with our drummer Brian Greene and our bassist Chas Maguire, I more or less learnt to play my instrument by studying every part in every song on the classic Lizzy album 'Live and Dangerous,' it's surely still the best live album of all time!
"We really wanted to do something to mark Phil's passing and show how influenced we were by him and Lizzy"
The group's singer The Duchess agrees: "Phil's first solo album 'Solo in Soho' remains one of my all-time favourite albums."
The track is an obvious choice and a centrepiece of the live album. Lynott plays the role of happy love cheat in the show. In the song he says: "Don't believe me if I tell you not a word of this is true. Don't believe me if I tell you, especially if I tell you, that I'm in love with you." Elsewhere in the show he asks if there are any girls in the audience with any Irish in them. And if there are any who want any Irish in them.
How much might have been achieved if Lynott was still around, not an addict in the later years of his life, leading to his premature death.
This backstory all developed into the idea of helping charity.
Again, given the addiction there, the choice was obvious.
Action on Addiction is a registered charity, which was formed in April 2007 through the merger of three organisations: Action on Addiction, Clouds and the Chemical Dependency Centre.
It works to find ever more effective ways of disarming addiction in individuals, families, communities and society as a whole. It runs specialist treatment centres; trains practitioners; supports children and whole family units; initiate research and engages in advocacy.
The charity says one in three people suffer from an addiction. The condition breaks up families, damages communities and destroys lives. In some way it touches us all. The charity has been going in some form for 30 years, and in January 2012 HRH the Duchess of Cambridge became a patron.
All proceeds from the song will go to the charity and the campaign will raise awareness for addiction.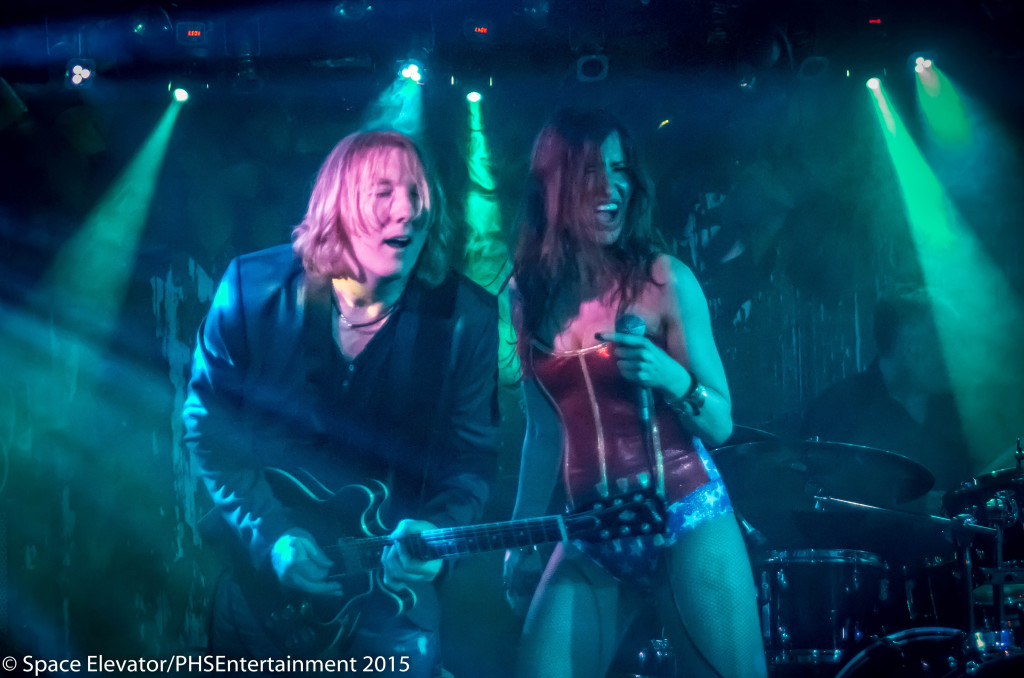 "Don't Believe a Word" is released as part of a three track EP along with two original Space Elevator songs, "Loneliness of Love" and "Oils and Bubbles."
Space Elevator was formed in 2014 by Young and The Duchess.
Their self-financed debut album featured Neil Murray (Whitesnake/ Black Sabbath/ Gary Moore) on bass; Elliott Ware (The Who) on keyboards; and Brian Greene on drums.
The band also cites other classic rock influences such as Queen, Thin Lizzy, Fleetwood Mac, Aerosmith, Genesis and Kate Bush, all updated to the 21st century. The band plays several European dates in 2016 including arts4every1 in High Wycombe, Buckinghamshire, on Saturday January 16.
LINKS
For information: http://www.actiononaddiction.org or
http://www.spaceelevatorband.com
A taster video of the song which features both the slow version of the song which Thin Lizzy only ever performed live, as well as the more famous rock section can be seen at https://youtu.be/WX9KqlmpZt0
The track can be downloaded from http://www.spaceelevatorband.com
or from Amazon at https://www.amazon.co.uk/gp/product/B01A09ZAMI?ie=UTF8&keywords=space%20Elevator%20Don%27t%20Believe%20A%20Word&qid=1451762940&ref_=sr_1_2&sr=8-2
Soundcloud:
https://soundcloud.com/pacelevator/space-elevator-dont-believe-a-word