Kuala Lumpur is a typically bustling humid south east Asian metropolis but there is an inspirational school of new architects who meticulously incorporate inspirational  energy-saving and sustainable concepts in their designs. Dantemag reports.
by Jaime Khoo
Malaysia is a very young country. However, I believe it has evolved in leaps and bounds architecturally. Comprising thirteen states, each one has its own distinctive architecture. Negri Sembilan, for instance, is known for its spired roof houses with painted floral carvings. These are known as the Minangkabau style. Whereas in Malacca, which is about an hour's drive away, has a mixture of Peranakan, Dutch, Portuguese and colonial British architecture.
However, I believe with the advent of the computer and internet, many of the architectural buildings, both residential and commercial, have undergone a dramatic change, especially in terms of their uniqueness. It almost seems that all the most recent designs incorporate similar features these days, leaning towards a greener, cleaner, contemporary look full of polished concrete, large surface doors and windows in high-ceilinged rooms. There are pros and cons to this approach. The drawback, as mentioned earlier, is the lack of any uniqueness associated with a particular area or country but the advantages are this information super highway has allowed even those not able to travel to use the internet as their muse, so to speak. Having said that, there is still plenty of scope for creativity because if you can improvise from a known current genre or style, to me that is what makes an architect stand out and gain accolades – very similar to what happened during the period of  Neoclassical architecture in the 1800s .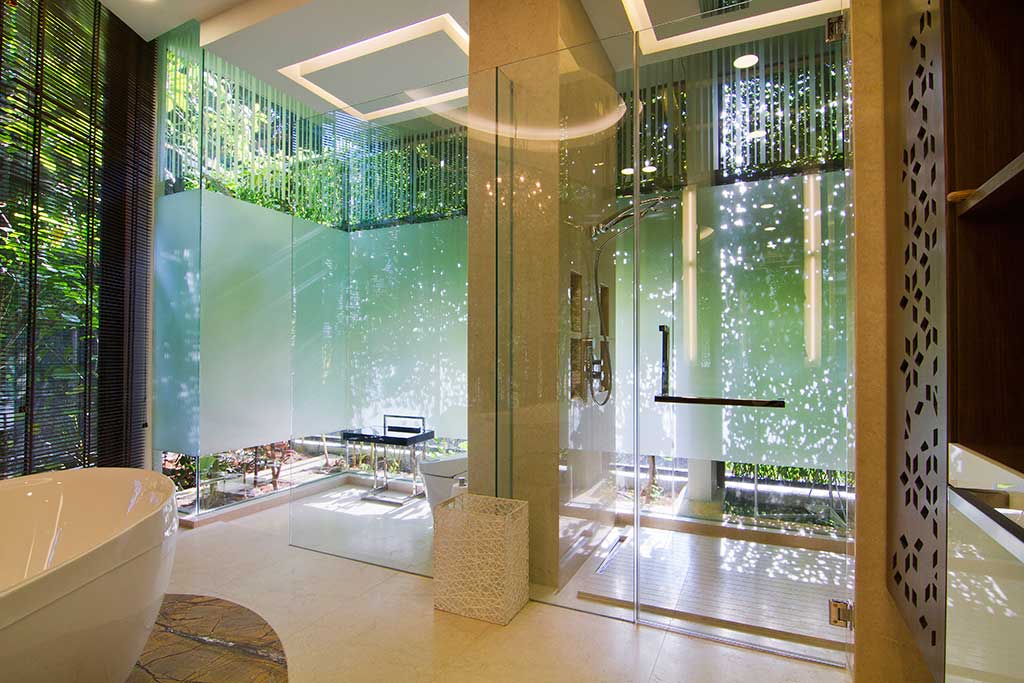 Today we see more and more residential and commercial building designs leaning towards meeting the highest criteria of the Green Building Index (GBI), Malaysia's very own green rating tool for new projects. And that's exactly what my team and I achieved with our latest venture. Moreover, I think it is equally important, at the same time as we strive to build properties to the  highest ecological and energy-saving standards as GBI, for us to consider what a friend of mine, architect  Ambra Piccin with her Cortina style in Italy  so aptly calls the " ZERO KILOMETRE". This simply means in order to build something ecologically, you need to take into account the carbon footprint involved and how it benefits your country's economy. I am a firm believer that if a material can be made, bought or procured in Malaysia, then it should  be. I do not see the need for importing or purchasing any item from abroad as it serves absolutely no purpose. For me this is what, in essence, recycling means So, that is exactly what we aimed to achieve with the latest project my team and I embarked on.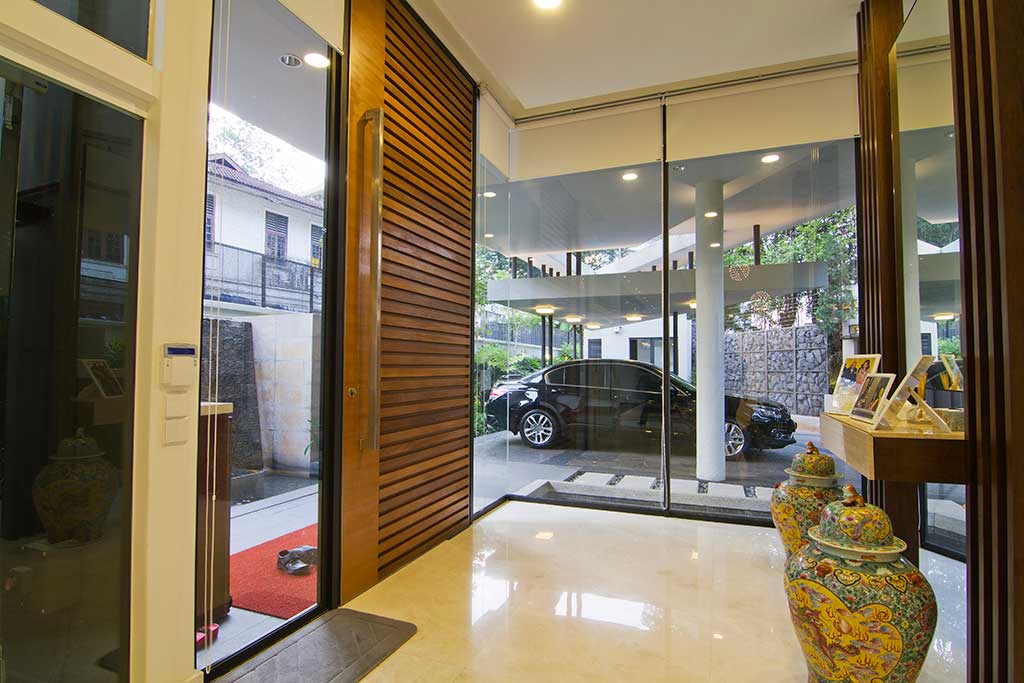 For the exterior, for instance, we built a Gabion perimeter wall to reduce the usage of cement, we created a dense but manicured landscape to maximise the flow of oxygen to the property thereby giving the client the illusion of not living smack in the city centre and various water features to cool the environment further. Sporadic gaps built into the Gabion wall were specifically calculated to allow for further circulation of air around the property.
A rainwater collection system was naturally a must as we have rain almost 300 days a year and it would be a criminal waste not to recycle it. The water collected is used in an irrigation network for the plants and trees, operated by a solar-powered timer. LED lighting is employed throughout the property, both externally and internally.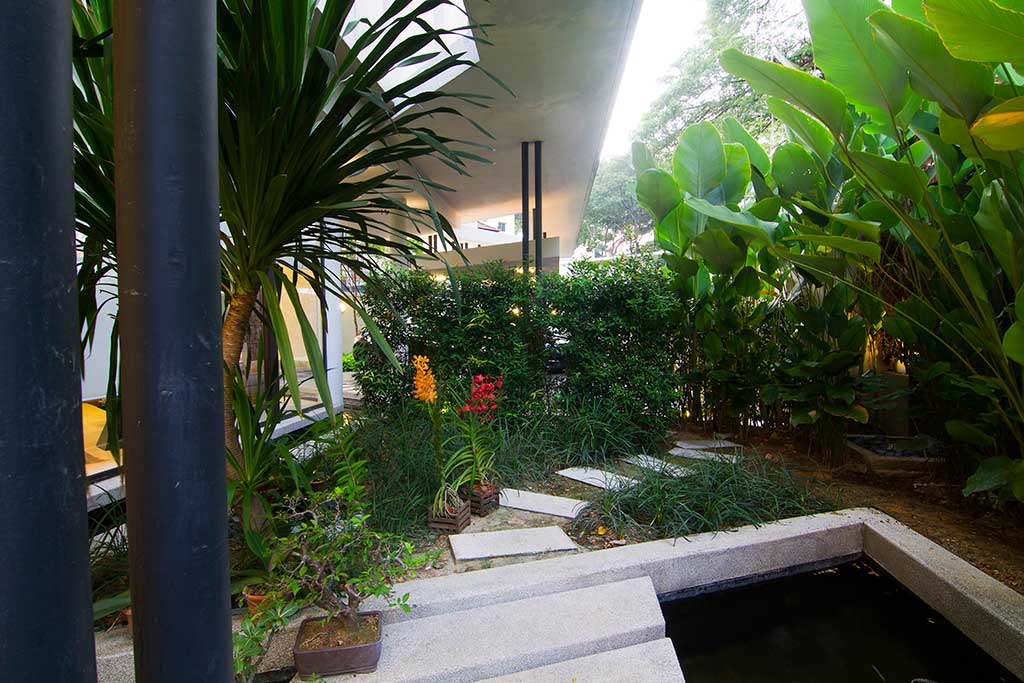 For me, making a building green goes further than merely employing materials which help in reducing energy consumption. It must also ensure that the property's maintenance and sustainability is catered for. For instance, stucco paint was used on the external walls so even in our harsh and polluted  environment, the building will probably need only repainting once every ten to fifteen years , rather than, as more traditionally happens, approximately every 2 years. The ponds we created were bio-filter ponds which require cleaning only once a year rather than once a month, for instance.
The house's interior was one of the most interesting residential projects I have had the pleasure of working on. For the first time ever, we combined an anti-oxidant agent made up of live microbes with concrete, plaster, cement and paints throughout the building. The point of this is to increase oxygen levels whilst eliminating any free radical agents like mildew or fungus and so forth from forming internally.  The result has been astounding as the house has a constant fresh odour and even food stored in the open does not go off, due to the absence of bacteria in the air. Having said that, if the doors and windows are left open for a period of time, then the live microbes do not function quite as well. Incorporating this anti- oxidant agent, made up as it is of live microbes, means no chemical-based detergent can be used in the house cleaning and anyway there would be no need frankly, making the residence even more eco-friendly.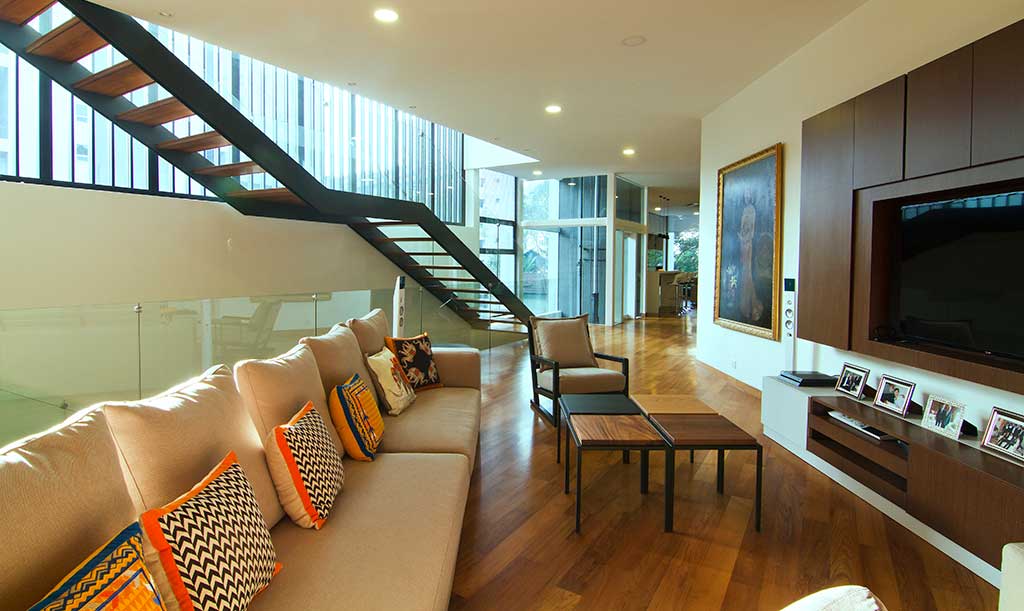 High ceilings, open concept design and floor-to-ceiling doors and windows add to the cross- ventilation in this residence, thus permanently reducing air-conditioning use. Coupled with the water features throughout the property this  lends it an air of zen-like flow, creating an environment of calm and serenity.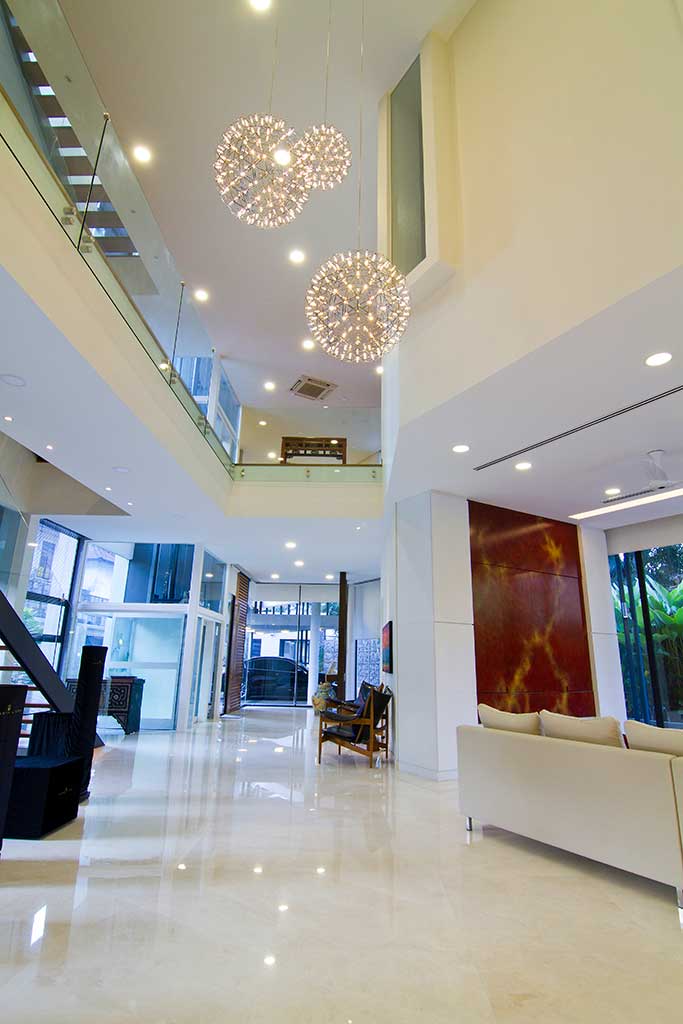 As it is situated smack in the middle of Kuala Lumpur, noise and particle pollution are inevitable. We tackled this issue by using specially recycled aerated foam brick blocks throughout the residence; these are both durable and functional in drastically reducing the noise pollution by almost 50% and in keeping the residence wonderfully cool. An equivalent to double-glazed glass, Low-E glass, was strategically placed only at areas where there was direct sunlight. This lowers the cost and at the same time helps to lessen the heat intensity.  The floor-to-ceiling windows and doors we included maximised the sunlight entering the property thereby reducing the need for lighting during the day.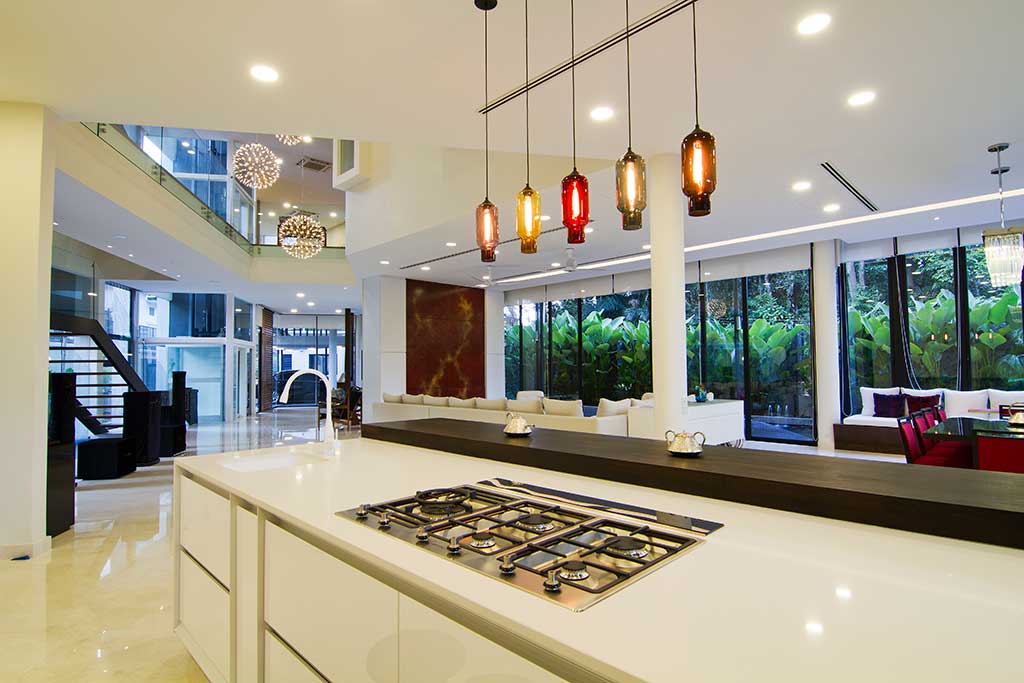 The landscaping was purposely designed so as to enhance not only the aesthetics but also to keep to the idea of creating a sanctuary for the owners, creating a feeling of being at one with nature in almost every corner. Vertical planting was introduced on the west side to cool the heat generated from the evening sun. Many other applications were incorporated in the overall concept of the building with the specific aim of reducing and saving costs, energy, water and future maintenance but I have highlighted what I consider to be the most important and the most exciting for us architects here in Malaysia and as an example for the rest of the world.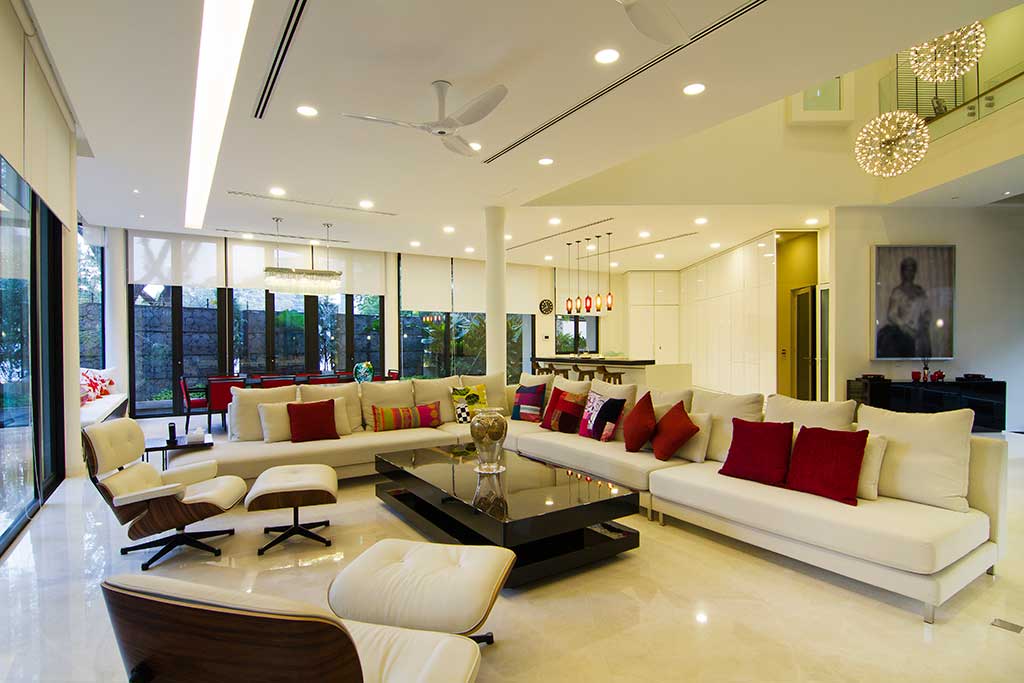 Although some architectural designs in Malaysia have gained traction in line with being green, more can still be done. With natural resources becoming more and more scarce, we should use more recycled building materials; as global warming becomes more of a reality, we should plant more and more trees around the property, rather than paving over lawns or introducing decking, let alone cutting down existing trees. We should introduce more cutting-edge energy-saving materials and designs, and move towards simplicity and minimalism in our architectural concepts. Malaysia's Green Building Index is ground-breaking and having a hugely positive effect in my country but I will leave you with a clarion call – remember the ZERO KILOMETRE -BUY LOCAL!