Up-and-coming actor Edward Akrout is a magic mix of many cultures that not only shows in his looks, but also in his persona. It's part of what makes him a versatile, global actor today.
When I met Edward Akrout in Soho one evening with some friends, I found it hard to believe that with his foppish brown hair, his soft look, he is an actor who up to now has been cast mainly as a heavy, a villain.
Edward's father is a Turkish Palestinian who was born in Tunisia and his mother is part Irish and part English. Edward's maternal grandmother was a French Jew. He has Muslim, Jewish, and Christian cousins. Educated in France, where he grew up, he has lived in Latin America, Romania, Ireland, and England.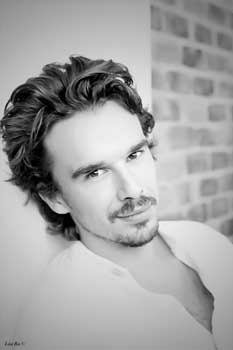 Edward's education has supplied him with more tools than most of us have been able to gather or experience. With an exceptional worldliness, his authority and conviction are equally beguiling.
What does it feel like growing up in such a mixture of cultures?
It gives you a total lack of cultural identity at first, and eventually a great sense of who you are. I never knew the songs the kids were singing in the bus whether it was in England or France. But now I feel I can walk anywhere on this planet and connect with the person facing me.
Edward moved to England at the age of 23 as he claimed to be bored with Paris. He also didn't like the intellectual approach to theatre in France. But when he saw Russian director Pyotr Fomenko's production of Three Sisters at the Theatre de Chaillot in 2004, with the original cast from Russia, he was so taken by it that after a while he said he didn't need to read the subtitles. They were very human, not playing any concepts, they were playful and natural. That was when he decided that acting was his work for life. His talent and his motivation got him into one of the most selective drama schools in the world, the London Academy of Music and Dramatic Art (LAMDA).
Why London instead of Paris?
In Paris there are only a few theatres and it feels like a private party, whilst London – it's more like an open bar anybody can get into. . . .
I was very lucky [getting into LAMDA]. I got the news that I'd got in on the 14th of July, 2005. I was over the moon. Two months later I had a cliff diving accident and hurt my back. I still went to school, struggled to hide the pain until May or June 2006, when I could hardly walk. They sent me back home. Two weeks later later the nerves in the medullary canal got trapped against my disc and I became paralysed. I tried to avoid surgery at all costs, until I was finally operated in emergency on the 14th of July 2006. Tough year. But I think that suffering made me a better actor. It made me understand people better.
Before becoming an actor Edward got his degree in Philosophy at the Sorbonne in Paris. Between acting jobs he likes to tutor and mentor kids from all backgrounds, including those who can't afford to pay. He recounts that when he was on set for The Borgias (produced by Showtime) he had a phone call from the mother of one of his pupils, who said her son had got the highest results he had ever achieved at St Pauls in Cadogan Square Knightbridge. The following year, the exact day Edward arrived in Cannes for the promotion of Dead in Tombstone, he got a phone call from the father of the same pupil saying that the boy had been accepted into Winchester which is one the most prestigious public schools in the UK.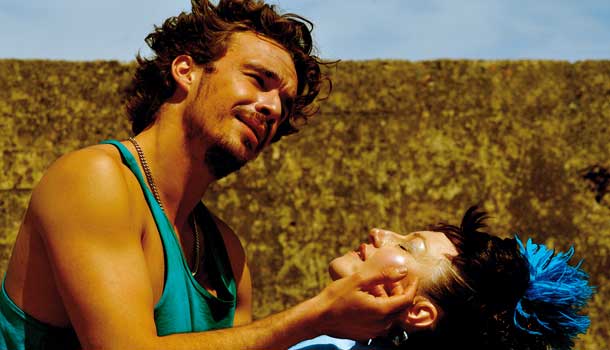 That was, I have to say, one of my most satisfying moments. It's like going back in time. To give something back to a young kid – I love it. And I'll keep doing it; it keeps me grounded. It keeps vanity away. Being an actor is all about focusing on yourself, and the rewards are not comparable, because the anxiety never leaves you. You always want the next thing. You think you'll be happy when you get to drama school;, then you need an agent; then you need a job. And you get one, and then you want a better one. And it goes on – the best suite, the best car – and you can never fully fill that hole."
After The Borgias, Edward got the lead part in a British feature film, Full Firearms, in which he plays a Serbian gypsy. He speaks a bit of Serbian and Russian which helped him get the part. He is also fluent in Spanish.
Full Firearms is an independent film, inspired by the story of Sarah Winchester, wife of the heir to the Winchester gun fortune. She was haunted all her life by ghosts of all the people killed by her family's guns. In Henry V produced by Sam Mendes and directed by Thea Sharrock, Edward plays the Dauphin. The film is part of The Hollow Crown, a tetrology of four of Shakespeare's history plays, that were adapted for the screen by the BBC.
As soon as he finished Henry V, Edward went to Romania to shoot a Western, Dead in Tombstone with Micky Rourke and Danny Trejo. It will be released in February 2013. In it, Edward plays his first American character.
It was a great challenge. I had to speak in an American accent all the time, which drove my girlfriend crazy. I got to be a cowboy, though – another childhood dream. It was too good! I had guns, I had boots and a horse, I had an Andalusian stallion! . . . Danny Trejo is one of my heroes, a true legend. We worked fifteen hours a day and he never complained. He is a true professional."
Who are your other heroes?
Ah, the list is long, but I'll start with Al Pacino. Christopher Walken, Robert de Niro, Jack Nicholson – I'm a big fan of the American movies of the 70s. . . . Leonardo di Caprio, John Torturro, Patrick Deware. Leonardo di Caprio, in my view, is a great actor. He's totally dedicated to his career. . . . He has amazing passion. . . . He's the only actor I can think of who has never done a bad movie. I would love to work with him.
Who else would you like to work with?
I'd like to work with, Alexander Iñáritu, the director of Beautiful and Babel. I would love to do a movie with him and Pedro Almodavar. Also another director I like is Paul Anderson, who made Boogie Nights and Magnolia. Agnieszka Holland is one of the most talented directors of her generation. I've just watched In Darkness and it's an absolute masterpiece, not one false note in it. Of course, Martin Scorsese has changed the way I see things; after watching Mean Streets nothing was the same again.
Why do you often like to play the mean parts?
I like to play mean characters because they have an apparent vulnerability, and they sometimes have more depth. The dark side, there's always a dark side. . . . I could've become so many different people. It depends who you meet that shapes your life somewhat. . . . When I act a "bad man," I wonder what could have happened to me to turn into this?
What is next then?
I'm off in ten days time to Portugal to play the lead in a British independent film. It's the story of a serial killer, a British banker in Porto. Then I'm off to Rome to play Byron in Keats' house there. It's a creation in collaboration with Pele Cox, the in-house poet at the Royal Academy. We got such great feedback that we decided to create a charity for Equilibrium, the company that I work with in my spare time to help tutor young kids. We hope to bring kids closer to poetry.
We're going to perform in all the houses and the places where Byron lived (Rome, Venice, Geneva, Paris, London). They are small venues but we get great press to come and on the last night in each city we do a fundraiser.
After Rome, I'm off to Paris for the world premiere of Exit Orpheus, a play by the half-American, half-Korean playwright Matthew Hong. It's a two-hander and I play Orpheus at the Theatre du Marais. Then I'm off to Normandy to play William the Conqueror in a movie produced by Arte in co-production with BBC. David Bates, the historian, has contributed to the script.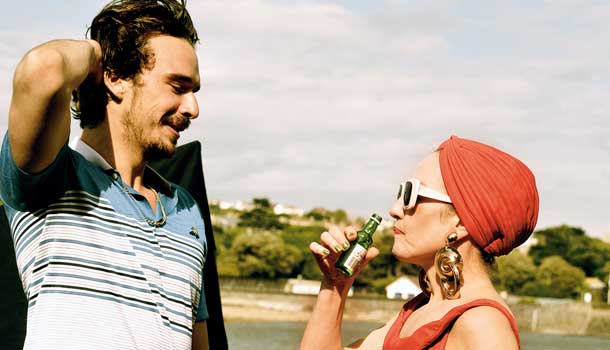 Do you prefer acting in movies or in the theatre?
What I love about movies is that it's a collaborative art form. A bunch of people get together and create a dream, which then becomes a dream in somebody else's mind. What I love in theatre is the connection with the audience. It's an actor's gig. You are completely free because you are in charge of the rhythm, the story, and the focus. Film is a director's gig, so if you have a good relationship with him, you can achieve almost anything. It's so important. The director is going to decide where the camera is going to be, how the story is going to be told. You have no idea, when you take on a job as an actor, what is going to happen. It's a complete surrender. You try to do your job as best as you can, to tell the story as well as you can.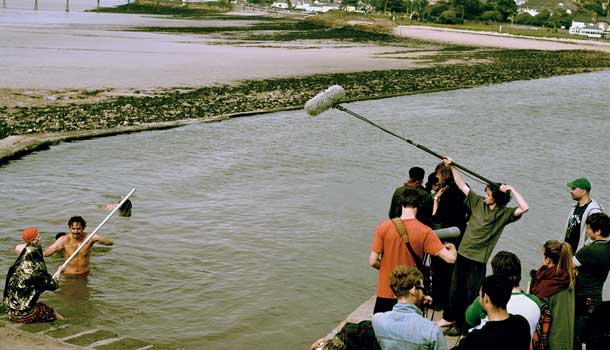 Sounds like your schedule is pretty hectic. How do you manage your time?
I've never been able to book a flight in advance as I never know what I am going to do next week! I'm not at that stage in my career when I know what I'll be doing in a year or two! I have to be ready to go at any given time.
That sounds like an actor's dream. With Edward's looks, he can adapt to so many cultures and roles – be it a European romantic or an American thug. That's what he likes doing most – transforming and completely disappearing, yet keeping the essence of who you are inside, changing the outside to adapt to the role.