Sagebrush and Rodeo Dreams
[three_fourth_last]
Sagebrush and Rodeo Dreams
[/three_fourth_last]
[three_fourth_last]
Give me a bronc that knows how to dance
Blue roan in color and wicked of glance
New to the feeling of bridle and bit
Give me a quirt that will sting when it hits
Strap on a blanket behind in a roll
Toss me a lariat dear to my soul
Over the trail let me gallop away
Make me a cowboy again for a day.
Don Edwards
[/three_fourth_last]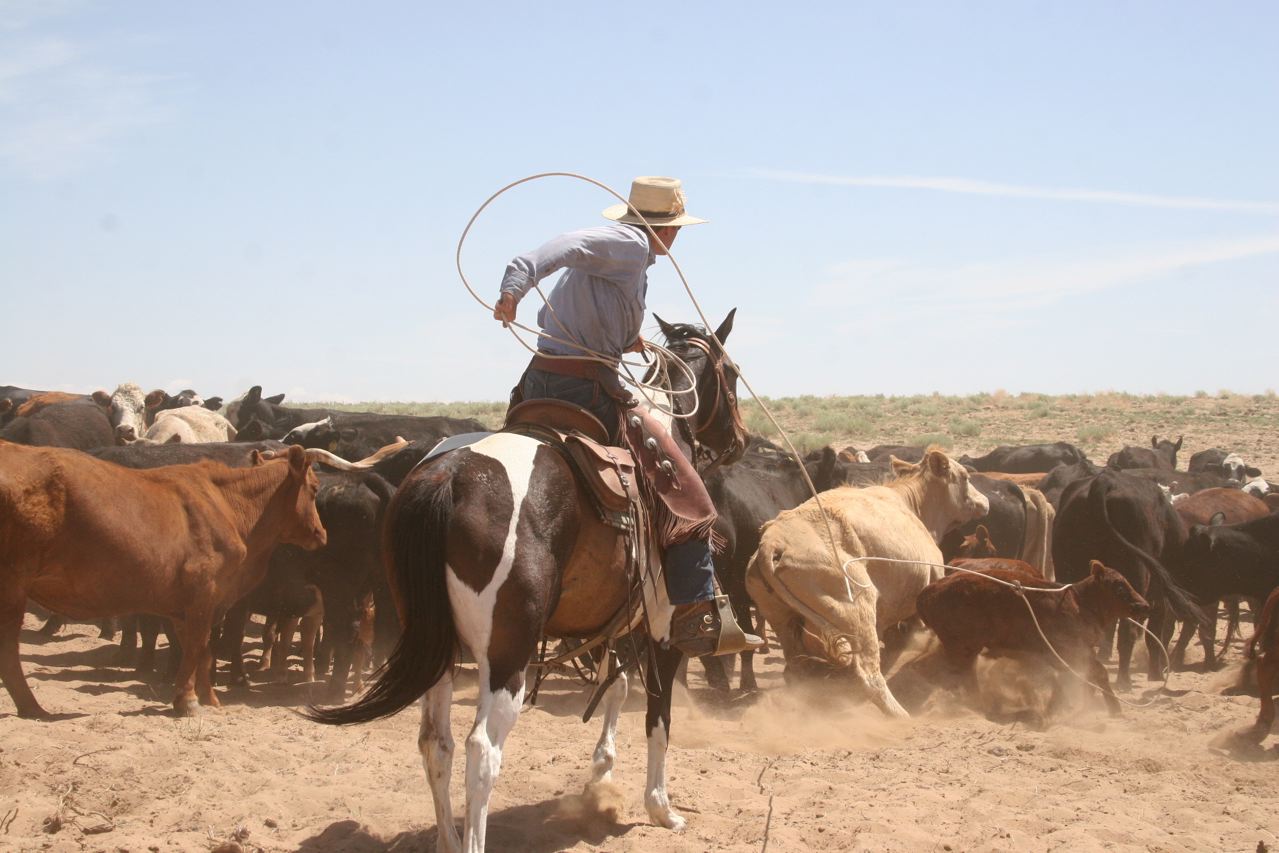 [three_fourth_last]I am far from the stone cathedral spires of the Rocky Mountains, the endless prairie, the untamed rivers that give life to them, the vast, immense spaces, indescribable light and colours of the wilderness of the American West, but it is never far from the heart, for in those places a long time ago I became a cowboy. I live now in a farmhouse in the South of France and it is a gift of circumstance that there's a riding school next door. I am serenaded at night by neighing horses and they are the first thing I spy in the morning from my bedroom window. None pleases more than a painted pony, more of a Cheyenne warrior's steed than an haute ecole charger in his patches of brown and white. He resembles a wild mustang from the New Mexico desert; the very sort of horse nineteenth-century cowboys once broke and turned into redoubtable, tireless and sure-footed, cow-punching companions on their long cattle drives. I take it as a sign that the cowboy karma is still with me.
I wasn't born to the cowboy life. I am not ranch bred nor am I descended from a long line of Western pioneer stock, though my American ancestors came to the New World in the seventeenth century. I did have the good fortune to grow up in Colorado, though there's no escaping that I am a city slicker through and through—and not just from Denver, but Madrid and Rome, too, where I spent my earliest childhood. Yet it was in the immortal city of emperors and gladiators that I first caught sight of my first cowboys. There was a travelling American rodeo, a sort of cowboy circus and Wild West show, that had come to Rome and my American father took me to see it. What a grand spectacle it was. The image of a mounted cowboy with an American flag, circling the arena at speed, is still etched in my mind. The Stars and Stripes streamed behind in the breeze his galloping created. In the iconography that bespeaks America is there anything more quintessentially American than a cowboy? I knew in that instant that I needed to become one, that I had seen the image of my heroes.
I was an American boy in Italy, but I didn't really know I was American, although my passport said so. When I was an adult, my father told me that it had been his deliberate intention to create a multicultural son, at home either side of the Atlantic. He was a classic WASP of Anglo-American descent, but my mother was half Indonesian and half Chinese. Born in Spain, raised in Italy, I received my primary education at an overseas British school on the Appian Way. I grew up speaking four languages simultaneously.
By day I was more of an English schoolboy than a Yank, and once the red blazer, beanie and grey trousers of my school uniform were off, I reverted to a Roman lad and could just as easily be a Gato Madrileno too.
Without realizing the impact the Roman rodeo had had on my imagination, my father nurtured it further on the celluloid screen. Dad was a film actor, a refugee from Hollywood who hated Tinseltown and had voluntarily traded L.A. for Rome. And thus 20th Century Fox player Frank Latimore became Franco Latimore at Cinecitta. He made many swashbucklers as a spadaccino, or swordsman, including the role of the masked, caped avenger, Zorro, who dealt justice in Spanish colonial California with his epee. He also made countless Spaghetti Westerns in Andalusia's extremadura which closely resembles the painted desert of the American Southwest. I couldn't get enough of Dad's on-screen cowboying. After school, together with my best friend Giulio, I'd often seek refuge in the neighbourhood cinema, spending hours in the company of John Ford's lyrical Westerns with Italian subtitles. We both dreamt of becoming cowboys one day. But if many boys around the world dream the same dream, I got my chance.
The first thing my American aunt and uncle did when I arrived in Denver was take me to the National Western Stock Show and Rodeo. Every chance I could, off and on between the ages of sixteen and twenty five, I earned my spurs on cattle ranches in Colorado, Wyoming, Nebraska, and as far away as the Australian Outback, amongst the Jackaroos of the Northern Territory, Australia's cowboys. School and university were an obligatory inconvenience. All I wanted to do was ride the range. The jewel in the crown was a season spent riding the high country as a mounted guide in the Grand Teton Mountains of Wyoming, close to Yellowstone. And I had ventured to a remote corner of West Texas to learn how to rodeo from a former champion, beginning an apprenticeship in the bucking chutes as a bareback rider.
[nggallery id=47]
My first bronc ride was a close imitation of a bad car crash, though the involuntary acrobatics I performed, followed by a high impact face plant in the arena dirt also  resembled a sky diving jump gone wrong. A bronc ride may be only eight seconds long, but it is an eternity when one is aboard what Johnny Cash once sang is "something like a hurricane that's dancing with a kite." You are winded, whiplashed; your wrist—wedged painfully tight into the rigging—feels like it might well rip off and with it your arm at the shoulder. Every single muscle in your body is left strained and aching. When the horse weighs 1500 pounds and the cowboy 185, it's not even a strength contest. Rather it is, at its best, precisely a dance—a furious, violent dance.  As the horse bucks, twists, turns, kicks and leaps through the air at forty miles an hour, the rider seeks only to get in synch with the bronc, to match the moves and rhythm of the animal. That first time, with half my face a torn scab, my mouth full of gravel and blood, my steps uncertain, and my mind in the twilight, the champion turned to me with a smile and said, "Fun ain't it?" Yes, sir! So much fun, that now, despite having one leg shorter than the other due to spinal compression, two fractured vertebrae, two crushed discs, a broken nose, a broken toe and an inherent ability to predict the rain better than the BBC Weather Service, I'd do it all over again, were I whole.
My last bronc ride might have left me in a wheelchair. In quick succession I had been bucked off, stepped on, given a glancing kick, and then the horse had lost his balance and fallen on top of me. My then-girlfriend, sitting in the stands of the Jackson Hole rodeo arena, was so distraught seeing only the tips of my boots sticking out from under the belly of the bronc that she broke up with me the next day. Shoot! And I thought all girls loved a cowboy.
But I was never destined for a championship buckle and I knew it all along. I just "wanted to go down the road and crack out" as bronc riders say, wanted a taste. Cowboys don't golf or tennis, they rodeo, and it is one of the few sports that was spawned from the demands and skills of a working life, so I had to face the test. The first rodeos were informal affairs where the cowboys assembled at the end of a cattle drive and wanted to display their prowess and test their mettle against their best contemporaries. Who could ride the toughest bucking horse and keep his seat, which could rope the best and never miss his mark with his lariat, which was the top hand?
The job at the ranch in the Tetons had been a means to support my rodeo habit, because a rough stock rider or roper has to pay an entry fee to compete. It was my first and last season bucking out in professional rodeos as it turned out, though. That same morning of my last rodeo, a green broke horse—that is, a horse that is just learning to accept the saddle—had also flipped over on me in the corral of the ranch. Luckily he had gone over at an angle and not flush; otherwise the saddle pommel would have pierced my chest with the full weight of the animal. Instead I nursed a broken nose as the back of his head had exploded into my face and I'd been able to step off the horse a split second before he landed on the ground. That I'd often turn up sore for work after a rodeo was a source of endless mirth for the patriarch of the ranch. But cowboys don't gripe. They don't complain if they're wounded. They grin and bear it. They "cowboy up" and stoically stay silent even if they're "hurtin something fierce." That's the cowboy way and I had been taught well.
My last great buckaroo mentor was a man by the name of Bill Thomas, descendant of a pioneer ancestor who had, at different turns, been a Pony Express rider, an Indian scout and a Wells Fargo stagecoach driver. The photo of Bill's forbear hangs in the Smithsonian Museum, a cowboy strangely wearing a top hat, to hide the gruesome scar left high on his forehead by a Shoshone arrow. Bill was a cowboy through and through. He would laugh and laugh when he'd see me gingerly tiptoeing at dinner after I'd given yet another improvisational exhibition of free-fall techniques. He'd laugh like Smedley, the cartoon dog—a snickering, breathy whine that got louder and louder until tears formed in his eyes and he'd finally erupt into a deep belly laughter at my silent agony. I think of him, as one of my fathers. I loved old Bill and he seldom cut me any slack. He'd just always say "do it better, you Godless, heathen fornicator!" He was a devout Mormon and he did not approve of my indulging in pre-marital, horizontal recreation. After that last fateful bronc ride that meant the end of my time in the arena, he told me: "You set four new world rodeo records, Chris. You got throwed off the fastest, went highest into the air, landed the hardest and kicked up the most dust. Ya ain't no bronc rider, but by God you're a cowboy."
And so I was. I was head wrangler at Bill's ranch, second fiddle to the ranch foreman, and deputy taskmaster to ten hands and sixty saddle and draft horses. Not bad for a city kid from Rome. But a new path soon beckoned far from the cowboy trail. I went to Washington DC and my first job as a newspaper cub reporter. It was the beginning of a nomadic journalist's life, and the pursuit of another burning ambition: to become the foreign correspondent and war storyteller that I remain today, more than twenty years out from my last cowboy sunset. But plumb into the deep soul of this war reporter, and the true identity in the spirit, forever is a cowboy, nothing less. I am still a cowboy. Everything I learned about guts, about adventure, about listening to one's own inner voice, about keeping one's word, about a code of honour, about staring down the whirlwind and not blinking, I learned first as a cowboy.
[nggallery id=48]
And as an Asian and European hybrid man, I found my America, my home and my American heart amongst cowboys. In the Asian faces of my Native American cowboy friends, I saw myself. Though I am half Indonesian, I am still often mistaken for Navajo. They are my cousins of the land bridge across the Bering Straits, are they not? In the very words the cowboy used, like rodeo and corral, or in his horses of Spanish provenance brought by conquistadores to the New World, I could also reconcile my Spanish origins in my multiple Latinate identity. In the rodeo arena I also remembered El Cordobés and the bullfights I had seen as a child. My mind could travel even further to the bull dancers of ancient Crete, human and beast together in a spectacle of life and death, as old as time.
Of course the cowboy is also a myth that dime novels and Hollywood created. That myth has endured far longer than the true heyday of the Old West cowboy, who once roamed free before barbed-wire fences altered his reality forever. And Hollywood, as it often does, re-wrote Western history and excised all the Black and Mexican cowboys, homesteaders, and frontier soldiers who helped settle the American West. At the height of cowboy culture, the era of the great free roaming cattle herds that fed a nation and kept the stockyards from Denver to Chicago booming in the mid-nineteenth century, roughly one in every three cowboys was African American or Hispanic. One of the greatest cowboys of all time, Dee Picket, bronc buster par excellence, and rodeo pioneer was a Black man. The real Buffalo Soldiers were Black cavalrymen, but none figure in the movies much.
And we know too that the other, darker narrative of settling the West was also one of greed, violence and a slow moving genocide of almost all the Native American peoples. They were sacrificed to "Manifest Destiny": the railroads, the mines, the oil wells and the cities that would rise upon their near-extinction. Modern rodeo cowboys, though some are ranch bred, are in fact mostly full time professional athletes who are part of a multimillion dollar business. When such a tiny percentage of the American population is comprised of farmers and ranchers, the truth is there simply aren't that many cowboys left, except in imagination, in memory, in legend. And cowboys today will drive combine tractors and pickup trucks as often as they will sit astride a horse. The fruited plain was mechanized long ago.
But a yearning, a longing for the cowboy ideal remains deep in the American psyche. At its worst, it is former president George W. Bush aping a movie Western lawman talking tough to terrorists. But there is another reality still, deep in the heart, a place where myth, history, heritage and the Western landscape all join seamlessly together and the dream lives on. It's heard when a cowboy song is still sung, when a verse of cowboy poetry is rhymed anew. It lives on when a bronc rider bucks out a majestic wild steed as gracefully as a ballerina leaps through the air. It speaks when a lariat is thrown with the skill and accuracy of old, a piece of uncoiled stiff rope that is an elusive art form, as elusive as what animates a masterly painter's brush.
It's there in the embers of a rolled up cigarette of Bull Durham tobacco before an early dawn roundup across the high country of the Rockies. It speaks in the kicked-up dust and bellowing of a cattle herd on the move. It's the whistles and shouts of the cowboys that still know how to get the "doggies" up or down a mountain and bring them all home. It is in the miraculous waking dream of untamed Mustangs still running free through the desert. It is the awe of seeing a hundred brown elk heads turning in unison on an alpine plateau, spooked by a whisper from a buckaroo on a ridgeline miles away. It's in the scratch of a ghostly 45 record and the voice of a pedal steel guitar crying in the jukebox of a smoky, cowboy honky-tonk.
It's in the glow of a branding iron, in the clanking of a blacksmith's hammer shaping a new horseshoe, in the jangle of a booted spur when a cowboy walks. It's as raw and rough a delight as a fresh pinch of Copenhagen snuff in the lower lip. And it's in the way a cowboy screws down his Stetson and nods, the very image of steely absolute concentration, before the gate of the bucking chute opens. And it's probably beyond words to describe adequately. I have seen these things. I have lived them. I have loved them and I can never forget them. They are inside me, in my soul, as deep and indelible as the black sweat stains on the leather of my chaps. "I grew up dreaming of being a cowboy and loving the cowboy ways… My heroes have always been cowboys and they still are, it seems."[/three_fourth_last]