The Kimberley Coast of Australia
[three_fourth_last]
The Kimberley Coast of Australia
[/three_fourth_last]
[three_fourth_last]
Explore the magnificent wildlife of Australia's Kimberley Coast on a luxury adventure cruise.
by: Neil Geraghty
[/three_fourth_last]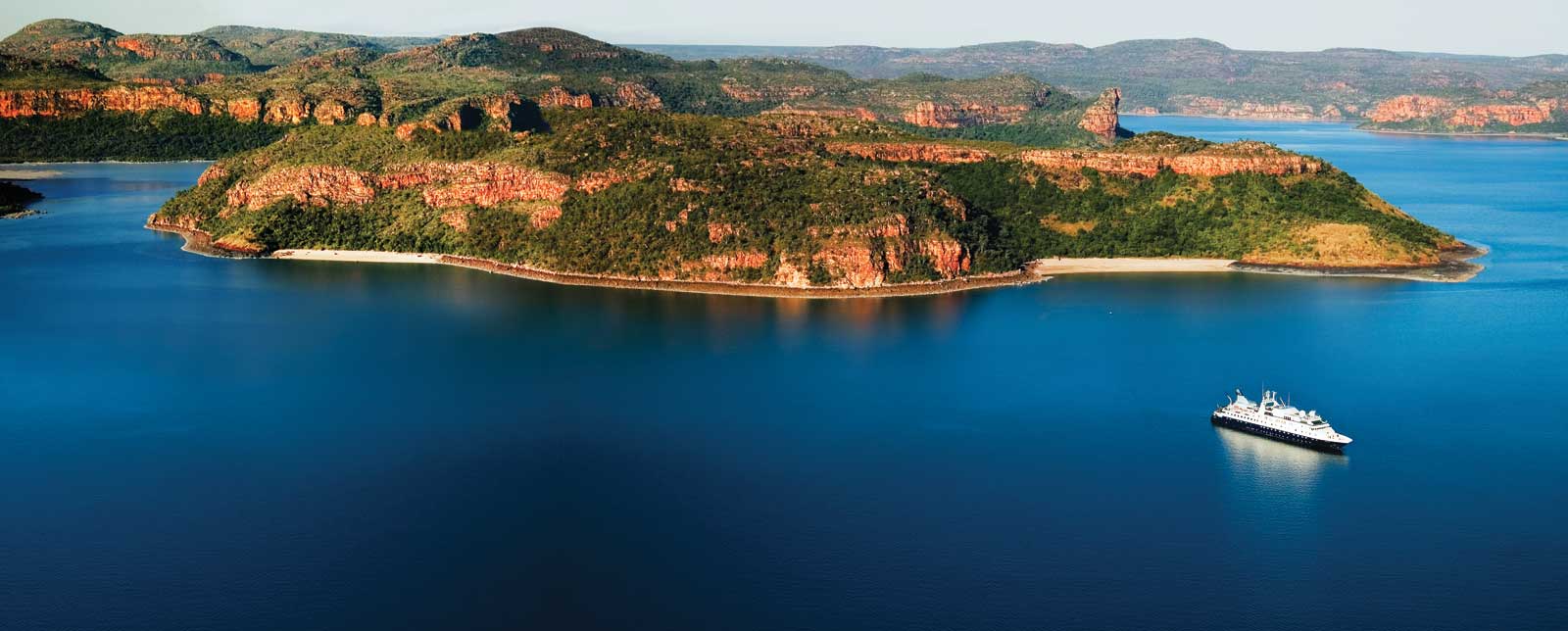 [three_fourth_last]Ozzies never fail to surprise you. One minute they're swigging bottles of Victoria Bitter and ranting about the state of Australian cricket and the next minute they're hugging trees. I was greeted by this surreal sight on a luxury expedition cruise along Western Australia's wild and rugged Kimberley coastline. Our ship, the sleek and streamlined Orion was moored off Raft Point, a spectacular red mountain bluff that plunges into the aquamarine Indian Ocean. Jumping into the Orion's zodiac landing craft we were eager to explore some of Australia's finest indigenous rock art but when we reached the shore, the Australian passengers were distracted by a cluster of Boab trees. These pot-bellied beauties are the much loved symbol of the Kimberley and make irresistible photo opportunities. Within minutes, the Ozzies were linking hands and performing group hugs. Little wonder then that they lost the Ashes!
A few days earlier I'd arrived in Broome after a gruelling 48 hour flight from the UK. Walking out onto the sizzling tarmac at Broome airport, I felt as if I'd arrived on another planet. The bright red earth lends an almost Martian quality to the landscape which echoes to the sound of mysterious warbling from elusive birds. After checking into a stylish villa in the beautiful landscaped gardens of the Pinctada Hotel, I was eager to run down to Broome's legendary Cable Beach to take a dip in the Indian Ocean. My eagerness was tempered when the receptionist told me to ask whether there were any sea crocodiles about.
[nggallery id=49]
"They spotted one down there a couple of weeks ago", she nonchalantly told me.
"Ask who?", I thought as I arrived at the semi deserted 22km long dazzling beach.
I spotted a distant group of school children learning to surf and with the rather evil thought that a small school kid would be a more manageable titbit for a croc than me, I tiptoed into the waves. All thoughts of crocodiles soon vanished as I floated on my back and let the warm ocean breakers wash away the jet lag.
Broome is essentially a one-horse town but is full of nostalgic reminders from its golden years as a pearling boom town. Old pearling boats lie moored in the mangroves and when the tide goes out scarlet red-clawed crabs scuttle around on the mud. In town, a delightful outdoor cinema, dating back to 1916, claims to be the world's oldest and is packed with charming Hollywood memorabilia. Broome still produces some of the finest pearls in the world and at Paspaley's I joined a welcome reception for the Orion Cruise. This sparkling boutique would be more at home on the Champs Élysées than Broome's dusty High St. As we sipped champagne and nibbled oyster canapés, the shop assistants passed around pink and gold pearls the size of marbles. It's not exactly easy to juggle canapés and pearls at the same time and an elderly Australian lady had the misfortune to drop a priceless pink pearl straight into her handbag to roars of laughter.
Viewing these beautiful pearls eased us into luxury cruise mode but our first sight of the Orion still took our breath away. Graceful and streamlined with her funnel tilted back at a jaunty angle you'd never guess that this 53 room mega yacht has a reinforced hull designed to withstand the toughest Antarctic seas. On board, the decor oozes homely elegance. I especially liked the wood-panelled library, filled with books on the Kimberley's fascinating nature and anthropology. It also has a large coffee-table globe on which you can really appreciate just how isolated the Kimberley coast is. Settling into my spacious fifth floor suite, with my feet up on the balcony, enjoying a sublime Indian Ocean sunset, my phone reception fizzled out and I settled down to ten glorious days of mobile-free cruising.
[nggallery id=50]
Early the next morning, still jet-lagged, I was up before dawn and on the windswept prow of the ship I ran into a couple of early morning power walkers.
"See the whales!" they pointed, as they breezed past me.
In the far distance I could see jets of spray shooting up on the horizon. The captain had spotted them too and slowing the engine down to a purr, he began nudging the ship slowly towards them. At 7.30 he made an announcement over the tannoy and,  within minutes,  the deck was full of passengers in dressing gowns clutching thousands of dollars worth of camcorders. The Kimberley is one of the prime breeding grounds of humpbacks which are the most acrobatic of all the whales. Right on cue, they began breaching and flapping their giant flippers at the approaching ship and, to gasps of astonishment, glided within metres of the Orion's prow.
This exhilarating introduction to the Kimberley's wildlife was straight out of David Attenborough's The Blue Planet and there was a real buzz of excitement as we strolled to the stern of the ship to replay our cams over a breezy outdoor breakfast. Later in the morning the excitement mounted as we donned life jackets, jumped into the zodiacs and sped off over the choppy waves to explore the prehistoric cliffs and isolated bays of this magnificent coastline. At the sinister sounding Crocodile Creek,  we were greeted by the unexpected sight of our charming Filipino waiters wearing yellow sombreros and strumming guitars. They'd set up a margarita bar next to an idyllic waterfall that was cascading over burnished rocks into an opalescent pool. The temperature was well over 30C and the cool water felt sublime. Clutching a margarita with a refreshing waterfall pummelling my shoulders,  I couldn't help thinking that this was by far the most civilized way to explore the harsh Australian outback.
A couple of days later at Raft Point,  we tore ourselves away from the photogenic Boabs to trek up to the sacred caves of the local Wororra people. Harry Christensen, one of Orion's infectiously enthusiastic guides, led us up the hillside, leaping around barefoot as he pointed out towering termite mounds and scarlet Kimberley rose trees that dot this exotic landscape. At the foot of the caves,  he paused to ask permission from the spirits before entering. Above us, ancient frescoes of bulbous headed Wandjinas (ancestral spirits), dugongs and turtles swirled over the cave walls. The Wandjinas bear an uncanny resemblance to ET and Raft Point has long been a favourite location for alien visitation conspiracy theorists. With magnificent views over the sparkling Timor Sea, the caves were as spiritually uplifting as the most picturesque Greek Temple.
[nggallery id=51]
Leaving Raft Point, we headed off for some more close encounters with spectacular wildlife. The Kimberley has the second highest tidal range in the world and at Montgomery Reef the swiftly ebbing tide traps vast quantities of water inside its circular reef which spills over the coral in shimmering horizontal waterfalls. Thousands of fish and crustaceans get trapped and become fast food for myriads of birds. As our zodiacs approached the waterfalls,  snowy white egrets were hopping along the coral in an intricate ballet, stabbing at the floundering fish. Below us, green turtles were flitting around Sargassum seaweed meadows and every so often would surface for air in the most fleeting of photo opportunities. In a bizarre twist, our ever-obliging bar staff had set up a bar on a sand shoal and handed us glasses of rum punch as we sailed past in the shark-infested waters.
At Hunter Creek we entered classic Crocodile Dundee country. It was high tide and there was an eerie silence as our zodiacs glided through the mangrove tree tops. We felt distinctly ill at ease knowing that giant crocs were lurking below us in the murky depths. After all, surely a crocodile's razor sharp teeth would make short work of a rubber zodiac? The only thing stirring was a russet coloured Brahminy kite that swooped low over our heads out of curiosity. After an hour or so we gave up and headed back to the Orion. At the mouth of the river a sharp eyed passenger spotted a young croc basking lazily in the sunshine on a small rock. As we edged to within metres of the rock, the yellow eyed croc stared at us with demonic suspicion but decided we were harmless. Nevertheless I kept my camera at a safe distance in case my last photo became a real life snappy snap.
At The King George River we reached the most beautiful stretch of the Kimberley coastline. This dramatic sea inlet stretches 12km inland and is flanked by copper-coloured cliffs that rise over 100m and resemble giant crumbling chocolate bars. In the jade green water, stingrays were gliding around while, high above us. sea eagles were circling on the thermals. At the head of the inlet the dry season had reduced the normally roaring King George waterfalls to a mere trickle. A few hardy passengers including several octogenarians opted to hike up to the crest of the waterfall where pouring with sweat we jumped into fresh water pools on the dried up riverbed. It was an arduous climb and I was full of admiration at the intrepid OAPs. We were greeted by a round of applause when we reached the bottom and as we sailed into the shadow of the cliffs we stumbled across our ever-thoughtful bar staff who handed us glasses of champagne to congratulate us. In a neighbouring zodiac, Harry scooped up a giant pink jellyfish and began telling us about its fascinating biology. Sipping champagne while staring at a blancmange-sized pink jellyfish was a surreal experience and seemed to conjure up perfectly the blend of luxury and surprising adventure that is the hallmark of an Orion cruise.
[nggallery id=52]
[/three_fourth_last]
Fact Box
For more information on Orion cruises please visit
www.orionexpeditions.com
For more information on Western Australia please visit
www.westernaustralia.com