The 12th edition of Frieze London, the leading international contemporary art fair, takes place in London's Regent's Park from 15–18 October 2014.
Frieze London is sponsored by Deutsche Bank for the eleventh consecutive year. For the third year Frieze Masters, dedicated to art from ancient to mod- ern, will coincide with the contemporary fair. Together the two fairs create a focus for as broad as possible an international art audience.
Housed in a bespoke temporary structure, this year Frieze London is designed by Universal Design Studio, who will introduce a series of changes to the fair; a new layout and a focus on the public spaces, using contrast, texture and tone. Features include a timber-lined entrance courtyard and a series of res- taurants and ancillary spaces, each with a signature material. 2014 also sees the introduction of 'Live', a new gallery section at Frieze London for ambi- tious, active or performance-based installations.
World's leading contemporary art galleries
Frieze London brings 162 of the world's leading contemporary galleries to the UK this October. Exhibitors from 25 countries will participate in the 12th edition of the fair confirming the fair's position as one of the world's leading contemporary art events.
Solo and special presentations that promise to be focal points in the fair in- clude: Carsten Höller (Gagosian Gallery, London); Eric Bainbridge (Work- place Gallery, Gateshead); Rosa Barba (Meyer Riegger, Berlin & Gió Mar- coni, Milan); Will Benedict (Overduin & Co., Los Angeles); Martin Creed (Galerie Rüdiger Schöttle, Berlin); Koo Jeong A (Pilar Corrias Gallery, London); Lee Kit (Vitamin Creative Space, Guangzhou); Goshka Macuga (Kate MacGarry, London); a pairing of work by Mark Grotjahn with Tabwa masks (Anton Kern Gallery, New York); and a booth curated by Mark Wallinger (Hauser & Wirth, London). Other stands of interest include Salon 94's (New York) collaboration with the Smile Face Museum from Maryland; a presentation of British sculpture by Thomas Dane (London); and Steven- son's (Cape Town) focus on Barthélémy Toguo.
The 12th edition features two specialist sections: 'Focus', dedicated to gal- leries up to 12 years old presenting projects specifically conceived for Frieze, and the newly conceived 'Live' for ambitious performance and participatory works.
Live
'Live' 2014 will feature six selected galleries who will show works specially conceived for Frieze alongside the restaging of a number of significant his- torical pieces.
The six artists and galleries selected for 'Live' 2014 are: Robert Breer (gb agency, Paris); Franz Erhard Walther (Galerie Jocelyn Wolff, Paris); Tamara Henderson (Rodeo, Istanbul); Adam Linder (Silberkuppe, Berlin); Shanzhai Biennial (Project Native Informant, London); United Brothers (Green Tea Gallery, Iwaki).
These works will be integrated with the architecture of Frieze London; staged both on gallery stands and in public spaces throughout the fair. 'Live' is sup- ported by Alexander McQueen, the Associate Sponsor of Frieze London.
Focus
The selection for 'Focus' is advised by curators Raphael Gygax and Jacob Proctor, who is a new addition to the team this year. 'Focus' has evolved into a more significant section and is dedicated to fostering a community of the most exciting emerging galleries. Notable presentations in 'Focus' include: Brian O'Doherty (Simone Subal Gallery & P!, both New York); an instal- lation with Michael Lin and Atelier Bow Wow (Leo Xu Projects, Shanghai); Michael Smith (Dan Gunn, Berlin); Santo Tolone (Limoncello, London); and a presentation of artists exploring labour and materiality, featuring Heidi Bucher, Virginia Overton and Magali Reus (Freymond-Guth Fine Arts, Zurich).
Frieze Projects
The artists participating in Frieze Projects at Frieze London 2014 are: Jérôme Bel with Dance Umbrella; Cerith Wyn Evans with ZSL London Zoo; Isa- bel Lewis with the ICA, London and Liverpool Biennial; Nick Mauss with Northern Ballet; Sophia Al Maria, Jonathan Berger and Tobias Madison.
Nicola Lees is the curator of Frieze Projects and has conceived a programme of commissions that brings together seven new commissions, realised both at the fair and in a number of offsite locations around the city. This year
has a focus on artists whose practices intersect with other disciplines includ- ing dance, film and music. Many have been produced in collaboration with institutions across London and the UK, drawing attention to the working relationships that crisscross the cultural fabric of the city.
Frieze Artist Award
The winner of the inaugural Frieze Artist Award is Mélanie Matranga. The Frieze Artist Award allows an emerging artist to realise a major project at Frieze London as part of the critically acclaimed Frieze Projects programme. Based in Paris, Mélanie Matranga graduated from the École Nationale Supérieure des Beaux-Arts in 2011 and she has exhibited internationally at Bodega, Philadelphia (2011), BETC, Nuit Blanche, Paris (2012), and Tripod, Nantes (2014).
Frieze Film
Frieze Film 2014 has commissioned Cally Spooner to make a series of trail- ers that will be screened in the auditorium at Frieze London 2014. Established in 2007, Frieze Film is a series of new artist films screened annually at Frieze London. Frieze Film 2014 is curated by Nicola Lees and co-commissioned by Frieze and High Line Art.
Frieze Talks
This year's Frieze Talks will include keynote presentations by artists Bruce McLean and Trevor Paglen and best-selling author Jon Ronson. Conversa- tions will include newly appointed Chief Curator of MOCA, Los Angeles Helen Molesworth and artist and musician Linder.
Frieze Talks is a series of lectures, conversations and panel debates that take place during the fair in the auditorium at Frieze London. The talks pro- gramme provides a forum to discuss some of the most pertinent issues in con- temporary art and culture today. Frieze Talks is programmed by frieze editors Jörg Heiser (Co-Editor), Christy Lange (Associate Editor) and Amy Sherlock (Reviews Editor).
Sculpture Park
In 2014, the Frieze Sculpture Park will once again include works from both Frieze London and Frieze Masters. Selected for the third year running by Clare Lilley, Director of Programme at Yorkshire Sculpture Park, this year Lilley's selection explores issues of size and scale with a number of monumen- tal works alongside site-specific and video works. Located in the English Gardens of The Regent's Park, the Sculpture Park benefits from free public access and allows visitors to the park a rare opportunity to see an important selection of art in the open air.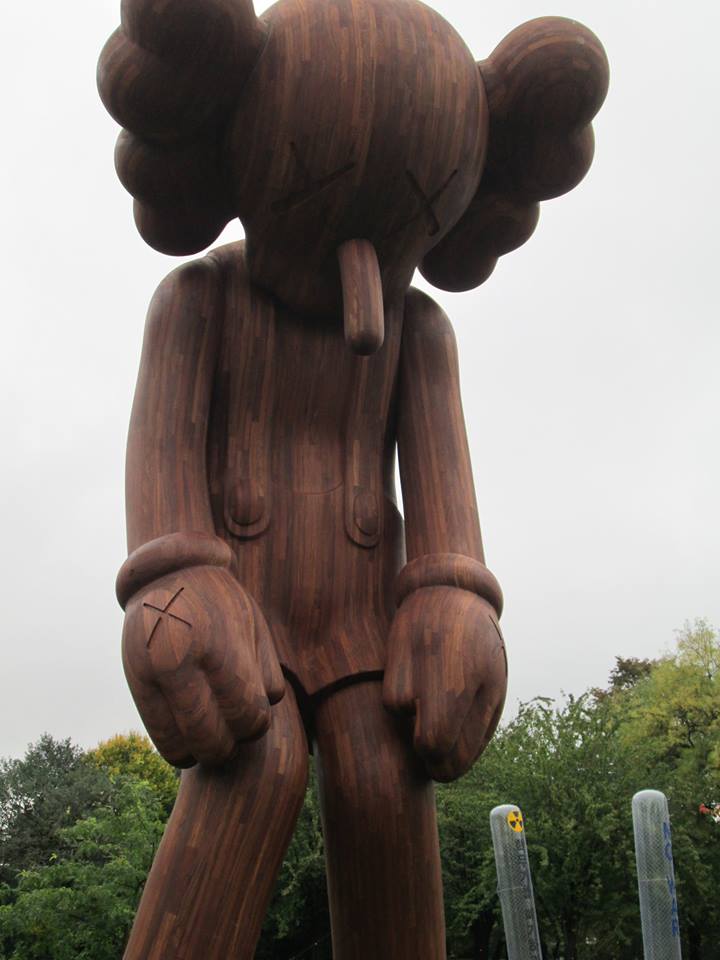 This is Small Lies by Kaws. Presented by Gallerie Perrotin.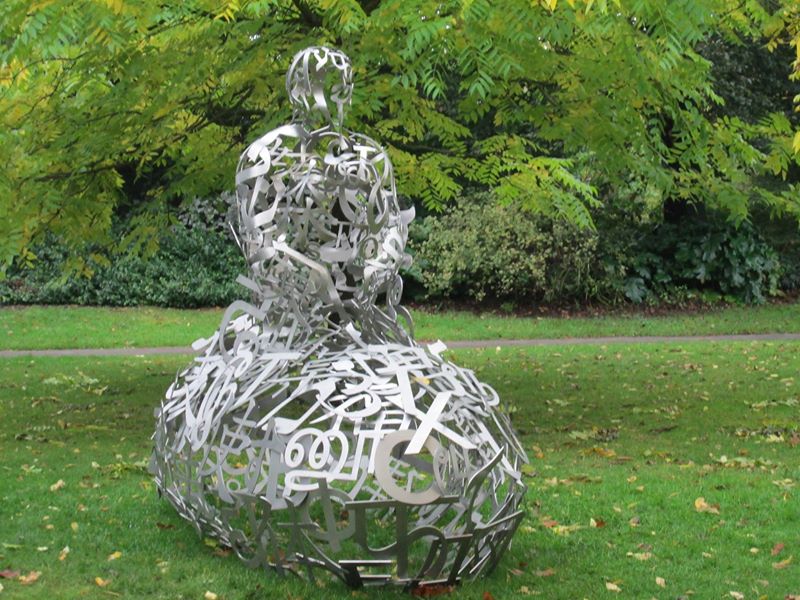 Storm made by Jaume Plensa. Presented by Galerie Lelong. NYC. USA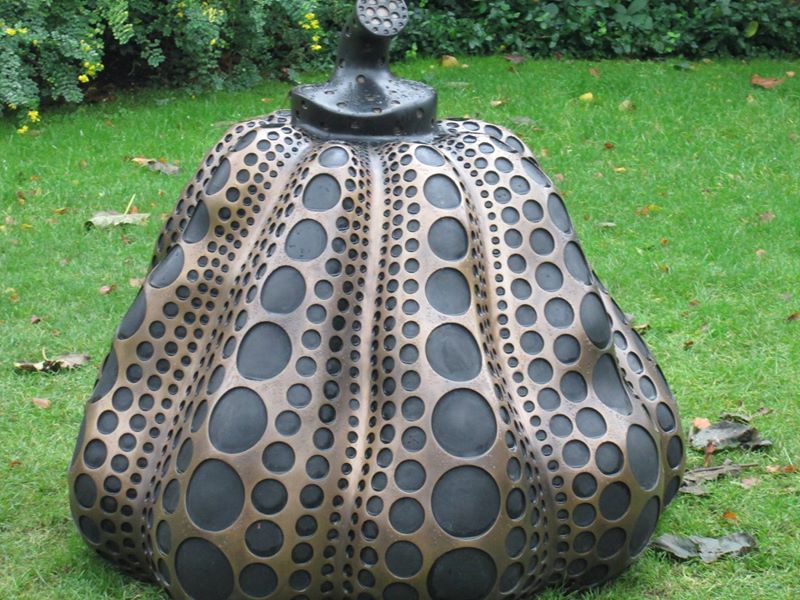 Pumpking by Yayoi Kusama, presented by Victoria MIro. London . UK
Aluminium Frau by Thomas Scutte. Presented by Faggionato
Frieze Stand Prize
We are pleased to announce that for the sixth year Champagne Pommery will generously sponsor the Stand Prize. The prize of £10,000 will be award- ed to the most innovative gallery stand at the fair. The following internation- al curators and critics will select the winning stand: Philippe Vergne, Direc- tor of MOCA, Los Angeles; Elena Filipovic, Incoming Director Kunsthalle Basel; and Joao Ribas, Senior Curator, Serralves Museum, Porto. The prize will be awarded at 4.30pm at the fair on Tuesday 14 October.
Outset/Frieze Art Fair Fund to Benefit the Tate Collection
2014 marks the twelfth year of the unique partnership between Outset, Frieze and Tate. Based on the generosity of Outset Contemporary Art Fund, a charitable foundation focused on supporting new art, the fund enables Tate to acquire significant works at Frieze London for the national collection. The fund has totalled in excess of £1million over the duration of the partnership, with 94 works by 64 significant international artists collected since 2003.
The curators for the 2014 Outset/Frieze Art Fair Fund to Benefit the Tate Collection are Agustín Pérez Rubio (Artistic Director, Museum of Latin American Art of Buenos Aires) and Laurence Rassel (Director, Fundació Antoni Tàpies, Barcelona) as well as Frances Morris (Head of Collections, International Art, Tate), Ann Gallagher (Head of Collections, British Art, Tate), Tanya Barson (Curator, International Art, Tate) and Clarrie Wallis (Curator, Contemporary British Art, Tate).