The Divine Comedy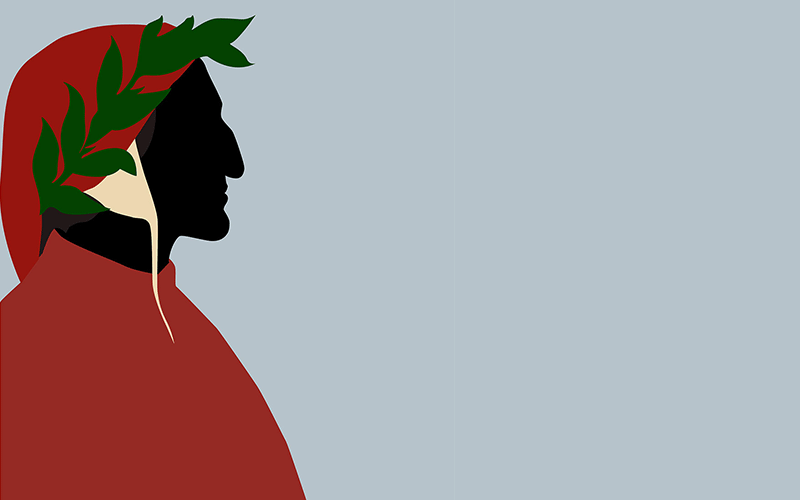 Around the World
Half along our life's path. Lost in a dark wood.
Unable to find the right way….
PARADISO
[tabgroup]
[tab title=»CANTO I»]
A ninety-two-year-old widower has married a woman seventy years younger than him. Moussali Mohammed al-Moujamaie, a farmer from Goubban, a village in central Iraq, has celebrated his wedding at the same time as that of one of his grandchildren. The (young) happy couple are aged 16 and 17. 'I am very happy to be married for the second time and the same day as my grandchildren, I have kept asking them to wait for me till I have found the perfect woman,' he said the day of the celebration. The new wife, Mouna Moukhlif al-Joubariis, comes from the same village and said she hoped to be accepted by his sixteen children and that she hoped she would make her husband happy. And why shouldn't she be accepted by Moujamaie's twelve sons and four daughters. They will not have to worry when their father gets old . . . I meant older . . . a good caretaker will be on the spot. What love can do these days!. . . . Let's wish the best to the happy couple.[/tab]
[tab title=»CANTO II»]We go from one happy woman to an 11-year-old bride from Yemen, Nada al Ahdal, who has refused an arranged marriage and posted her video online, moving the entire world with her story. Her father sold her to a rich Yemeni man who lives in Saudi Arabia, but her uncle rescued her. 'I'd rather die than be married,' she said in the video she recorded and posted on YouTube. She stated in her own simple words: 'I escaped from my family. I cannot live with them anymore. I want to be with my uncle. What have girls like me done to deserve to be married like this? I managed to escape, but many girls like me cannot.' Her protest reached the Arab media first, then her story was fully reported on a Lebanese news site by Yemeni activist and journalist Hind Al Eryani. The English translation has been seen around the world by more than five million viewers. 'To any family, I want to tell them: Why do you want to kill our dreams? What have we done to deserve this?'
Nada lives at Sana in Yemen with her uncle Abdel Salam al Ahdal, a graphic designer and technician who works for a local TV station. Although Nada's video message to the press seems to resemble more the thoughts of an adult rather than those of a 11-year-old girl, what this story has brought to light is the dramatic situation of girls like Nada who have been less fortunate. A study made by the UN in 2006 states that 50% of girls from the Yemen have married before they reach eighteen and 14% of them even before the age of 15. There is no law on the minimum age of marriage in the Yemen. In poor countries, according to a UNICEF report, pregnancy and birth complications are the principal cause of death for girls aged 15-19. It is a fate Nada seems, thankfully, to have managed to escape.[/tab]
[tab title=»CANTO III»]One happy marriage, one escape from an arranged one, and finally, a divorce. It was pretty much in the air; rumours have suddenly been swirling of late. Even if you are Catherine Zeta Jones – and who has reputedly objected to them – when your husband of eleven years goes public stating that he probably contracted his cancer of the mouth through oral sex, it not only casts serious doubt on the relationship, it rather ruins the image of a beautiful, Hollywood, Oscar-winning actress. A moment of senility, perhaps? Misquoted? Not sure, considering that when we are talking about this star couple, everything is so carefully managed. Anyway, whatever the secret dynamic of their relationship may be, it is, in the end, their own business. However, since all their health problems have been public knowledge for so long now, it has somehow become ours as well.
[/tab]
[/tabgroup]
Oh! Dear Beatrice, a divorce is always a bad thing for couples and the children involved, even if $300 million is at stake. But as another Hollywood star said: "Think what you can do with that money! You can buy a better therapist, but is that really enough? Maybe. Who knows? They are, after all, in a league of their own over there….
PURGATORIO
Virgil what can be said of…
[tabgroup]
[tab title=»CANTO I»]
…the Marie Antoinettes of Italian politics.
Emma Bonino, Minister of Foreign Affairs since 28 April 2013, a former EU commissioner responsible for Consumer Policy, Fisheries and the European Community Humanitarian Office (ECHO). For her engagement in the promotion of human rights and civil rights in the world, she received the Open Society Prize in 2004 and the Prix Femmes d'Europe 2004 for Italy.
Laura Boldrini, President of the Chamber of Deputies of Italy since 16 March 2013. From 1998 to 2012 she was spokesperson of the UN High Commissioner for Refugees (UNHCR), for whom she also coordinated public information campaigns in Southern Europe. In recent years she has specifically dealt with the influx of migrants and refugees in the Mediterranean. She has taken part in numerous missions to crisis spots, including the former Yugoslavia, Afghanistan, Pakistan, Iraq, Iran, Sudan, Caucasus, Angola and Rwanda.
Anna Maria Cancellieri is the former Italian Minister of the Interior and the current Minister of Justice.
These are three women who stayed silent when Alma Shalabayeva and her daughter Alua were expelled or 'illegally taken' from Italy. The Ablyazov affair, as it has since been called, happened when the Kazakh ambassador informed the 'non-existent' Interior Minister that Shalabayeva and her daughter were in Italy. He said he did not know anything about it so it is therefore not worth mentioning his name. Nevertheless he allowed the deportation of the wife of Kazakhstan's most wanted financial fraudster who has political asylum in the UK. We would like to think the shortsightedness of the minister of interior, deputy prime minister and party secretary in the frail coalition government is due to overwork, but we decry the silence of these three women who play key roles in respect of the treatment meted out to this woman and her six-year-old daughter, who, despite their request for political asylum, were kept apart for fifteen hours, then repatriated, on the Kazakh ambassador's private jet to Kazakhstan, where they are now facing trial and kept hostage till the husband stumps up the money for bail. This is a perfect example of how, despite all their expertise when it comes to government and politics, there is no difference between women and men – they are as bad as each other.
[/tab]
[tab title=»CANTO II»]
Bradley Manning, the US soldier condemned for 35 years in prison for leaking secret documents to WikiLeaks has announced he wants to become a woman. This could be part of a defence strategy by Manning to obtain a status of mental infirmity in order to get his sentence reduced. 'From now on I want to be called Chelsea', he said, on The Today Show on NBC, and wants to start hormone therapy immediately. His defence attorney has blamed the psychological pressure the man has suffered during the military's 'Don't Ask, Don't Tell' policy, during which gay people were tolerated as long as they did not come out. A spokesperson for the USA army said that it is not their policy to offer hormone therapy, nor surgical support for sex changes. Manning – sorry, Chelsea – is also about to ask President Obama for a pardon. Chelsea said that she enlisted voluntarily as a soldier and behaved like any other soldier in the Iraq war, but changed her mind when she saw how innocent civilians were killed. 'We decided to hide behind national security with classified information rather than accept our responsibility.' Therefore she apologised for the leak, but does not regret her actions. I wonder if Edward Snowden, the other whistleblower fugitive, will consider similar action and go back to States, or if he would be better off keeping on exporting the US democracy working model abroad?
[/tab]
[tab title=»CANTO III»]
Is it purgatory or inferno? It is hard to tell, with the news that Irish legislators have proposed a law which allows abortion if the life of the mother is at risk. This is all in response to the horrific death last October of thirty-one-yea-old Savita Halappanavar, an Indian citizen working in Ireland as a dentist, who died in a Galway hospital in October after repeatedly having her requests for an abortion turned down. She had started to miscarry, but because there was a foetal heartbeat, her husband says, doctors refused to carry out the termination. She died of septicaemia.
The tragic irony, of course, is that Savita's abortion could have been carried out legally because it fell under the purview of a court ruling made in 1992 in a case known as the X case. In that case, a fourteen-year-old girl, pregnant as a result of a rape, was prevented from travelling to England to terminate the pregnancy and had become suicidal. The court ruled that in the case of danger to the life of the mother, including suicide, an abortion could be performed. The judgement was never codified into law (and the girl miscarried before the abortion could be carried out) and medical personnel have since had, in the words of one health care provider, 'a sword of Damocles hanging over our heads'. If an abortion is performed with good intent, but turns out later to be adjudged to have been illegal, doctors could be in serious trouble. So women's lives are held hostage in these situations, as ever, though perhaps it is an important symbolic shift, now that there is actually legislation in place.
Women seeking abortion for other reasons will still have to travel abroad, but they may be spared a horrific death in Ireland now, if things go wrong with a pregnancy. Perhaps they're out of the Inferno, though still wandering in Purgatory….
[/tab]
[/tabgroup]
INFERNO
[tabgroup]
[tab title=»CANTO I»]
'You've got to decide what to wear the night before, so you can print your own shoes and wear them in the morning', says fashion designer Janne Kyttanen. 'It takes about seven hours to do so from scratch.' She has created a line of shoes with high heels to print in 3D. You can download the free file from the 3D marketplace Cubify. Choose size, colour and model, then, using a Cube X 3D printer, print out your shoes. Fiction? I don't think so! Four different models are available in different heel patterns. So although it could be a turning point in the world of fashion, I cannot think of anything more infernal than having to plan what you are wearing seven hours before going out. What about matching outfits and what if it doesn't print correctly? Argh! But I guess this is just the beginning of another revolution. Soon now we'll have to pay people to come to our houses to tell us we look good because it'll no longer be possible to exchange opinions directly in shops. Or we'll have to send a picture on instagram. What a nightmare!
[/tab]
[tab title=»CANTO II»]
There is no other way to describe the scenes of violence in Cairo except as carnage. The fierce crackdown by Egypt's military-backed, interim government on supporters of deposed President Morsi has already caused (at time of going to press) well over six hundred deaths and the body count shows no signs of abating, as violent clashes between demonstrators and security forces ensue across the country. Alarmingly, unconfirmed casualty figures put the death toll at over 2600 men and women, but this is impossible to verify.
A peaceful political resolution seems distant, as does any diplomatic intervention from outside powers. The battle lines on both sides only grow more implacable by the day. The dream of a peaceful, inclusive and democratic Egypt is on hold; instead, Egyptian streets are evocative of a civil war in the making, the showdown between secularists and the Muslim Brotherhood echoing the terror that gripped Algeria a generation ago. But is Egypt now on the road to becoming a second Iraq and could it unravel even more and become the next Syria? Neither the present crisis nor these more dangerous parallel scenarios for escalation offers hope for reconciliation.
When only the guns speak, a greater descent into hell seems the only immediate prospect on Egypt's bloodstained horizon. Egypt is burning. What will put out the flames? Sadly nobody can say.
[/tab]
[tab title=»CANTO III»]
A Femen is the new Marianne of France. French president François Hollande has unveiled the new choice at the Elysee Palace on the 14th of July – Bastille Day – the most important day for the French Republic. The Marianne is the official symbol of the republic and is printed on stamps, the image periodically updated. The role in the past has been portrayed by Brigitte Bardot, Catherine Deneuve, Sophie Marceau. But never before has the face of the French Republic been that of a non-French heroine. The selection process took place over an entire year in schools. The kids voted for different choices and then the president chose one from among the top three. Only now has the creator, Olivier Ciappa, revealed that the new Marianne was inspired by Inna Schevchenko, the founder of the feminist movement Femen. It's been a shock for the mostly traditional French public. It's the sign of the times, after all, and it might pave the way for the first female president of the Republic. Marie le Pen is running high in the polls and certainly the way that Inna has taken the opportunity to express her thanks has not been, let's say, the most conventional way…. But vive la France!, where anything can happen, even going alone to depose a Syrian dictator after the success they had in Lybia. I guess they could, right?
[/tab]
[/tabgroup]
To what other terraces of doom and pain, dear Virgil, will you accompany me…next time..