"Black and White – a Matter of Principle": the Artistic Concept of Qin Chong.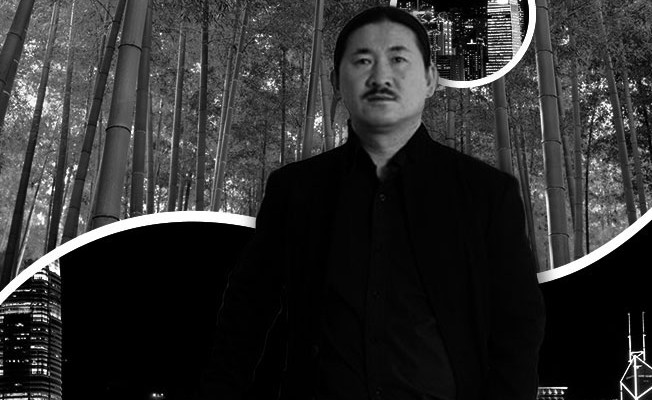 Have you ever wondered what effect the reduction of our national differences due the ceaseless pace of globalisation have had on our culture, art, philosophy and centuries-old traditions? Qin Chong, one of China's leading contemporary artists, encourages us to preserve our individuality, by going back to the basics of 'black and white', an Eastern artistic concept the West has much to learn from.
By Massimo Gava
Born in the countryside of Xinjiang province in the late 60s Qin Chong only came into contact with the contemporary art in 1986, when as a student he chose it as main subject at art college. Then in 1987, while still studying in Beijing, the artist set up his first workshop, transforming his room of just ten square metres into the starting point for his artistic work. Since then his career as an artist has rocketed; he has curated and contributed to many exhibitions in China and abroad, of which some of the most significant ones have been "Chinese Art in Berlin" (Berlin 1997), "Young Art from China" (Hamburg 1998), the one-man show "Shadows" (Switzerland 2002), the first Beijing Dashanzhi International Festival (2004), the trilogy of solo exhibitions "Grey" (Shanghai), "Black" (Berlin) and "White" (Hong Kong) in 2005, the 4th Biennale in Prague (2009), the solo show "Whatever" (Guangzhou and Hong Kong 2010), contributing to the International Biennale of Paper Art (Sofia, 2011), the one-man show "Endless Polarity" (2012), an exhibition at the Art Stage (Singapore 2013). and now at Palazzo Moro for the 56th Venice biennale with "Personal Structures: Crossing Borders", the opening exhibition at the European Cultural Centre,
This exhibition curated by Karlyn De Jongh, Sarah Gold, Valeria Romagnini & Rene Rietmeyer is meant to be seen as a platform for artists from Europe and other parts of the world to present in visual terms the personal expressions of their thoughts and being. It is the second time for Qin Chong. He had already exhibited his work at the 55th Venice Biennale where he contributed to its the success as his artistic goals and the technical choices inherent to his work are far removed from the mainstream trends of Chinese contemporary art and trace an individual and unconventional path towards the reinvention of tradition.
The artist observes, "In China with its turbulent past thirty years being so cloudy, foggy, hazy, it is not easy for our generation to orientate ourselves. Like drivers without a driving licence we somehow steered ourselves into modern times." Still, he considers himself lucky, though sometimes staggering and reeling, he found his way, always experimenting, having unanswered questions, unfinished thoughts, such as 'Black and White – a Matter of Principle'.
Up to the 90s his art work was colourful, as he has said, "using colours to express feelings and concepts". Red, yellow, blue, green – a great variety of colours – were an expression and style of the society of those days. However living through these terrifying times and amongst those restless people he found it difficult to find his real self. So he had to reduce the use of colours. Then progressively in the late 90s he entered into a period of black and white and found a style that better suited his own language.
In 2000, Qin Chong wrote, "Nowadays, with the rapid development of mankind, news spreads as quick as lightning, cultures meet each other, societies transition like wind and clouds, pressure weighs heavily on people. The world is an interplay of a great many colours. In black, the king of colours, and white, the mother of colours, I search and find my inner balance."
In 2007 he put forward the concept of "Black and White – a Matter of Principle" to be discussed within a broader framework, involving a wider circle of people, and using different platforms other than just art exhibitions. His one-man shows "Black White Grey" 2005 at the Shanghai Duolun Museum of Modern Art, or "United Nations Black and White" 2009 at Beijing MOCA had all been linked to this idea, but he wanted to take it further.
"Black and White – a Matter of Principle" explains the artist, "is the outcome of my thirty years of artistic inspiration and is the direction of my future creative work, research and discussion. Our modern, fast changing times of materialism, of sensationalist news, may sometimes lack deep reflection and spirituality. The dualism of black and white comes from traditions, it is embedded in many unique cultures, specific regions or communities. The rules of black and white have also been given different interpretations and definitions across the centuries. I raise the question of "Black and White – a Matter of Principle" so it can be answered by different experts, I am calling on an international audience to discuss how cultures will define themselves and which values societies will adopt after uniform globalisation and enduring mutual cultural influences".
Qin Chong's art abounds with contradictions and dichotomies – black and white, paper and fire, past and future, old and new, concreteness and illusion, lightness and heaviness. Working with opposites the artist is constantly seeking a balance between them. "Only if you discuss and ponder the two poles, birth and death, can you improve what lies in between, what your existence amounts to, your present life." he says. And his paper sculptures called "Culture Territories", shown here at 56th Biennale in Venice are very closely related to this conceptual approach.
The artist explains his work thus: "Different water and soil produce different people – every region is special in terms of locality, climate, natural environment and especially with regard to the people living there. Different places produce different cultures, and the people from various places differ because their environment, conventions and history, their thoughts and concepts are not the same. Culture changes from place to place, and so do intellectual expressions and artistic statements"
He continues, "We can see these differences in the characteristics of the high cultures of the Maya, Egypt, the Greeks and Romans, the ancient cultures of India and China. But will differences in culture be maintained in this globalised world of ours? The 21st century sees how cultures melt into and influence each other, due to the pace of change in society, research, the internet and information technology. Standardised thoughts emerge, leading to the conformity of concepts. But there are differing voices: the voice of those who do not care too much about traditions but jump onto the fast track train of global popular culture. Or the conservative voices of those who do cling to traditions, feeling great regret at abandoning them. And in fact there are only a few who are able to manage the enormous amount of interfering information we are flooded with, who know how to efficiently and thoughtfully make use of it. In these times of "here, there and everywhere", we experience an era which values superficial, popular trends, leading to monotonous levelling out instead of outstanding characteristics. We see an emphasis on international conformity, just as if an artist only had one colour left on his palette. A colourless world, though is this a mere illusion?"
He continues, "Perhaps it is our modern times that produce this popular phenomenon of a uniform world, because of globalisation and easy access to information and material things. However many artists from different cultural backgrounds still reveal an independent language with different ways of expression, especially if we consider avant-garde thinkers, who really do study culture"
Qin Chong concludes, "Every extraordinary piece of art results from accumulated and in-depth studies. Any note-worthy culture is built not only on centuries but on the sedimentary layers of its earth, a deep base of traditions. We cannot construct today's civilisation like a machine or a computer by just assembling bits supplied from different parts from all over the world. If we want to fly, we have to take off from the ground. Leaves and shoots need deep roots. Progress is based on history and traditions. Every artist uses his lifetime to aspire to his very own artistic language, to tell a different story. And of course everyone uses his native language to clearly and unmistakably convey his thoughts and messages."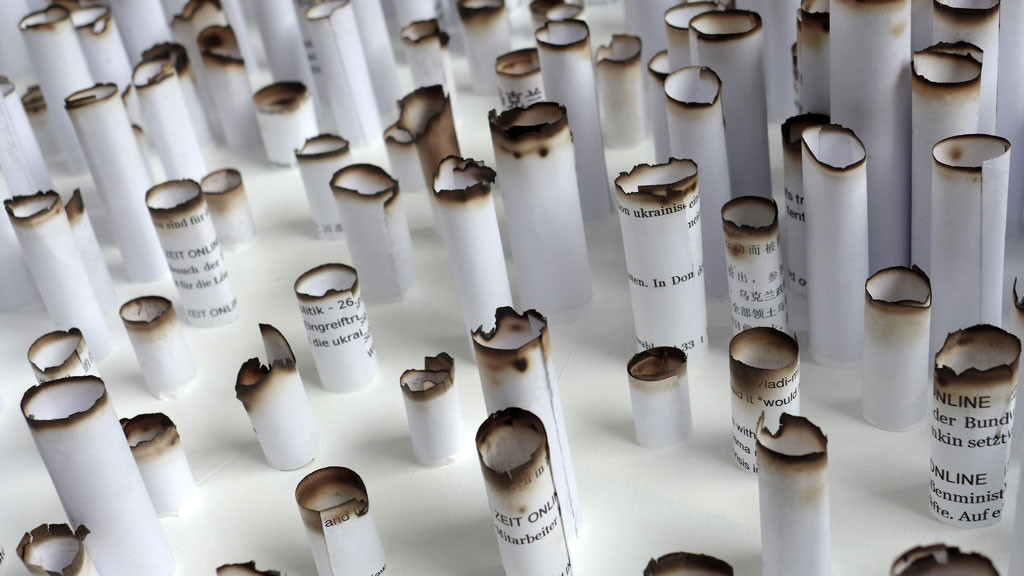 Qin Chong's creations are conceived and born out of that traditional dualism between yin and yang, the contrasting and complementary principles which permeate the Chinese perception of reality. This is the basis for all of Qin Chong's work, a cultural heritage which he "genetically" owns. However, he does not work in restrictive structures; the way he handles the raw materials he finds in the five natural elements (water, fire, metal, earth and wood) shows his insatiable curiosity to explore new techniques and art forms, thereby revealing his innovative take on experimentation.
That is why the artist want to find his own equilibrium in "the king and the queen of colours, black and white".
Qin Chong's creative genius transcends the category of 'contemporary art', while perfectly responding to its value criteria, and goes beyond mere tradition. Consequently, despite their apparent simplicity, his paintings and installations have a strong evocative and alluring power, both for a Chinese and a Western audience. "I think there is no need to try to explain an artwork that does not tell its own story", he says. And indeed, when viewing his works, we should abandon any attempt to define them by any rigid classifications. What we should do is just follow the example of their creator and contemplate them with spontaneity, and allow them to appeal to our emotions, rather than to our mind.