Brave New World in Fashion. What Lies Ahead in 2018

Milan, New York, London, Paris.
You want to know the future? Well, you read it here first.
Tony Bannister
, CEO of the
Scout Agency
, which specializes in forecasting across fashion, lifestyle and home, gives some exclusive tips to DANTE.
Change is coming. We cannot turn back the tide of technology or geopolitical movement. Decisions are increasingly driven by big data rather than instinct and the consumer trumps the designer for influence.
This time of change and conflict recalls another uncertain era, when, on the edge of a "Brave New World", the post World War I generation of the 1920s and 1930s faced change with a certain 'devil-may-care' attitude for the future. Just as the 'Bright Young Things' faced the future with creativity and innovation, we celebrate a new generation of 'Brave New Things', taking on change and adversity with fresh energy. Technology disrupts work and play, becoming a driving force in how we live and how we dress. New advances in fabrics and technology are breaking down the barriers between work and leisure, casual and formal, old and young, art and commerce.
We find that older and more discerning consumers are stepping forward, adapting to new ways without losing their expectations of quality and function. They've seen it all before and have the confidence and sense of calm that comes with experience. Travel has a huge effect on dress and lifestyle. Technology allows a nomadic existence, moving from urban centres to greener pastures or across borders. Travel is a modern necessity. At the same time, tensions arising from immigration mash cultures together, influencing each other and sharing a sometimes-tense existence. We are all refugees, running from or towards, something, the future?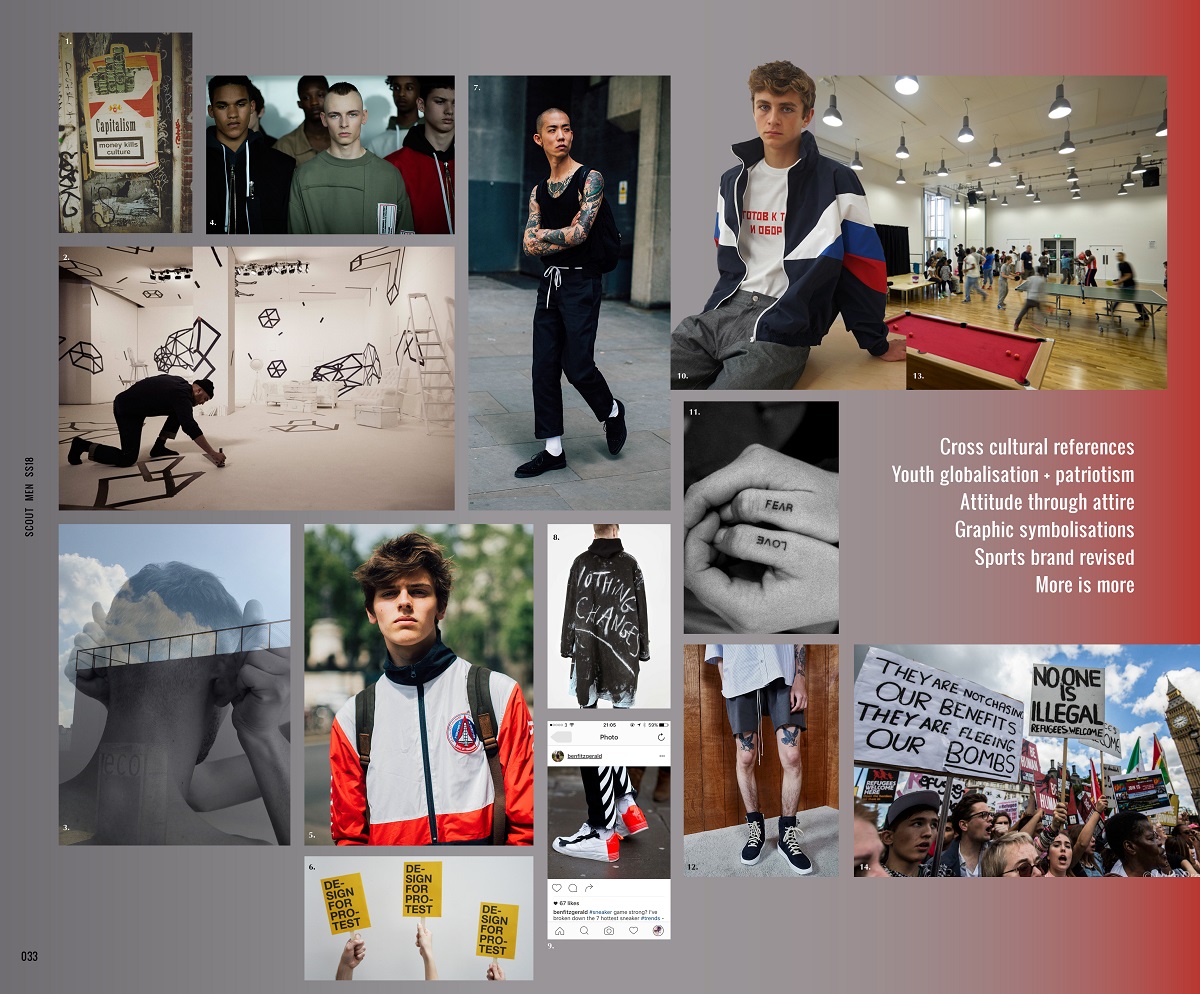 1. ACTIVIST
Resistance isn't futile. Distrustful of the political machine and the establishment, the new generation members are grassroots activists, disrupting the system to make change. They're plugged into technology; these modern rebels with a cause are savvy users of social media to effect change and connect, creating music and art to communicate. Dressed for action and comfort, this politically active, urban collective want adaptable, protective shapes in jerseys, industrialised denim, hardwearing cottons and open-weave knits that work across global urban centres from Berlin to Buenos Aires. The uniform of the revolution mixes sweats and utility pieces with a raw edge of toughness and bravado. Nothing flashy, just get on with the business of changing the world.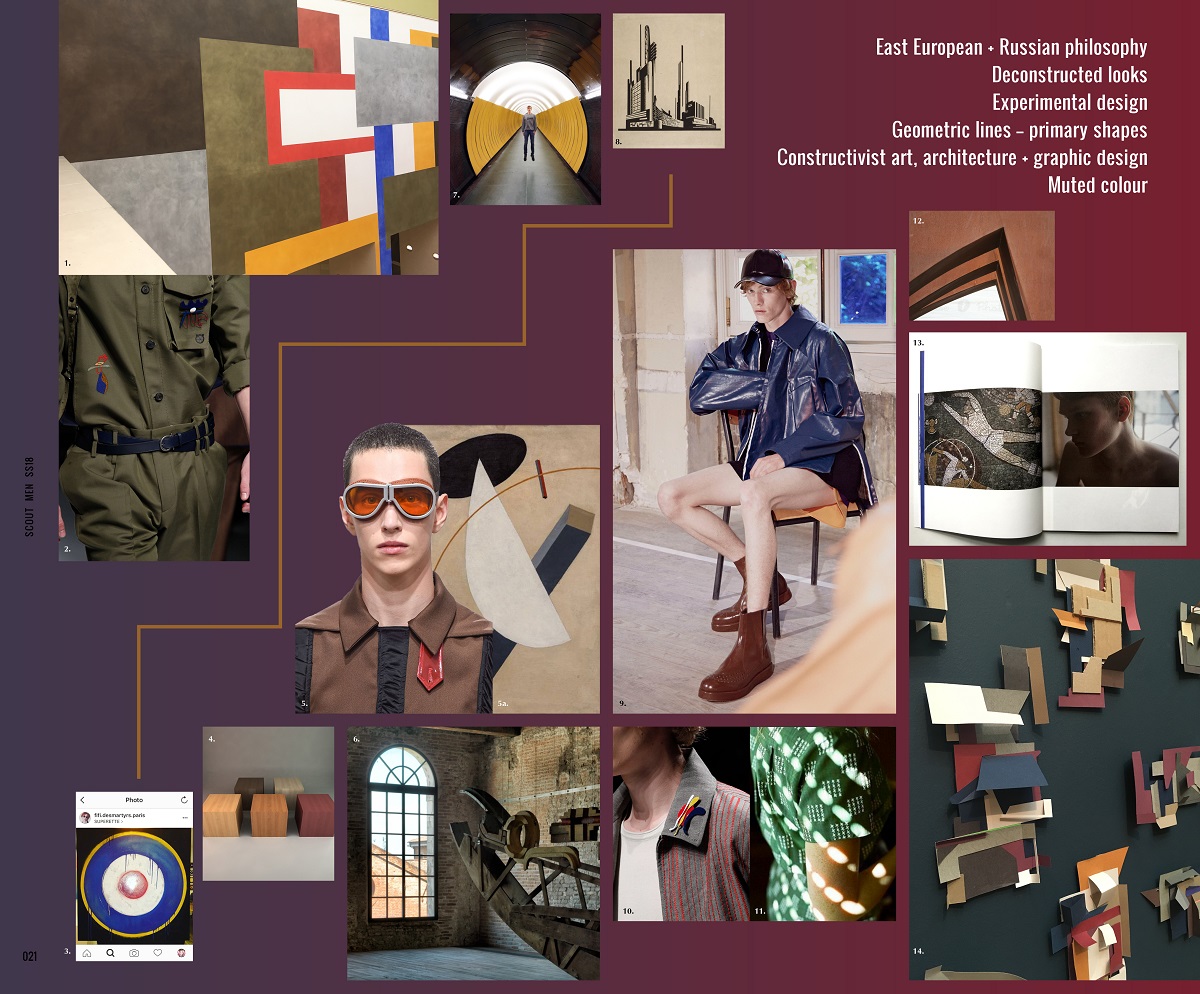 2. CONSTRUCTIVIST
Logical, functional and experimental; it could describe their clothing or a business model. Nostalgia for Russian Constructivism and the Form-Follows-Function purity of the Bauhaus school shows in a collection of graphic art in a palette of utility greens and industrial greys and neutrals with deep Cossack reds. Proud of their Eastern European roots, fusing sportswear with iconic Soviet imagery, deconstructing suiting and developing new hybrids for a 24-hour, season-less lifestyle.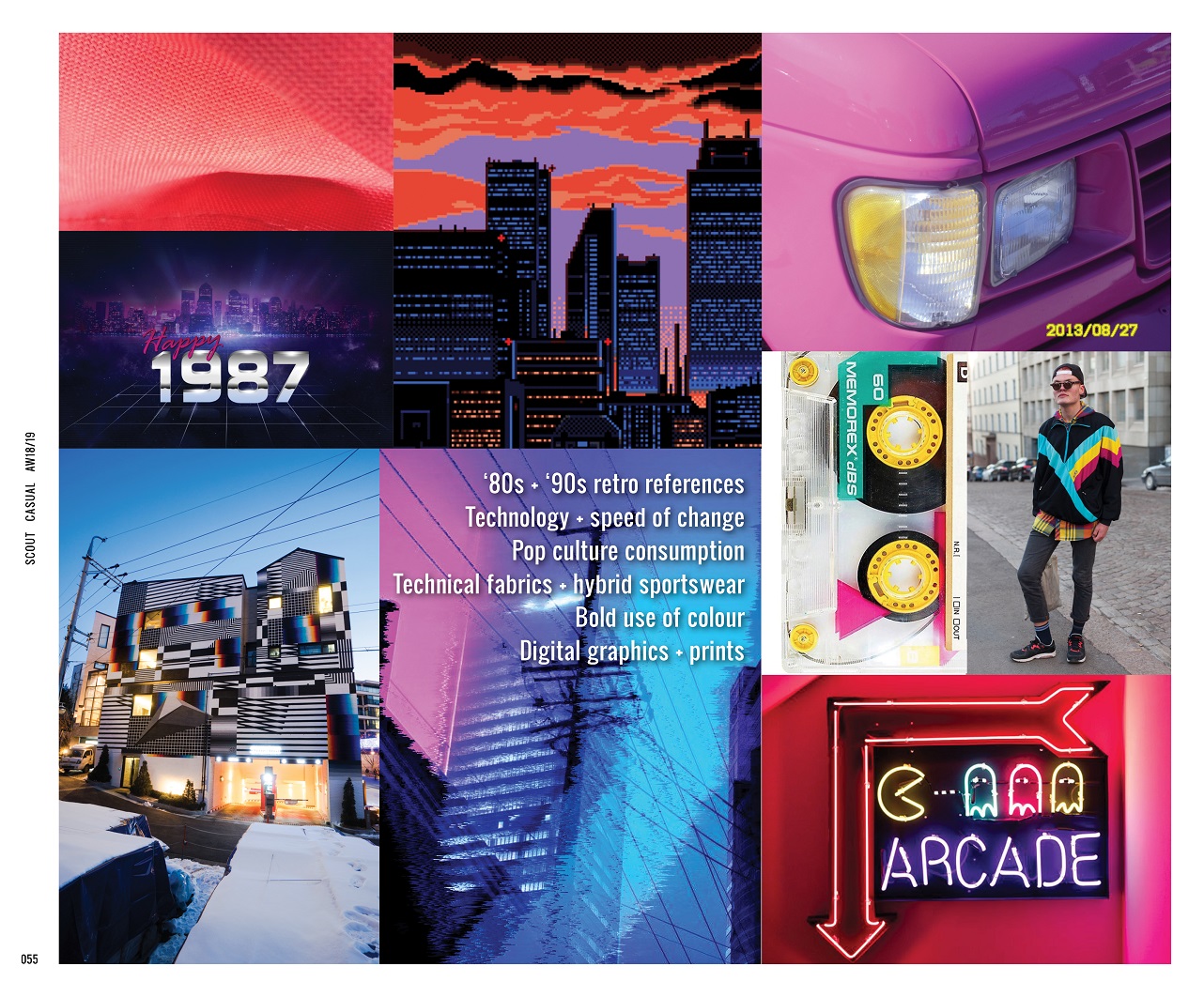 3.
TECHNO SPORTS
Looking back to the bright old days of the 1980s and early 1990s, when pop culture and MTV first exploded into our worlds, technology was a new medium and novelty, which changed our lives. These old devices have a charm about them now to a new breed of designers, programmers and artists. The future then, however bright, seems relatively vintage now. From online graphics, K7 tapes, floppy disks and old operating systems, prints, graphics, textures and shapes are a new source of inspiration for today's youth, who have seen it all and know everything that's on offer and online 24/7.
4. GLOBAL TRIBES
Chasing the sun, with a laid back vibe; a new nomad tribe follows an endless summer. Island hopping and searching for the new undiscovered getaway, they embrace local colour and craft, rustic weaves and raw textures. From Havana and the Caribbean, through Mexico and Costa Rica, they're looking for somewhere chilled, but with a distinct local culture. It's an international creative collective, exchanging ideas and putting more value on experiences than possessions. Life is all about a rustic hut, a perfect sunset, and a local market. Faded denims and washed-out favourite T-shirts mixed with earthy colours and sun-bleached brights suit their travel style. Everything looks and feels worn-in and handcrafted, with a story to tell.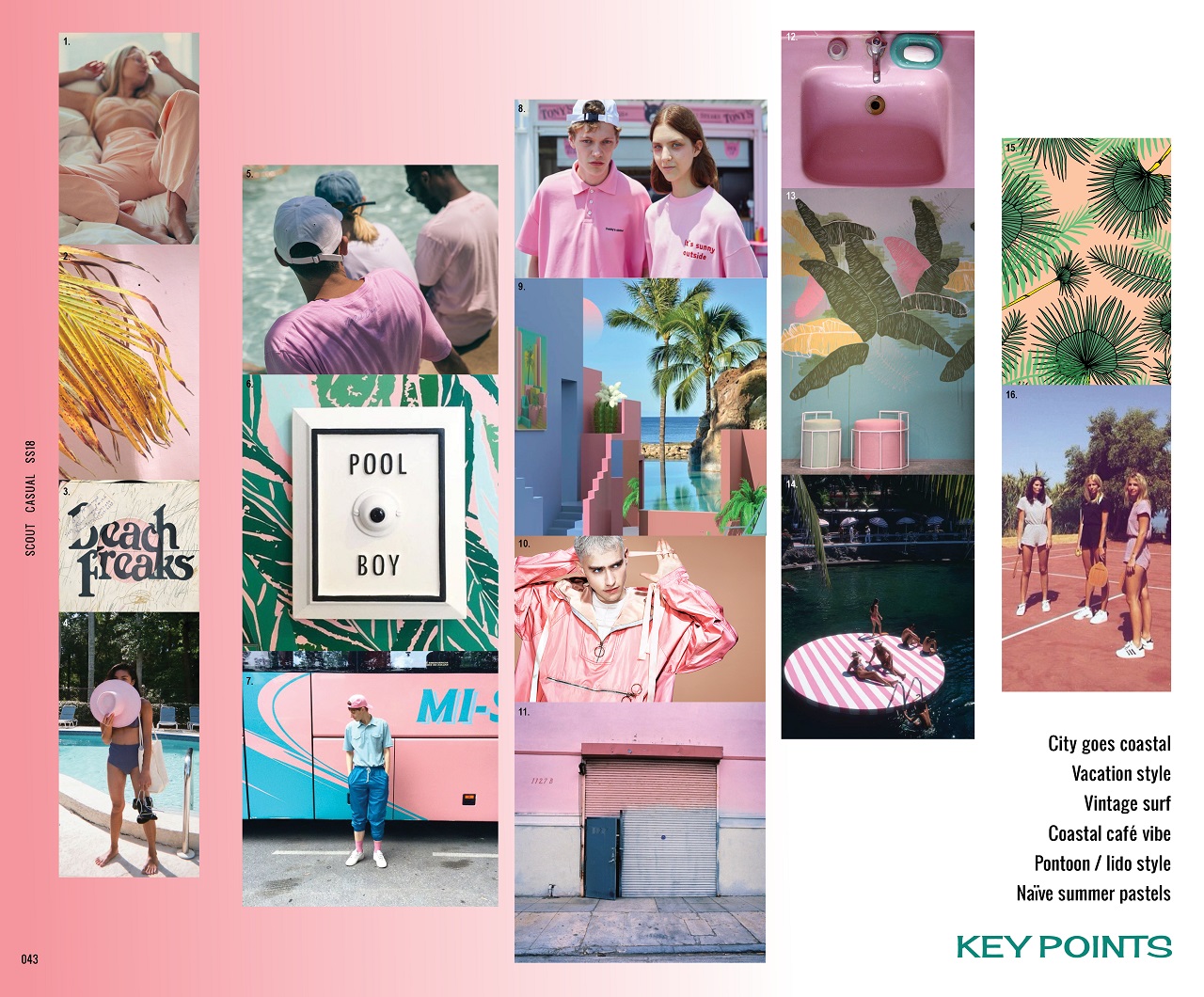 5. RETRO RESORT
Always ready for the weekend, life feels like one long vacation seen through a rose coloured Insta filter. Life is lived in front of the camera. It's innocence with a knowing look, lazy afternoons of pool parties and sleepovers and leafing through art books, with more pink and green than a Palm Springs resort. It's cruising with the top down, playing retro sports, mixing cool vintage graphics and prints with modern shapes. Boys meet girls in oversized, almost unisex sportswear shapes and surf gear in soft jerseys and fused scuba fabrics, with worn-in, faded denim. But there's also a slight edge of reality; these kids know how the world works and how to play the game.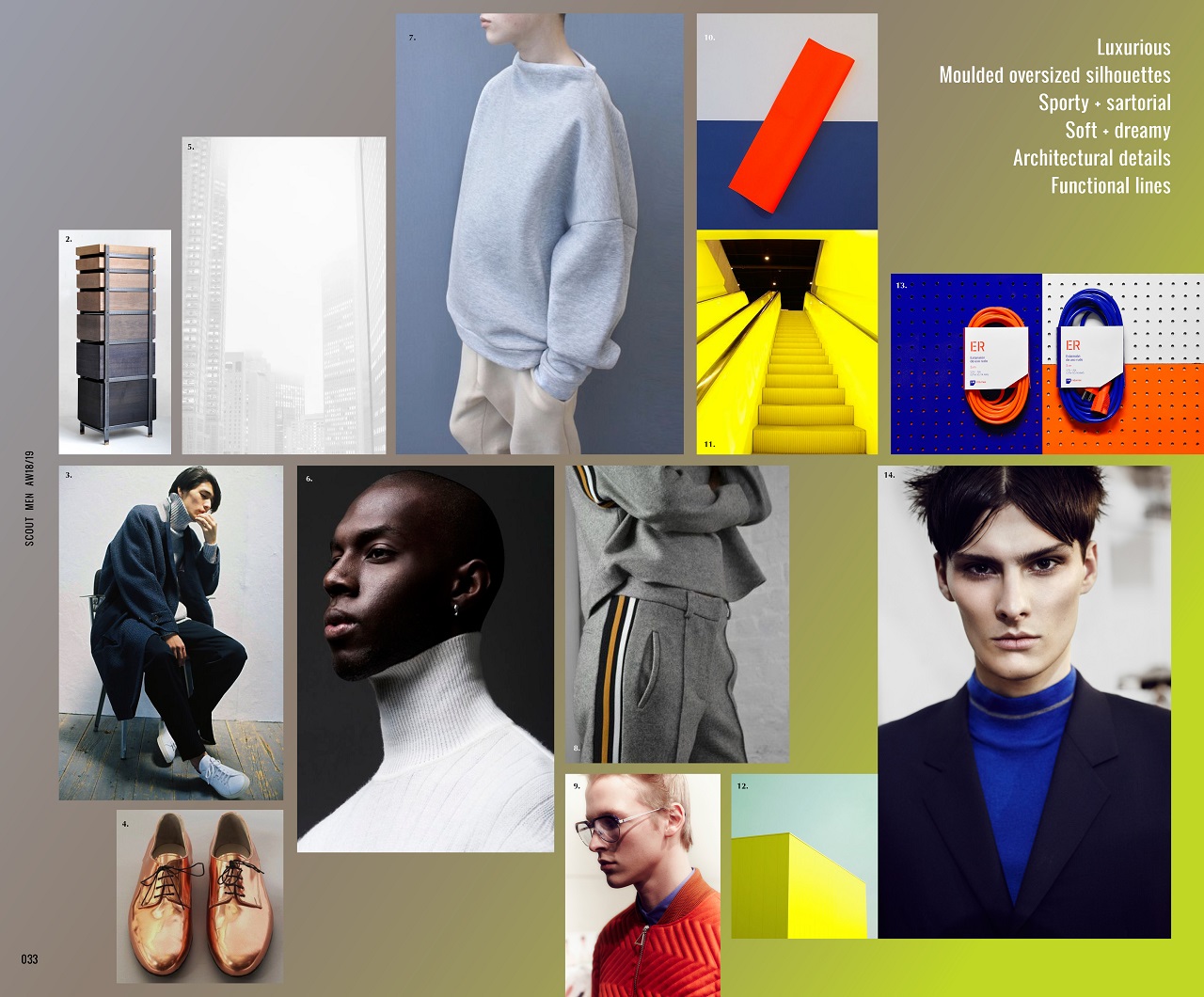 6. METROPOLIS
These edgy, confident metropols blend cultures and influences from the East and West in a style that defies labels. From casual and everyday to dressed up and out there, it's totally modern and unique and a look that can be challenging to pull off. There's a grown-up street vibe inspired by the subtle, polished high-low mix of Seoul's hip Hongdae district. Blend this with the cool, dressed down vibe of London's Hoxton and Shoreditch girls and Paris's boho-meets-bourgeois chic, the look is coloured by their environment, the artwork they buy and the music they listen to.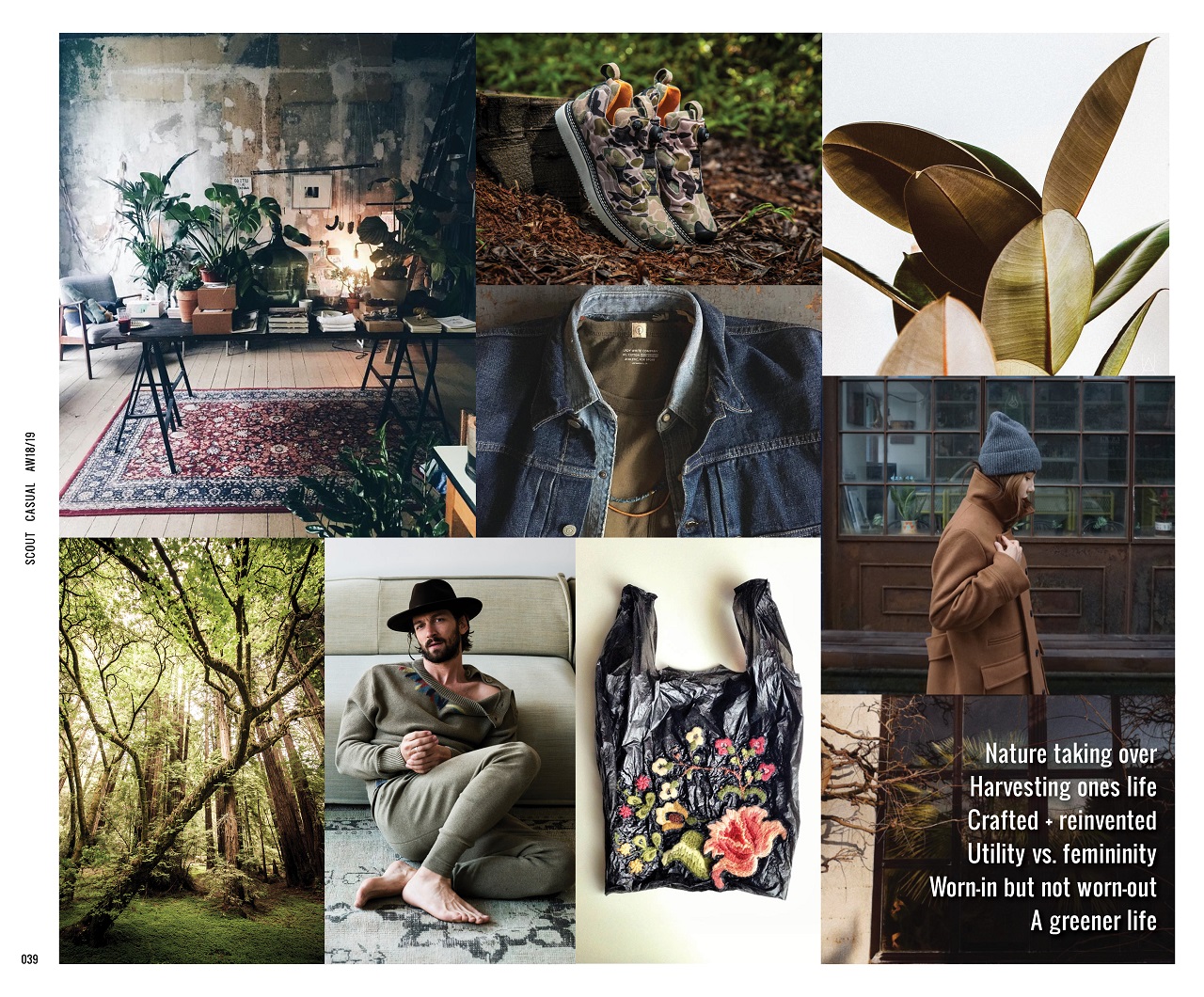 7. URBAN JUNGLE
These urban refugees seek refuge in an alternative lifestyle and go off-grid completely, retreating to the hills and country shacks. It's about embracing nature and opting out of an everyday humdrum, urban life and as nature takes over, literally, in derelict rundown spaces, beauty is in the imperfection and tension between nature, technology and urban renewal. This contrast manifests itself in clothing, fusing utility with femininity, sportswear with work wear for an eclectic blend of looks. They strive for a unique, individual style while searching for a greener life and sustainable, fulfilling way of living.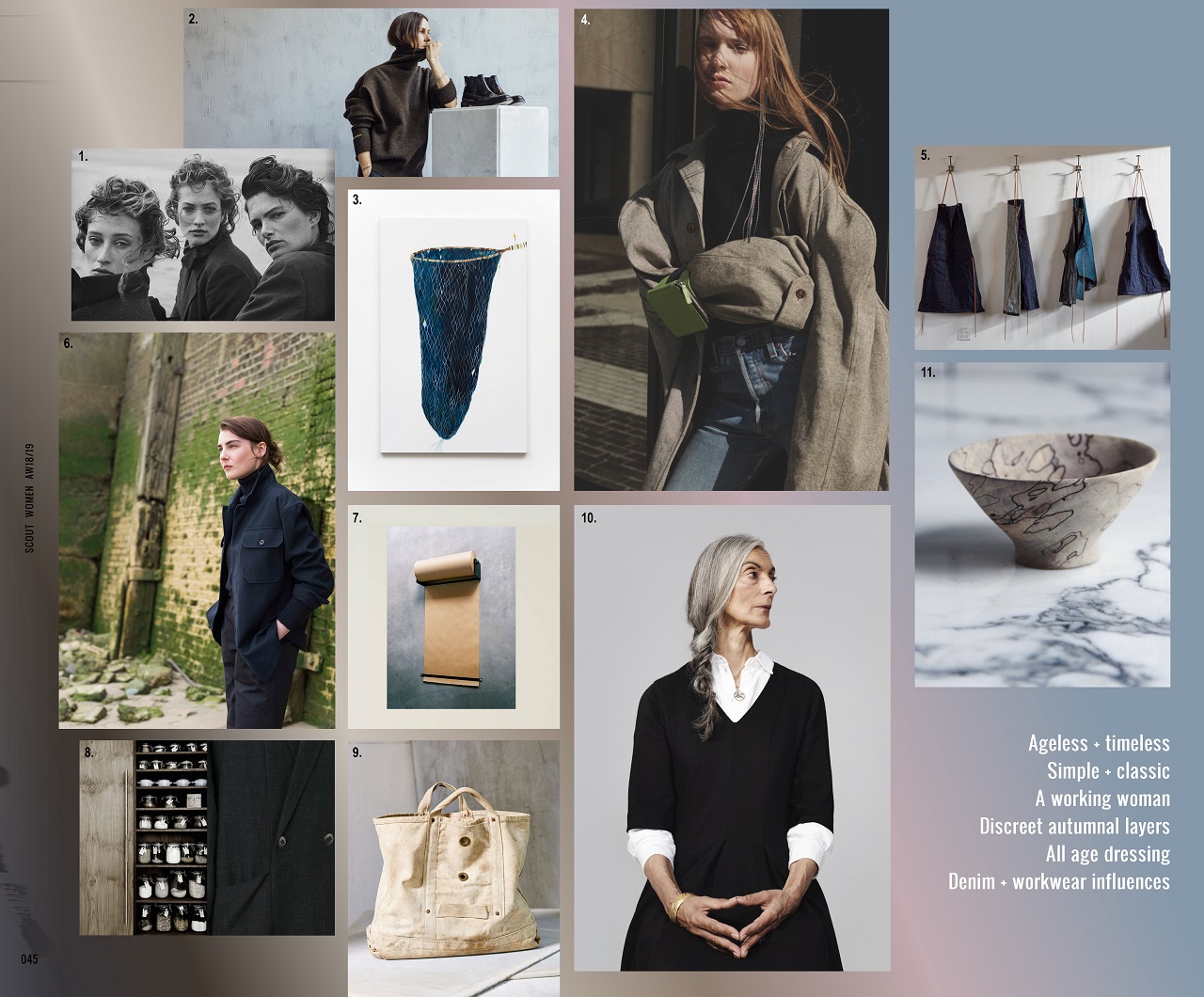 8. UNCOMPLICATED
The name says it all; pressed for time, overworked and underpaid, they yearn for a less complicated existence. There's no mental energy left for fuss or stress, seeking products and clothing that both reflect and enhance that urge for simplicity. When fashion is constantly about change and youth, this trend defies the endless pursuit of trends and market segments. Simply labelled and simply styled, this is about busy working consumers, juggling career and family, finances and health. Things need to be simple, easy and uncluttered. The beauty is in timeless classics, natural fabrics, basics that aren't boring and colours that don't shout.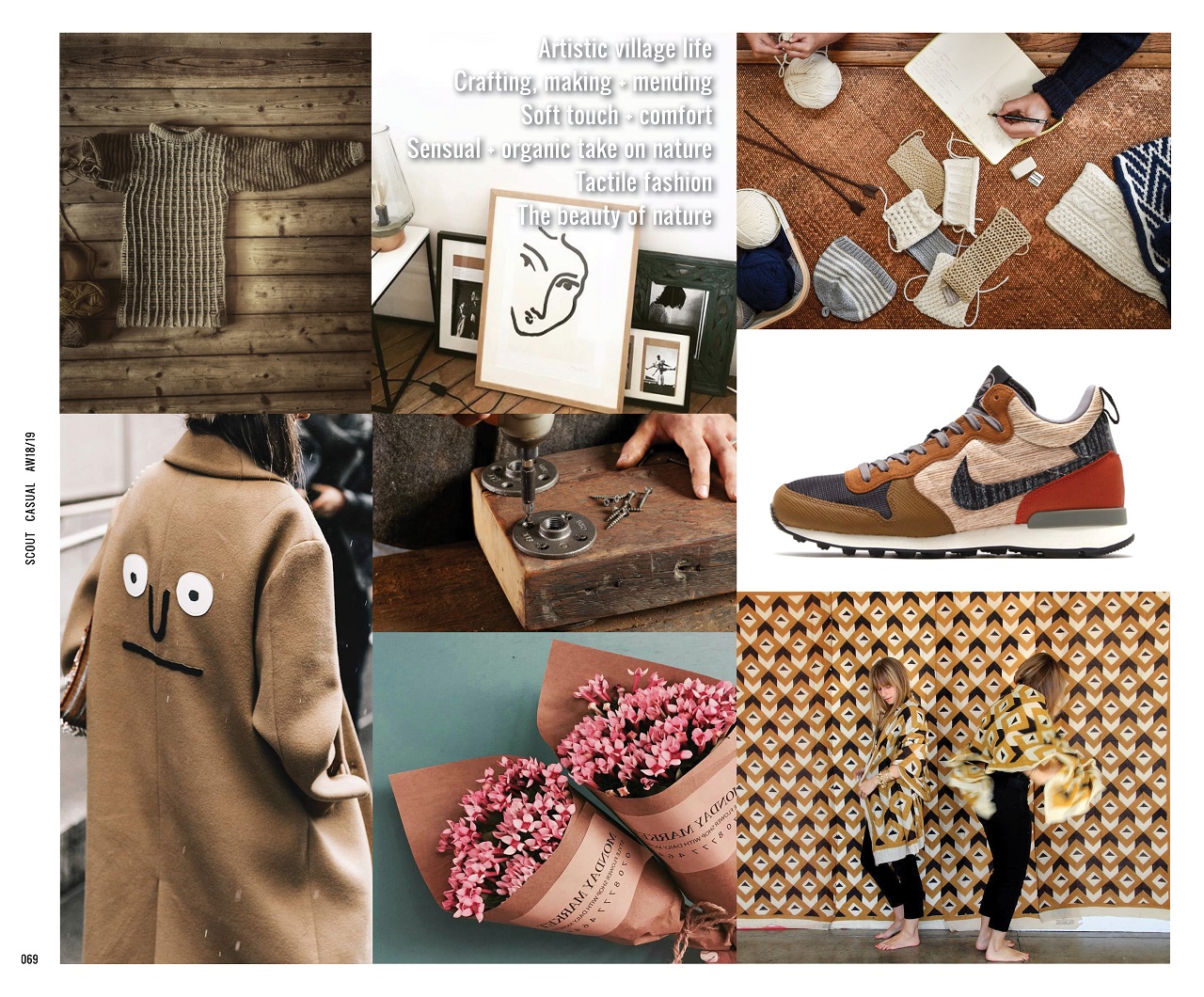 9. CRAFTERS
Embracing the simple life, our modern-day crafters eschew the fast paced modern life for something, slower and calmer. Like stepping into the colourful, creative worlds of a painter's or crafter's studio, patina, touch, texture and the visualisation of an artist's world are recreated through an appreciation of the handmade process and the importance of hand feel. There's a softening of colour, of dreamy neutrals and vintage, crafted darks. Comfort is key here in soft, buttery suedes and shearlings, lofty knits, washed cords, sanded sweats; it's about feeling cosy and safe in familiar surroundings with friends.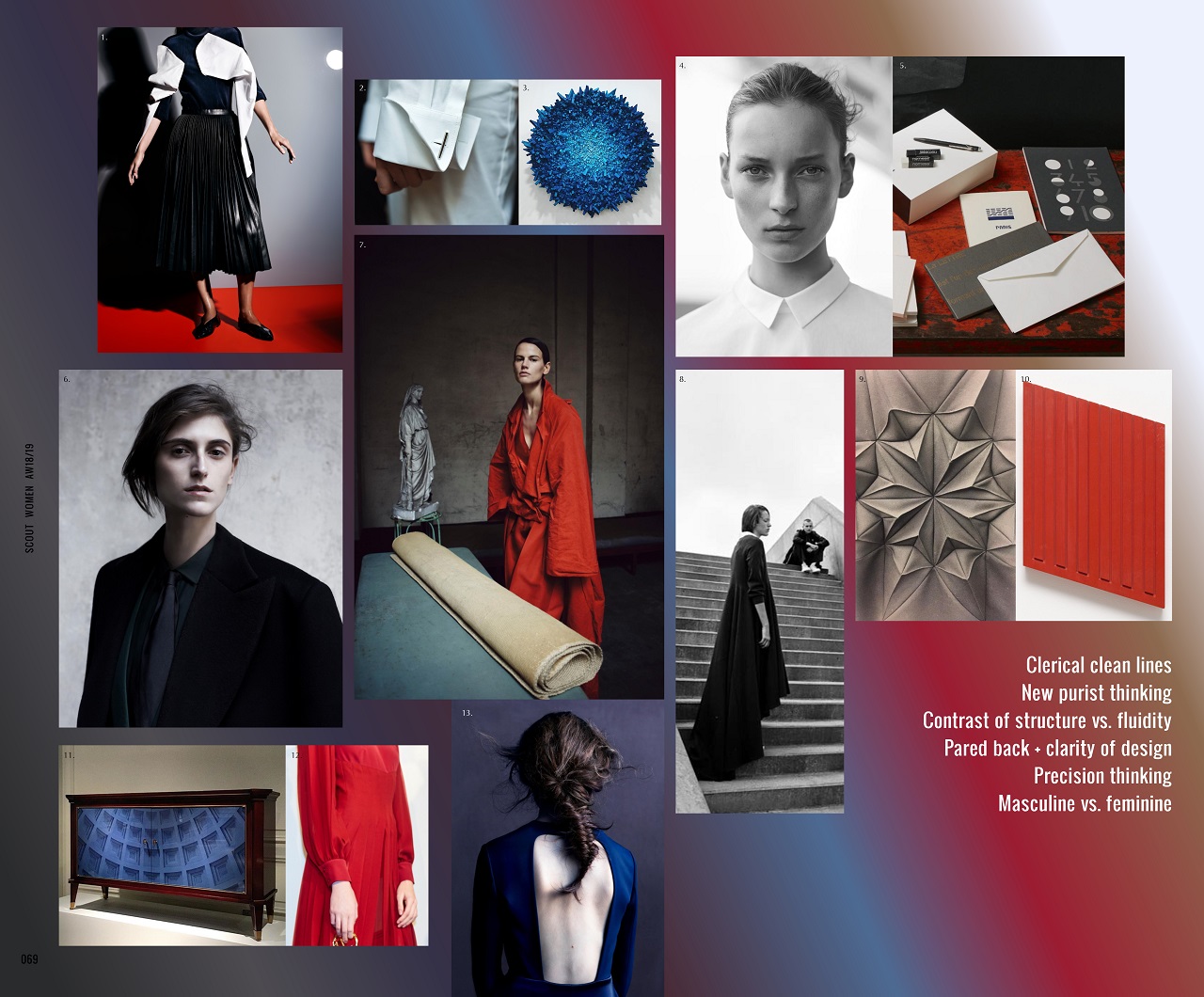 10. PURITANS
This new purist thinking in the design and fashion world goes beyond conventional minimalism, in search of a true less-is-more philosophy. After seasons of glorious excess, embellishment and decoration, we are spurred by global uncertainty and a desire to escape the daily trivia; the visual and informational overload that crowds our conscience. It's part of a new movement to pare back and cast off superfluous products and ways of thinking. These puritans favour clean, clerical lines and architectural forms. Their approach to design and fashion is a touch ecclesiastical and even Amish, where subtle detailing and intelligent design is integral; the product of a well-disciplined mind and a calm sense of self-control. This is the thinking person's wardrobe of the future.
Scout offers on-the-spot global access to the latest trends as they happen, along with expert analysis and sharp editing. To read fuller reports see www.scout.com.au