Vincent Van Gogh Revives in the 21 Century

By Massimo Gava
"In 1882, eight years before Vincent (Van Gogh)'s death, the painter wrote to my great grandfather, Theo. The letter suggested that he would like to see his paintings made available to all people."
These are the words of Vincent Willem van Gogh as we are filming a video for the DANTE web TV channel. The occasion? An exhibition taking place at the Devonshire Club in London, where nine immaculate reproductions of famous paintings by the post-impressionist artist are being displayed for six weeks.
"I guess that the Van Gogh Museum, in Amsterdam, has exceeded Van Gogh's vision," carries on Vincent, the painter's great grandnephew. The lawyer joined the Van Gogh Museum as an advisor to the board of directors in 2009.
"You see, my great granduncle loved to show his paintings on display in bars and restaurants. It was his way for him to make it available to everybody."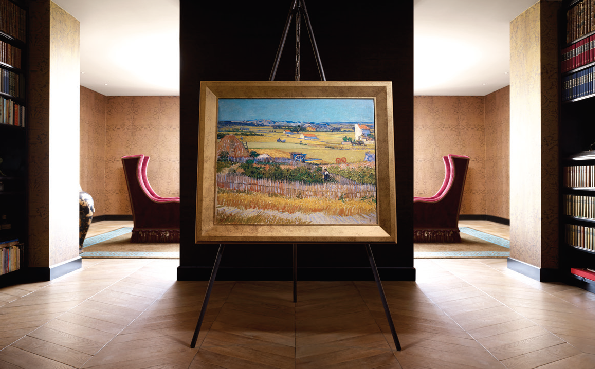 So in collaboration with FujiFilm Belgium, he has watched the development of state-of-the-art Reliefographs and named them: "Van Gogh Museum Edition Collection".
"The development took seven years," added Diederick van Eck, the creator of the initiative in partnership with the Van Gogh Museum.
He is himself a connoisseur of the life of Van Gogh and travels the world to spread the word on the artist's legacy. Van Eck was an international banker until the age of 40 when he decided that he had neglected his passion for music for too long. He decided to make a record based on the 12 most beautiful paintings by Van Gogh. He basically translated the visual into music, a form of synthesis which is the association of sounds with colours.
"After we produced this pretty successful record," he tells me, "I got so much into the story of Van Gogh and decided to make an audio book about his life called Struggle and Success, narrated by Dame Helen Mirren. After this, I was asked by the museum to get involved and develop this project of the digital reproduction."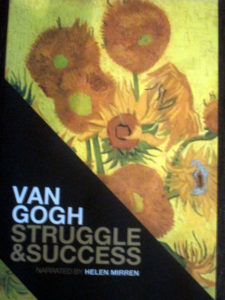 He explains that the development took seven years and there are only 260 reproductions made for each of the nine paintings The FujiFilm process, called "reliefography," brings together three dimensional laser scanning, digital imaging, and state-of-the-art printing technologies, combined with hours of handcraft. Each resulting canvas, with the same paint ridges as the original, is painstakingly examined and compared to the original work by the museum's curators before being authenticated and limited, numbered and certified.
Some questions:
I wonder how can you guarantee that this will not be an ongoing limited edition once you have sold them all?
"We will not do that – that's why it is limited. The reputation of the museum is at stake. We can rest assured that these are unique pieces."
The price ranges between 27,830 and 29,645 euros.
Playing devil's advocate, it could be argued that this is going a little against the spirit of the will of a painter who wanted to have his paintings shown to ordinary people in cafés and restaurants .
"You see, we have been able to bring this painting to different museums around the world to show it to people who otherwise could not see it unless they came to Holland. It is an occasion for others to buy a copy and put it on display so that more people can see it."
"After this we will go to Asia and all the way to Australia. This is the best way to spread the work of my great grand uncle," adds Vincent. "I think he will be very happy that we do so carrying on his legacy."
The original letter that Vincent Van Gogh wrote to his younger brother and agent Theo in 1882 said: "What I wrote to you in my last letter about a plan for making prints for the people is something to which I hope you'll give some thought one day. I don't have a fixed plan about this myself as yet… But I don't doubt the possibility of doing something like this, nor its usefulness. Nor can I doubt that people can be found whose heart would be in it. In short, I believe it could be done in such a way that no one would ever regret having taken part. With a handshake, Vincent."
Looking at the paintings, it is amazing to see what the museum has been able to recreate. What is more amazing is that you can actually get closer to artist's work and being able to touch it without being told off by the guards. So I guess Vincent would be happy that his desire has been revived and fulfilled in the 21 century.
The "Van Gogh on Tour" exhibition continues until March 12 2017 at the Devonshire Club, 4+5 Devonshire Square, London EC2M 4YD. It also runs from February 11 to March 24 at Ian Tan Gallery, Vancouver.
Information:
http://www.vangoghmuseumedition.com
For more information and stories, wait for the video for the full interview on our web channel soon: https://www.youtube.com/channel/UChx6LH5tt0snDkeK1aZlsvQ