Multi-million metal movie: 'We Are X' captures pain, fame of Japan's biggest rock band

"We are X," they say.
They are not talking about any Xs of "X Factor", or British band the XX- but the most the most successful Japanese rock band in history.
By Massimo Gava
X JAPAN has sold out the 55,000-seat Tokyo Dome 18 times. It is not just big in Japan.
The band has played to tens of thousands of fans outside its home country and has sold more than 30 million albums, singles and videos combined.
If this is not enough to get your interest, check out a new documentary, We Are X. Listen to what Brian Hugh Warner, better known by the stage name Marilyn Manson, has to say about X. Or watch for tributes from KISS and more, artists who admire this band formed by Yoshiki, a composer, classically-trained pianist, drummer/percussionist, and creative force behind the group.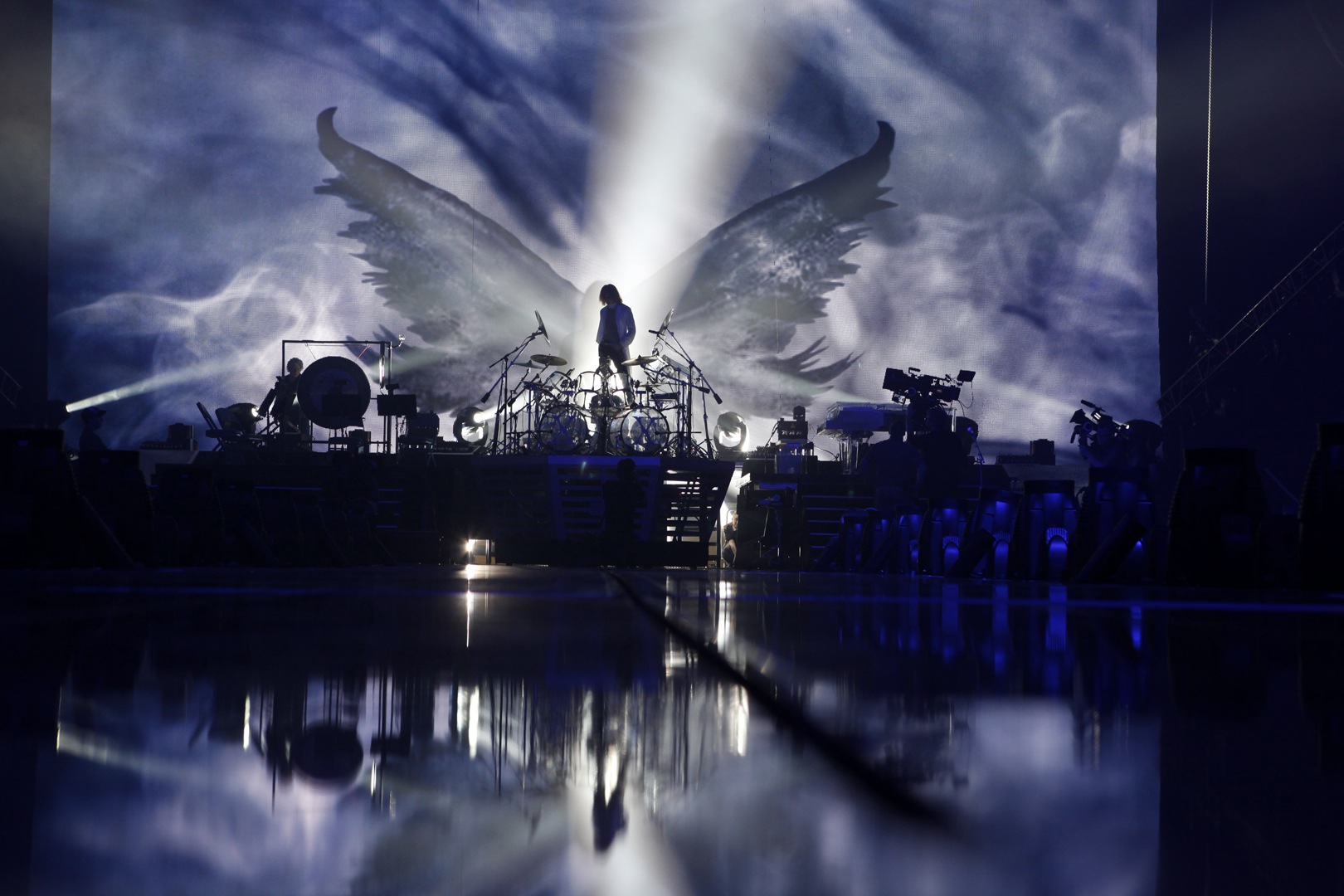 X JAPAN rehearsing in NJ
Heavy metal can be unserious, but this documentary captures the deep feeling of this act with its extravagant costumes and performances indeed worthy of KISS or Marilyn Manson.
There is a lot of anger that Yoshiki expresses through his music. It might be because his father committed suicide and left him at the age of 10 years old questioning: "Was I a bad son? Did I not love him enough?"
It is an unfair question for a fragile child to ask himself. It was so telling that even his mother is surprised that he can still be alive.
The story reveals the group's initial difficulty in breaking into the international arena. The language of the rock and roll is English and it demands certain rules which are unspoken because of political correctness. It is unkind and all that stuff but how do you break that prejudice wall? "If those guys were born in America or England they would have been the biggest rock band in the world," says Gene Simmons of KISS (see video below).
Similarly, Yoshiki talks often about the walls around him in the many forms it represented. He says he has a certain duty to carry on towards his fans who he considers part of his family. This concept reoccurs often in his words, even when he talks about how he managed to form the band and keep it united. There was pain as well as fame when the lead singer Toshi, Yoshiki's school friend he formed the band with, left the group for some time after falling for a woman and linked with a religious cult and was blamed for breaking up of the band. A bit of déjà vu?
It is amazing how so much Yoshiki's feeling are let go in this film. He talks openly about his struggle with pain: "Pain has been my friend, my enemy, my lover". We can see him getting anti-pain injections in his joints just before a concert at Madison Square Gardens in New York, with a doctor trying to teach him that he should not hit the drums with such vehemence. This does not take into consideration that when he performs it is a way to release his main cause of pain: his anger.
The documentary is directed by acclaimed documentary film maker Stephen Kijak (Stones in Exile, Scott Walker: 30 Century Man), and produced by the Oscar-winning production team behind Searching for Sugar Man.
We Are X was officially selected for the Sundance Film Festival, SXSW and the BFI London Film Festival, winning multiple awards and praise.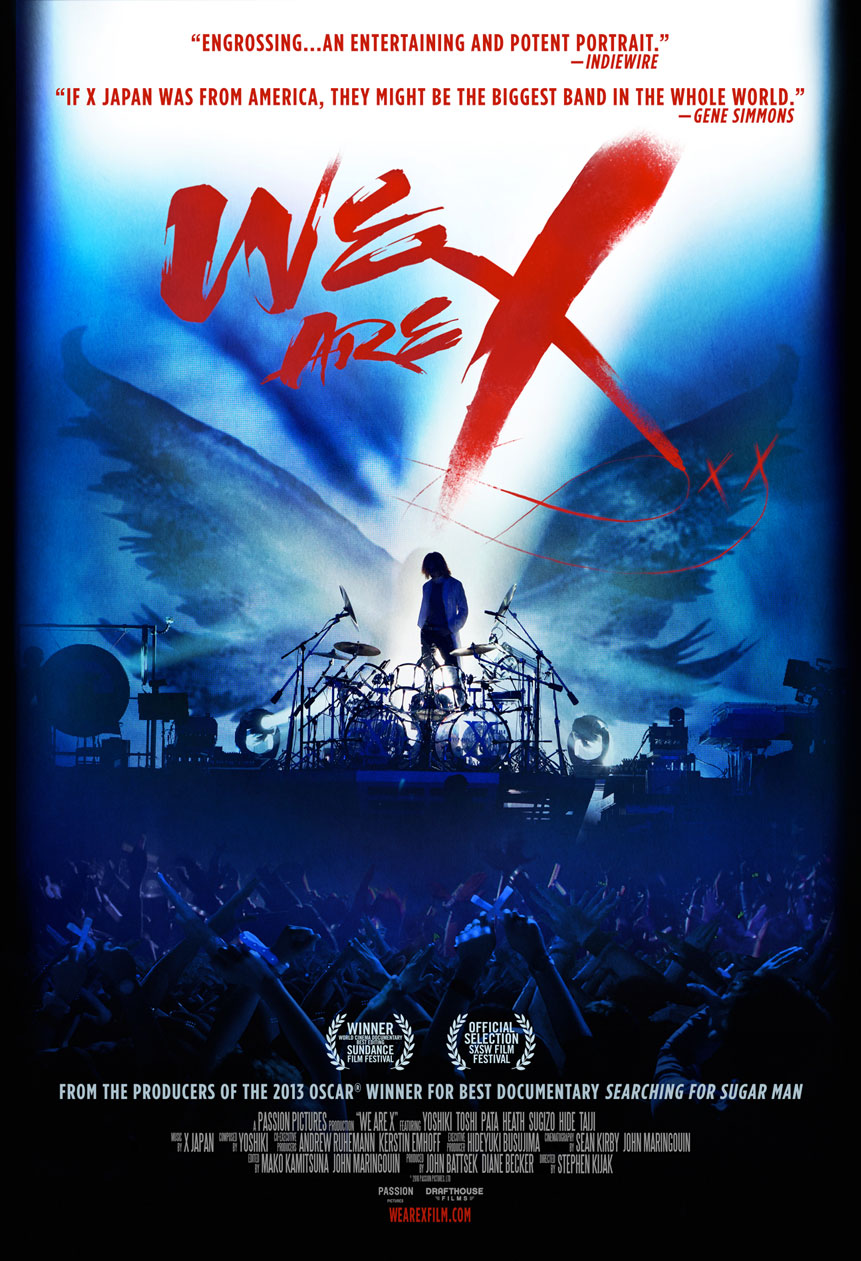 Behind the strong looks and the heavy-metal music, the documentary is a beautiful story of "the most famous Japanese band of all time". It gives a revealing inside story of all the stress that any band faces in the record industry. The soft-spoken Yoshiki is most moving when he says at towards the end "pain never disappears and our music talks to those people." At that point, you almost feel like to give him a hug.
Even if rock or heavy metal is not your type of music, the documentary has appeal for many music lovers. Japan X comes across as one of the greatest live acts on the planet.
The film will be released in UK cinemas nationwide from 2nd March for one night only ahead of X JAPAN's Wembley Concert on Saturday 4th March, and followed by its On Demand, DVD and Blu-ray Home Entertainment release on 1st of May 2017.