The New Food Revolution… Started in Georgia in 1874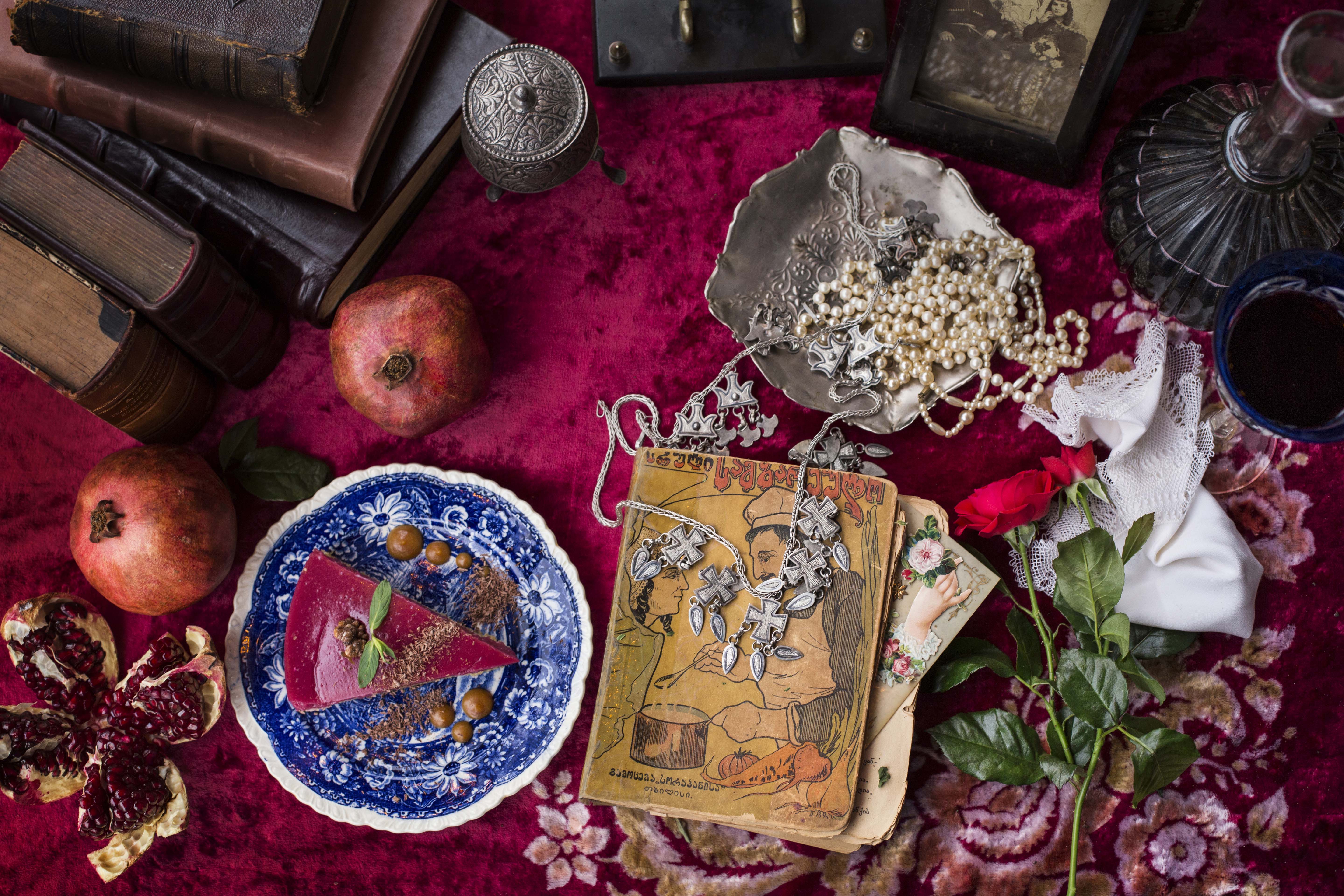 AN EXTRACT FROM THE DECEMBER 2016-JANUARY 2017 ISSUE OF DANTE MAGAZINE, AVAILABLE IN LARGER W.H.SMITHS IN THE U.K., OR ON PHONE APP, OR SUBSCRIBE HERE
Our "Food for Thought" column this time again becomes "thought for food". Forget the organic, slow-cooking and raw-food revolutions. Helena Bedwell tells the story of explains how a classic cookbook from 1874 has been revived.
Scene 1: Childhood memory
This all happened a long time ago but I will remember it as if it were yesterday…
"Children, how many times I told you to put the book back at its place, on that shelf – and where is its cover?" – So says Aunty Medea, an insistent blonde with blue eyes, who rushes into our rustic kitchen.
She picks up the ancient book from the pile of scattered white flour and egg shells. She carefully wipes the butter smears off it – there aren't many but still to make sure she uses her sleeve and then blows it several times, as if she wants to dry the pages.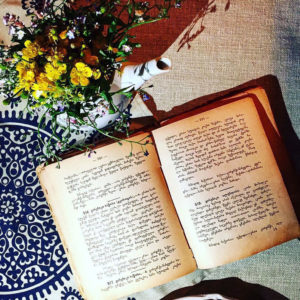 "We just wanted a recipe to make Qadas [a sweet bread with egg and sugar]," the children shout back without even looking at Medea's reaction.
It's a typical summer afternoon in a western Georgian town; kids who are visiting their aunt and grandmother during school holidays sometimes get bored from outside play and river trips, so they often resort to the beautiful countryside kitchen, where there is always something to cook or bake – which is no surprise because their aunty is a dedicated domestic goddess, armed with cookbooks, equipment and ideas. She tries to keep the books in pristine condition by wrapping them with coloured newspapers. Shelves are organized in an orderly manner, everything has its place; her wooden-floored, stone-oven kitchen is always messy, but messy with dust of flour, smell of boiling Confiteors, corn flour patties and cheese bread, which are baked on the fireplace clay stones. She is also very busy; she works as a kindergarten teacher while never having had children herself.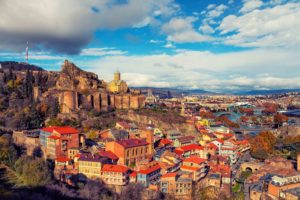 One of the children is me. Medea is my aunty, who made me fall in love with one particular cookbook, written by a very similar powerful and opinionated woman, Barbare. Her Qada of dripping or oil, was one of our favourite sweet-tooth remedies. Barbare Eristavi-Jorjadze was a prominent playwright and publicist. Similarly, my aunt never feared to speak her mind in public, always argued with men and done whatever she thought was right for the moment.
Barbare's cookbook Georgian Cuisine: Tried and True Family Methods was printed in 1874. It is a classic that bears comparison with The Classic Italian Cookbook by Marcella Hazan, Le Guide Culinaire by Auguste Escoffier or works by Mrs. (Isabella) Beeton. Barbare includes both Georgian and European dishes.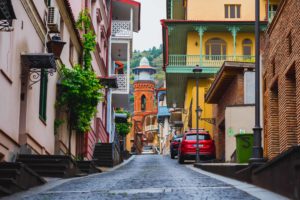 Scene 2: Memory revived
My auntie's pride and joy was lost for me for many decades, until 2015 when modern technology methods brought it to light, only in its original form of course. Then one evening I saw through a social media site an advertisement for the restaurant called Barbare. Who would dare to reinstate Barbare's name? Or is it a different Barbare? There was no time for me to sit and wonder, would this place awaken my childhood memories. I was on the mission.
Scene 3: Barbarestan (meaning, "at Barbare")
A tall, simple dressed slim man walks through the busy restaurant as if he is new to the place. That's how he always moves in his own restaurant, practically unnoticed. He says he is always worried about his place, about his suppliers, quality and service. He is also worried about our interview. At only 43, Zviad Qurasbediani is the father of 10 children, and a dedicated business partner also to his childhood sweetheart wife Maka. This is the man who we all can trust when we hear about what he thinks about Barbare and feminism.

"I just want the world to know what an inspirational woman Barbare was for Georgia in those old days," Zviad says. Not only she was the tough woman, but she made herself into a shining light, teaching all levels how to cook and what to cook, regardless of their financial status. For Zviad, this boutique, antique-clad restaurant is not just the business where he risked tens of thousands of dollars. For him it's the revival of the forgotten Georgian cuisine, which had been battered by the Ottoman and Russian empire occupation and 70 years of Soviet dictatorship.
*
As hands-on parents who tried their luck in hospitality business before, the couple say they were discouraged by several chefs they said they wanted to revive the Barbare cookbook. "You are crazy," was the most memorable response he got.
Still, this was the point when they decided to go for it – the reaction was so extreme.
Their two eldest sons decided to give up their high-paid jobs at banks and in marketing to boost the business. Starting with family savings, motivation and great enterprise in their hearts, Barbara was born with help from the branding company Gastronaunt.
Today, at Barbare is a 15-table restaurant, with handmade interior and a specially picked wine list, serving about 70 people who are lucky to taste the exact same menu, made by the same methods as the book's recipes.
Just by sitting there as an observer, I see that Zviad's and Makas's hard work and risks which only begun in 2015 paid off.
Barbare herself was indeed branded "crazy" in her own time. The Georgian aristocrat decided that any woman should know how to run things in the house, starting from making the ink to dying items such as wool and cottons, to stain removals. Like Mrs. Beeton, the list of her achievements obviously finished with cooking. But she was an early feminist, who dared to make a loud entrance to a very patriarchal society. Her cookbook, amazingly, has all criteria of the modern one, with some continuity flaws but still the most important message of her creation is to reach out to all levels of the society.
At first glance at her portraits, Barbare looks a conservative. She is dressed in traditional velvet outfits, topped off with old Tiflis headgear. Envisage her using luxury china and eating a rose comfiture. Yet she also addresses those ladies who did not have enough meat in the house. She teaches them how to cook a nice dish for a whole family with just a small amount of meat.
"Unbelievable and ground-breaking for those days," is show Zviad excitedly sums her up, and Maka agrees.
Barbare's cookbook has simple language, still sounding fresh and modern. She also is particular about measurement, including not just well-known ounces, lots, tumbler cups (about 250 grams) but also Iranian and European ways of measuring methods, such as pinch, dash or Batmani. Experts would be amazed of her hygienic skills, such as tricks of keeping the meat fresh and the way to determine which products were going bad or out of date.
She has a large range of desserts, from solid cakes and pies to something similar to the rice pudding texture, unheard-of in modern days. She advises that such dishes are accompanied by liquors and sherry.
She suggests that farmers give chicken drops of vinegar to assure the softness of the poultry. Her list of mouth-watering poultry recipes include: Chicken Chikhirtma; goose in Cornelian cherry; and turkey boiled with wheat and spices. All just right for Christmas too!
Zviad himself, despite his athletic look and slim frame, is a big foodie. His favourites include Elarji, which is a rough grounded corn boiled with stretchy sulguni cheese. He also likes a very traditional bean soup, something similar you may see in a Mexican kitchen, but nobody does it as old fashioned Georgians would – it is hand-whipped with loads of spices and herbs, walnuts and aubergines.
No restaurant is decent without a good wine list. A staunch supporter for better traditions and improvements, this family is determined to teach a staunch wine consuming nation and their guests how to use 525 varieties of grapes in Georgia. This is where the expertise of family's eldest son Tornike comes in – a handsome young man with a distinctive Caucasus beard. He works with his brother Andria on everything from sommelier work to ensuring that their specific mountain cheese is delivered in time.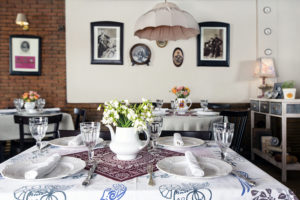 Obtaining well matured wine is the challenge, Tornike says, Georgian winemakers sell whatever they have, with only monastery wine managing to be aged properly.
Tornike and Maka show me the wine that they would travel to Mars with, if suddenly they were given the choice to take only one bottle. It's Mtsvane, the green, crispy tasting choice.
For the Qurasbediani family, this business is more than just their income. They want to start the brand and patiently wait to expand it for the world. Michelin stars can wait. They break all stereotypes of a typical large family, as we know it.
"You know what? sometimes you just have to trust life and take everything what it gives you," Maka says. "This is how I accepted my fate, our children, and our risks".
One day the book that started the phenomenon will be more widely known: it deserves to be a best seller once again and outside Georgia too.
Food for thought indeed. Modern cooking can be healthy and satisfying. Cuisine from the 19th-centry can be even better. Back to the future.
For more information: https://m.facebook.com/gastornaut/?tsid=0.5785416681319475&source=typeahead or https://www.facebook.com/barbarestan/