Andrea Bocelli – "If God Could Sing…"

AS ANDREA BOCELLI PERFORMS IN LONDON, HERE IS A WEB VERSION OF OUR PRINT ARTICLE FROM A NEW MONTHS BACK..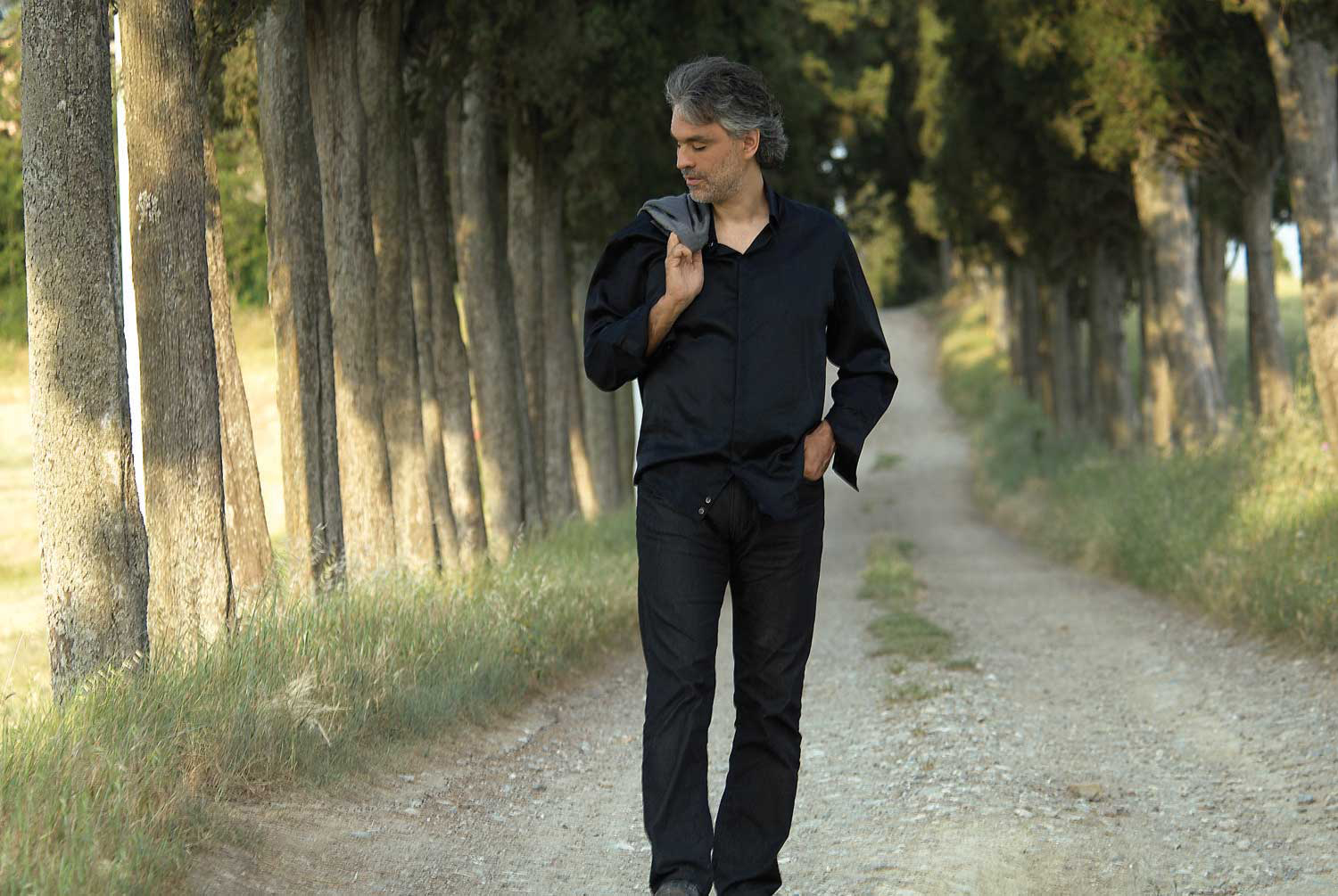 The internationally successful star tenor is a busy man who doesn't rest on his laurels. He takes time out, though, to speak to DANTE's Mark Beech about his tours of Europe, America and Asia, his new album "Cinema" and more.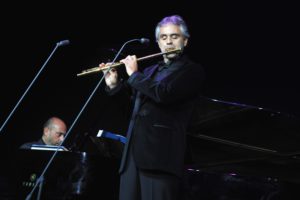 Andrea Bocelli is the biggest-selling solo artist in classical history. The tenor has sold more than 80 million albums, with five million alone for his 1999 "Sacred Arias" album, the best-selling classical recording of all time. His two-decade career has included both classical opera and crossover. A few snobbish purists have been enraged, while others, including millions of fans he has enchanted, love his operatic performances while knowing that recitals are ideal for him.
He has performed for four U.S. presidents, two popes and the British royal family, as well as at ceremonies for the Olympic Games and the World Cup.
Bocelli has been praised by such luminaries as Luciano Pavarotti, Franco Corelli, Zubin Mehta, Jose Carreras, Lorin Maazel and Renee Fleming.
"If God could sing, He would sound a lot like Andrea Bocelli," was pop star Celine Dion's famous comment when introducing him. If all this is not enough, he has been named one of the world's most beautiful people.
Bocelli's whistle-stop tour recently included a brief visit to London, where he will be returning for more shows soon, and where we met for an interview.
He is sitting in a hotel dressing room next to a theatre where he is recording an episode of ITV's "Tonight at the London Palladium" television show. Tea, assistants and a translator are at hand. Bocelli seems to rarely touch the ground, between homes on the Tuscan coast and Miami and international commitments, but he says he never loses track of where he is, in an "If It's Tuesday, This Must Be Belgium type way.
"Oh no, I know very well where I am! Because I am here very often I know the city quite well," Andrea says.
His new album is simply called "Cinema". How did it come to be made?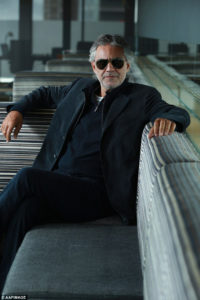 "It is an idea I had from a long time ago, When I was a child, I heard Frank Sinatra singing 'Maria' and all these beautiful songs. I thought it was time to record an album like that."
A Tuscan, like Puccini and Mascagni, Bocelli was born on September 22nd 1958 at the family farm in Lajatico, amongst the vineyards of the Pisan countryside. He learned piano, flute and saxophone but his voice was his greatest asset. It soon caught the attention of Italian tenor Pavarotti after Bocelli sent a demo tape to rock star Zucchero.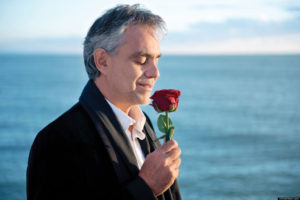 Bocelli lost his eyesight during adolescence, which allowed him to concentrate on his voice, which can range from the bel canto to the furore of verismo, and from the sacred repertoire to the popular ballads. To generate income he first studied law and sang requests in piano bars. He won the best-newcomer section of the Italian San Remo singing competition in 1994 with a record score and was soon signed to a record label. As well as God, his voice has won comparison with many other stars: Caruso, Gigli, Del Monaco and Corelli. He recorded "The Prayer" with Dion and was nominated for an Oscar; his pop career also includes the much loved "Time to Say Goodbye", a duet with Sarah Brightman that reached Number 1 in charts around the world in 1998. His audiences became ever larger. Bocelli is a great listener as well as a singer – aged seven he could recognise all the stars just from hearing a snatch of their vocals.
The new album has epic theme songs featured in films such as "Doctor Zhivago", "Love Story", "The Godfather", "Life is Beautiful", "Gladiator", "The Postman", "Breakfast at Tiffany's" and many more. It also includes songs from stage musicals, immortalised by their film versions, such as "West Side Story" and "Evita".
With hundreds of songs to pick from, from Ennio Morricone to Leonard Bernstein, how did he make his selection?
"There are all memories of my life, beautiful memories, moments when I was a child." Some of the backstories are explained on the "Cinema" DVD which has special features such as the making of the album.
Which songs from the final selection does Bocelli particularly like?
"It's difficult to say, because the songs are all like your children… 'Old Man River', because it's a challenge for my voice. I love that beautiful Spanish song, 'Por Una Cabeza,' because it has a feeling of sadness in it, which I like very much."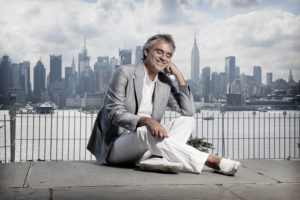 There is certainly a bit of a river theme going on, with "Moon River" from "Breakfast at Tiffany's" joining "Old Man River" from "Show Boat". There are also love songs and duets such as "No Llores Por Mí Argentina" (Don't Cry for Me Argentina) with Nicole Scherzinger.
"I like singing with somebody, especially with women's voices, because on an album of 14 or 15 songs otherwise it risks becoming boring."
"Cinema" is far from that and Bocelli's voice is lovely. He also sings "E Piu' Ti Penso" from "Once Upon a Time in America" with Ariana Grande, which has a glossy video filmed in Rome and Asia: "The more I think of you" – the two stars are far apart yet together.
"Arianna is a hero of my sons," says Andrea. "She is very young and nice. When we met each other for the first time I was in Miami and my second son Matteo was so surprised to find Ariana with me, you know, because he loves her. To bring different generations together, it's a good message."
Talking of ages, what would the young Andrea Bocelli make of his future commercial success?
"The child Bocelli could never have dreamed of this success! I've been happy of course for my family and for my parents above all, because they were a little bit worried for me and my life, as every parent is. When it happened, I was already a man and I took the success with calm."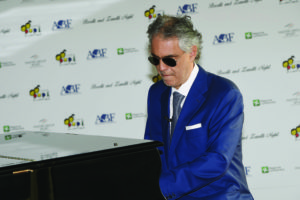 He doesn't measure success by sales so much as whether it makes listeners happy.
"I think now it's getting difficult to measure success from the number of copies sold because record and CD sales are getting smaller every day. I think the most important thing is the affection of the people, from that you can understand if you have done a good job or not."
He accepts that the classical music industry as a whole is struggling in the face of piracy and more. "I truly believe that classical music should have some very serious marketing done the way it's done for other music and products – something professional and good."
He doesn't say it, but a talent of his calibre could not be artificially designed: not even the most astute marketing plan would be able to come up with such a result.
Still, there has been criticism of many crossover artists, such as Miloš, covered in our last issue. Bocelli has not disdained crossover among his classical work – witness the love songs included alongside the arias on his new album.
"I think whoever sings opera music must be prepared for criticism. Maria Callas and all the big singers this last century have the same problem. Of course, opera music has always had a problem with purists. I am a purist, for example, when somebody sings in theatre and sings opera, they have to be a perfect singer and have the best respect for the score – and I do. Caruso and others are among the greatest singers of pop music. Do you remember Beniamino Gigli singing 'Mamma', for example? One of the best songs in the world and the most famous."
Our time is nearly up, so just a quick question on future plans.
"My plans are to sing and sing and sing," he jokes. The current Bocelli tour showcases "Cinema", obviously, as well as opera arias, duets and other classic pieces. He is working with Eugene Kohn, guest artist Katharine McPhee, and soprano Ana Maria Martinez.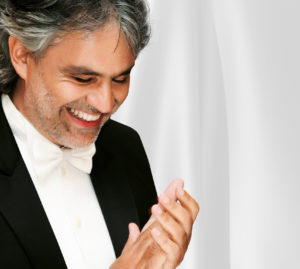 For him, charity work is a duty, connected to his belief in music, people and faith. He works through his own foundation and ARPA, which promotes medical research and training. Shortly after the interview he was working with Argentine former soccer player Javier Zanetti for a charity event in Milan with Laura Pausini to help education of children in South and Central America.
This year he has sent aid to Haiti after its earthquake and is funding a project at MIT for research into devices to help the blind. He has addressed conferences in Davos (where he received the Crystal Award last year), sung at UNESCO and even hosted a round of the Celebrity Fight Night fundraiser.
Andrea has to say goodbye: It is time for him to film the conclusion of his TV show. As he stands to leave, a shaft of sunlight flashes across his Ray-Ban aviators and he smiles. From somewhere, there are strains of his angelic voice: "Two drifters, off to see the world. There's such a lot of world to see. We're after the same rainbow's end– Moon River and me."
"Cinema Special Edition" CD + DVD came out on Decca last month. It includes three new tracks, PBS Special TV broadcast (featuring John Travolta and Nicole Scherzinger) and his music videos.
Bocelli is on tour in the UK and Ireland in September / October including London, Sheffield, Glasgow and Dublin.
He has a U.S. tour starting at the MGM Grand Garden Arena in Las Vegas on 3 December, with additional dates in Dallas, Houston, New York, New Jersey and Boston.
HERE IS A VIDEO OF MARK BEECH'S INTERVIEW WITH ANDREA