Ewa Wilczynski, The Birth of a Venus

Massimo Gava meets and gets to the very heart of a new talent making waves in the art world, tracing her own personal and surprising journey to stardom.
Spring time is always a good moment to talk about renaissance. As we are slowly coming out of the dark ages of winter, as it were; basically, the rebirth of nature always puts us in a better mood. In Renaissance Florence, it was the custom for artists and intellectuals to gather at the court of princes and rich families to discuss new translations of the classics, debate philosophy and generally reinterpret the world.
Where is there a similar place today where young artists, musicians and the rest of the artistic scene from all over the world come together to get inspired to reinvent our modern world? Why, London, of course! Since an integral part of our mission here at DANTE is to seek out and champion new emerging talent that, in our opinion, will be the stars of the future, we have decided for this rebirth spring issue to throw the spotlight on someone fresh and new on the British art scene – Ewa Wilczynski!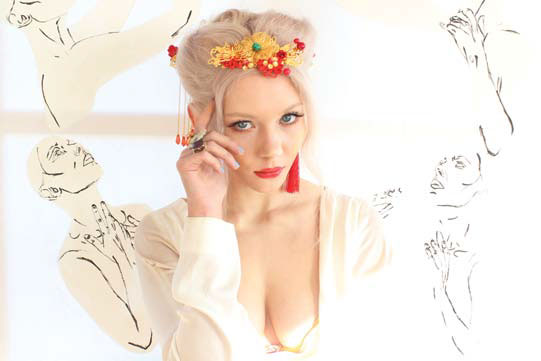 Ewa studied art at Central Saint Martins and at the Acad.mie des Beaux Arts in Paris. There she learnt to become a sort of an alchemist, adapting the techniques of the Old Masters to conjure up her own secret recipes. She paints using a mixture of dragon's blood resin, gold, copper and silver leaf and other specialist pigments she has collected from all over the world, which, for her, not only represent centuries of faith but introduce translucent layers of colours into her work whose glowing luminosity encapsulates man's transient nature.  Blessed with striking looks, Ewa has even been described as a new goddess of the British art scene. Among the more effusive comments, "Venus could easily be her second name as she embodies with her persona beauty, love and pleasure – everything a modern Aphrodite should be." Be that as it may, despite being only 26, Ewa has exhibited internationally and throughout the U.K. including campaigns for London Underground, London's Mall Galleries and Sotheby's, where she was the only artist to sell all her paintings, with the highest bid going to "Avenir's Art Auction." Among her other achievements, Wilczynski is one of the youngest artists in history to hold her debut solo show 'T H R O E S' at the Royal Academy of Art; and has been hailed as "one to watch" by the Federation of British Artists, "rising star" by The Independent and "art's new ing.nue" by the Evening Standard.
Born in London to a Polish family, Ewa says she always felt different to the other children, and she was often bullied at school because of the way she was. But she didn't feel left out, because her mind was set on reading up about painters and paintings, so she often spent time on her own in the library researching and sketching.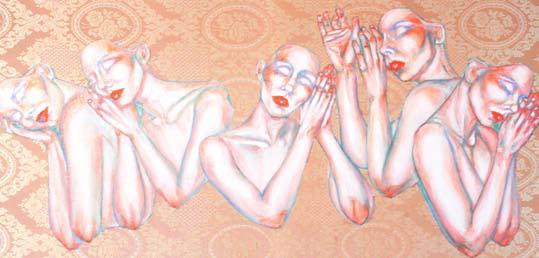 "But I hated having to wear school uniform", she says emphatically. So when she started studying for her A levels and was able to wear her own clothes, she went wild and bought anything she could afford in charity shops. "It was a total relief. I would go to school looking like a drag queen half of the time," she says laughing but, subconsciously, this living in her own fantasy world was also feeding and developing her own persona, her own original style.
We all know how artists can sometimes be a bit self-obses-sed and seeing that Ewa represents herself naked in all of her paintings I wonder aloud whether that is very much the case with her. She lets out a huge laugh and then giving me a bit of a shy look she says, "It started as a necessity because I was quite an insular person. When I was young I had no friends, but that made me more sure of myself, more self-dependent and self-reliant. So I kept things to myself, and I used myself as a figure, out of necessity, and as I grew older it became the fusion between the images and the self".
Whenever she prepares for a new work there is always a time when she cuts herself off from the world to emerge again, just like Botticelli's Venus, from her sea of emotion with a whole new vision. "It's almost like a rebirth", she tells me, "or rather like a rediscovery of those things we all have inside us but not found yet". Is that why your mantra is 'On canvas, beyond canvas and in between'?
"I portray myself completely naked and vulnerable on can-vas and then beyond the canvas I am this flamboyant and over-the-top lady who loves to reinvent herself on a daily ba-sis through her work – I am an artist, I approach everything like a painting", she says. "I can't switch that off, so the canvas and myself beyond the canvas are often interchan-geable. If I've done a painting with some yellow in it I might use a similar blusher on my face. Tomorrow I might go out with blue hair because there was some blue in one of my works. Who cares? As an artist I have a different perspec-tive of the world, and I choose to represent that visually so whether it's in the composition of my paintings, in my outfits or in the charity work I do, everything has now become an interchangeable performance of my style".
And why the constant references to the Renaissance?
"The Renaissance in Florence represents for me those old master techniques that I use in my painting. The process of mixing the ingredients is as important as the final work.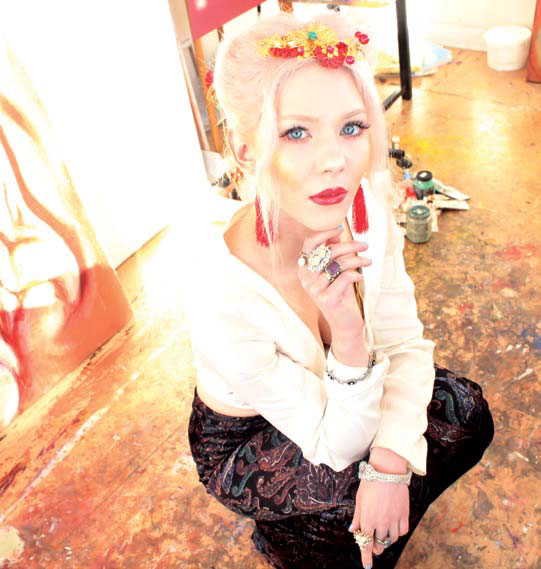 When you paint, every brushstroke, every layer of colour is a point of reference and that is the connection with the work and my vision. I think we still have a need to reinvent the world now as in those days and it is the connection with the past that shapes the present for a better future."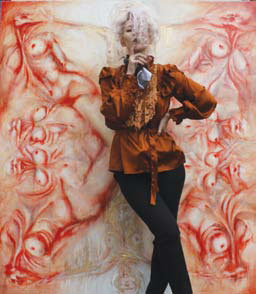 What about the religious elements you include in your wor-ks?
"Despite being born into a Polish Catholic family I'm not religious, but religion has always been a fundamental ele-ment in society, and as a keen historian, it can't be ignored, whether you are religious or not. So my painting always  has religious geometry hidden in it. In my composition called "Celestial Body", for example. I was looking at different crucifixes, in all their shapes and forms so I moulded the body around that geometry."
It is thanks to her intellectual and imaginative pieces, that Wilczynski's work with its strange new dreamlike and nightmarish landscapes is highly acclaimed by academics and icons of the art world such as David LaChapelle and Vivienne Westwood. "At last a truly exciting young blood on the British Art Scene… Ewa has managed to bridge the gap between the traditional and contemporary" said Adam Ant, echoed by Lulu Guinness, "Unique, strong and yet still very feminine, she is not afraid to stand out from the crowd".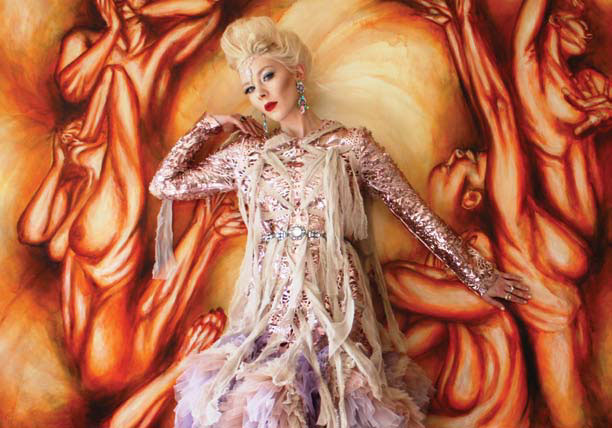 Then again, "A young talent that has already found its "voice"… [exploring] suggestive dichotomies, particularly in human nature and metaphysics," adds Raymond Tallis. But what do all these endorsements really mean to her, I ask. With a big smile she replies quite matter-of-factly: "It's good to have them, of course but they don't sell paintings"! Here the person who charms you with her looks and savoir-faire, shows she is more down-to-earth than you might think.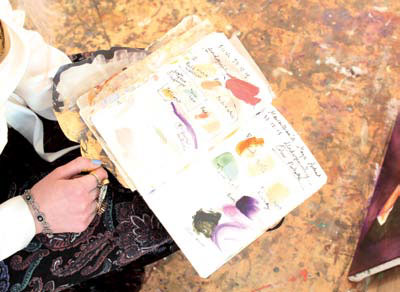 Her determination is paramount and Ewa tells me she works from 6  a.m. every day till sometimes 1 or 2 a.m. "Sometimes my emotions flow smoothly and sometimes they get stuck and then I know I should leave it and do some networking and go out and see exhibitions and art galleries but it's all part of the same process – it never stops because it's part of me!" Wilczynski believes it is the duty of an artist to be involved in philanthropic work, part of that 'in between' aspect of her mantra and as such Ewa has acted as ambassador for iD magazine's 'All Walks' in association with Caryn Franklin to campaign for Diversity in Fashion and in 2015 she appeared on the catwalk for Vivienne Westwood as part of her select 'Fash Mob' to campaign for Climate Change. She co-wrote and starred in a short art film directed by Joel Byron called "A Thin Place."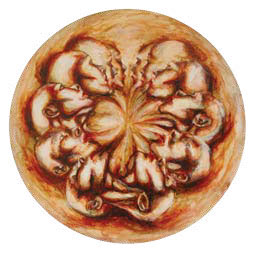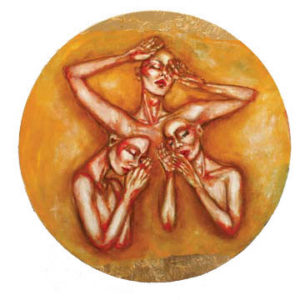 Recently Wilczynski has been exhibiting at Dadiani Fine Art on Cork Street and in The New Contemporaries' Art Fair in Africa. She is now working towards her next solo show called "Glint," using a more baroque style with an emphasis on process using medieval recipes, painting on antique 18th-century material, a direct ancestral link to a past human history which cannot be ignored, simulated or deleted at the click of a button. Like Giorgio Vasari, the first art historian to use the term 'renaissance' in his book about the "Lives of the Most Eminent Painters, Sculptors and Architects", we want to trumpet the Renaissance as it is happening today. Whether as an artist or a philanthropist it is clear that, for Wilczynski, art exists beyond the canvas and outside of the studio. It is an all-encompassing concept and, as such, manifests itself in fashion, style, and lifestyle. Is Ewa Wilczynski not the new Venus of British art scene, worthy to head the list of our 2016 Vasari? We at DANTE certainly believe so!