Michiko Koshino

How do you combine exciting, sexy new ideas with traditional fabrics interwoven with quirky outlandish features, bridge the traditional reserved sobriety of the East with the brashness of the West? Michiko Koshino is a Japanese fashion designer who has done just that and the world is taking notice.
by Massimo Gava
"I have been making a dress with parachute fabric", says Michiko after my first question to her. "Where did you get the idea ?", I ask curiously.
"I bought 300 of them  sometime ago because I felt like it and this morning I woke up with this idea  so I designed the whole thing", she says smiling and showing me the sketches.  That's the way it goes, I guess, you get up, take a parachute out of a drawer, cut out a pattern and put it all together!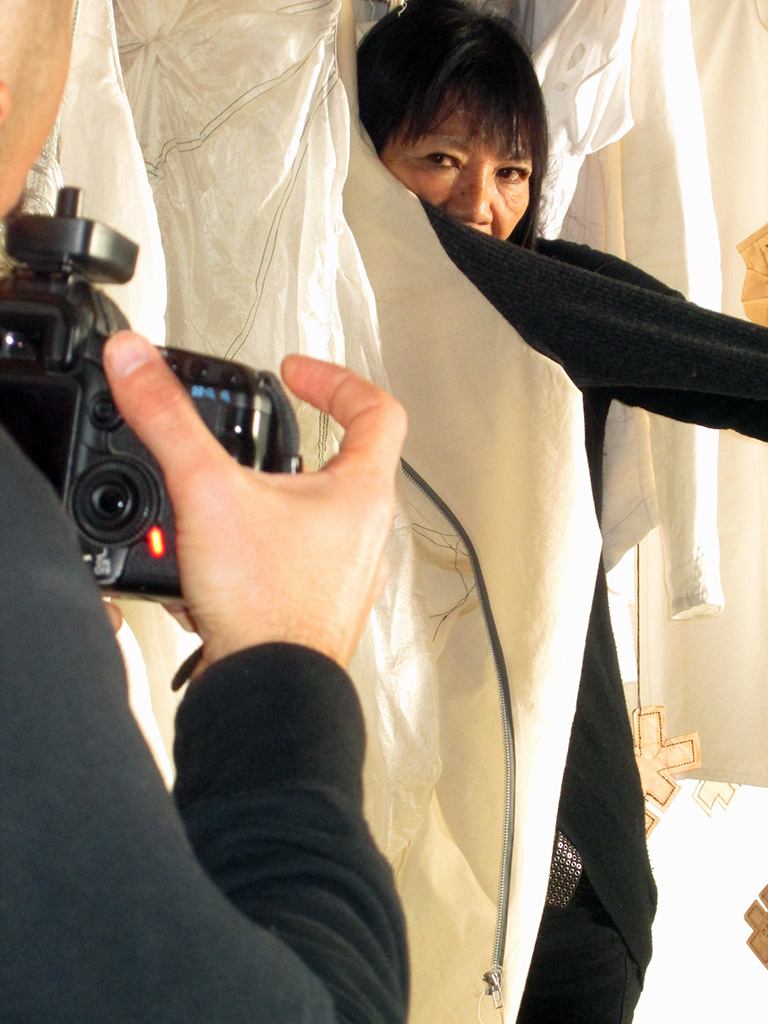 "You must have helped" I ask her assistant sitting next to me.
"No no, she doesn't want any help", she replies with a smile, "When she's making a dress  she doesn't want to be disturbed  until it's finished, no matter what time of the day it is."
I didn't realise there were some fashion designers who still work like that these days. I thought everything was computerised and then passed onto assistants and so on till it gets sent to China or Bangladesh or wherever is the cheapest place to outsource it to make the most profit.
When  it was suggested to me I should meet up with Michiko, I was a bit reluctant because what could she be doing that was really that unique? We've seen it all before and fashion is just  a big branding and marketing exercise where the quality of the actual products is the least of the fashion industry's worries.
I don't believe in labels, even less  that  wearing one will define you or make you  a different person.  I constantly challenge some friends I have in the fashion industry when they tell me they are selling a dream; I just tell them they're selling an illusion.
When I did finally meet Michiko, though,  I felt  somehow different,  as if  I was in front of a  beautiful crystal ornament that looks so delicate you are almost  afraid to touch it, in case you break it. Her gentle manner , her soft spoken English with  that Japanese accent creates a  glowing aura around her and makes me want to know more and more about her.
Born in Osaka, Michiko Koshino comes from a long line of garment makers in Japan, a heritage of traditional kimono making that spans generations . It was her iconic mother, however, Ayako Koshino who broke with this tradition and revolutionised clothing in Japan. From an early age Michiko would play in her mothers workshop freely exploring her creativity while learning valuable techniques .Michiko is the youngest of three designer sisters to follow in her mother's footsteps .
In 1974, Michiko graduated from Bunka Fukuso Gakuin College, the most prestigious  fashion and design school in Japan  and then moved to London on her own, not initially to start out as a designer but because she wanted to experience another culture. Japanese culture, she tells me, was just too insular for her.
But fashion ran in her blood. She soon began to create innovative  designs which pushed the boundaries of both conventional Japanese & British cultures. Her rebellion against the traditional use of materials gave her a new direction and Michiko soon started to carve out a name for herself as a pioneering designer who still influences the fashion Zeitgeist even today.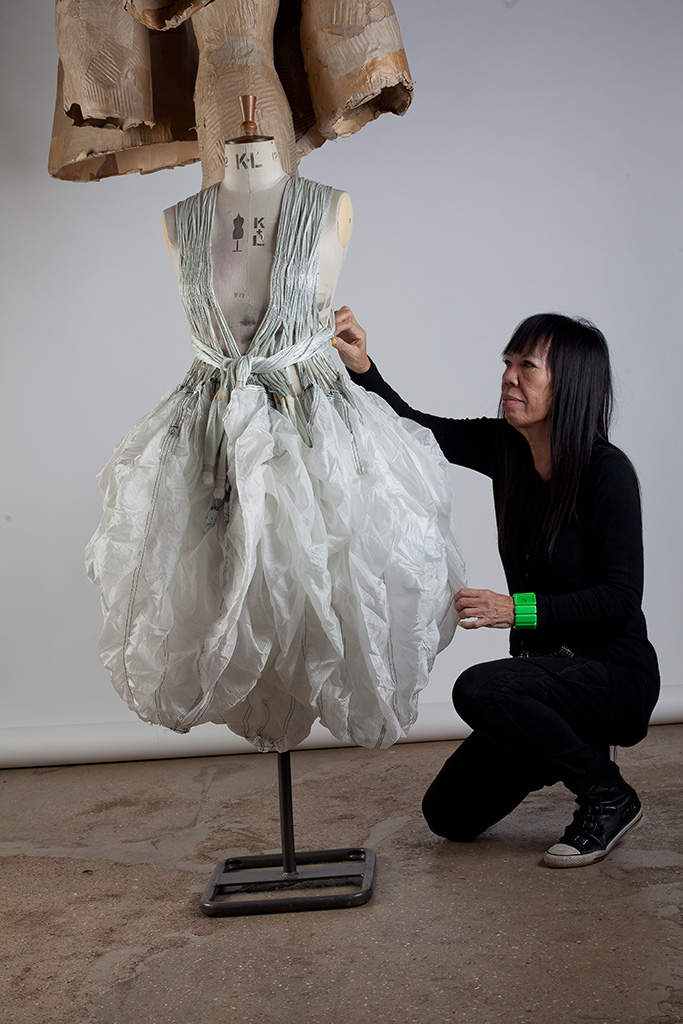 After  her first store opened in Covent Garden – which had a nightclub-like atmosphere with DJ turntables to complete the effect – it became a  global sensation and funnily enough, Michiko suddenly found herself  more famous than her sisters who had taken over her mother's label back in Japan.
Beyond asking her about her achievements  I am still struggling to gain her confidence because her shyness seems to be preventing her from opening up to me especially when I ask more specific questions. I must admit though, I have always admired this  respectful Japanese way of interacting with strangers; I sometimes feel in our modern western society we are a bit too forward in how we approach things –  we seem to need to show we're self-confident, as those motivational coaches never cease to remind us. Actually it can easily become a cover to hide a lack of substance. But that's by the by.
Anyway,  the more I talk to Michiko, the more I realise her shyness is winning me over as I can sense there is more to it and it makes me want to know more about her.  Finally when I ask about her latest collection, she glows, disappears behind a wall into her workshop  and emerges with her latest creation, a  coat she has made in just two days. This is a  coat you can wear two ways, with or without sleeves. Even if you opt for the conventional way, with your arms in the sleeves, it looks almost normal except the accessories she adds tell a  different story. However if you don't, the loose sleeves can be draped around your neck creating a great elegant look.
She disappears again behind that wall and keeps coming out with more amazing stuff – Michiko is now  turning into what I imagine was the little girl playing in her mum's workshop. She smiles when  she poses,  she is totally in her element and opens up fully to me about the  work she does.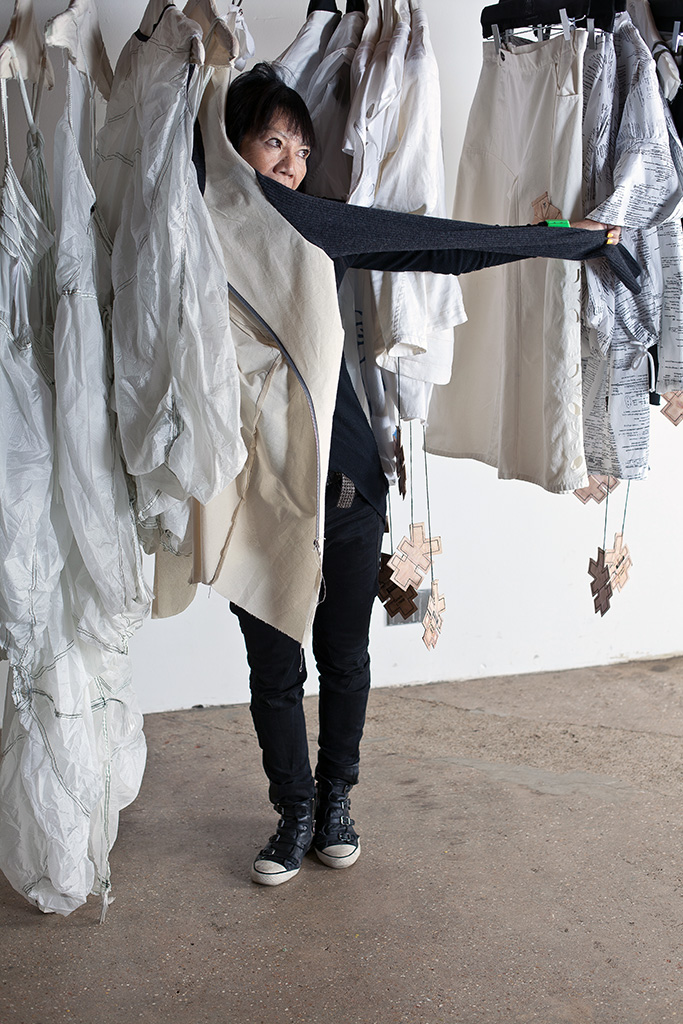 I ask her what her concept of  luxury fashion is these days and  she  gives me a very blunt answer.  "It's what can only be made by hand and nobody can reproduce it". Sure, that's all well and good but how many can afford it ? I ask.
"I don't know but for every creation of mine I only make one unique one" she replies.
So where does she get her inspiration ?  "Difficult to say" she says,  "Because there are multiple things that come to mind,  I process all my thoughts and this or that comes out; sometimes I get the idea in a dream and then I wake up and do it."
That's how the parachute dress took shape, I guess.  Again her originality strikes you,  and when asked if she admires any of her fellow designers, she answers, "I don't know. I buy what I like. But I don't know many of them. I don't  follow any trend." Those short answers sum up her essence perfectly.
Michiko was the designer for the final runway show of Stardoll's Elite, for Kahlen Rondot, the runner up on America's Next Top Model. Her clothing line later branched out to include cosmetics, underwear, eyewear and accessories that are sold globally across Asia, Europe, and the United States. Yen Denim, a limited variety of Japanese denim, is another collection that has been successful for Michiko. Some of her other lines include Main Collection and 100's line. Michiko's clothing has been seen on such celebrities as the Spice Girls, Placebo, and Natalie Imbruglia. Her franchisees include main brand umbrella, Michiko London, Sudo (wool and acrylic scarves), Ta Feng (umbrellas), Shin Myung Mool San (lighters), Chiyoda Bussan (footwear), Mandom (cosmetics), Gunze (leg wear), and Mitsubishi Rayon (casual wear).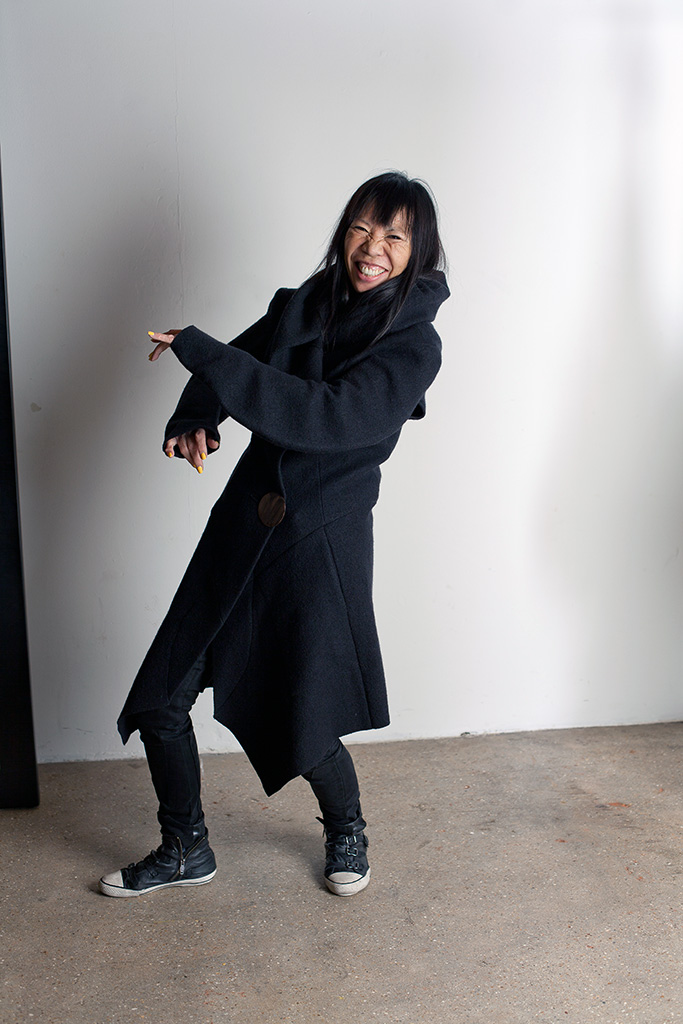 Michiko is constantly pushing and changing the boundaries of fashion by incorporating new, unique fabrics into her designs as well as continuously focusing on designing innovative garments. Experimenting with new ideas is what Michiko strives to do in all of her designs. Instead of using traditional Japanese culture in her creations, Michiko looks to quirky and interesting aspects of modern Japanese society for her designs. Sexy yet comfortable clothing is her focus for young, trendy consumers. Taking classic fabrics such as tweed and incorporating futuristic characteristics as well as combining Eastern and Western culture is one of Michiko's signature designs.
Finally I ask that infamous question, "Do you think fashion designers are selling  dreams or  illusions?". "I don't know. I sell art." comes her answer . Frankly it is  not difficult to believe she is telling the truth because the originality of her designs  and craftsmanship that goes into realising them are so unique that each creation is in effect like an objet d'art and I fully understand  why Michiko has become a successful art form, to be collected and worn – and treasured – the world over.
This post is also available in: Italian Portuguese (Portugal) Spanish