ASIA HOUSE FILM FESTIVAL 2015

Dantemag is happy to announce to its readers that this year the ASIA HOUSE FILM FESTIVAL 2015 will be taking place from March 27th to 31st in London.
by Massimo Gava
The festival will have European and UK Film Premieres from Cambodia, Myanmar, Vietnam, Indonesia, India, Japan and Uzbekistan, with a special focus and retrospective on Mongolia. This year presents a diverse range of titles across a wide range of genres, including a vintage Uzbekistani 'Red Western' and a Vietnamese sci-fi, as well as documentaries on the Burmese punk scene and a Japanese didgeridoo player!
Opening the festival on Friday March 27th at the Ham Yard Theatre is the European Premiere of Indonesian film In the Absence of the Sun, which frames the modern metropolis of Jakarta as never seen before.
Directed, written and edited by Lucky Kuswandi, it is a bittersweet tale with an universal appeal, following three women over the course of a single night. 32-year-old Gia returns home after a stint studying in New York to find a culture that has changed beyond all recognition – and a soulmate who is no longer the person she once was. 24-year-old Indri, a towel girl at a local gym, seeks out her Prince Charming through internet dating, while the recently widowed Mrs Surya heads out on a journey of self discovery after learning of her deceased husband's affair. In the Absence of the Sun is a real gem, a melancholic evocation of the sights, sounds and smells of this modernising metropolis, which is at once vibrant and beguiling – with an adventure around every corner – and lonely, alienating and confusing. Lucky Kuswandi is one of Indonesia's most exciting young directors. His films have been screened in International festivals worldwide, receiving accolades, awards and distribution and this film should not be missed.
Also worth a mention is The Last Reel (2014), a film from Cambodian director Kulikar Sotho, who is already well known for her work on Lara Croft: Tomb Raider (2001), Wish You Were Here (2012) and Ruin (2013). Her film tells the story of Sophoun, a young, confused and frustrated girl being under the control of her traditionally-minded family. When she finds out that an arranged marriage has been set up for her by her father, she runs away and seeks refuge in an abandoned cinema. There she discovers an old film which to her surprise stars her young, beautiful mother. This comes as a great shock but amazing at the same time, as she has grown up knowing her mother as sick and an unhappy wife. However, the film is actually unfinished as the country had fallen into civil war. With help from an old projectionist, she decides to complete the film to give to her mother, to remind her of the happy life she once had. The film focuses on a broken society caused by the trauma and the legacy of war and the ensuing poverty. The trauma is too dark, too deep and too painful to touch. This dark side has overshadowed their lives, through no fault of their own, and the trauma has shaped the behaviour of the older generation, which in turn has had a major impact on the new generation growing up. Another film worth catching is Jalanan by Daniel Ziv (Canada/Indonesia, 2014) a beautiful documentary about the life of a street singer in Jakarta along with two films from Mongolia: Yellow Colt by Khoroldorj Choijoovanchig (2013) and Remote Control (Alsin Udirdlaga) by Byamba Sakhya (2013).

Closing this exciting event at The Horse Hospital is the UK Premiere of Yangon Calling – Punk in Myanmar
directed by Alexander Dluzak and Carsten Piefke (Germany / Myanmar), an award-winning documentary about Myanmar's underground punk scene filmed secretly in the former military dictatorship using hidden cameras. It provides a rare portrait of the rebels who really do have a cause, introducing us to their homes, their friends, their families, and their hidden world of rehearsal rooms and illicit concerts.
The festival will also host the UK Premiere of Flashback Memories 3D,

an unorthodox musical documentary from Japan that received the audience award at the 26th Tokyo International Film Festival. Directed by Japan's Tetsuaki Matsue, who is one of the most interesting filmmakers on Japan's independent scene, it focuses on the didgeridoo maestro, Goma, who suffers from an inability to form new memories following a traffic accident at the height of his career. Filmmakers will be able to discuss how individual artistic visions are shaped by economic, political and social realities in a globalised world.
It is quite obvious, the new artistic director for this year's Asian House Film Festival, Jasper Sharp, has put together a really excellent selection of movies that no genuine film lover can afford to miss.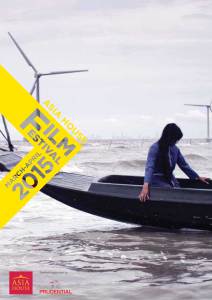 For further details please visit:
http://asiahouse.org/events/category/asia-house-film-festival-2015/