Paralympic Dressage: When Disability Doesn't Stand in the Way of Your Passion

There are moments when your passion takes over everything else and in actual fact drives you on to achieve those longed-for results. Equestrianism is a sport that demands commitment and sacrifices where horse and rider have to find a perfect harmony – so far so good. But there is something even more marvellous that can happen in horse-riding. I'm talking about, of course, athletes with physical disabilities. Young men and women whom, at first sight, you would never imagine could possibly ride in the saddle but who – apart from being fantastic human beings – are people who achieve results their able-bodied colleagues can only dream of.
by Novella Donelli
Photos by Silvia Ciarrocchi
I would like to tell you the  story of the Italian Paralympic Dressage team: we're talking here of a discipline where horse and rider create shapes and figures within a rectangular area measuring 20 x 40 (sometimes 20 x 60) square metres. We're talking here of four young women and one young man whom I have the good fortune to know personally and whom I consider to be exceptional and extraordinary people. They have just returned from the European championships where they came fourth in the team competition and won two bronze medals in the individuals and they are now working towards the Rio Paralympics in 2016.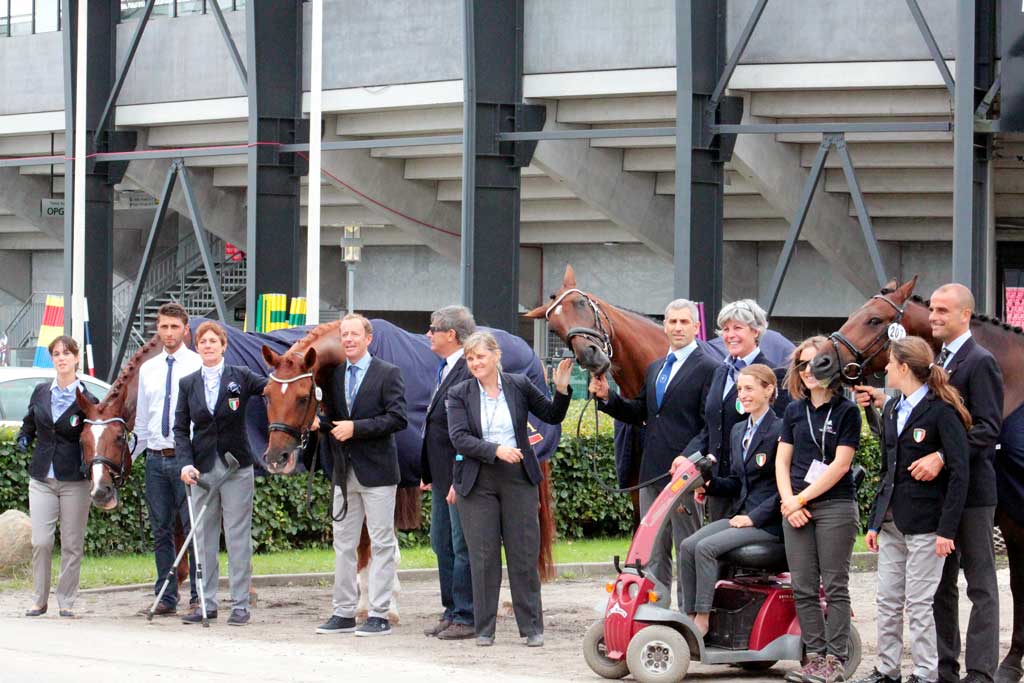 Their captain and winner of those individual medals is Sara Morganti, a most delightful but strong-willed lady, with an utterly winning smile and the strength of a true competitor but who at the age of nineteen years old was diagnosed with multiple sclerosis and a few years later could not walk anymore. But together with her horse, an eight-year-old bay called Royal Delight the sky's the limit, now. I've seen girls and boys tremulously asking for her autograph and saying "Sara, if I could only ride a tenth as well as you do! Just seeing you gives me goose-bumps!"
Alongside her is Antonella Cecilia, nicknamed Auntie Anto because she is no longer a spring chicken! In her life she has already overcome so much, including losing her 28 year-old son to leukaemia and she has been hit hard by sclerosis, but despite all that, her strength of spirit and her sunny disposition have not faded at all, she sweeps you away with her liveliness. It is who is known all over the social media sites because she cheers on her team-mates wearing a great big wig in the Italian national colours, she never gives up. She approaches her horse-riding with unbridled passion but also profound seriousness of purpose.
The third member of the team is Silvia Ciarrocchi, 28 years old, her great big brown eyes analysing you, slightly warily; I have known her for a lifetime and I can safely say her radial agenesis (a medical condition which in practice means her right arm is shorter than her left) has never been a handicap to her. Some people when they see her stare at her but she takes no notice. After years competing in able-bodied horse-jumping, she has only recently started out in Paralympic dressage achieving some good results in no time at all; her great ambition is to go and compete in the Paralympics.
The last representative of the fair sex is 26-year-old Francesca Salvadè  who is studying law and, despite suffering from spina bifida, successfully competes in horse-jumping competitions. When she is on a horse, Francesca says she feels freed of any limitations, be they physical or mental.
The only male in the contingent is Andrea Vigon, who, at 31, is already a veteran of Paralympic dressage with experience of several Italian championships, Europeans and two Paralympics under his belt. He has been tetraplegic from birth which impeded his physical growth but not that of his spirit. His great big eyes and an honest smile mean you don't even notice his stick when he has to take a few steps or that he is in a wheelchair.
These five people consider horse-riding as a passport to living a normal life, full of sacrifices and hardships because this sport also demands a substantial financial investment, which means they have to carry on working to fund their continued participation.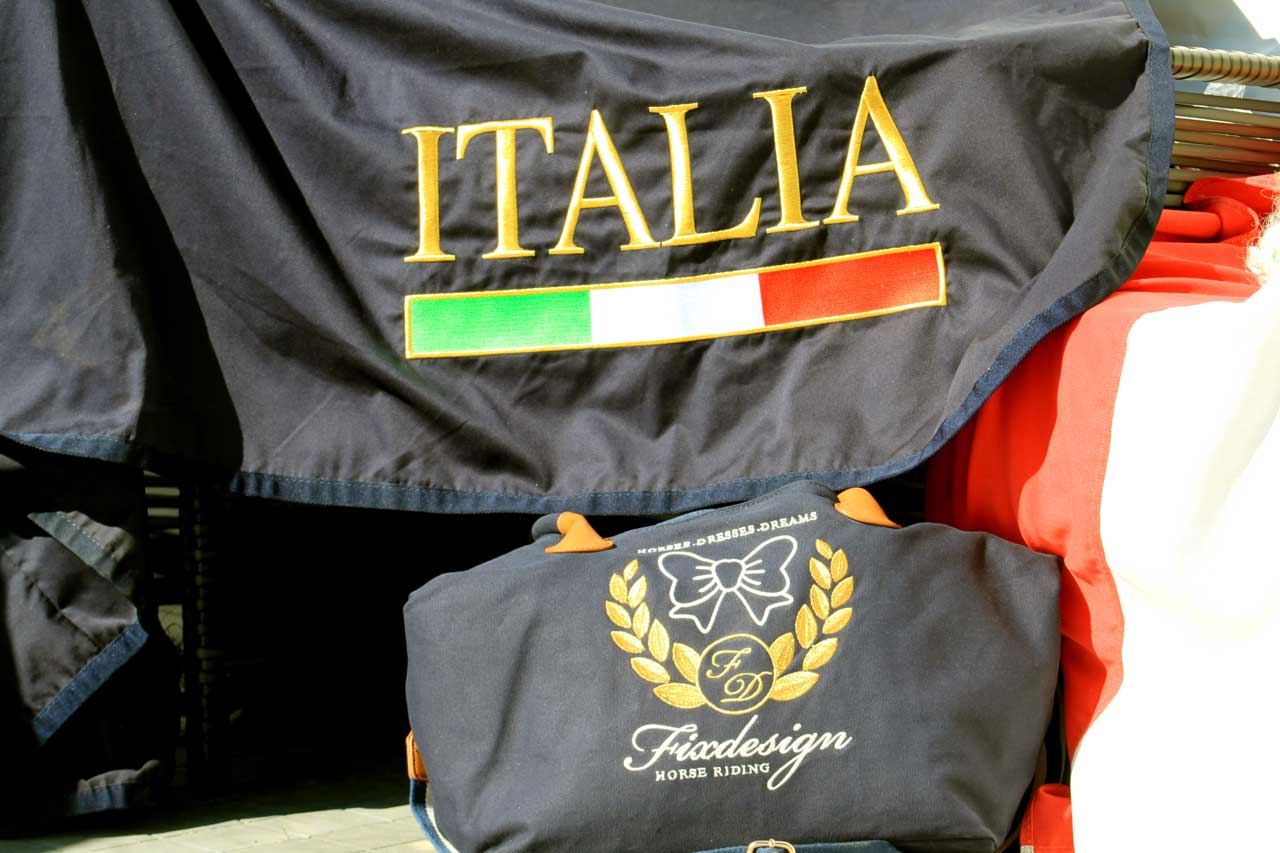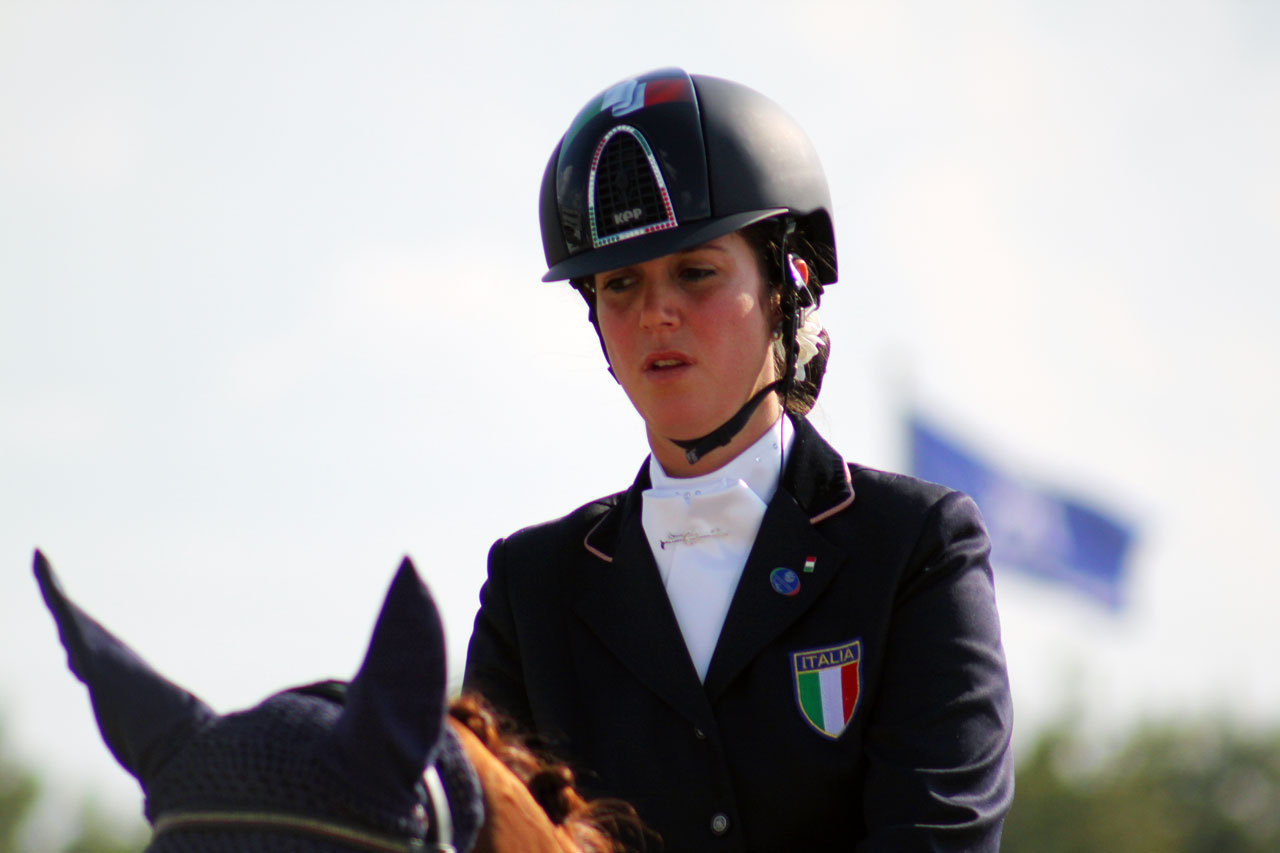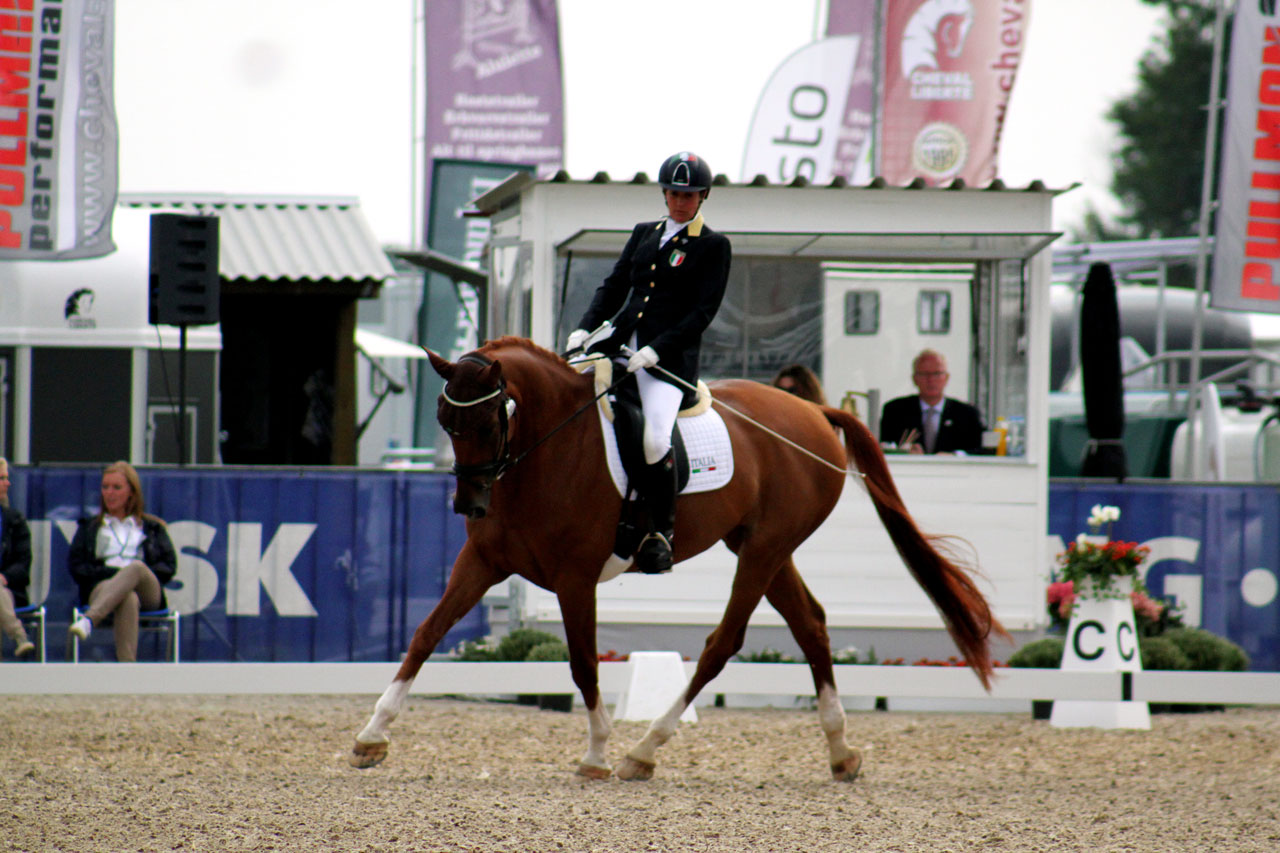 Competing involves continual training and commitment day in day out for both horse and rider, so you can build a relationship of complete trust between the two.
Fortunately they have also found some businesses to sponsor them like Kep Italia, Sergio Grasso, Fixdesign HorseRiding and Equiplanet who, together with other individual sponsors, believe in them and want to help them in the marvellous undertaking that Rio 2016 represents.
Their sponsors explain why they have decided to accompany these young people in their dream of going to the next Paralympics. At the last Europeans our horsewomen were wearing riding hats made by Kep Italia, the Italian company founded in 2007 by  Lelia Polini where the search for ever greater safety and promoting the "Made In Italy" brand is the mission statement which has propelled  Kep Italia to the heights of world horse-riding. Their riding hats are worn by the most famous competitors in the horse-riding world across every discipline of this Olympic sport. The company's founder was keen to explain her decision to "help", as she puts it, the Paralympic dressage team: "We can't just support those riders already at the height of their game but also those who have to struggle harder to make it because their task is even more difficult. It isn't just about getting anyone with a disability integrated and accepted into normal society but it's about making ordinary people in society become aware of people who don't have a high profile – they're not on everyone's lips because of the media's lack of interest in them… they don't think they're abnormal – in fact, they're much stronger than many "normal" people and… manage to succeed better than those do. They are the real winners because they want to achieve their goals disregarding the hand they've been dealt with and they make it. So why not reward them by providing them with our support and the best protection ever, proudly representing an Italian company that believes quality is at the heart of Italian culture and is the envy of the world?"
The riding boots they wear are also provided by Sergio Grasso, a  company in Verona started in 1979, whose aim has always been to create the best riding-boot ever, of the highest quality and beauty that represents all that is excellent about the Italian shoemaking industry… The name Sergio Grasso to this day is still synonymous with guaranteed quality, elegance and innovativeness. Each individual boot is a work of art, made by craftsmen of unique skill and experience. And it is Mr Sergio Grasso himself who tells us of their decision to sponsor the Paralympic dressage team " because they impressed us, first and foremost because they are just all such brilliant, accomplished and determined athletes but also for being such really special people who don't allow themselves to be conditioned by the little major problems life has handed them and have achieved most gratifying results both in their sport and in the workplace. We have no hesitation in seeing them as people who know no limits; they are an example to us all, always looking to the future with commitment, determination and sacrifice".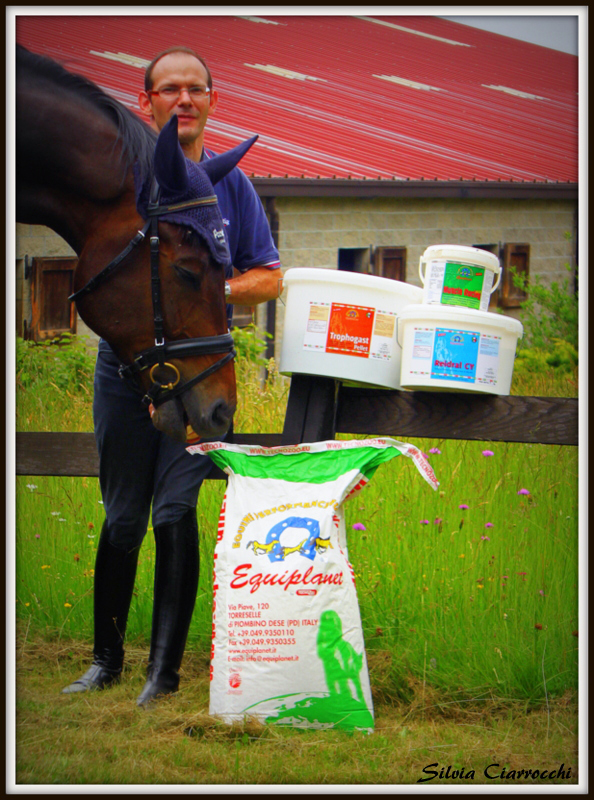 But that's not all the help the riders have received; they've obtained major support from the Fix Design clothing company which entered the horse-riding market in 2012 with a line of fashions designed for rider and horse alike. "Fix supports these Paralympic sports in order to enable fearless and gifted people like them to carry on practising this noble sport for noble-minded people"
But our champions never forget that the most important person here is the horse, the real champion of this sport; their dietary requirements and all the supplements they need are available from a Venetian company called Equiplanet, who have researched into the best formulations for their feed and everything else that is best for the welfare and health of the four-legged athlete. Their decision to be part of the Paralympic dream is down to this, in their words, "Since time immemorial sport in all its forms is synonymous with health and beauty. And this team only goes to confirm this. Equiplanet was very keen indeed to be part of this adventure and also relish the strength that lies behind the charity association these Paralympic riders have set up called "Cavalcando il Sogno" ("Riding the Dream"), learning that any obstacle stops being one if you have the grit and determination to overcome it, even if you are disabled. "Our whole life is one long struggle crowded with obstacles that ultimately means we are victorious"; that's what Arthur Schopenhauer said and the young people from "Riding the Dream" definitely put that into practice. Equiplant is honoured to stand alongside these athletes".
Thanks to the generosity and support of these companies but also as a result of the strength of mind that Sara, Silvia, Antonella, Francesca and Andrea evidently possess, the Paralypmic dressage team has and is still achieving magnificent results. They called the association they founded "Riding the Dream" – let's hope we will see them riding into contention at the forthcoming Rio Paralympics and see both horse and rider crowned and achieve their dream.
Tr. Philip Rham