Relief Riders International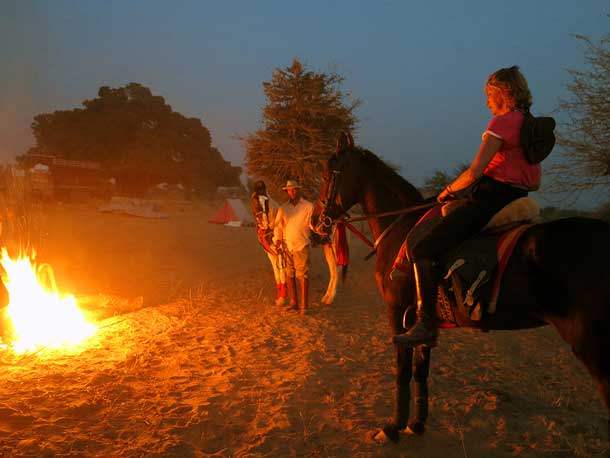 A holiday like no other, whose pleasures and fulfilment are to be found in the long hours on horseback, delivering hope and practical help to the abandoned poor of Rajasthan. Bee van Zuylen takes us on a journey of beauty and revelation.
I
It had been ten years since my first riding safari in the Thar Desert of Rajasthan, India. The memories of my travels, riding on wiry desert Marwari horses every day for two weeks, have never left me. So when last September my friend Carole suggested we go there for another ride – but this time with a mission – I accepted without hesitation.
The mission was to join Relief Riders International on a ride through parts of Rajasthan. Relief Riders International is a humanitarian-based, adventure travel company, founded by producer and director Alexander Souri. It organises journeys on horseback through remote areas while providing humanitarian aid to local people living in rural villages there. On our ride, we dragged medical equipment and supplies along with tents and vitamins. We gave lessons on de-worming and basic hygiene in the makeshift school structures our team had built. In addition, we carried all the drugs needed to stock the medical clinics due to be set up towards the end of our ride.
We also brought goats with us. For the local people, goats provide milk and any surplus can be sold at the market or made into cheese. The biggest plus about goats is that they can breed twice a year, so that eventually they can develop into a herd and they are much cheaper to keep than a cow.
Our first night after arriving in Nagaur from Delhi was spent in the splendid Khimsar Fort. This was very special accommodation, true Indian glamour. However, it was to be our only luxurious night.
It was there we were introduced to our horses. I am a huge horse snob so, of course, I scanned the Marwaris and chose quickly and determinedly the beautiful mare I felt was for me. As we all know, sometimes one has to be careful about what one wishes for. She and I did not hit it off and we parted company that same evening in the dunes. Thankfully I was re-assigned to my new permanent mare, Anarkali, with whom I rapidly bonded.
The following morning we were up at around 6:30 to start our first ride. We covered on average, 39-50 km a day, which translates to around seven to eight hours in the saddle!
On our first evening in the desert, we collapsed into our tented camp. There we were served delicious curry and handed much-deserved beers by our team of Indian helpers who cared for our every need. We stayed for two nights in each camp and then moved on to discover a whole new campsite awaiting us.
It was hot during the day, between 85º and 95º F/ 30º–35º C. At night it got pretty cold, down to about 40ºF/4.5ºC!
Our team greeted us in the morning with buckets of hot water for washing and omelette breakfasts with lashings of chilli. In the evenings they prepared us yummy vegetable and goat curries, bought from local villages on the way. And of course we had lunches set up for us under acacia trees every day. Our horses would be untacked, fed and watered, while we rested during the heat of the noonday sun.
The Thar Desert in Rajasthan is the most densely populated desert in the world and has some of the lowest health indicators in India, which are due to the lack of available health care because the villages are so remote, especially for older people, and of course lack of water. According to a recent study, about 40 percent of older people in India are living below the poverty line. Of these, 80 percent live in rural areas. This is due in part to industrialisation and quick urbanisation. This leaves the elderly vulnerable, suffering and isolated. In the remote areas we travelled through, we saw general malnourishment, and hence people with weak immune systems, suffering from chronic diseases. An estimated 82 percent of children under the age of three are malnourished, so the mortality rate is high. Additionally, there are an estimated 12 million blind people in the country, of which untreated cataracts are a major cause.
This is where Relief Riders International comes in to offer some help. The volunteers, as well as being able to experience the beauty of this magnificent country, contribute to alleviating some of its human problems. Our particular mission was to help widows, give aid to educational programmes in schools, and finally assist with the "Gift of Sight" and "RRI Dental Camps" programmes.
One of the biggest areas of need are the poor, especially widows, who cannot work and so we provide help by donating the goats that each of us has brought. The handing over of the goats is accompanied by a local ritual, which we were able to participate in.
The paedriatic and educational programmne is the oldest and most effective of the programs that Alexander has created. It continues to be monitored after our visits by Alexander and Dr Arora, the Executive Medical Director of Relief Riders International.
So our travels continued, one day riding all day, the next visiting schools and distributing our school supplies and vitamins, which we would hand out individually. Evenings were spent sitting around our tented camp, with burning log fires, to warm our weary bodies.
Alexander and Doctor Arora meet weeks before and decide on the route and villages where our help is needed. It is a most fulfilling experience to be part of this journey and to see how gratefully and elegantly the people receive us. Every day was a reminder of how little these village people have and how in our Western world our expectations have become somewhat distorted by our present culture.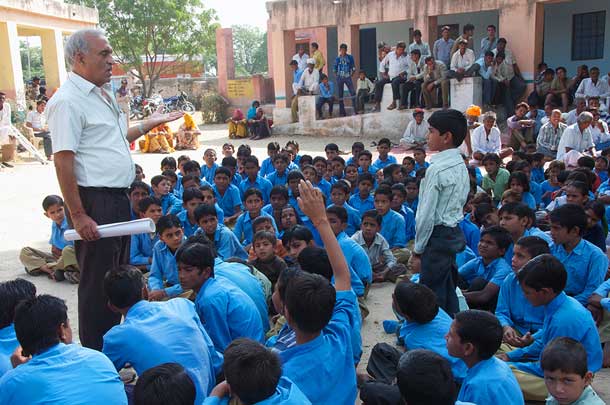 Every day I looked forward to what this adventure would expose us to, the children, the schools, becoming aware of a civilisation and culture so removed from my own.
Our last task was to help the vision screening and dental camp that we set up in Alniyawas. There we assisted the doctors, who came from Jaipur to administer dental hygiene, extracting teeth, root canals and generally dealing with whatever was needed doing to their mouths!
Drugs were distributed by us post-operatively and records were rigorously kept. The total number of patients we treated at this clinic was 264, of whom 125 qualified for free cataract surgery.
Doctor Arora and Alexander are currently looking into a hearing programme for the children suffering from hearing loss. They are in the early stages of research at this point.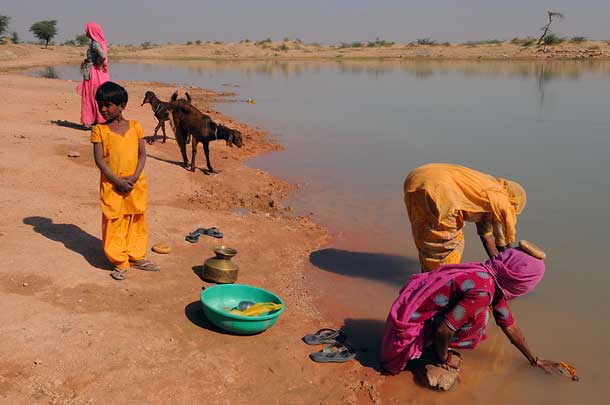 The last few days of this amazing trip took us through the dunes to the famous Pushkar fair. I personally found it quite difficult to acclimatise to the bustle and high octane energy of this event, having been so at peace in the desert. Being back amongst so many people with the hustle and noise was so incongruous compared to our last two weeks. I longed to be back in that tranquillity and to be on that spiritual journey I experienced with my horse, my fabulous warrior who, never once, let me down.
And so, as though memories of my time have not been enough to live with, I am returning now again, to do the same with Alexander Souri, to another part of this magnificent desert around Bikaner, further north, closer to Pakistan, where the sand dunes will be hillier and deeper. I will have another warrior to carry me to another adventure. I can't wait.