Empowering the Blind in Nepal
Worldwide, there are over 50 million blind people and a further 180 million suffering from serious visual impairments. The World Health Organisation estimates that 90% of these live in developing countries. Nepal shoulders one of the largest burdens of global blindness with around 600,000 people who are blind or partially sighted. Poverty and lack of care are the major underlying causes for this, but the burden is two-fold for the blind in Nepal. Lack of services and lack of opportunity keep the blind from living productive, hopeful lives. An unlikely group – massage therapists – is working to change all that.
P
Pokhara, NEPAL – The employees at Seeing Hands Nepal are not able to witness the towering snow-capped peaks of the Himalayas that mark the skyline in Pokhara, the city on the cusp of the Annapurna Himalaya range. Nor can they see the smaller mountains that encircle the country's second largest lake, only a short walk from the stone pathway that marks the entrance to where they work.
They are blind. But through a UK-based charity, Seeing Hands Nepal, which has been able to foster the development of the often-disenfranchised blind community in Nepal, they are finding meaningful work, independence, and hope.
Seeing Hands Nepal (which is linked to the grassroots NGO, the Nepal Association of the Blind) trains blind people in Nepal to deliver massages to the millions of tourists who attempt to traverse the top of the world. After a trek in the Annapurna Range, muscle relaxing and recuperating are in order. The top-flight masseurs at Seeing Hands deliver unparalleled quality through their hands, which are the eyes of the workers.
"Without the support of my family, I wouldn't be here at all," said Ramzi Paudel, one of the veteran masseurs at the Pokhara branch of Seeing Hands. Paudel, who comes from a farming family of thirteen children in the southern city of Lumbini, recently earned his bachelor's degree, speaks fluent English, and is preparing to begin his Master's programme at the local university in Pokhara.
In many ways, Paudel is one of the lucky ones in a country where the blind community is largely dependent on others for work, with no – or very limited – opportunities for education or work.
"The blind in Nepal stay at home and do nothing, get some education and become teachers, or try to do things on their own, but it is hard," he said.
Seeing Hands, founded in 2006, identified this need for help and, according to their website, "was set up to provide training and employment opportunities for young blind Nepalis as massage therapists."
With some seven million international tourists coming to the small country in the foothills of the Himalayas, massage therapy was a natural choice. Here in Pokhara, the facility of eight therapists offers remedial sports therapy and Swedish-style relaxation massage.
"It doesn't get any better than that," said one British patron after receiving a sports massage from one of the therapists. "After trekking the mountains, it was much needed."
Paudel and the other therapists, all blind, use their hands to empower themselves. It is not an easy task, however. All therapists who are accepted onto the programme are required to complete one hundred hours of Braille training as well as one hundred hours of therapeutic massage coursework. This work earns them a certificate that meets the international standards set by the Institute of Sports and Remedial Massage (ISRM) in London.
Without Seeing Hands and their acquired ability to give back, Paudel says, many of the therapists who have come to work and earn a degree would have very different lives.
"Here we have become very self-sufficient. We can take the bus on our own and we now earn an income that we can send back to our families to support them a bit," he says, his bright smile showing hope in a country that has long struggled with political turmoil, violence and one of the highest global poverty levels.
Although Seeing Hands may not be a massive venture, it has already trained dozens of blind people in Nepal, who, in turn, have gone on to teach and train others, giving them the experience of independence achieved.
"Blind people in Nepal need vocational opportunities that economically and socially empower them, enabling them to generate their own incomes and lead dignified, independent lives," Seeing Hands says.
And the therapists accomplish that, earning thirty-five percent of all revenue from their massages, with the remaining funds going to training, infrastructure and development of facilities to better assist the blind community across the country.
Lalumaya Bhuzel, a 23-year-old masseuse in Pokhara, hopes to continue her education while she is with Seeing Hands. Like Paudel, she comes from a large farming family in central Nepal, and through the Seeing Hands initiative, has been able to complete her bachelor's degree and hopes to become a teacher after finishing a master's degree.
"I'm very lucky," she said of being a therapist at Seeing Hands. "Blind people have a very difficult life in Nepal, and they struggle to have good jobs, or work of any kind."
The NGO has given Bhuzel the opportunity to have dreams and hopes for a future that largely was impossible less than a decade ago for blind people. She says that before Seeing Hands, teaching, playing music or being radio jockeys were the only professions readily available to the blind community.
And with millions of tourists visiting Nepal annually, the majority of whom take to trekking in the Himalayas, Seeing Hands therapists believe there is also room for expansion. Tourists seem to agree.
"Why would I go somewhere else when I can get a world-class massage by people who need the work and empowerment," said Norwegian climber Tor, after being given a massage by Lalu. "She was amazing. I don't think I have had a better massage anywhere else in the world," he added.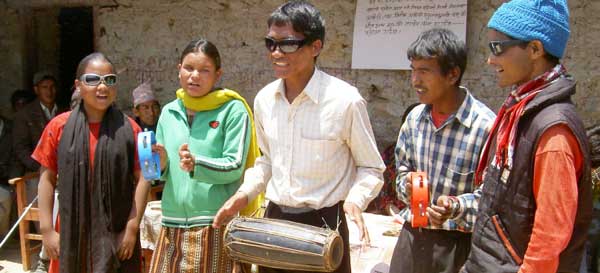 Seeing Hands is in the early stages of development. The administrators in Pokhara are hopeful that as the media takes note, and as tourists continue to flock to the mountains lining the northern border areas, the future is one full of optimism for the blind community.
"The workers here are very committed and this is important, because without their effort and their skills, this whole project would not be able to continue to grow and expand," said the Seeing Hands organiser in Pokhara.
Empowering the disenfranchised community through work is an important step toward enabling further opportunities for the community, and one that Paudel and Bhuzel believe has been instrumental in their desire to help others.
"I think it has shown me that blind people are not really handicapped, and that we can be part of Nepali society here," said Paudel.