Breathing Success – Mario Moretti Polegato "Geox"

After walking in the desert with sweaty feet, one man changed the history of footwear. Massimo Gava meets the founder of Geox.
by Massimo Gava
It's seven o'clock on a warm spring evening in London and some of the biggest names in business have gathered around rows of candlelit tables at a five star hotel.  Every face bears a look of anxious hesitation, as if something on the scale of a biblical miracle is about to unfold. Okay so maybe CNBC's European Business Leader Awards aren't quite in the same league as the parting of the Red Sea, but in the world of high flying commerce, they sure as hell count for something! Why else would 56-year-old Mario Moretti Polegato, founder and chairman of GEOX, Italy's leading casual footwear brand, fly in from Venice to collect the award for Innovator of the Year?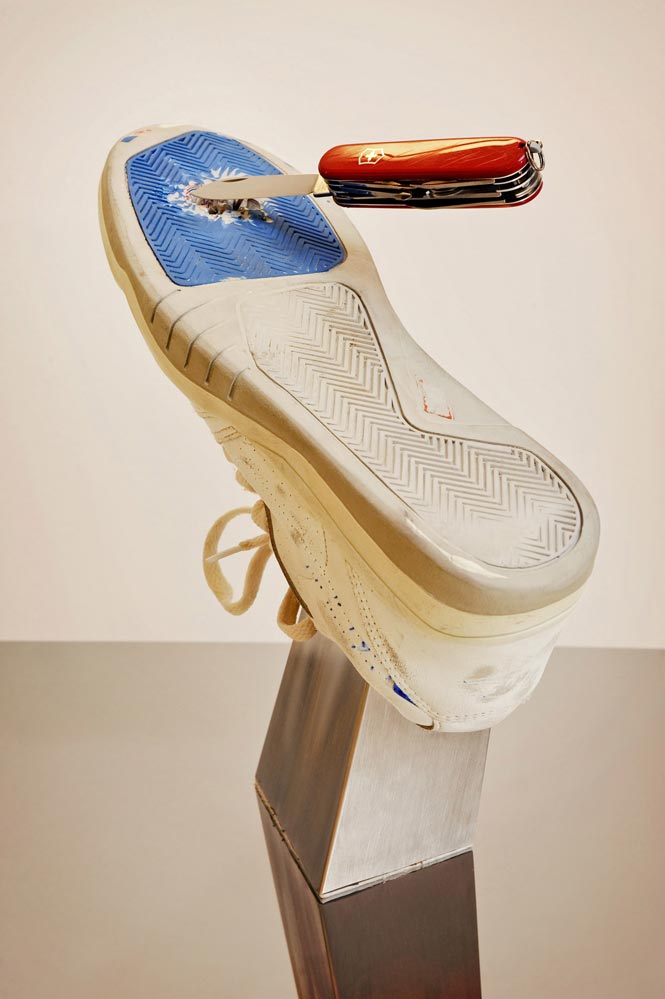 Mr. Geox, as he's known in the trade, is more than just a little overwhelmed. It's not the first gong that's been awarded to this charismatic and engaging boss – nor, I bet, will it probably be the last – but this is the equivalent to getting an Oscar and a BAFTA rolled into one – minus the tears and gushing speeches. After Mario thanks the audience and pays tribute to the clients and the Italian universities who've stood by him over the years, he settles back into his chair and tells me how his story began.
The rise of Geox has been nothing short of meteoric since its humble inception back in the 1990s. The idea for the patent technology now synonymous with his brand came to him during a walk in the Nevada desert. 'I was on a business trip to a wine convention. My family's been making Prosecco wine for three generations and after a long day of meetings I decided to go for a walk to clear my head. I was wearing a pair of rubber soled sneakers that were hurting my feet. So I cut a hole in the base to ventilate them. I took the shoes home with me because I wanted to see whether it was possible to stop the water getting into them.'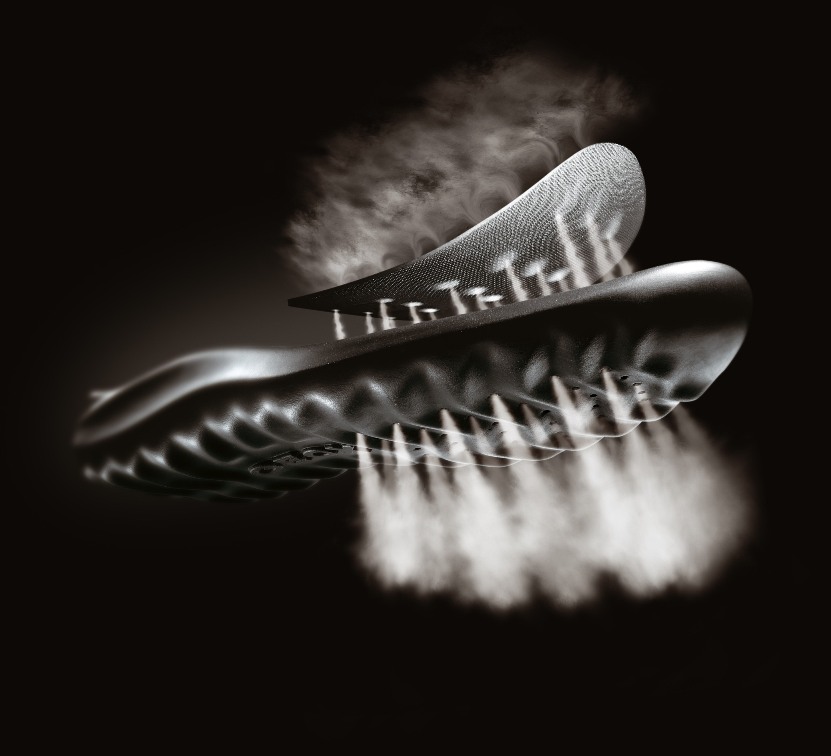 It probably doesn't seem like that much of a big deal until you bear in mind the fact that a perspiration molecule in the human skin is 700 times smaller than its H2O equivalent. But rather than being daunted by the science, Mario simply pressed on until he found the solution – a special rubber membrane that keeps out the water and aerates the feet by allowing the heat to escape from the shoes.[/two_third_last]
The world's first 'breathing shoe' was born, yet the markets were sceptical. To this day he doesn't understand why, but having spent three futile years trying to persuade leading shoe manufacturers to buy the patent, Mario decided to go it alone. He pulled together a five man team, recruited from his home village in Italy's Veneto region, to handle product marketing, brand research, sales and finance. The gamble paid off and he has never looked back. Geox is now the world's second biggest shoe maker in the lifestyle/casual category, employing around 30,000 people, with A-list celebrities such as Angelina Jolie, Sarah Jessica Parker, even Barack Obama among its clients.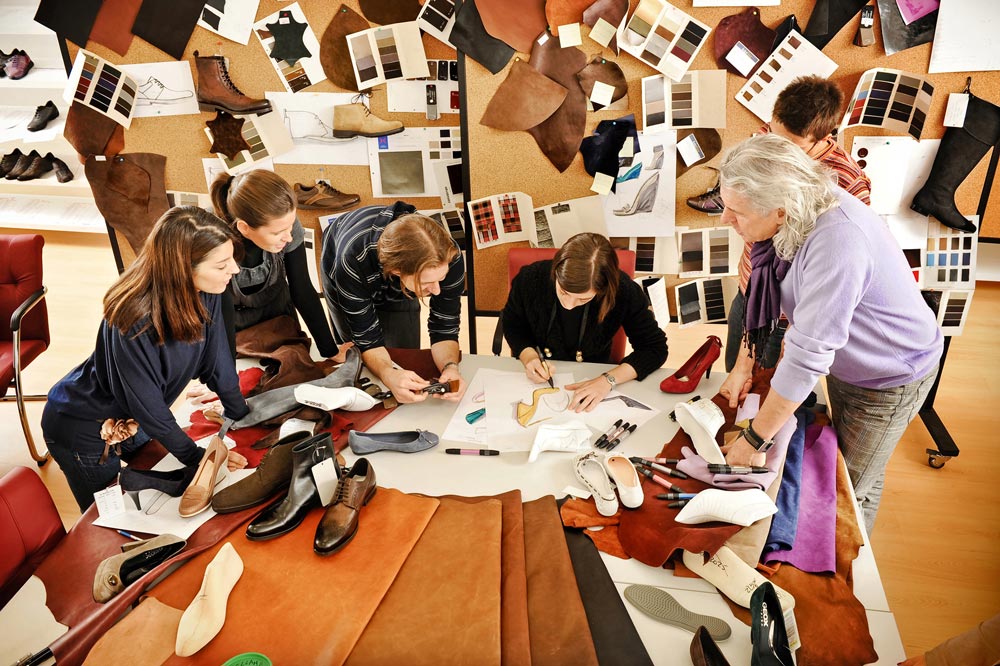 Its products are distributed in over 103 countries through more than 11,000 stores, some of them owned by Geox, and are seen treading the leading fashion streets of Paris, Milan and New York. 'So where did the name come from?' I ask. His face suddenly breaks into a bemused, patient grin. It reminds me of a driving instructor explaining the highway code to a baffled learner. 'It comes from the Greek word Geo, meaning earth. X is synonymous with technology so we combine the two. It's a new name in the fashion industry and easy to pronounce in any language.' So there you go.
Mario admits that his foot cooling business has suffered in the chill winds of an economic downturn, 'Up until 2008 our growth was double digit, but since last year it hasn't risen above three per cent! In spite of that, profits are still strong with the most recently published figures showing after tax earnings of 865 million euros without having to make a single cut to the workforce.'
Three per cent of Geox's annual turnover goes into research and development and it's that investment which has led to the launch of a new line of clothing that fully encapsulates the concept of 'breathing' materials. Scientists at the company's Montebelluna headquarters have invented a new type of  technology that uses the special membrane to ease as much as 40% of the body's perspiration. The jury's out on what the public will make of jackets that kill off every bodily smell known to mankind but since they potentially cut out the need for a deodorant, they could at least earn green points.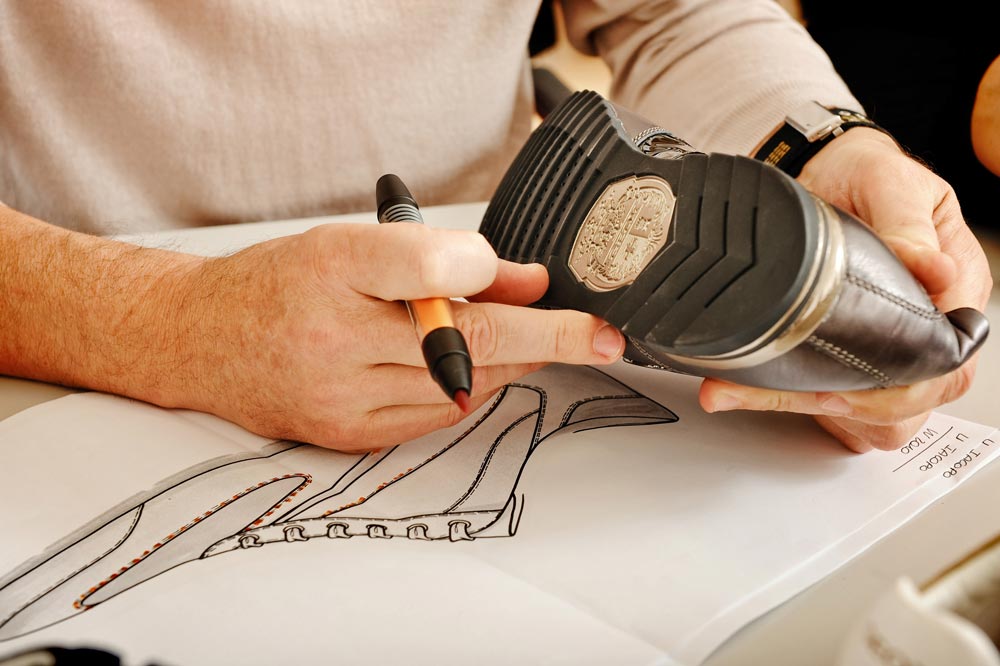 Mario grins at the suggestion, 'Our mission is to say to the world, "Yes" you can be fashionable and "No", you don't have to smell.  So there's no need to hide your body odor with chemicals. Just wear better gear!'
I don't think I'm quite ready to give up on antiperspirants – nor can I stop wondering whether Bill Gates prefers a Geox jacket to Lynx For Men. I'm too polite to ask Mario even though he's known the Microsoft boss for ten years. 'Why do you two get on so well?' I enquire. 'We have our beginnings in common. When Bill started out, nobody wanted anything to do with his ideas. Now they can't get enough of him.'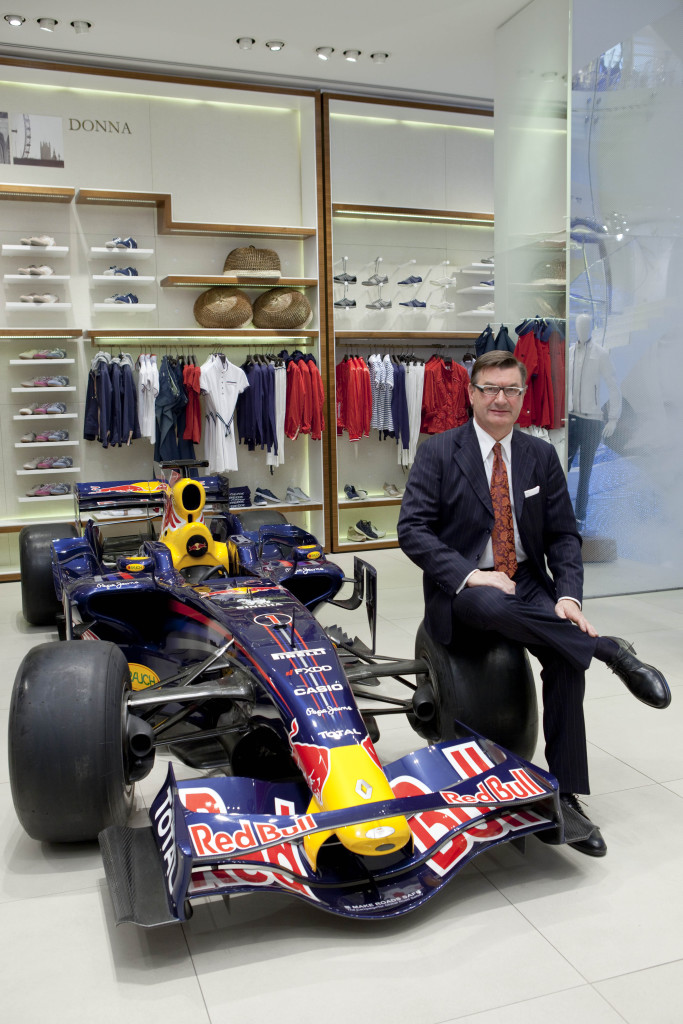 Beating the odds to overcome adversity is a subject Mario often refers to, especially when he lectures at universities. He believes that young people should always be encouraged, especially when they want to start their own businesses, although he's quick to stress the importance of integrity, 'Ethics are a crucial part of business life. You have to respect your customers and be totally honest with them.' It's a simple philosophy and one that a few investment banks might do well to follow, but it's also the bedrock of Mario Polegato's personality. This is a man who's passionate about Geox, the future and the people who work for him. Staff are not just workers but they're also family, and when it comes to proving his family friendly credentials, Mario isn't afraid to put his money where his mouth is. A year ago he opened a modern, high tech kindergarten facility for Montebelluna's 700 staff. It turned out to be a success in more ways than one, after Mario allegedly encouraged the workers to let rip and make more babies. He may have been joking when he said it, but they took him at his word and the unit is about to be expanded to cope with the extra demand. He blushes when I remind him about the quip, but in a country like Italy that's battling with the fallout of an aging population, anything that pushes up the birth rate is welcome.
It's getting late and I'm feeling twitchy.  Not only do I have another I deadline to meet, but there are a few more questions that need an answer, 'What about the future?' I ask, 'What else have you got up your sleeve?' There's a bit of a pause before he tells me there are fifty new clothing patents. I guess that's enough to keep anyone busy, but there's something else I want to know, 'What happened to the trainers? If it hadn't been for them you would never have got started.' Mario Polegato smiles, 'You'll find them on display in a big room. You should never forget where you came from.